Today I am taking you to Malibu in California, a place that I would really like to visit. In fact I'd like to do a road trip through the whole of California, so much to see! Caroline and Alex were married on 13th July 2019 at Calamigos Ranch and what a totally breathtaking day it was. The day started off with the most amazing ceremony area, with an art deco theme. How gorgeous does it look?! The flowers, the tree, such a stunning set up. They then moved on to the most spectacular reception area, decorated perfectly in a modern take on their art deco theme with lots of green accents mixed with gold and white. The whole day is super stylish, as are our gorgeous couple and Caroline in 2 beautiful dresses. Big thanks to Amethyst Event Productions for submitting the wedding and to Kathy DeNinno Photography for the lovely photos.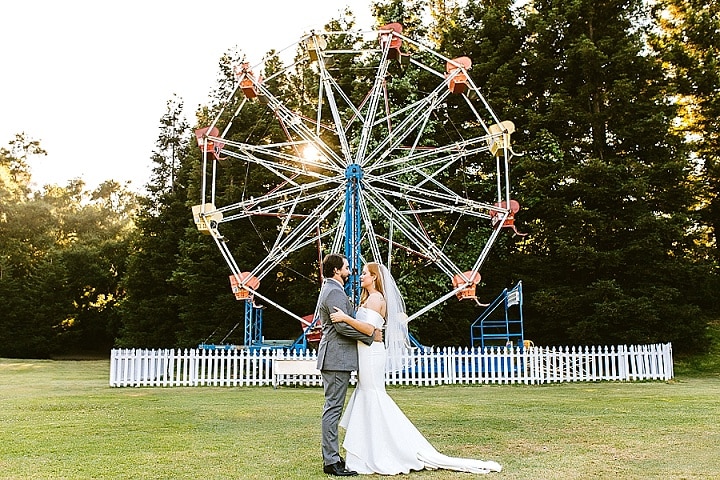 Deniz from Amethyst Event productions tells us more about the day
We are so incredibly excited to share Caroline and Alex's Wedding! This past July, a truly epic creative team brought together such a magical modern art deco wedding at Calamigos Ranch in Malibu. If you've never met Caroline and Alex before, they are that ultra-cool fun couple that you just love being around; and their wedding was no different.
The wedding party started the day at the Westlake Village Inn which is one of our favorite hotels in the area. It has lush landscaping and some gorgeous arches that are just perfect for photos. The wedding party helped the bride and groom get ready – complete with custom shirts and a little booze of course.
Caroline even had a first glance moment with her father under the arches at Westlake Village Inn.
The ceremony and reception took place at The Pavilion at North Point within Calamigos Ranch. For the ceremony Fresh by Brandon effortlessly blended the couples' art deco theme in with the surrounding twinkle lights and trees for a truly show-stopping guest arrival. The entire ceremony was so heartfelt and filled with lots of happy tears.
Caroline and Alex's friends and family are very important to them and it was clear that they wanted a full immersive experience for their guests from the beginning of their reception until the end. There were so many small details throughout the space that not only tied into their art deco design, but also served as fun and personal elements to the couple.
From the black and white family photos on their brass shelving unit, to the bowl of pogs in a stylish seating area – Caroline and Alex's personalities shone through. Alex had been in a pog club in high school and we love that it was highlighted in their wedding. There was also a photobooth by The Booth and Bus Co, custom cornhole, and croquet set for guests to enjoy during the reception.
There was so much to be enjoyed during cocktail hour. Not only were there games for the wedding guests to enjoy, but the food was truly mouthwatering! There were sliders, bacon wrapped dates, and a massive grazing table for guests to enjoy. Olive & Nectar created a stunning grazing table that was as delicious as it was photo worthy.
The reception space had long dinner tables with stunning details. There were so many carefully curated pieces from Collective Rentals that completed the reception space. They supplied everything from the lounge furniture down to the gold flatware and green goblets on the dinner tables. Fresh by Brandon had carefully placed floral arrangements along with individual stems in art deco inspired vases to complete the dinner tables. The floral design also included taper candles to set the mood for the night.
After dinner service and toasts, the party got started with incredible music by Dart Collective and some seriously impressive dance moves. There was also a deck attached to the reception space fitted with a projector playing The Office – because who doesn't love the office? And for the guests enjoying the show, there was a popcorn machine making fresh popcorn; and everyone's favorite selection of binge worthy candy. The deck also had a cigar and whiskey cart complete with custom matchbooks for guests to take home.
And to top off the night, Caroline and Alex had their favorite fast food brought in for their wedding guests to enjoy. Everyone remembers their college days and the need for some delicious greasy food to end the night. The wedding couple made sure to take care of their guests to the very end!
Supplier Shout Outs