This afternoon we are talking jewellery with the lovely people at Kristin Coffin Jewellery. Choosing your engagement ring, wedding ring, or any kind of jewellery can be a mind field, there is so much choice out there!! But if you are someone who is looking for a more ethical company to choose your jewellery from, where the jewels and diamonds are ethically sourced, or lab grown and use recycled metals then Kristin Coffin are the company for you.
Kristin Coffin Jewellery started when the love of unique, one-of-a-kind engagement rings met the idea of savored traditions, such as working with highly skilled and experienced artisans and metalsmiths. Their jewellery reflects many beliefs that they hold as a company, which is why they only work with alternative stone options, unexpected designs, and ethical sourcing.
"We create rings that resonate with a new generation of love stories, Handcrafted jewellery from recycled gold and silver, conflict-free, rustic, and natural diamonds, sapphires, and Moissanites."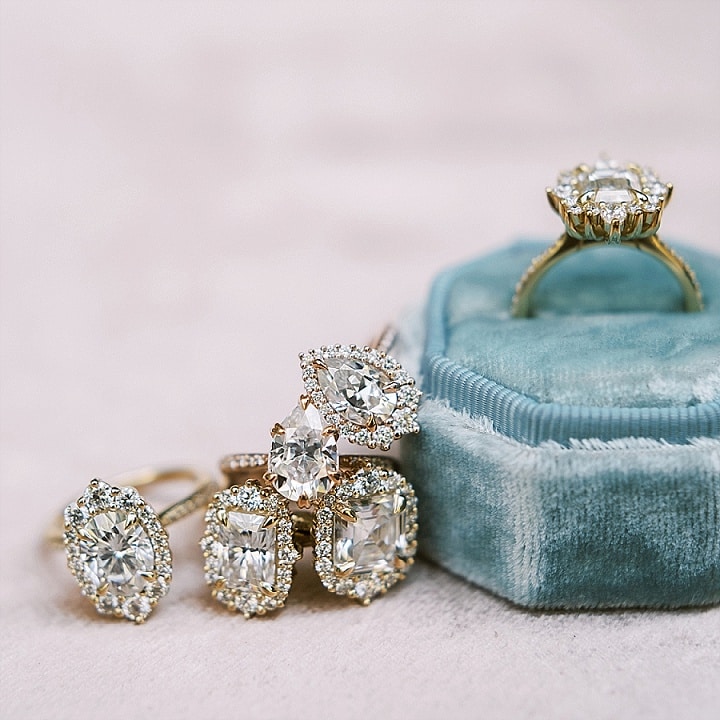 We talked with the Kristin Coffin team to learn a bit more about who they are, where they got their start, and more.
Where are you based?
Portland, Maine
What sort of geographical area do you cover?
International
How would you describe your style? What is your most-loved style?
We would describe our designs as mainly vintage and art deco-inspired. Every ring is handcrafted by our team of goldsmiths out of recycled metals and sustainable gemstones.
Our salt and pepper engagement rings are especially popular right now, as they are extremely unique and really pop within our white, yellow or rose gold settings.
Our oval halo engagement rings with their timeless, yet femine lines have been the most popular center stone recently, with customizable styles like the Build-Your-Own Salt + Pepper Diamond Sofia or Build-Your-Own Salt + Pepper Diamond Anika leading the way.
Can you talk through your stone offerings?
We really focus on colorful, unique gemstones and diamonds that you won't find in a traditional jewelry store. Our lab-grown diamonds and our line of Iconic Grey and Aqua-Teal moissanites are custom cut for our engagement ring settings. In fact, we were one of the first engagement ring company to offer grey moissanite rings!
Our salt and pepper diamonds are either custom cut or hand-selected for our salt + pepper diamond engagement rings.
Every single accent diamond you find in a Kristin Coffin engagement ring is either lab-grown or conflict-free mined, and each one is cut to 1/100th of a millimeter for our edgy, vintage-inspired engagement ring settings.
Why lab grown diamonds/gemstones?
Lab-grown diamonds and gemstones are identical to mined diamonds and gemstones in every single way (optically and molecularly) with the only difference being that they're grown in a lab that simulates the conditions in which a diamond is created in the earth. Not only are they more environmentally and ethically responsible than its mined counterpart, but the other advantage is that they come in significantly less expensive than a mined diamond or gemstone of the same quality. In our book, that's a win-win.
What makes you different to your competitors?
As we mentioned above, our lab-grown diamonds and our line of Iconic Grey and Aqua-Teal moissanites are custom cut for our engagement ring settings. Our salt and pepper diamonds are either custom cut or hand-selected for our unique, unexpected, one-of-a-kind designs.
Our ring designs go through months of prototyping before hitting our website
All of our stones are environmentally sustainable as possible: either conflict-free or lab-grown
We use all recycled metals
What sort of couple do you think you attract?
Couples that value sustainability, something unique and expressive of their own style, and couples that typically shop together for the ring. A younger, hipper demographic.
What's one quote Kristin Coffin Jewelry lives by? 
"These gems have life in them: their colors speak, say what words fail of." – George Eliot 
What would you do if you won the lottery?
Exactly what I'm doing. It's been such an integral part of my identity since college.
If you're interested in learning more about Kristin Coffin Jewelry, their incredible engagement ring designs, or just looking to learn more about sustainable gemstones, head over to their website:
www.kristincoffin.com / FACEBOOK / INSTAGRAM / PINTEREST 
(Photos by Sophie Kaye Photography)
this is a sponsored post