Well hello Monday! How are you all? I hope you had a lovely weekend. For those of you who celebrated Mothers day I hope you had a lovey day. Mine was great. We went for a lovely walk and then Nik's mum came over for a late lunch of Tapas. We ordered it from a wonderful company Called Tapas Fusion, I can highly recommend them, we had an absolute feast! These dine at home meals have been what has got me through lockdown. Such a variety of menus on offer from local restaurants to national companies. However, I cannot wait to go to an actual restaurant again. Not long now! (hopefully!) So on with today's wedding and I have an action packed week on the blog for you. Now I'm back in the office full time again I can really get to grips with bringing you more new fresh content! Jade and Ryan are sharing their gorgeous wedding with us today and it's a real beauty! They are real lovers of the outdoors, so they wanted somewhere with a beautiful backdrop and they found this in Ravens Hall. Both Jade and Ryan look stunning and make such an adorable couple, so many smiles between them. The dress, the flowers, the decor, all go towards making this the perfect wedding to start the week. Big thanks to Tony from Photography 34  for the gorgeous photos.
Maybe our luckiest day on earth because the weather did a total 360 as soon as our wedding ceremony started. The day is now a joyful memory spent with some of our favourite people.
Jade and Ryan were married on 9th August 2019 at  Raven Hall Hotel, in Scarborough. 'I love scenic landscapes and the ocean so I wanted to choose a wedding venue that had a beautiful backdrop. We had walked around the grounds of our venue about 2 years prior to our wedding – before we were even engaged. As we walked through the hotel there was a wedding reception on. The sun was shining and all the guests were having drinks in a walled garden while a brass band was playing. It was just stunning. When we started thinking about wedding venues, I looked at a lot of options online but in the end, I was surprised that Raven Hall was in budget, so we didn't bother to view anywhere else. We had 90 day guests and 110 for the evening reception. We booked the venue one year in advance. I booked the photographer and florist soon after but all the other details were done on and off throughout the year. To be honest we were both very chilled. We didn't have too much to do because of the venue that we'd chosen so I knew that everything would work out.'
How they met 
We met on Tinder – very unromantic I know! We have been together five and a half years. When we got married we had been together 4 years.
The proposal
We were doing a 5-day hike to one of the peaks of Mount Kenya the tallest mountain in Kenya. It was the night before we were going to reach the summit, we were at 4700m altitude sleeping in a tent next to a glacier. It was freezing cold. There are some tiny antelopes which live in Kenya called Dik-diks, I was reading a book at the time which said that dik-diks mate for life and when one dies the other partner can die from a broken heart. I made a comment to Ryan about being my dik-dik. In response Ryan asked me if I would be his dik-dik and asked if I'd marry him. I have joked since because he said he was on one knee but I couldn't really see as it was pretty dark and he was in a sleeping bag. Of course, our story of the dik-diks has been the brunt of many jokes given their unfortunate name!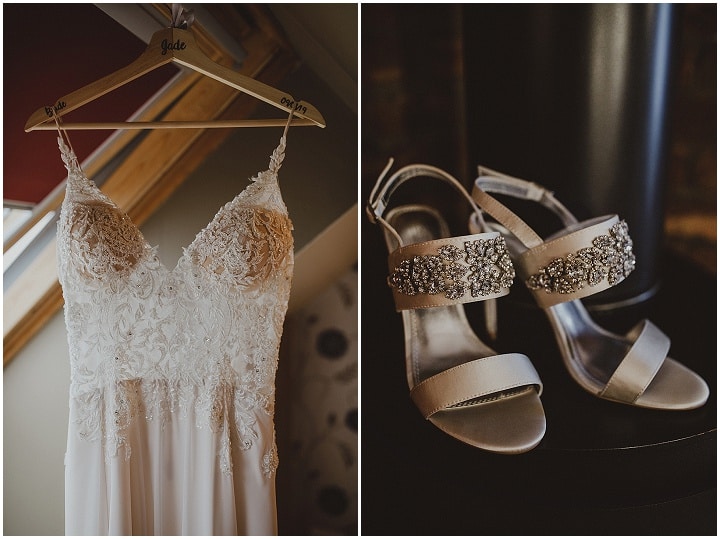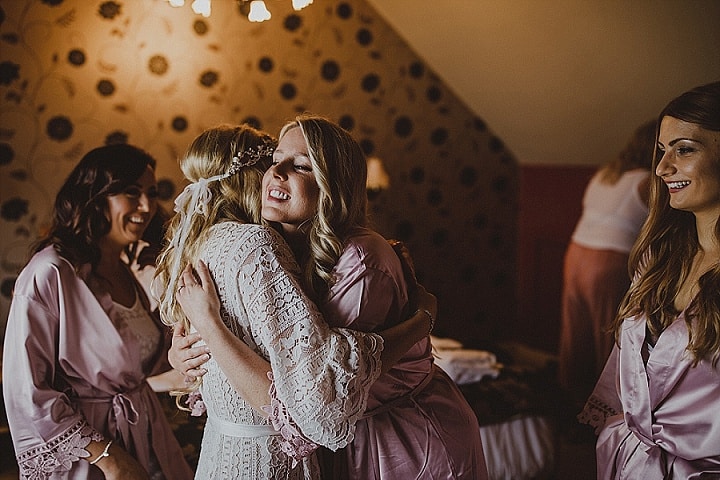 How did you allocate your budget?
I made a spreadsheet. I think the venue itself is the biggest make or break factor because every other element of a wedding can be trimmed back. In the early stages we discussed a DIY wedding, and I do love how personalised they are, but in the end I worked out that getting married at Raven Hall Hotel would be cheaper, easier and it had the beautiful view which is what I wanted the most anyway.
Where did you splurge and where did you save?
Our biggest upfront cost was the venue but that also included the food, drinks and some decorations. From the beginning I was keen to pay for a great photographer. At the end of the day your photos are such a lasting memory. About 6 months before our wedding I was given some money by my nanna and decided to spend this additional budget on a videographer. I'm so glad that we did as the footage is really beautiful.
We saved on evening entertainment, we didn't opt for a DJ or a band because we knew that as long as we had a good sound system in place and a good playlist that people would have a great time. We didn't go over the top with decorations either. We borrowed a lot and we used our contacts to get good rates on things. 
How did you choose your photographer?
I thought that it'd be a good idea to choose a photographer who had already worked at our venue as they'd know all the great places for beautiful shots. I googled "wedding at Raven Hall Hotel" and many photography websites came up where raven hall was featured on their blogs. In the end I chose Tony at Photography 34 because I just loved his pictures. They were a great blend of documentary type shots combined with stunning landscapes. Neither me nor my husband are great at posing, and I do absolutely love a landscape, so I'm happy to say that Tony was a perfect choice for us.
The dress 
My dress was by Sophia Tolli and was from a boutique called to Have and to Hold in Mirfield. As soon as I put this dress on I said to my mum that I looked like a fairy however I just knew it was the right dress for me. It was the only dress that I had put on where I felt like "me" not me pretending to be a bride.
I tried on so many head accessories. I took flowers to one of my fittings to imagine a flower crown but nothing felt right. The dress had very delicate details and most accessories seemed to overbear it. In the meantime, I had ordered my bracelet and earrings from an Etsy shop called BridalArtDeco based in Lincoln. They were great quality and price, so I started looking at other items from the Etsy shop and saw a hair vine. I took a gamble since I'd not seen it in real life but it was perfect, delicate enough for the dress but big enough to feel special and like a "bride".
The suit and bridesmaids
My husband had his suit tailor made by a family friend. This was probably what I found the most stressful part of all our wedding planning. Ryan didn't order his suit until pretty last minute. When it arrived, it looked bulky and old fashioned but the colour and material was beautiful. He asked the tailor to alter the fit and it wasn't ready for pick up until the day before our wedding. He didn't even try it on until the wedding day! When I walked down the isle I had no idea if he'd even be wearing his wedding suit or if he'd have an old suit on. It was such a relief when I saw him wearing it and it fitted him perfectly. I loved the light blue.
I wanted my bridesmaids to choose their own dresses which suited their own personal style. I like relaxed bridal looks anyway and I'm not keen on being prescriptive. We chose long dresses with blush tones as a theme. None of us live close by, one lives in Bulgaria, so instead of going shopping we set up a whatsapp group to share pictures. In the end all three had quite different dresses but they all looked beautiful and we tied the look together by having matching hair, it was all down and waved and they wore identical hair clips
Did you have a theme or colour scheme?
I don't know if there was really, not consciously at least. We basically just chose things we liked!
Flowers 
My bouquets were oversized and relaxed with muted colours and lots of greenery. To be honest I left my florist to get on with it after showing her the styles I liked best. I completely trusted her and she did an amazing job. For the table decorations I requested potted plants. We're environmentally conscious so I liked the idea that the potted plants could then be taken home by our guests, instead of a favour, and then be planted in their gardens. Our florist suggested that we have trees on 3 of the tables as large centrepieces, they made the room look more impactful. We kept the trees ourselves and they look gorgeous in our garden as a reminder of our wedding.
Decoration 
We didn't have too many decorations. On the tables we had a natural and brass theme with cut logs and moss mixed with lots of brass candlesticks and real candles. Our table plan was a map and the tables were named after places that we have travelled together as a couple. I framed the table name (the countries) in brass frames and included a picture from our holiday and a sentence about our experience there.
The evening reception needed very little decoration because the venue already lights up the room with fairy lights. We did have a big LOVE sign on the dancefloor, which was perfect because we did our first dance to Nat King Cole L.O.V.E.
Food 
For our wedding breakfast we had tomato and basil soup or pork terrine followed by garlic, ricotta and tomato ravioli, chicken with white wine sauce or roast pork loin with seasonal veg. For desserts there was a choice of lemon tart or Crème Brule. For the evening reception we just had sandwiches and wedges. When we were totting up the costs of different menu options some choices made the total wedding cost significantly higher so to be honest this is an area we did save on. It was all lovely though.
Wedding cake
We had a really fun cake made by a family friend, Ellies Cakes. The cake told the story of our proposal, it was a representation of Mount Kenya with iced Kenyan wildlife all around it. On the top it had two dik-diks to represent us. It was personal and tasted delicious too – there were three layers, fruit, chocolate and vanilla so had a flavour for everyone.
Entertainment
We had a friend of a friend play guitar and sing during our actual ceremony and drinks reception. We chose the Hawaiian version of "Somewhere over the rainbow" as our walking down the isle song because it reminds us of a holiday on a little sailboat where I started learning the song on the ukulele. It made the ceremony feel even more special for us. He sang throughout the outdoor drinks reception. We didn't have evening entertainment, we created a playlist with songs we knew would suit all generations, our guests and ourselves.
Who supplied the stationary?
Controversially we didn't do wedding invitations, some guests didn't like this but we didn't see the point in using all of the ink and paper for something that at the end of the day is thrown away so we just asked people to rsvp via telephone, text, email etc. We're both environmentally conscious so didn't want to produce much waste that would be thrown away after. I know this approach will be unpopular!
Where did you go on your honeymoon?
We went to the Faroe Islands. We actually hired a car with a pop-up tent on top and spent the first 5 nights in that – I know, not typical honeymoon luxury but it was perfect for us. We cruised around the stunning islands with no set itinerary. We stayed in campsites who gave us access to their hot tubs for free with it being our honeymoon and for the last 2 nights we stayed in the cutest typical Faroese house with a grassed roof and wood burning tub in a secluded valley. It was perfect for us as we love nature, being outdoors and stunning settings which the Faroe Islands can certainly deliver.
Personal touches
I've been to a few weddings where I feel sorry for the children as so many are very adult orientated. To create a fun inclusive experience we made lawn games for the drinks reception. We made an American game called cornhole, a French version of boules, hoola hoops, a large version of jenga and a limbo frame. We moved the limbo frame to the evening reception later and it was one of my favourite parts of the night. After limbo there was even a high jump competition.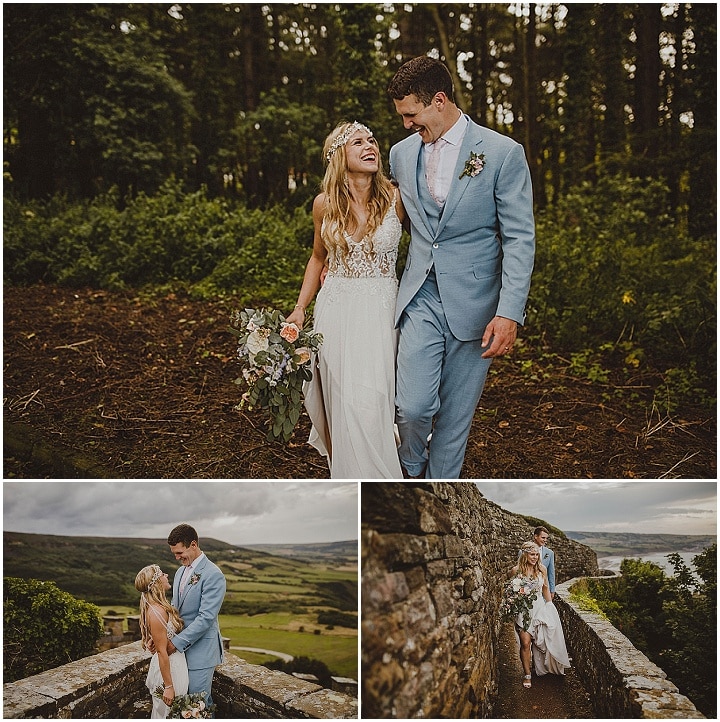 Special moments 
We loved the ceremony itself. Our registrar was lovely and we had chosen vows which were personal to us. We also loved going for our couple shots with the photographer and videographer. It was really nice to get away and just spend some time as the two of us. The limbo game was also brilliant.
Biggest surprise 
The weather. We desperately wanted an outdoor ceremony and reception, that was why we had chosen the venue and spent so long making the lawn games. On the morning of the wedding you literally couldn't see more than a few metres in front of you. It was so foggy and miserable. Suddenly, immediately after the ceremony (which we had to have indoors), the weather cleared up. It turned into the most stunning day. My dad says the morning of the wedding he asked my grandma, who had passed away, to bring us some better weather and we like to think that she did. It was certainly dramatic enough to call it a miracle.
Advice for other couples?
Make it personal to you as a couple and try not to stress, at the end of the day it is a celebration of the two of you and it's meant to be a joyful experience.
The only disappointment that I had at our wedding was that no one signed our wedding book. I even borrowed an instant print camera, got some photo props and had a specific table with our book asking people to take pictures and put them in the book with a comment. No one did it, literally no one. People did take pictures but hardly anyone left them for us. If it's something important to you I would recommend you make signing the book part of the event such as sending it around after dinner. We left people to their own devices and it just didn't work for us.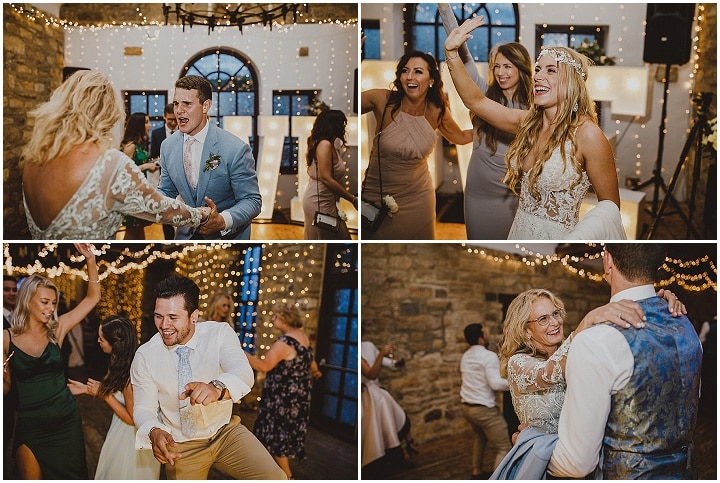 Supplier Shout Outs
For more information on Photography 34 go to
www.photography34.co.uk / www.photography34.co.uk/blog / FACEBOOK / INSTAGRAM / TWITTER 

[jprel]