Todays wedding comes from a Photographer I have only just discovered and I LOVE her already! Nicola Thompson sent me in some examples of her work a couples of weeks and ago and it got my attention straight away. Nicola is from Manchester and after a few email conversations I had two new wedding submissions to share with you and my official photographer for the Boho Christmas Party.
The wedding I'm sharing with you today is the wedding of Luisa & Richard who were married on 26th of August 2011 at St.Johns RC Church, Chorlton with the reception at Arley Hall & Gardens, Northwich. They had 75 guests and another 10 in the evening.  They met through mutual friends after university and became good friends. Luisa moved to London and when Rich followed suit they got together. They have been together nearly 7 years now. It's a gorgeous wedding and I'm delighted to be able to share it with you and also to showcase Nicola's work. You will be seeing lots more from her on the blog in the next few weeks.
Luisa and Richard describe their day as 'The best day of our lives filled with love and laughter…and one big party!'
The proposal
It was a complete surprise on a holiday in Greece. After 5 years you become immune to the constant "when are you two tying the knot" questions and I presumed it would never happen. Then on our 2nd night of a 2 week holiday in a beautiful part of Greece he got down on one knee on the balcony of our hotel and popped the question! The setting was beautiful with cliffs, a castle and the beach and I of course immediately said yes! He had a fake diamond ring hidden with him the whole time which was too big but I was so excited I wore it with an elastic band wrapped round the back of it till we chose the beautiful real one! We then had 2 weeks of holiday just the 2 of us to take it all in and enjoy being engaged before we got home.
The Planning
It didn't take long to plan at all. I travel quite a bit with work so we couldn't dilly dally! Once we had made a decision we stuck to it. We are both very similar and knew what we wanted and what was feasible. We kept the organizing to just the two of us so that we weren't swayed or confused by other people's opinions!
The Venue
The church is where my brother was married and where my fathers' funeral took place so it was a given we would have it there. We looked at about 2 rather average locations for the reception and hundreds online! Then when we went to Arley Hall, which we had never heard of before, and instantly fell in love with it. Although the location is very grand and beautiful it still had a relaxed feel to it. It was also 2 locations in one as you had the traditional house in the day and then the modern converted barn for the evening. The grounds are also spectacular and all yours for the day.
The Dress
The dress was called Cambridge by a designer called Enzoani. It was perfect for me as I didn't want anything too puffy or princessy. I always knew I wanted lace but just to be sure I tried on over 50 dresses! I didn't get that 'It's the one' moment and I'm sure I bored my Mum to tears traipsing round wedding dress shops! But I just knew that I loved it more than any other! I added the extra detail of the corsage belt as I wanted something a little bit different and being so small I changed the neckline to be a sweetheart. The finishing touch was the veil which until the actual day I didn't quite realise how long it was but I absolutely loved it! My only regret is I didn't try it on properly before the day to see how it sat as I was constantly fiddling with it all day and worried it was going to fall out.
The shoes were bought before I even bought the dress! I didn't want to waste hundreds of pounds on a shoe I would wear once and wouldn't even be seen on the day so they were half price from John Lewis… my £34 bargain! Turns out I was right not to spend a lot of money because as soon as I stepped out of the house on the morning of the wedding the ground was wet and they immediately marked. By the end of the night they were black and literally blue (confetti had melted into them! (Oh well there was my something blue sorted!)
I borrowed my mums beautiful diamond bracelet and bought my earrings from Monsoon.
My diamond necklace was always a given that I was going to wear no matter what the outfit, as it was one of the last gifts my dad bought me before he passed away and is very special to me. It felt like I had him with me on the day.
I also bought 'I do' blue diamantes to stick on the bottom of my shoes.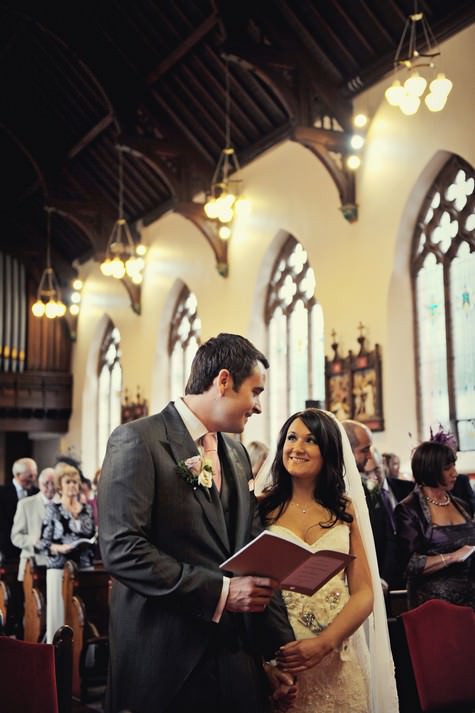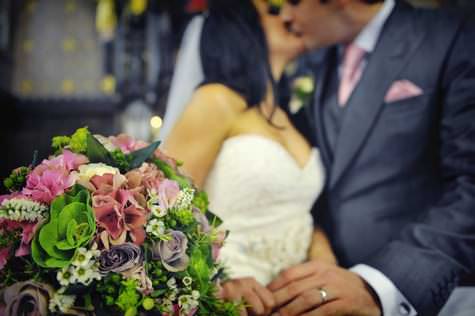 The suit and bridesmaids 
he suits were from Slaters suit hire in Manchester. The bridesmaids dresses were the very first wedding related item I bought. They were from Coast and suited both the girls brilliantly. I am a ladies accessories buyer for Matalan so I knew I had some perfect things from my own range so the bags and fascinators were Matalan's finest!
Theme
We didn't have a specific one as such. At times it felt not having one made it difficult to know what decisions to make but it also meant we could just go with what we liked whether or not it fitted into a theme. The things that were important to us were the music and the food and the rest sort of fell into place. All we did know was that we wanted the day to be fun and relaxed so we set the scene by sending our invites out on a cute printed tea towel.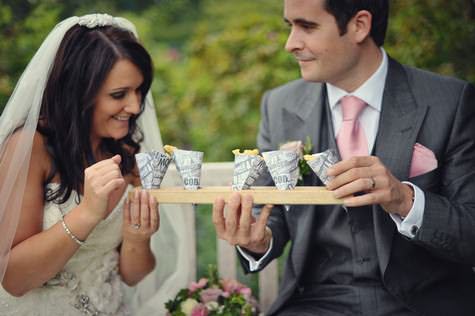 Food
We had an Italian antipasti starter as we wanted to get my Italian heritage in the food somehow. The main course was a beautiful lamb loin with fondant potatoes. The dessert was lemon cake with popping chocolate candy. The canapés were a mixed selection accompanied with copious amount of Prosecco!
Entertainment
We had a fabulous singer who played the piano while guests were having drinks. The plan was to have him play outside but thanks to the typical unpredictable British weather he played indoors which was great actually as he got to play on Arley Hall's fantastic grand piano. In the night we had a 7 piece band called The Jay Bees (stands for the James Browns! So you get the idea as to what kind of music was played… Soul, Funk and Motown)
Flowers
I had decided pretty early on that I wanted quite a 'garden' feel to the flowers… nothing too formal but with a soft vintage coloured palette. The florist was absolutely fantastic and knew exactly what I was after. I couldn't have the Peonies that I had originally wanted due to them being out of season but the vintage coloured roses and hydrangeas more than made up for it. We also had rosemary in the bouquet, table arrangements and pinholes. This stemmed again as a tribute to my father who managed to grow copious amounts of rosemary in his house in Italy and the smell always reminds me of him.
Decoration
We had candles in all the table plans (again a Matalan bargain). In the night we also had lanterns, fairy lights and candles dotted around which looked really pretty. We also had metal birds and love hearts dangling from the outdoor table parasols. We had little Parisienne gift bags for people to take the cake home.
Personal touches
-The table plan was a vintage suitcase we bought from EBay which was lined by a family friend in vintage fabrics. We then hung the table plans from this which seemed to be quite a talking point. We have since kept it full of our wedding day mementos.
-The favours were combined as name places. We gave everybody little pots of rosemary with a planter with their name on it.
-I also bought jam jars and wrapped pieces of lace around them and filled them with candles.
-Also, knowing the pain we girls have to go through wearing 4 inch heels all day and night I bought 50 pairs of flip flops and put them by the dance floor for the girls to change into at night. Probably the most talked about item of the day!
-I also had a basket of different coloured pashminas for the ladies who were sat outside at night.
Special moments
There are so many to mention but the main ones are really centred around family and friends.
A special moment for me was getting to the end of the aisle and seeing my future husband full of emotion and looking gorgeous… at that moment any nerves I had melted away.
-My brother walking me down the aisle was something I will never forget as was the fabulous speeches made by all the boys. I am so pleased we got them videoed so we can look back, laugh, giggle and cry all over again!
-Also having so many friends and family come from so far just for us made it extra special. We had people from Australia, Canada and Hong Kong so all that effort really didn't go unnoticed.
-I think the most lasting memory we have is how much laughter there was all day. The photographer managed to capture the mood brilliantly and the photos of my mum and I laughing, people swirling around the dance floor and the grooms friends throwing him in the air are amongst my faves!
Planning Advice
-Do lots of online research as opposed to spending money on expensive magazines…there are so many fantastic blogs out there and you can gain lots if inspiration from them.
-Don't be afraid to ask for discounts or cut corners where you can.. My dress was over £1000 cheaper than I had seen it elsewhere because I bought the shops sample. It was in perfect condition and they even had it cleaned for me.
-Go with your gut instinct. If you see something you like, buy it, or a supplier you want to work with, book them! Don't keep thinking you will find something better. You create more stress and generally you know instantly if something is right or not. Our photographer was the first and only one we met and was probably one of the best decisions we made.
-Get it video'd if you can. We didn't spend much on our videographer as we just wanted it as a memento and it was well worth it. You forget so much from the day and miss so much of what the guests are doing that it is great to see it again.
-But most of all…Enjoy it and don't worry. Everyone is there to enjoy it and if something goes wrong it all adds to the story!
-PS.. it's only you who knows that the hand made Italian confetti's didn't get put out.. nobody else will notice (although not quite sure what to do now with 100 sugared almond confettis!)
-PPS.. when it's over you will hopefully have a fabulous honeymoon to look forward to also!
Biggest surprise
All the boys being so emotional! I have never seen my husband cry and it was a real surprise. The best man and my brother were also very emotional… and I didn't shed a tear once! Everyone thought it would be the other way round!
The other surprise to everyone was how calm I was… not even a near death experience for one of the guests hampered my enjoyment of the day! But that's another story….!
Also a very welcome surprise was how long it lasted! Everyone tells you it goes so quick and to make the most of it but it felt like a lovely long day and we got to take every moment in.
Supplier Shout Outs:
Florist -Julia Synowiec from The Green Room Florist in Sale – 0161 973 4341 – the most fabulous florist there is! Everyone has asked who did the flowers since.. so book her quick! She also did the rosemary pots for us.. a very talented multi tasker!
Photographer – Nicola Thompson http://nicolathompsonphotography.co.uk By far the best photographer I have seen. The service we received from her from beginning to end was second to none and her photos are proof of how talented she is. Don't waste time looking around..she is by far the best!
Wedding dress – Amy Louise Bridal, Nantwich. Great service, very accommodating,  beautiful shop and dresses for every budget.
Invites – Karen Brown at www.weddingteatowels.co.uk
Music – Andy Chandler (look him up on Facebook for contact under his band name Santaigo Street Machine.
Music – The Jay Bee's – www.functioncentral.co.uk
Caterers – Gordon Beech RWBespoke – 

[email protected]

Coaches (for guests) – Swan Travel
For more information on Nicolas work go to:
http://nicolathompsonphotography.co.uk
FACEBOOK
TWITTER
[email protected]