Today I am featuring the last real wedding of the year, and it has to be a Christmas wedding of course! I have a very special styled shoot for you tomorrow and more next week but this wedding will be the last from 2020. lets hope that 2021 brings us a little more cheer and good fortune! It's the wedding of Natalie and James who wanted a simple, elegant celebration, mixed with their love of Christmas. They chose a beautiful selection of green and white flowers and mixed this with the Christmas trees that the venue already had on offer. Twinkly lights added the extra festive cheer, which gave the couple this understated, yet beautiful Christmas themed wedding. Big thanks to Aden Priest for the lovely photos.
Our wedding day was simple and elegant with a touch of Christmas festivity.  It was probably the only occasion that all of our family & friends from across the British Isles will be in one room, and that made it truly special.
Natalie and James were married on 24th November. The ceremony was at The Most Holy Name of Jesus Church, Oundle, with the reception at The George Hotel of Stamford in Lincolnshire. 'The church we got married in is 2 minutes down the road from my parents' house, and it's the church I've gone to since I was 4 years old. I was in many a nativity, had my confirmation and first holy communion there – so that was an easy choice! As we were living in Leeds at the time, it meant we were a 2 hour drive away, and for that reason it was important to me to find a venue that was exceptional at what they did, and had a wedding coordinator to take care of things that I couldn't be there to oversee.  The George is renowned for this.  I also wanted somewhere in keeping with the time of year, and as The George has a courtyard of Christmas Trees every year, we decided it would be perfect. We has 74 guests in the day and 110 at night. We got engaged in December 2016, so just short of 2 years.  We did debate getting married in January of 2018, which I think would have given us plenty of time to plan, but as we had family flying across from Ireland, we felt the chance of snow & bad weather would be less in the November.'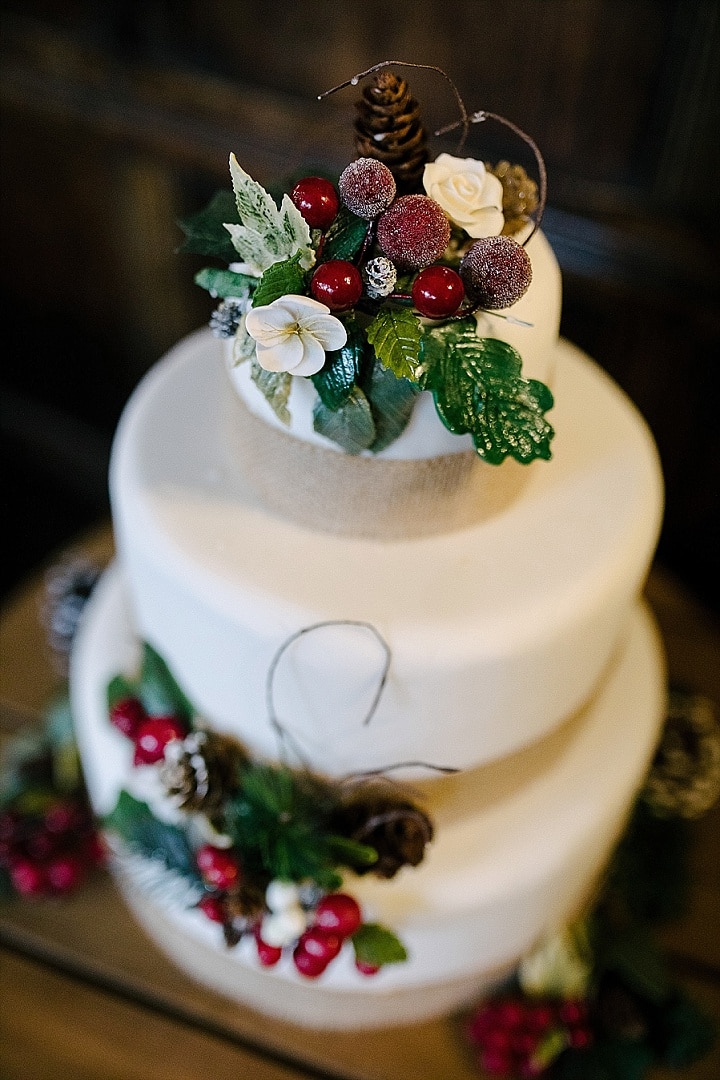 How they met
We met on Tinder! It was my first 'online date', but certainly not James'.  James' parents had no idea we met online until his brother spilt the beans in his best man speech.  We dated for four months before moving in together, and James proposed after just a year.  By the time we got married, we had been together for 3 years.  It was a whirlwind!
The proposal
James proposed the week before Christmas.  It was very simple and just at home after dinner.  I don't think I have a romantic bone in my body, so he knew not to do anything fancy.  We had been ring shopping in advance, and I'd picked out what I wanted (again, not romantic), so I knew it was coming, but I was working in retail at the time, and a proposal during the busiest working week of the year was not what I expected! I think he just wanted to get it done before the family arrived for Christmas!!!
How did you allocate your budget?
We were very lucky that parents supported us with funds for our wedding, but this meant I was very careful about how we spent our budget as I didn't want to waste their money.  We started off by deciding on the things that were most important to us, and booked/bought these first.  So for us, the venue, photos, food and music were the most important.
Where did you splurge and where did you save?
Early on in our wedding planning I read an article about the things you & your guests remember from a wedding day, and it really stuck with me.  We chose a venue that had gorgeous tables, so we didn't pay for linen.  Nobody (except maybe your Gran) will remember what your invites looked like, so we(I) made our own and didn't send Save the Dates.  And nobody sees the label on your dress or shoes, so I didn't buy designer, I just went for items that made me feel beautiful.  We instead spent our money on a stunning venue that served amazing food & drink, a photographer that gave us pictures to treasure forever, and music that filled our dancefloor.  These are still the things are friends & family talk about today, so I'm so glad we made these choices.
How did you choose your photographer?
My search was mainly online as I didn't have any friends who had got married in that part of the country.  I stumbled across Aden whilst looking for wedding photographers in Lincolnshire.  I immediately fell in love with his pictures as they are so full of colour and joy.  Aden also stayed right until the end of our wedding, rather than leaving after the first dance, so we have so many brilliant photos of the evening do, that you often miss out on.  Aden was the only photographer we met with – he was polite, friendly, listened to what we want, and had so much passion for his job.  We booked him right away.  One thing that really impressed me about Aden, although it was only small, was that he wears a suit to every wedding he photographs.  It may sound minor, but it meant he blended in with our guests and looked the part.
The dress
My dress was from Wed2B in Northampton, my shoes were from M&S and my accessories were my mum's jewellery.  I knew right from the word go that I'd regret spending huge sums of money on a dress I'd wear once, and whilst the perfect dress took a lot of searching for, once I put in on, it didn't matter what the label said.
The suit and bridesmaids
The suits were from M&S – I really wanted to buy the suits rather than hire, as I wanted to make sure they fitted really well.  This was something we spent quite a lot of money on, but men wear suits time and again, whereas my wedding dress is packed away in the attic.  I had one bridesmaid, who wore Coast, and a bridesman, who wore the same suits as the other men.
Theme or colour scheme
We didn't really have a colour theme, everything was kept very neutral with the whites and greens of my flowers used throughout.  I'm a big fan of keeping things simple and understated.  As we got married at the end of November, we were very lucky that our venue had already decorated for Christmas.  As a huge Christmas fan, I decided to introduce subtle themes of this throughout, and it saved loads on decorations, as the venue had been dressed for the season anyway.
Flowers 
Now you are testing me! The colour theme was white and green, and James is from Yorkshire, so we asked our florist to build my bouquet around a white rose theme.  I also wore a flower crown on the day with roses, mistletoe and greenery.
Decoration
We had simple greenery on the altar, and lit over 250 candles around the church for the ceremony.  The priest made one of our ushers sit within arms length of a fire extinguisher!  The George was already spectacularly decorated for Christmas, so I can't take any credit for that.  They had a forest of Christmas trees, curtains of baubles, and trees suspended from the ceiling.  We added table decorations of small vases and jars with white roses and greenery, and left it at that.
Food
Our venue let us offer our guests the choice of 3 starters, mains and desserts – by far the favourite were the gruyere cheese fritters, the roast beef – served off the bone in front of the guest, and sticky toffee pudding.  Everything was exquisite, and absolutely nothing tasted like it was mass catered.
Wedding cake
My gran made our wedding cake.  It was a 3 tier plain white cake decorated with white roses, red berries, greenery and pinecones.  It was beautiful, and was very special to us.
Entertainment
We had a DJ at the wedding, who played absolute floor fillers all night.  I always think one thing that makes or breaks a wedding is how many people dance at the evening do.  It may sound silly, but this was my number one concern for the day.  My dad even mentioned it in his speech!
Who supplied the stationery?
We made our own! I'm no graphic designer, but as I mentioned above, who really remembers what the stationary looked like a year, or even a month, after the wedding?!
Where did you go on your honeymoon?
As we got married quite close to Christmas, we decided to go on a minimoon to Berlin straight after the wedding.  We explored the Christmas markets, drank hot chocolate and had a brilliant time.  The following April we went to Sri Lanka and Dubai for 2 weeks.  We wanted a holiday where we would create the sort of memories you don't get on a beach.
Personal touches
As I mentioned, we made all the stationary ourselves, and my gran made our wedding cake.  We didn't want to spend lots of money on favours that would get left on the tables, so instead we put a selfie stick on each table and got some brilliant photos as a result.
Special moments
There were two personal highlights for me, the first was after the DJ invited everyone onto the dancefloor during our first dance.  I turned around and saw everyone we loved on the floor with their partner, spouse or friend.  Seeing that was such a special moment for me.  The second was seeing my dad having one of the best days of his life.  I always expected his speech to make me cry, but the most emotional moment for me was seeing how much of a wonderful time he was having. I knew it was because of how proud he was of me, and how much he loves me.  Nothing comes close to that feeling.
Advice for other couples
You'll have heard all the clichés, so I'll go with three pieces of advice that are more practical:
1) Think about what type of music your guests will dance to. We chose a DJ because no matter how fantastic a band is, it's unlikely that they are going to play The Macarena, Proud Mary or the YMCA.  It's these songs that get people up and dancing, and keep them on the floor all night!
2) When choosing a venue think about how many people you'll have at the evening do. Our venue was quite small and packed out, but it meant people didn't feel like they were on show when dancing, and the atmosphere was more like a laid back bar, than a formal wedding.
3) Don't splurge on champagne for the toast. Most people can't tell the difference, and you only have one glass before you hit the wine anyway.  Invest your time in choosing wine that goes with your food instead.
Biggest surprise
How calm I was and how nervous everyone else was! By that point I'd done all my worrying, and I'd reached the point of 'what will be, will be'.  James and my dad, however, were nervous wrecks.  Maybe it was the speeches they had to give!
Supplier Shout Outs
For more information on Aden Priest go to
www.adenpriestphotography.co.uk / www.adenpriestphotography.co.uk/blog / [email protected] / 07912560844 / FACEBOOK / INSTAGRAM / TWITTER
Based in North Lincolnshire, but travel all over. I'm a documentary wedding photographer who captures the natural moments from first thing, to the end of the party.