There has been a lot of talk recently about styled shoots and the purpose behind them. There is talk that they are self-indulgent and a wast of time, I have to disagree!  Styled shoots are a great way of showcasing new wedding trends and a great way to show off suppliers talents in areas they may not normally be able to venture. They are there to inspire couples and show them how to create something new and innovative for their wedding day, so proving that they can break the mold if they want to.
Todays shoot fits into that bracket perfectly. Titled 'The Anti Bride' it's not just showing off ideas for ideas sake it has it's own story line!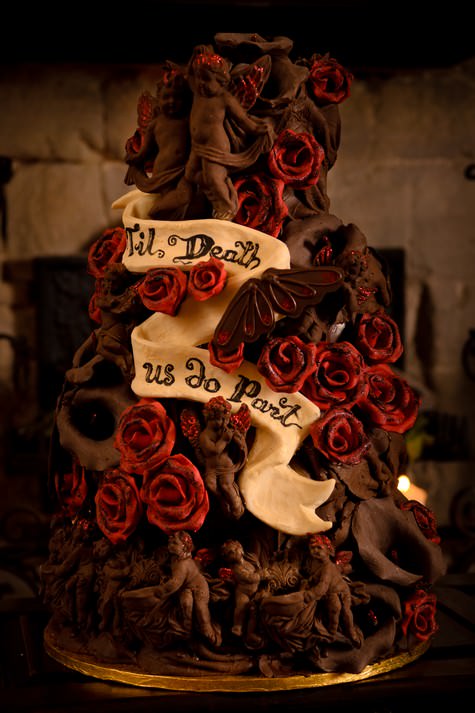 The shoot itslef all came about through Joyce Connor from Brides and Beauty who is a make up artist has always been a massive fan of the Hammer House of Horror and B movies anything Gothic, Edwardian and quirky.

A couple of years ago while thinking about all the weddings she done she wanted to see what a different wedding would look like. Not every bride wants a traditional white wedding so Joyce put pen to paper and wrote a short story! Then while having coffee with Georgina of Ruby weddings Joyce told Georgina her idea and the shoot was born. When approaching suppliers to contribute to the shoot they asked Choccywoccydoodah to make the cake and they loved the story so much that they asked if they could film it as part of their TV series on The Good Food Channel.
The Antbride – A tale of love and heartbreak!
It's the morning of Ophelia's wedding everything is arranged. Her dress has arrived she is nervous but excited. She checks that everything is as it should be. Her dress men arrive to help her get ready. She is wearing a dark red dress and the 2 men dress her tie her purple Dr Marten boots.
The Groom, Raven holds a deep dark secret. Although he loves Ophelia very much he puts every woman he meets under his spell. He a tall handsome man so what woman could resist his charm. Little does Ophelia know that the 2 bridesmaids have already fallen under his spell. The girls find him attractive but they have no idea that Raven is not only cheating on Ophelia but he is also cheating on the two of them.
One bridesmaid lies on the bed while Raven crawls towards her, she has really fallen for him. While she sleeps Raven kisses the other bridesmaid who now knows the truth but can't resist him. Raven is a good man but he can't help being the way he is.
The bride leaves the castle bedroom with the bridesmaids and the butlers (her dressing men) to walk to the ceremony room where Raven greets his new bride Ophelia.
They all sit down for a meal after the ceremony. They drink wine and celebrate.
Shortly after the truth comes out. Ophelia is angry and decides to smash the cake to pieces. She soon chases after the rest of the bridal with her axe. She finds them at the castle ruins already fighting among themselves.
The team involved in the shoot:
Make Up :  Brides and Brides and Beauty  – www.bridesandbeauty.co.uk
Hair:   Brides and Brides and Beauty  – www.bridesandbeauty.co.uk
Set Direction:  Brides and Brides and Beauty  – www.bridesandbeauty.co.uk
Photographer: Tino & Pip photography – www.tinoandpip.co.uk
Event Stylist: Paula Rooney Weddings & Events – www.paularooney.co.uk
Florist: Paula Rooney Weddings & Events – www.paularooney.co.uk
Venue: Thornbury Castle – www.thornburycastle.co.uk
Cake: Choccywoccydoodah – www.choccywoccydoodah.com
Bride: Georgina Webb – www.ruby-weddings.co.uk
Bridesmaids: Joanna Dickinson & Francsca Hodge
Groom: Lee Broderick
Butlers: www.butlersinthebuff.co.uk
Brides Dress:  – www.veromia.co.uk
Bridesmaids dresses: www.fairygothmother.co.uk
Grooms outfit: www.angels.uk.com
Fascinators/hats: www.esemeefascinators.com
Jewellery: www.kloofandkandy.com
Umbrellas: Love Umbrellas
Videographer: Lina Rasmussen