More and more often I am seeing colour coming back into weddings, mainly in the styled shoots I get sent. It seems these are leading the way in what to expect for upcoming years, and I cannot tell you how happy I am to see colour back on trend. Today's styled shoot is a great example of how colour can be used, with a strong sixties theme and of course the cutest flower adorned alpaca. The shoot took place on 26th April 2019 at Forever & Always Farm in Murrieta, California. It is filled with the most gorgeous 60s decor, macrame, beautiful flowers, fab stationery and the most amazing cake table. Courtney McManaway Photography worked with a talented team of wedding suppliers to create this shoot, and I just know you are going to love it.
A bright boho styled shoot invoking sixties-era color and design elements, in an outdoor garden setting.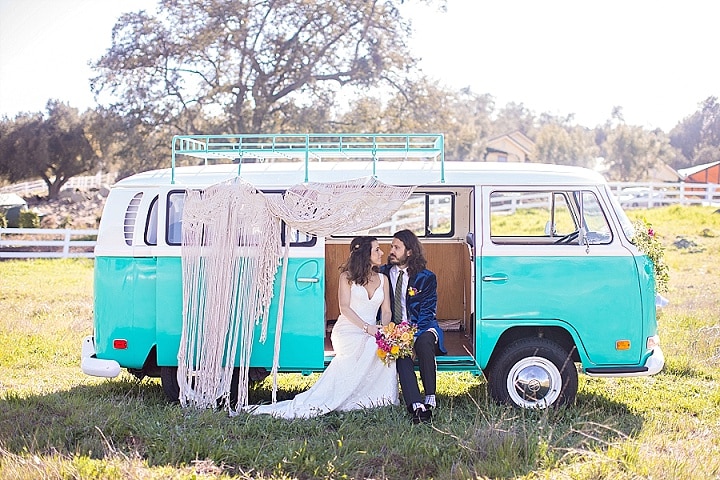 Courtney the photographer tells us more about the shoot 
The Beatles have been one of my favorite bands since childhood. I partnered with a local wedding planner to design a styled shoot that would be Beatles-inspired while keeping modern and on-trend wedding elements.
I wanted to do something a little different when it came to a styled shoot! Muted tones and pastels have been popular for years now – I personally love to see bright colors woven into a wedding day! I love how this session turned out!
I always delight in taking a few opportunities every year to partner with local vendors! It's a great way to flex our creative muscles and I get the opportunity to better network and see the work design and finished product on a styled shoot. I couldn't have been more thrilled with Ivory & Lace Creative (the true planning genius). I loved the pillows, the macramé, and the bright linens she brought into the shoot!
The suppliers who made the shoot possible