Today we are talking jewellery with the lovey people at Benati. Benati is the brain child of Anat and Ben Proctor a couple with a real passion for designing and making jewellery. If you are looking for something unique and individual then Benati is for you. They create a wide selection of beautiful rings in different styles, using a variety of stones and different designs. Ben is currently focusing his time on his Mobius Collection and his nature inspired leaf collection.
We are a small designing-manufacturing studio, where quality, design, highest craftsmanship and personal service are our thumb rules. We put our love into each and every piece we create. Jewelry design is our passion!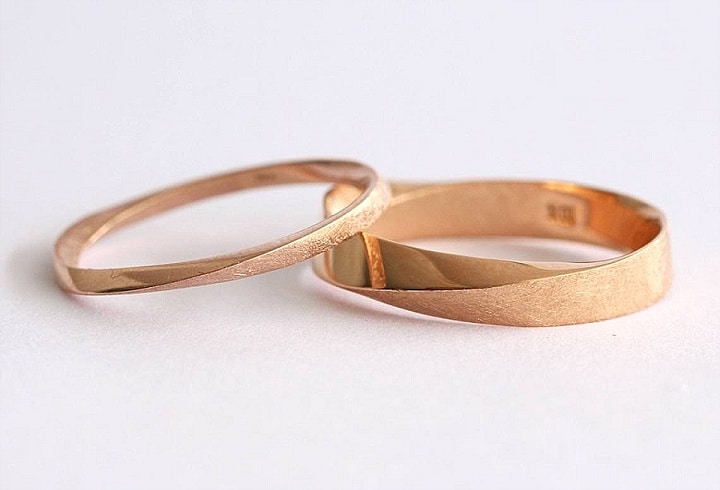 'My name is Ben Proctor, I am 36 years old. I was born in London UK and moved to Israel when I was 6 years old. I am married and have 3 children.
From an early age I had a strong connection to gemstones. This fascination became a hobby, I collected these rare and beautiful gemstones, and within time my collection grew tremendously. I still remember the first gemstone I received.
I always had a connection and interest in art and design; enjoying black and white photography, drawing, and the aesthetics of sushi making. While brainstorming what to study the idea of jewelry making came up. After a few lessons at a local goldsmith school I was immediately hooked and knew this is what I wanted to do.
In 2006 I started to study jewelry design at "Shenkar" College of Engineering and Design in Israel. I graduated in 2010 with a Bachelor's Degree in Design (B.Des). After college I gained experience with a few local and international jewelry companies, however my dream was to have my own brand and create jewelry independently.'
What made you start your business?
It all started when I was 6 years old… I used to go with my mum to an alternative medicine shop where they sold all sorts of things, between them – gemstones and crystals. For some reason I had some sort of connection to these stones, and I just had to have one every visit to that shop. Within time, my collection of gems grew and grew, up until today. Today I have quite an impressive collection. Later on did I find out that when my mum and dad were younger, they used to buy and sell antique jewelry in London's antique markets, so I guess it's in my blood.
I have created my brand – Benati. The name comes from my name: Ben, and my wife's name: Anat. Under this brand I bring to life all my idea's and creations. Designing and making jewelry is my passion!
What sort of geographical area do you cover?
We are an online shop, shipping worldwide.
What is your biggest achievement so far?
I think one of my most important personal achievements with my business, is that my designs are being chosen by couples around the world for their engagement rings and wedding bands. It's such a great honor for me.
What do you enjoy most about your job?
I'm fortunate enough to be doing something I love, so I can't really call it a job. I enjoy developing new designs, the process of crafting a new piece of jewelry is always exciting for me.
Mobius – The Surface With No End
I have created an exclusive collection of mobius wedding bands. Each band is unique and original, crafted in the highest standards with patience and accuracy. In my mobius collection you will find; excellent high polish finish, modern matte diamond scratched texture and diamonds following the mobius transition to emphasize the twist. I hope you find the mobius rings fascinating just like I do.
There is something simple yet so ingenious and perfect with the mobius band. With only one surface and one boundary component. Traveling along the band, you will go around the whole ring's surface strip and arrive back to the same point you have started. This creates positive energy and possesses powerful meaning.
When your eyes travel along the mobius surface, you will gazel around the whole ring and eventually arrive at the same point you have started. This surface continues with no real starting or ending point, which emphasizes it's continuity.
Make it a perfect symbol of your everlasting love and unity. A representation of your journey together united as one.
Choosing A Mobius Wedding Band
The mobius wedding bands from our exclusive collection would be the perfect choice to express your love. If you're looking for a men's wedding band that is simple yet has a special design element you are searching for – you have arrived to the right place. At Benati – our mobius wedding bands are designed in a variety of widths and are crafted to be worn every day, they are comfortable, strong, durable and crafted to last for a lifetime.
Ladies will find the perfect wedding band they are looking for – we have a large collection of feminine mobius wedding bands to choose from in different widths. If it's a delicate band with a interesting texture or a splash of diamonds to emphasize the the mobius twist; you will be fascinated by it's captivating beauty. There is a mobius band for everyone.
Leaf Engagement Rings
Benati's exclusive nature inspired rings are breathtaking and unique. With leafs, oak leaves, flowers, wood texture, bark and vine – These works of art will be cherished for a lifetime and more. Totally unique these rings are gorgeous and great for someone looking for something totally individual.
For more information on Benati Jewellery go to
www.benati-jewelry.com / www.benati-jewelry.com/blog / www.etsy.com/shop/Benati / FACEBOOK / INSTAGRAM / PINTEREST
this is a sponsored post