I have the cutest wedding for you today. It comes from the wild meadows of Oregon and features a nature loving outdoorsy couple who wanted to introduce their love of the wild into their wedding. Molly and Tim were married on 7th September in Hood River in Oregon. They found the perfect spot and held a gorgeous outdoor ceremony filled with the most gorgeous blooms, including some stunning sunflowers. The whole day is super laid back and filled with so much love. Molly and Tim look so in love and are obviously head over heals for each other. Big thanks to Elissa Deline Photography  for the gorgeous images.
How they met
Like many people in the 21st century, we met online. We were drawn together by a shared enthusiasm for the outdoors. One of our first dates was a rigorous hike in the Columbia River Gorge, and it has continued to be a source of happiness for us both. Most of our trips involve camping, hiking or backpacking of some kind. Appropriately, Tim proposed at the end of a five-day long camping trip through the remote Oregon Outback – a week of desert playas, frigid nights, secluded hot springs, and more than one flat tire. He surprised Molly on the final night with a room at Timberline Lodge. We went for an evening walk above the timberline, and he proposed under the full moon (and a headlamp).
Outfits
Tim was very excited to create a custom tailored suit. An avid hiker and climber, one initial inspiration came from the idea to wear boots with bright red shoelaces – a common tradition in old-timey mountaineering gear. From there, he worked with the staff at Duchess Clothier in Portland to craft a custom blue suit with red accents to complement the laces. The result felt uniquely suited to Tim's personality – stylish, fun, with an outdoorsman's flair. Molly had a hard time finding a dress. She had a very clear vision of something simple and unconstricting – easy to run around barefoot in. Unfortunately this did not seem to be in style. She worked with the wonderful A&B Bridal to combine a couple of their styles into the perfect hybrid dress. A major priority was that the dress move well in the wind. The gorge is a windy place. Molly was delighted with her dress. It was so comfortable.
Theme or colour scheme
We're both very outdoorsy people. The thing we love most about the Pacific Northwest is the stunning natural beauty and easy access to nature + wilderness. We chose our venue to share that beauty with our friends + family from afar. Molly had a vision of running barefoot through a wild meadow. That concept coalesced into the folksy, wildflower-centric theme. We wanted things to be refined, but unfussy. Neither of us are religious, but we have a deep love of traditions and rituals. One family tradition from Molly's family was a ceremonial whiskey shot. In good times, and bad, our family shares an "Angel's Whisper" – about 1/4 of a shot accompanied by an emphatic toast. Despite it being rather unorthodox, we loved the idea of bringing this tradition into our ceremony. It holds a lot of personal meaning, and it was a lot of fun!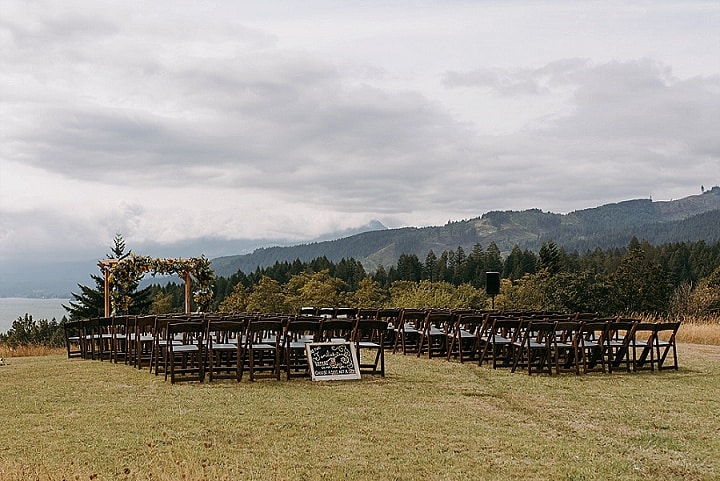 Decoration
Drawing from our theme, we chose a lot of elements that fit into the pastoral feel of the venue. Wildflower boquets. Corrugated tin buckets, rustic farm tables + chairs, and a 1953 flatbed truck converted into a mobile bar.The folk trio – fiddle centric folk music – provided a perfect ambiance to our cocktail hour, where guests played lawn games and drank custom whiskey cocktails & local beer.
Flowers
Molly is a landscape designer and plant nerd, so the flowers were a big priority. Bloomsbury worked with her to capture her vision and even brought her out to their flower farm in nearby Stevenson. Molly really wanted to use unexpected materials, like fruits and grasses, as well as the traditional flowers. This gave the arrangements an authentically 'wild' feel, and showcased the native flora of the area.The floral arch really took our breath away. It might have been Molly's favorite part. As it happened, our ceremony took place during an intense windstorm. Flowers were flying out of the arch and into the audience as we spoke our vows. It was quite a lively ceremony – we all had a good laugh.
Food 
We love to eat, drink, and cook. Part of showing off the Northwest for us was showing off the amazing local food and drink. Chefstable created an amazing menu of Oregon-based dishes: including cedar-plank salmon and local vegetables. We had a lot of fun selecting our favorite Oregon beers to put on tap in Betsy the Booze Truck, and the bartenders worked with us to craft a Signature Cocktail "Irish Mule" with local whiskey.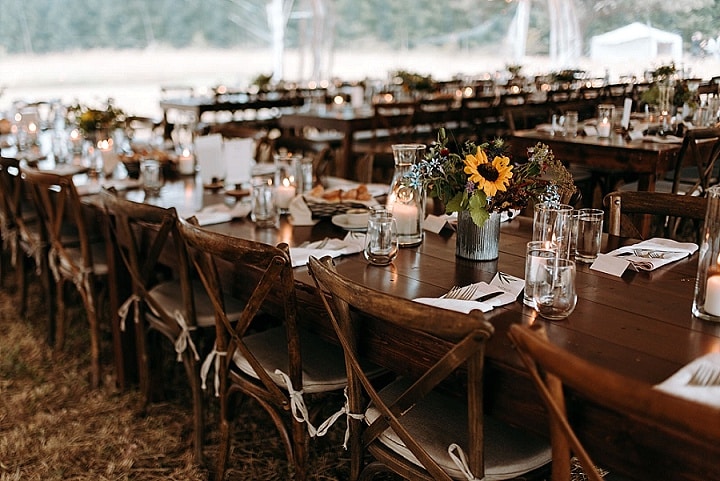 Special moments
The dance floor was where the wedding really hit its peak. DJ Aquaman did a wonderful job of playing music that brought people of every age out to dance. This was something we really valued. We've both been at weddings where no one over the age of 25 feels comfortable dancing, and creating that fun, inclusive atmosphere was a big priority.
Advice for other couples 
Let the challenges of planning a wedding bring you together. Find something that is meaningful to both of you. Don't let the endless decisions and questions drive you apart. It's good practice for married life!
Supplier Shout Outs
for more information on Elissa Deline Photography go to