When you have booked all the big bits of your wedding, it's time for the fun more personal aspects of your day. Choosing your first dance may be an easy job, you may have a song that has been 'your song' throughout your relationship. For others though it may be more difficult to choose, after all there is so much choice! When I got married (11 years ago…..it was our wedding anniversary yesterday) we chose Luther Vandross, 'Never too Much' and it still holds a very special place in my heart! So today I have invited Music HQ the wedding entertainment experts onto the blog to give us some fun advice on some of their favourite 2020 wedding songs, as they share with us their Top 5 most requested first dance songs.
There are a lot of tough decisions that you have to make when planning a wedding. Which venue are you going to choose? Who makes it onto the guest list? What food are you going to serve? But for a lot of people, the hardest decision of all is, which tune to choose for the first dance song.
Even if you are not too keen on the tradition, it's a big part of the day and all eyes will be on you. It's important that you choose a song that you both love, and something that sums up your relationship. It's also important to choose something that the guests will enjoy as well, but finding all of that in a song is tough!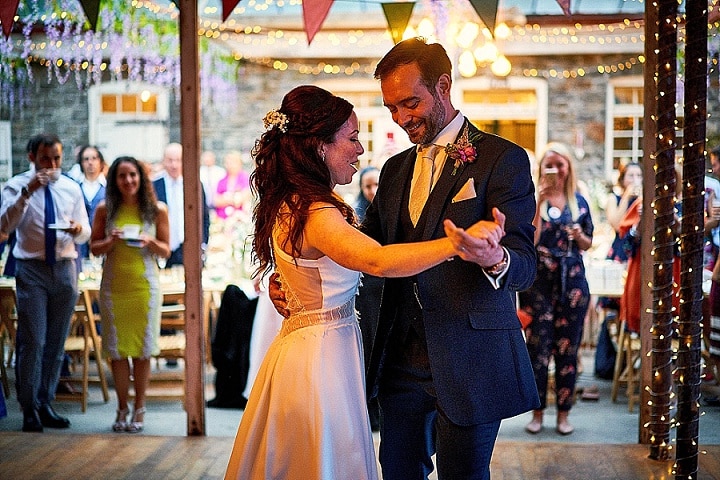 There are a lot of classic first dance songs out there, but people often want to choose something unique to them. However, looking at first dance suggestions is a great way to get a bit of inspiration so you can pick your own song for your first wedding dance.
We have put together a list of the most requested wedding band first dance songs that were chosen for 2020 to give you an idea of what you could pick:
Iris by The Goo Goo Dolls 
This track was first released in 1998 on the soundtrack to the film City of Angels, before being included on the band's sixth album, Dizzying Up The Girl. Even though it's an oldie, it still remains a very popular choice for the first dance. If you want something that has a bit of an edge but is still romantic, this is a great choice. Some people prefer something a little more traditional or they want a straight pop ballad, but if you are looking for something more unique, Iris by The Goo Goo Dolls is one of the best first dance songs.
Better Half of Me by Tom Walker 
If you are looking for something a bit more current, Better Half of Me is a brilliant song for your first wedding dance. The song was written for his partner Annie while he was away on tour, and his feelings for her really come through in the lyrics. It's perfect for a wedding because the underlying message of the song is that, as long as you have each other, nothing else matters. What could be more perfect for a wedding day?
Perfect by Ed Sheeran 
No list of first dance suggestions would be complete without at least one Ed Sheeran track. His songs are a popular choice for first dances and there are plenty that are a great fit. However, the one that gets requested the most for the wedding dance is Perfect. This 2017 chart topper is a heartfelt love song about his childhood sweetheart and since its release, it has been a hit at weddings because the lyrics perfectly capture how you and your partner feel about one another on your wedding day.
The One by Kodaline
On its release, The One by Irish rockers Kodaline was not much of a success. It only reached number 27 in the charts and most people haven't heard of it. However, it is considered a wedding classic and it's one of the most popular wedding band first dance requests. It's a simple song, with lyrics all about how amazing life is once you have found the one. Weddings are all about celebrating that feeling and making a commitment to that person, so this song is absolutely perfect for your big day.
Just You and I by Tom Walker 
If you are going to any weddings this year, expect to hear at least one Tom Walker track because he makes the list again at number one. The most common first dance request so far in 2020 is Just You and I from back in 2016. The original version was a romantic, acoustic track but after finding some success, he re-released it in 2019 with a more up tempo feel to it. This is perhaps one of the reasons why it is requested so often for the first wedding dance because you have the choice of either version. Whether you decide to go for the relaxed, romantic vibe or the fun, energetic one, the beautiful lyrics are perfect for your big day.
These first dance suggestions may be perfect for your wedding, but if not, you can use them as a jumping off point when you are picking your own song for your wedding dance. Just remember that whatever song you choose, make sure to get in touch with Music HQ so you can book an amazing live wedding band to play it for you!
FOR MORE INFORMATION ON MUSIC HQ GO TO 
www.musichq.co.uk / www.musichq.co.uk/blog / [email protected] / FACEBOOK / INSTAGRAM / TWITTER
THIS IS A SPONSORED POST