Today's wedding comes from Sunny California and it's guaranteed to brighten up your day! Devin and Cisco were married on 21st September 2019 at Cayucos Creek Barn in California. They had a mixture of Boho Chic and Rustic country decoration, A gorgeous hexagon ceremony backdrop that set the tone for their beautiful outdoor ceremony. This was then followed by a big old country barn party, along with a photobooth, pizza oven and doughnut wall to keep all their guests satisfied. Such a lovely day, filled with smiles, love and of course this wonderfully happy couple.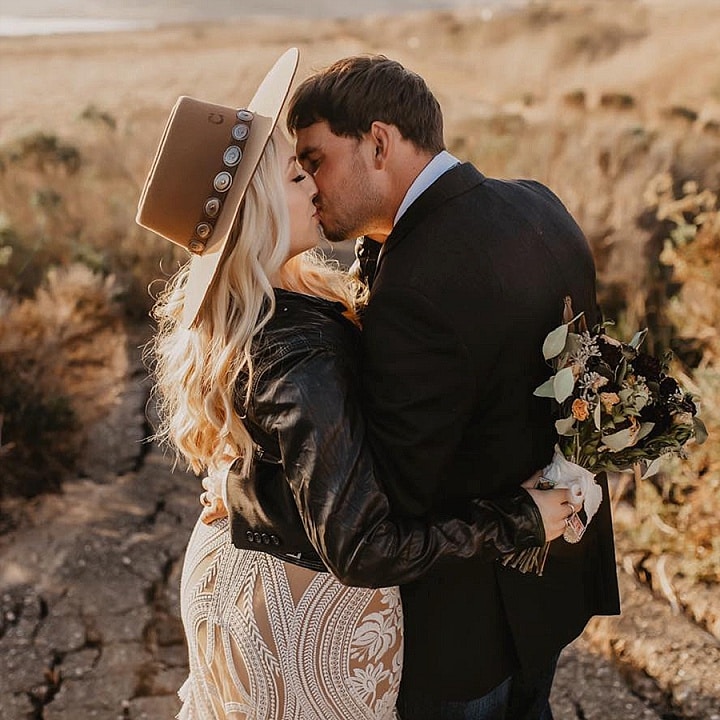 Colleen from Fairy Godmother a Wedding & Event Company tell us more about the wedding 
Cisco and Devin's love story was nothing short of a modern day, country song romance. NorCal cowboy farmer meets a SoCal valley girl photographer. Naturally as most star crossed lovers, they met in the middle on the central coast at the California Mid-State Fair. When Cisco met Devin, he asked her to dance with him at the "Watering Hole" and she said yes. Once he dazzled her with his mad dance moves… That was it!
They took it back to where it all started and were married on the central coast. Their wedding was boho-chic, meets rustic country… much like the couple themselves. Rich earthy tones paired beautifully with the trees, and rolling hills surrounding the venue. A hexagon altar adorned with burgundy, peach, pink, and yellow florals, and assorted pumpkins at the base reflected the beauty of summer turning to fall on that late September day.
All the wedding feels… Devin: "Cisco was super cute and nervous from all of the bridal events that lead up to the wedding. From the bridal luncheon, rehearsal, and then finally waiting for the wedding itself! He said that he was so relieved when he finally saw me at our first look, and that he would have been a mess had it not been for that very special moment. Then we were both able to relax and had a wonderful wedding day."
The reception was held outside of a dazzling rustic barn, where Cisco and Devin later danced the night away with family and friends. The night was filled with endless fun from a vintage "Tap Truck" carrying craft beer on tap, hand crafted wood fired pizza, to a rustic tin trailer photo booth. Needless to say this rustic central coast wedding was one for the books.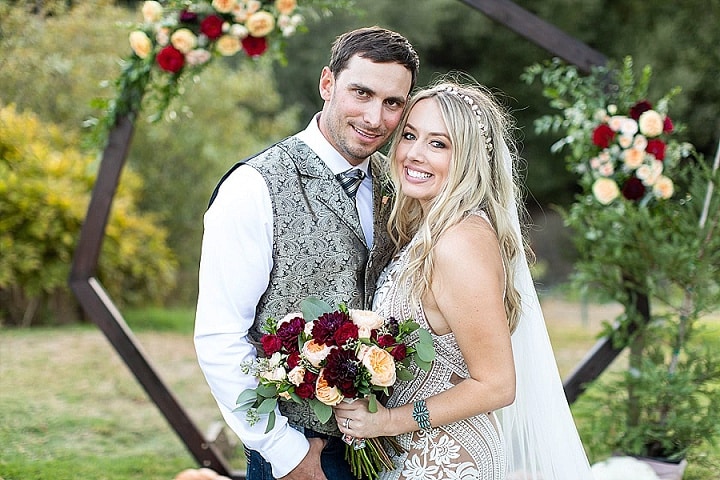 Supplier Shout Outs
[jprel]