Well hello you beautiful people and welcome to another amazing Monday here on the blog. I hope you had a lovely weekend? Mine was great, I actually had a proper night out on saturday night and went to see Rudimental! It was a fab night, just what the doctor ordered!
This week I have some amazing weddings to share with you, starting off with this super stylish, Bohemian wedding from sunny California. California is probably my favourite location for weddings that I feature on the blog. There is something about the dry land, the sunshine and the sense of edgy style that California weddings have. Super laid back and full of Boho goodness. This wedding is no exception. Lorén and Hayden have done a fantastic job of creating a wedding full of amazing looking decoration, details and an overall awesome look and feel to their day. The Taco bar, doughnut wall and churros, along with the stunning outfits and ceremony backdrop are my personal favourites. All captured perfectly by Carlee Tatum at Milk and Thistle.
A bohohemian dream, natural colors, handcrafted pieces, very much an organic feel to everything. Coastal breeze, taco bar, good music and a whole lot of dancing.
Lorén and Hayden were married on 23rd June 2018 at Dana Powers Barn in Nipomo, California. 'We were both born and raised on the Central Coast of California and wanted a wedding where it felt like home. It was also a stunning venue! We had 200 guests. We were engaged for about 1.5 years before getting married and I would say we actually didn't start planning until 6 months before the wedding date. I am a creative at heart, I made a lot of my pieces for my wedding which definitely took longer than I had planned!'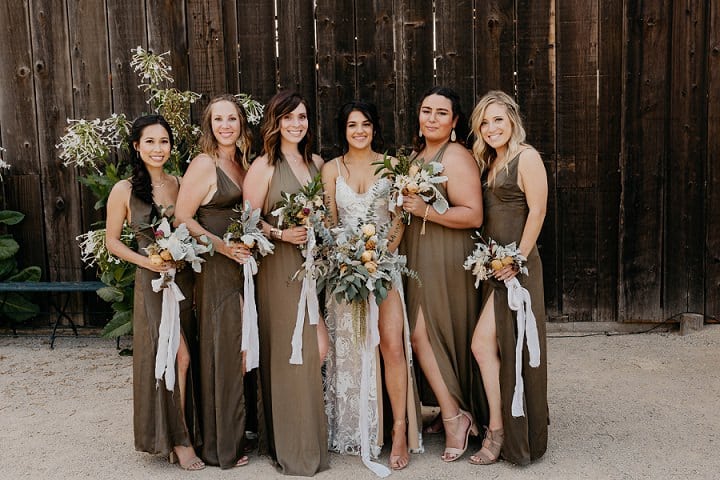 How thet met
And how long have you been together? We met in high school, we started dating when we were both 15 years old! I was walking to class while Hayden noticed me, I said hi to his friend sitting next to him but because I didn't know Hayden I just smiled, he asked for my number and 2 months later we went to prom together and as the saying goes the rest is history. We have been together for a total of 8 years now!
The proposal
It felt like a normal day in the beginning both Hayden and I's brothers were in town for what I thought was Hayden brother's birthday. It was a casual Saturday early afternoon and like most weekends on the coast, we went wine tasting to meet both our families at Opolo. We were tasting inside the tasting room and I remember whispering to Hayden " I can not wait to marry you someday, you are my dream man" I had zero idea that 15 minutes later he would be kneeling asking me to marry him! He smiled and said it back. We were then headed to the hill side of Opolo where we usually play lawn games, eat, and drink good wine, a normal family day for us. He got down on one knee and told me how much I meant to him, how we wanted me as his wife now and to forever. A half second later I said a big HECK YES! I was stunned and definitely ugly cried which made for great photos haha.  Everyone jumped out of the car screaming, it felt like a dream I was so surprised on what just happened that I stood there with my mouth open crying.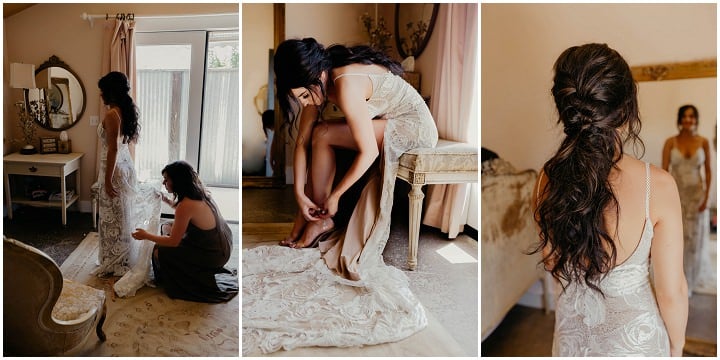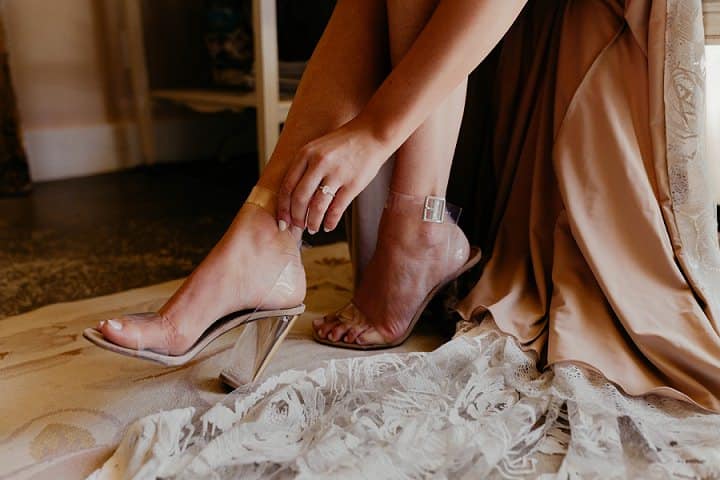 How did you allocate your budget?  
We knew both our parents were going to be helping with our big day. We met with both of them separately and asked how much  they would be willing to help us with our special day. Once we received both of those numbers we went from there. We knew that we didn't want wedding debt after our wedding so we made sure to stick very close to that number.
Where did you splurge and where did you save?
Being the creative type that I am I made a lot of items and décor pieces for our wedding, but we splurged on having a well-known professional caterer for food.
How did you choose your photographer?
Our photographer is a family friend and does amazing work, so that was an easy choice! She stands out from the rest of the photographers in style and in quality.
The dress 
My dress was the Rosa Gown from Grace Loves Lace and I paired it with Untamed Petals Ear Rings. My shoes were from Steve Madden, Clearer Sandal. I wanted something untraditional, something that spoke clear of my style on my wedding day.
The suit and bridesmaids
Hayden and the groomsmen wore rented tuxedos from Mens Wear House from Vera Wang. When it comes to tuxedos you cant get better than a black tux with a bow tie. For our bridesmaid they wore long olive dress from Show Me Your Mumu. Finding dresses that fits every bridesmaid can be very difficult, I found that olive was a great choice for all skin tones and the long elegant dress as perfect for all shapes and sizes.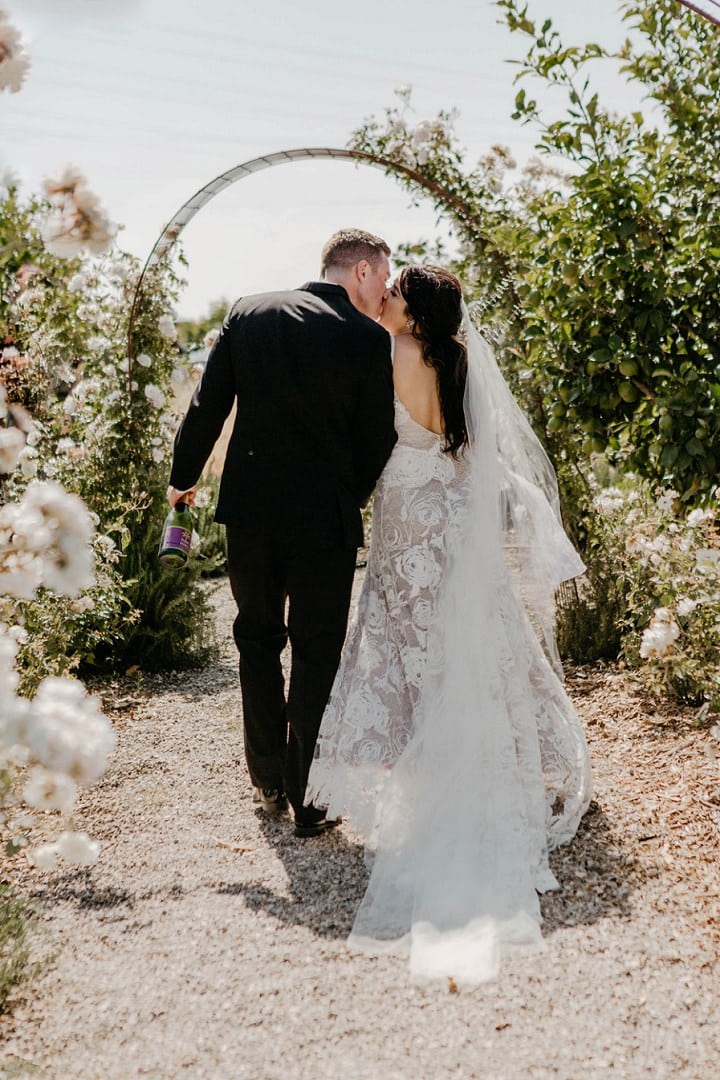 Theme or colour scheme
I wanted our wedding to have a raw organic feel, nothing too bright nothing too put together because that just is not our style. We both love simple, natural with a twist edgy/untraditional. Our colors were greenery, and neutrals we wanted our friends family and our love to be the theme not the colors of the wedding, and I think we nailed it!
Flowers 
A close friend and I actually did our flowers, we went to the near by flower market a few days before our big day. We had a combination of eucalyptus, roses, babys breath.
Decoration 
On our tables we had brass candle stick holders with cream candle sticks, & our raw wood table numbers that we made! Our focal point for decoration was our sweet heart table area. I had a custom triangle shelf made with our over sized raw wood table to match! I am the founder of Ren Co. so I had to of course incorporate some of my plant dyed pieces in there as well! We also had a killer lounge from Scout Rentals, another local company; we killed two birds with one stone and made our lounge into our Polaroid photo area.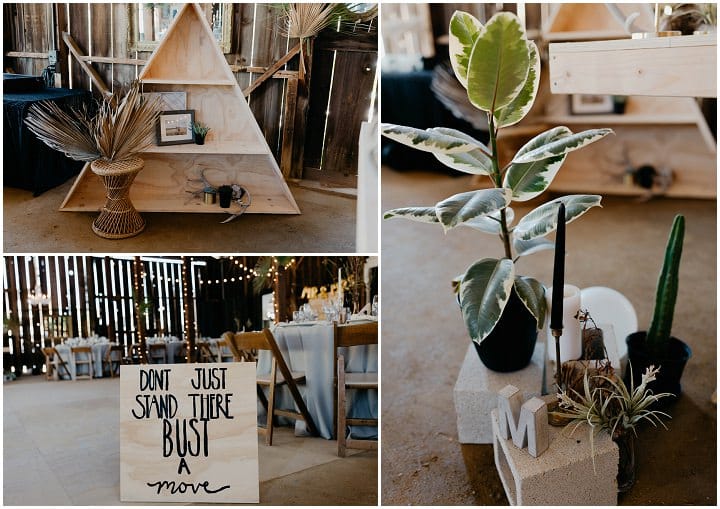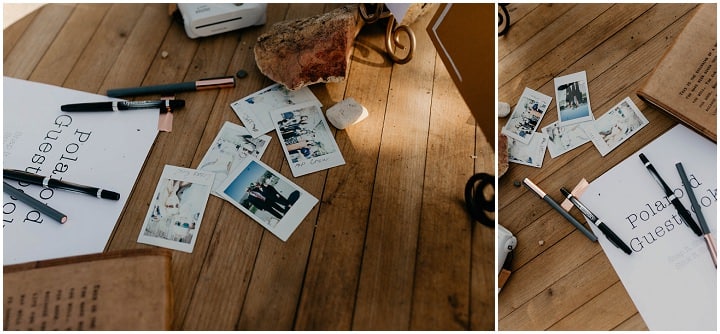 Food 
We had a taco bar with churros!
Wedding cake
As for the wedding cake, we had a small carrot cake made for just the two of us. I made a modern donut wall and purchased donuts from a local place in San Luis Obispo, Slo do. co.
Entertainment
We had a DJ
Personal touches
Yes! I designed and styled our entire wedding. We had a few pieces made for us from either my father or our friend who is a wood worker. As for the linens on the sweet heart table, I plant dyed them and sewed them for our wedding day.
Special moments
It seems like the whole day was one big large special moment. But my favourite part of the entire day was reading our vows to each other. They were so us and so raw, it seemed as if we had wrote them together but in fact we didn't.
Advice for other couples
Traditional isn't always the way that you should go, have it be your style together not the way it's "supposed to be." Also, there are so many creative ways to go about saving money for instance we had a family friend make our cake, a friend and myself did our flowers and made them exactly how we wanted them to be and bought booze as Costco! Do your research and figure out where you can save, because anything and everything adds up!
Biggest surprise 
My biggest surprise had to be how loving, and meaningful Hayden's vows were. I knew of course he would have something that meant something to me but his vows blew me and the rest of the crowd away. They were so genuine and so heartfelt.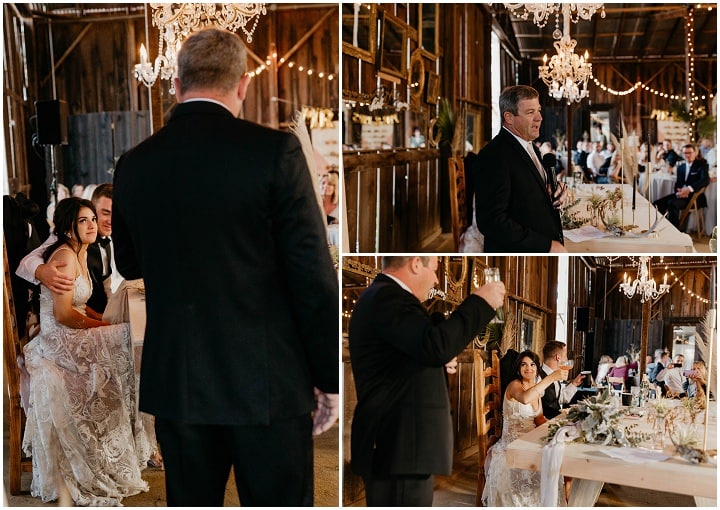 Supplier Shout Outs
For more information on Milk and Thistle go to
www.milkandthistle.com / www.milkandthistle.com/blog / [email protected] / (805) 441-1432 / FACEBOOK / INSTAGRAM / PINTEREST
While I was originally born and raised in Colorado I am currently based on the central coast of California. Inspired by nature and earth tones I take wedding photography from a less light and airy approach and capture the truly romantic and deep tones.