Happy Friday everyone, I do hope you have had a great week and that you are now ready for the weekend ahead of us, I can't wait. I have two parties to go to tomorrow, a two year olds (Dexter's girlfriend) and my friend Linda's birthday garden party, so a fun day all round. We have another fabulous wedding for you today. A London wedding with two wedding ceremonies, a super stylish bride and one of the best wedding cakes I have seen in a long time! Thanks to Amy & Omid Photography for the fab images. Have a good Friday everyone! xx
It was simple and happy. An intimate affair with old fashioned undertones.
Nat and Jon were married in a legal ceremony in front of their parents at the Hackney Town Hall registry office – a gorgeous art deco building in East London – in vintage outfits. After an outfit change into wedding gown and suit, this was followed by portraits before another more personal ceremony at  Wimbourne House with a roof-top reception overlooking the London skyline.
Bride Nat continues recounting the day: 
Amy & Omid photography planned and scoped the location of our photoshoot before the wedding ceremony based on our brief – capturing our personalities and the character of a part of town we've spent so much time in and love. A small but memorable highlight was some builders working in the area singing 'isn't she lovely' to me as I walked up the road arm in arm with her my new husband for a photo with a graffiti backdrop.
Following on from the legal ceremony, we staged our own take on a wedding ceremony, including 'there in love in you' by Four Tet (an album Jon bought for Nat as a gift on their first valentine's) whilst our friends and family contributed beautiful readings and poetry from  Baha'i, Christian and non religious texts. This was held at Wimbourne House – a magnificent converted hat making factory from the 1890s, now converted into a photography studio, painted in spotless white with a beautiful original floor to ceiling arched windows as the standout feature in the space.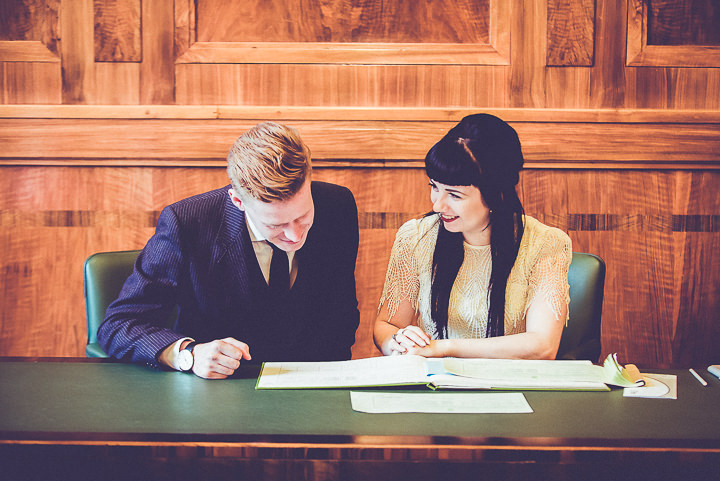 Part 2 was a reception on the roof of the building with a view across London accompanied by an acoustic set by 3 friends and their guitars – each of the boys has a career in the music industry. As Jon works at Abbey Road Studios, we were blessed with a wide choice of musicians to call on to perform. The roof party included a drinks reception and a group photo to capture the moment where guests and family from all over the world gathered in Shoreditch to celebrate. Next everyone moved down to another separate floor for dinner: a persian feast – one that matched my heritage. A mezzo style starter, then a meal of delicious meats and mixed rices followed by individual desert pots hand made by Jon's brother. Finally the enormous 'NAT & JON' cake was cut and a 5 hour party kicked off, with a mixture of everything from traditional persian music to Sean Paul to Jamie XX. DJs included the South London duo Out & Down, plus special guests Kulture & Starsmith, making this a wedding disco like no other…
Every last detail was arranged by us – a proper labour of love. Everything from the hand-made favours by a hotel chocolat chocolatier, to all table names and labels for the Polaroid picture gallery hand typed by dymo by Jon's sister, to the Persian tea room for Great Auntie Jean and co. to enjoy.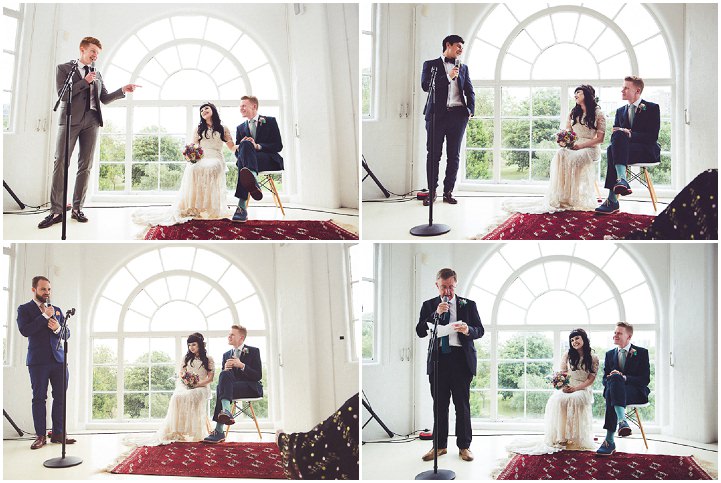 ARVE Error: The video is likely no longer available. (The API endpoint returned a 404 error)
Supplier Shout Outs
For more information on Amy & Omid Go to:
www.amyandomidphotography.com / [email protected] / FACEBOOK / PINTEREST / Amy: 07511 526897 / Omid: 07577 777392