Happy Monday everyone, and welcome along to Christmas week on the Blog! How exited are you that it's Christmas, I am SO excited! I can't wait for Christmas day but I'm also looking forward to all the days before with the Christmas preparations, visiting friends and family, eating, drinking and then Boxing day having a big chill out! I hope that some of you are now off work and if not you're not to overworked and stressed. To start this rarther short week on the Blog I have this gorgeous wedding from Amy Taylor Imaging. The wedding takes place at the wonderful Hawksmoor in London and it features Rebecca in a beautiful blush pink dress, Andy in a pair of metallic converse and the most amazing wedding cake! Enjoy.
'It was a wonderful day, every bit as fun and emotional as we had anticipated but we enjoyed it even more than we thought we would. It is truly special to have everyone you love in the same place celebrating with you and I'm not sure I had fully appreciated that until it was happening'
Rebecca and Andrew were married on 10th October 2015 at The Mayfair Library, London and the Reception was held at Hawksmoor Guildhall, London. 'We aren't religious so we knew we had decided against a church wedding we decided to be the first of our friends to have a city wedding. With those two decisions made we knew we were looking for a registry office in the city. We looked at a few and found them a bit grim to be honest, but finally we heard about Mayfair Library. We went to an open evening there and just thought it was by far the loveliest registry office we'd seen and, with the added bonuses of beautiful gardens outside for photos and books lining the walls, we knew we'd found our ceremony venue. When we got engaged one of the first things I said to Andy was, 'wouldn't it be great if Hawksmoor did weddings?' and it turns out they do! It is our favourite restaurant and it's where we went on our first proper date. We had 100 guests in total but spread across the day. We got engaged in April 2013 so we had 2.5 years to plan! But we didn't actually start to really plan and take any action until a year before our wedding date.'
How they met
We met at work at the BBC in London. We worked together on a few projects and became friends, which was how the situation stayed for 18 months until we went out to a Halloween party in 2011, had a lot to drink and got together. It then came out that I had fancied Andy for more or less the whole time we had known each other. It was different for him – he had just thought of me as a friend until that Halloween party when he says he suddenly realised he had feelings for me. The day after the party he told me he loved me! So it all happened very quickly after that.
The Proposal
We went travelling in January 2013 for 6 months around South, Central and North America. In April we had reached Costa Rica and on one of our days there we decided to try zip-lining. We were in a wonderful part of the country, high up in jungle-covered mountains in a place called Monteverde. We joined our group to learn how to zip-line and completed quite a few of the lines separately. However, there is the longest zip line in the world on this particular course (it's 1500m long!) and if you like you can zip down it together (they attach you to each other then push you off the edge so you fly along through the trees). Halfway along this line, Andy shouted to me 'will you marry me?'. We were flying over the tress and the wind was rushing in my ears and I wasn't sure I'd heard him right but I thought, if that is what he said then I definitely want to say yes! So I did! When we got to the end of the line and landed safely on the ground, I checked that he definitely had asked me to marry him and he had – phew!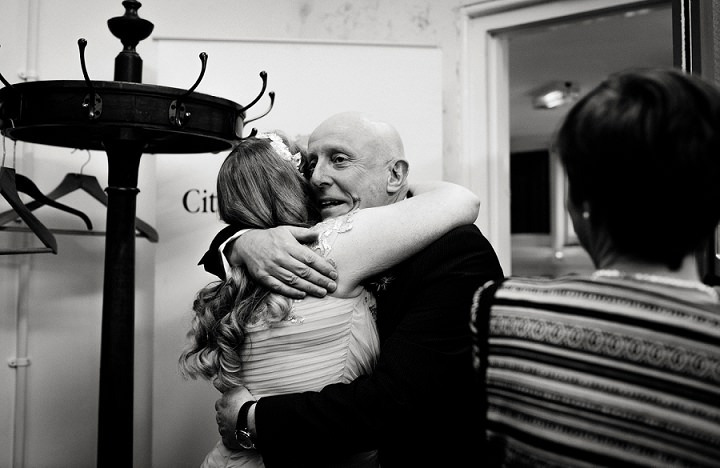 How did you allocate your budget
We did a bit of research and were both shocked that some of the bridal magazines were putting the average cost of a UK wedding at £24k! After speaking to a few friends who had recently got married, it seemed like, amongst our group at least, no one had spent more than £16k and the least expensive wedding was £6k. We decided that we didn't want to spend more than £15k so we set the budget at that, hoping to actually spend a bit less. Andy is a financial journalist and also runs a money-saving website called Be Clever With Your Cash, so there was no way we were ever going to go over budget! He also made sure we got some great deals on various parts of the wedding by using his money-saving expertise.
Where did you splurge and where did you save
We splurged on the reception venue, Hawksmoor Guildhall. However, considering it is regarded as one of the best steak restaurants in London, and is so beautiful inside that it gets used in films/TV regularly. We spent a reasonable amount on flowers and cake, but again, considering it was a central London wedding and both the flowers and cake got rave reviews from everyone, we feel those prices represent good value.
We saved on my dress as it was £250 and then I spent another £200 on alterations. I absolutely loved it and knew it would be the one when I saw it. Andy's tux was also a total steal – we got it for £70 from Moss Bros in the sales.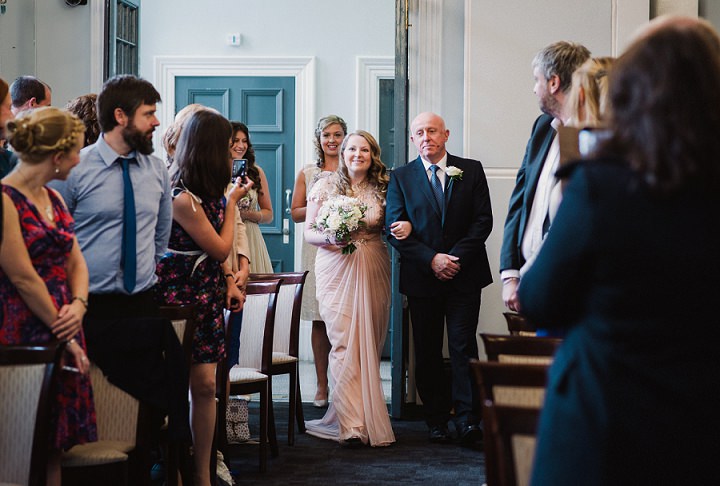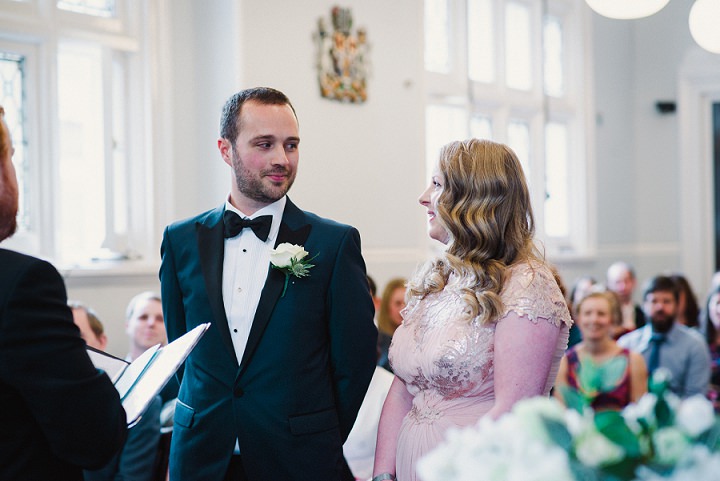 How did you choose your photographer
I was a bridesmaid at my friends Hannah & Tom's wedding last August and Amy Woodward-Taylor was their photographer. I remember before their big day they said Amy was excellent at putting them at ease as they don't like having their photo taken, Tom especially. The photos from Hannah & Tom's wedding were beautiful, so that sealed the deal and.
The Dress
My dress was by a Japanese-American designer called Tadashi Shoji based in Las Vegas. You can't get his dresses in the UK but I bought it online from his website. However, we decided to get the dress sent to New York and then we went for a little holiday there last Christmas and to collect my dress at the same time. My shoes are by Rachel Simpson. My headband is by Victoria Fergusson Accessories. I didn't want a veil but I wanted something in my hair and as soon as I saw this particular headband I just had to have it. It is so beautiful and delicate and Victoria will make it in a colour to match your hair.
The Suit and Bridesmaids
Suit – Andy's deep blue tux is by Moss Bros. It was inspired by what the actor Eddie Redmayne wore to the Oscars earlier this year! Andy wanted something a bit different than plain black leather shoes, so he went for gold metallic leather converse, as I was changing into silver leather converse for our evening do. I think he looked fabulous!
Bridesmaids – I didn't want them to have the same dress, I wanted them both to have something that suited them. Both dresses are from French Connection bought in the sales – Becca's was dark cream with gold sequins on the top half and Amy's was a lighter cream and covered in tiny clear sequins that caught the light really nicely. They both wore a blush cardigan from Oasis that went with my dress.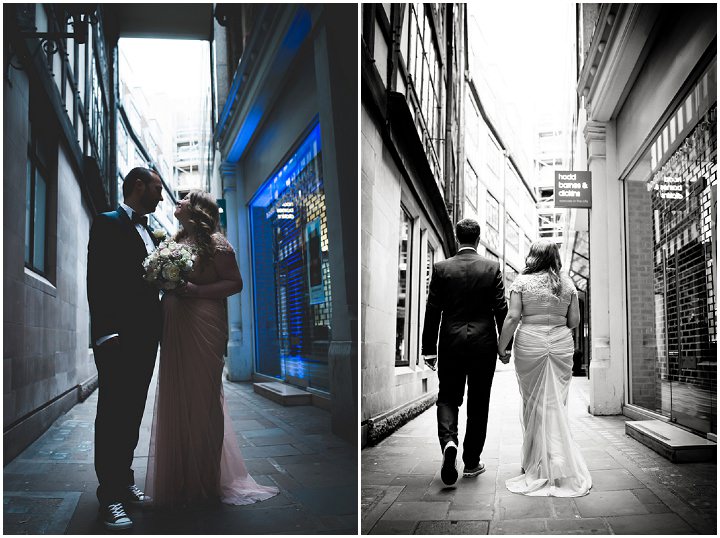 Theme or Colour Scheme
Both venues have an old/period style about them, especially Hawksmoor as it has quite a 1920s/1930s-speakeasy kind of feel to it. My dress has lots of tiny silver-y sequins on the top half and so from that, so metallic became a bit of a theme. Also, from not wanting to be pinned down to one colour, we decided to theme our tables at the wedding breakfast by colour – we had a red table, yellow table, orange table, pink table, purple table, light and dark green tables, light and dark blue tables. Plus the top table was multi-coloured theme. We did this subtly by buying packs of Pantone cards and using them as the name-places. I also used the Pantone cards to make our table plan which ended up looking a bit like a bunch of colour swatches from a DIY shop but I loved it!
Flowers
In my bouquet, the bridesmaid's bouquets and on the tables we had soft pink and white roses, gypsophilia, lisianthus, thistles, freesias and herbs such as sage, myrtle and bay. The buttonholes/corsages were white roses backed by a green leaf. On the bar we had a huge vase full of hydrangeas, delphiniums and roses. We had so many lovely comments from our guests about our flowers, they were truly beautiful and the creation of a very clever lady – Victoria Lemmon from Victoria Flowers.
Decoration
Because Hawksmoor Guildhall is a stunning restaurant we felt that it didn't need loads of decorations. So, other than the flowers, we decided to keep it simple and just use lots of strings of white fairy lights. The venue kindly supplied loads of tea light candles which they put in cut glasses/tumblers. There are quite a lot of large mirrors in the bar/restaurant so the twinkly lights and candles were reflected which made it look very inviting and like we had twice the amount!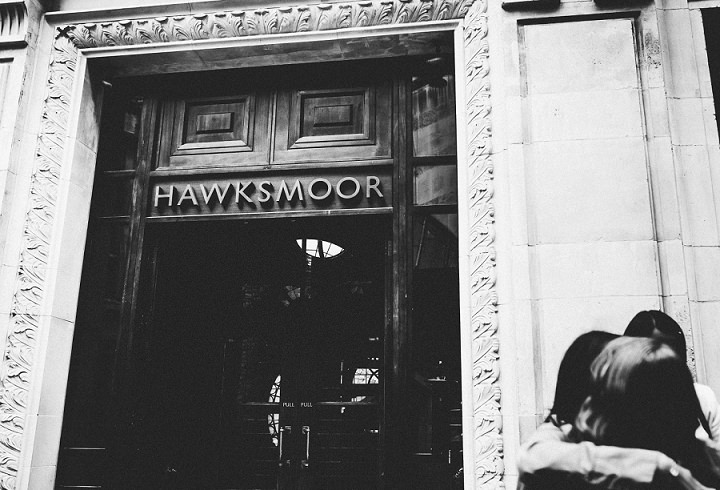 Food
Hawksmoor is famous for its steak – going there a few years ago was the first time I had enjoyed steak, having previously avoided it thinking it was tough and tasteless. So after that conversion we were always going to have steak for the main course of our wedding breakfast! We had platters of Prime Rib, Porterhouse and Rump steak on each table (all cooked medium/medium rare) so our guests could try different cuts. This was served with cones of triple-cooked chips and beef-dripping fries, buttered greens and béarnaise and peppercorn sauce. The starter was either smoked salmon with soda bread, or pork-belly ribs. The dessert was lemon tart with vanilla ice-cream, or raspberry pavlova. For our evening guests we had mini cheeseburgers, lobster rolls and grilled cheese sandwiches – and of course the cake!
Wedding Cake
I genuinely think our cake is the most beautiful wedding cake I have ever seen and the taste matched the look! The bottom layer was chocolate orange, the middle layer was Victoria sponge with a passionfruit butter cream and the top layer was red velvet. We designed the cake in collaboration with the amazing lady who made it  The bottom layer we decided we wanted soft pink ombre ruffles to reflect my dress, the middle layer to be covered in silver leaf to pick up our 'metallic' theme, and the top layer to be classic white. On Etsy I found a cake topper in the shape of a crescent moon with little stars on it, which is when Clare came up with the clever idea of having little stars cascading down the side of the cake – stunning and a bit different!
Entertainment
We didn't have room in our budget to splurge on a wedding band or DJ, so together we made extensive lists of all our favourite songs and over a few months, Andy painstakingly built an awesome playlist on Spotify which we them hooked up to a hired-in sound system. We had people dancing until 2am so it can't have been bad music!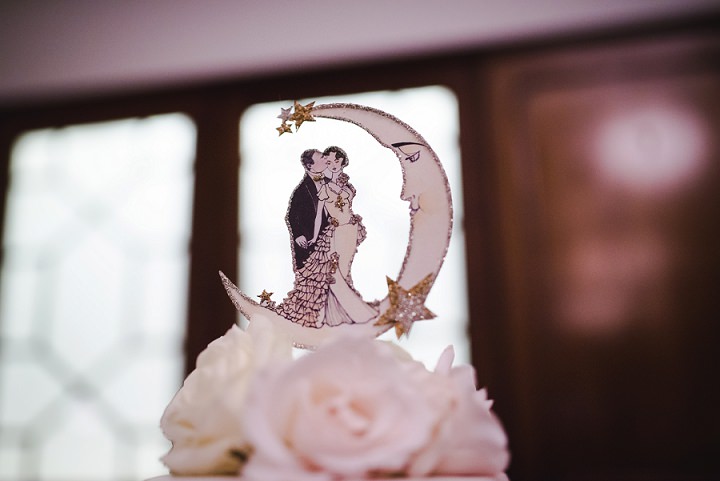 The Stationery
We made it all ourselves. We used the stag and star cut out stamps on the front of the invitation and then used the gold paper on the inside of the invitation so it would show through the cut-out. We then used the personalised stamp dipped in gold ink on the front and the Pantone cards became our RSVP cards which were inserted inside each envelope along with the invitation. It was lovely to get the multi-coloured RSVPs dropping through the letterbox for a month or so after we posted our invitations!
Personal or Handmade Touches
The Stationey and tabel plan as already discussed. We also made little signs in gold and silver paper in perspex block frames that indicated where to leave cards/gifts, and how to upload photos to our Wed Pics app/album.

Special Moments
The whole thing! But if I had to choose, it would be walking in with my Dad and seeing Andy at the top of the aisle. Also, my Mum doing a reading was very special for me. All the speeches were funny and touching but I will always remember Andy's Princess Bride-themed speech for its loveliness and uniqueness. The bus ride between venues really surprised me for how enjoyable it was! Being on a bus is not normally at the top of my things to do, but this bus was a gorgeous silver vintage Routemaster on which we served Prosecco to our guests, so the whole journey seemed glamorous!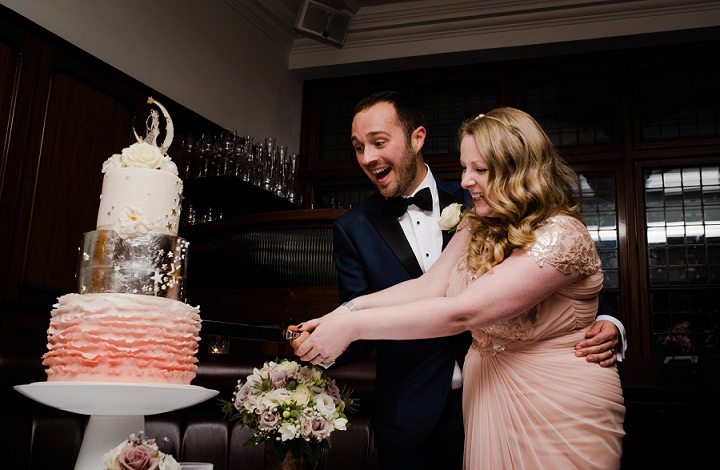 Advice to other couples
Everyone says this, but just enjoy it. Take some time, even if it's just five minutes, to stand together on the day and just look at what you've achieved as a couple – how happy your family and friends are, how great your venue looks and how fantastic you both look and feel. Take notice of what you are saying to each other at the ceremony, as those words carry real weight and meaning. Take a deep breath and speak slowly and clearly to each other so the moment isn't lost. I was worried I would cry through my vows but I found that smiling while I spoke stopped the emotion taking over.
Biggest surprise
How quickly it goes! All my married friends warned me that it would fly by and it would be over before I knew it, and that really was our experience. When it got to 2am I couldn't believe it, it seemed only a couple of hours since everyone arrived in my hotel room that morning to start getting ready. I was also surprised by the genuine emotion of our guests. It was lovely to see everyone's happiness for us on the day, and the photos are fantastic for many reasons, but they have captured that emotion so perfectly for us to look back at time and again.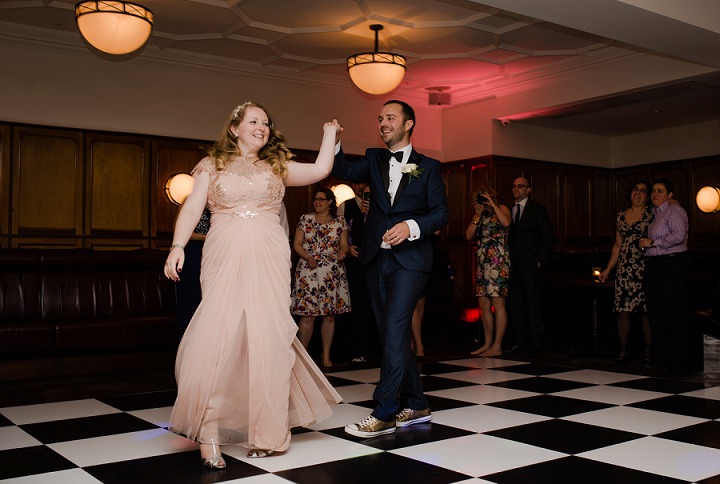 Supplier Shout Outs
For more information on Amy's work please go to:
www.amytaylorimagingphotography.com / www.amytaylorimagingphotography.com/blog / @amytiphoto / GOOGLE+ / FACEBOOK /
Due to an email issue if you have emailed me between the 2nd & 9th of December, please resend it.
X