Today's wedding is an absolute beauty, a wonderful woodland wedding all the way from Oregon. Miyako and Brian chose a hand fasting ceremony in this beautiful outdoor woodland venue and what a gorgeous day they created. With lots of earthy tones, mixed with greens and purples, and a collection of rocks, gemstones and antique vases, they have put together a truly personal wedding. I just love the location, the decoration and the overall feel to this fabulous day. Big thanks to Kel Ward Photography for the lovely images.
'A beautiful wedding in Oregon'
Miyako and Brian were married on 25th July 2015 at Ron's Pond, a beautiful little venue nestled in the countryside of Monmouth, Oregon.  'The 17 acre property boasts large trees, beautiful plants and flowers, and little nooks and crannies throughout the walking trails. Being an outdoorsy couple, this venue was perfect for them. Their day was filled with earthy details and included a lot of local businesses. Instead of a traditional wedding ceremony, Brian and Miyako had a hand fasting ceremony, which was beautiful and unique. After the hand fasting, they exchanged rings. Brian's ring features Mt. Hood, a well known Oregon landmark, and a forest of trees.
The Dress
Miyako wore a retro dress by Mon Cheri, which she picked up at a little shop in McMinnville, Oregon, called Grandma's Wedding.
The Suit and Bridesmaids
Brian kept things casual with a moss coloured linen shirt and a simple black tie and pants. In true Oregon fashion, he also sported a big beard. Breaking gender stereotypes, Brian had both men and women at his side on his big day. The dresses worn by the wedding party were from Mod Cloth, Nordstrom, and Paisley Crush (Etsy.com). The maid of honor's black dress is Serenity by Tatyana.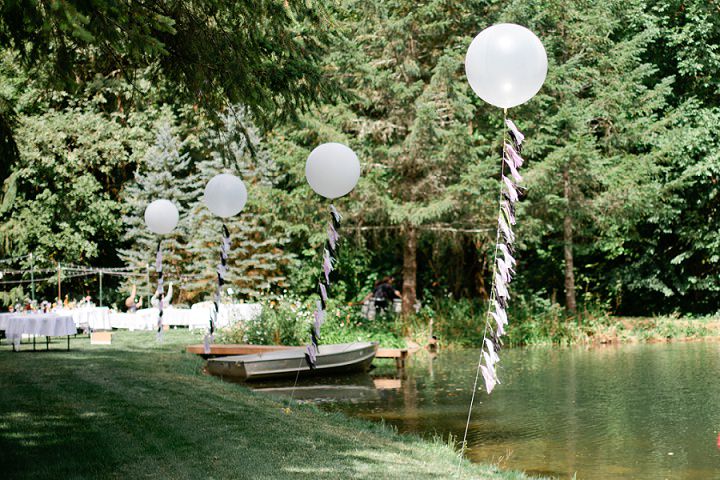 Theme or Colour Scheme
Green and purple color palette
Flowers
Her wildflower bouquet, along with all of the other floral arrangements, were done by Amanda Dant of Morning Glories Floral in Albany, Oregon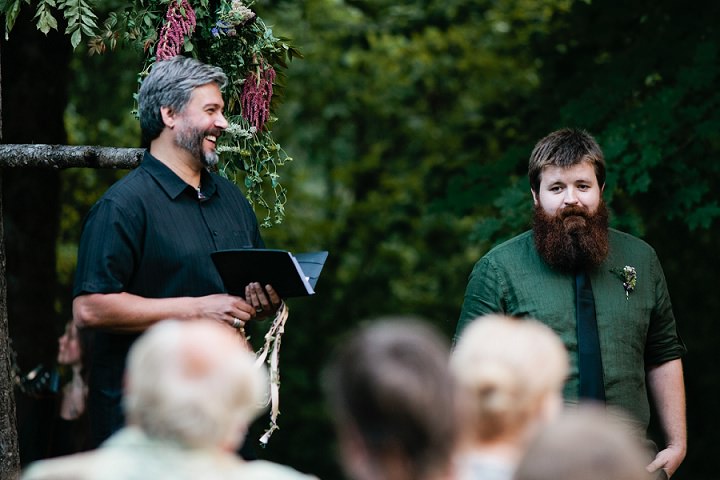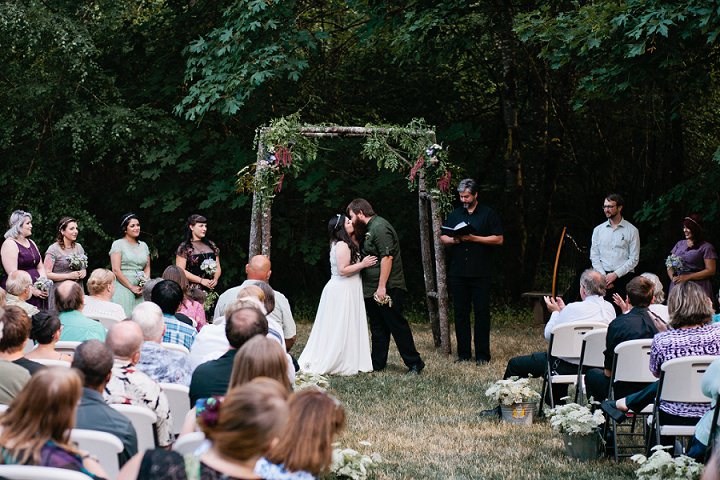 Decoration
Each table featured a collection of rocks, gemstones, and skulls that Miyako and Brian had collected on their adventures together. This, of course, started many conversations among the guests at each table. The collection was really quite beautiful. Various antique vases and medicine bottles were filled with wildflowers, which added a bit of romance. Each table also had of vintage goblets (rented from For the Love of Pete in Salem, Oregon) in a variety of colors, which, combined with the pom pon trimmed table cloths, gave a whimsical feel. Guests sipped on homemade Sangria, as well as beer that Brian brewed himself, with the help of his friends, David Diaz and Abby Cullinan. Overhead, the venue was decorated with strings of lights and paper lanterns, while giant helium filled balloons bordered the pond.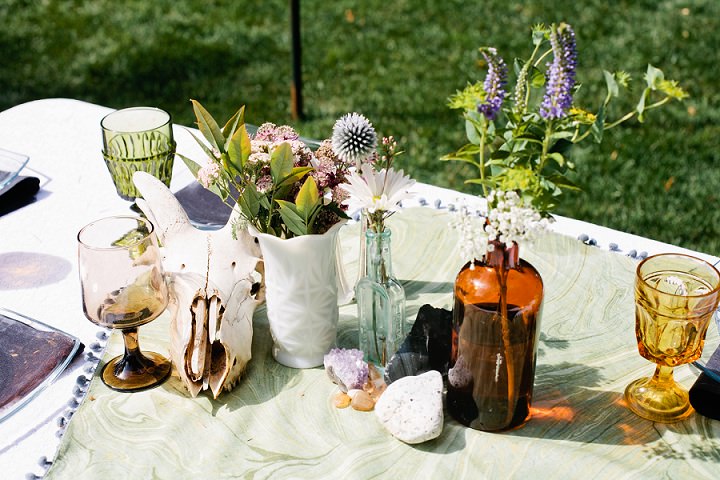 Wedding Cake
The naked cake, made by Whitney Svoboda of Salem, Oregon, was the perfect fit for this wedding. It was adorned with a quartz cake topper and fresh fruit. The cupcakes also featured fresh fruit, as well as sugar crystals, all of which complimented the cake perfectly.
Personal or Handmade Touches
Throughout the day, guests added instant photos and heartfelt messages to the guestbook, which was situated next to a vintage globe that served as a symbol of the couple's love of traveling
Supplier Shout Outs
Photographer:  Kel Ward Photography
Bridesmaid Dresses: Modcloth
Floral Designer: Morning Glories Floral
Bridesmaid Dresses: Nordstrom
Ceremony Location: Ron's Pond
Bridesmaid Dresses:Tatyana
Caterer: Valley Catering
Ring Designer: WanLoveDesigns
Cake Designer: WhitneySvoboda
Equipment Rentals: For The Love of Pete
For more information on Kel Ward Photography go to:
www.kelwardphotography.com / FACEBOOK / I: kelwardphotography / PINTEREST