Today I am delighted to be able to introduce you to Melanie Thorn from Melanie's Studio Designs, a stationer, illustrator and event stylist currently doing big things in the wedding industry. Melanie specialises in unique illustration and design lead stationery, which is pretty, stylish and contemporary. She also offers a bespoke service which sees her working closely with each couple to create a stationery suite, unique and individual to them.
Melanie has been kind enough to answer some questions for me today, so you can get to know her and her work much better.
'Award winning stationery designer, specialising in unique illustration, design lead stationery and beautiful wedding styling solutions. Full collections of wedding stationery are available to order and a bespoke service is also on offer catering for the style conscious couple looking for something truly unique.
With a background in Fine Art and Design I offer originality, sensitivity and quality, creating a truly personalised service. I primarily cover the Cotswolds, Warwickshire and London. However, I welcome the opportunity to work with clients from anywhere in the UK, Europe and America.
I am committed to working closely with my clients to understand their requirements and ensure that they are delighted with my work.'
What made you start your business?
I have always enjoyed setting personal goals and challenging myself. After studying at a high level in various art and design fields I have acquired an adaptable and varied skill set. It seemed like the next logical step to create my own creative business doing what I do best.
I love working closely with my clients and having a small business of my own means I get to personally give each and every customer a personalised service.
Where areyou based and what areas do you cover?
I am based in a pretty village on the edge of the North Cotswolds. I primarily cover the Cotswolds and its surrounding counties, but often work with clients from London and further afield, including recently working with couples based in Qatar and Italy.
How would you describe your style?
My latest collections I would describe as contemporary and pretty. I focus on incorporating hand drawn illustrations throughout my designs enhanced with pretty graphics, stylish colour palettes and creative typefaces.
For my bespoke service though I can offer a whole range of styles, from industrial chic and quirky contemporary through to nostalgic vintage and understated elegance.
Biggest achievement so far?
At the end of what was only my second full year of business I was awarded the regional award for Best Wedding Stationer at The Wedding Industry Awards 2014. This was a moment that I felt so proud of, giving me the confidence to build on my achievements.
What makes you different to your competitors?
I focus on incorporating illustrations into my designs.  My illustrations are totally unique and can be created on a bespoke basis so you can be assured that if you have opted for my bespoke service you will have a design that is personal to you.
I like to spend time with my customers where possible so that I can really gauge their personalities before aiming to encapsulate this and incorporate it into their stationery or styling.
What sort of couples do you attract?
The majority of my customers are style conscious and keen to include design lead elements such as stationery and venue styling into their wedding budget so that they ensure quality across their entire wedding.
What would be your ideal wedding to work on?
I always love a style challenge, especially when working with my bespoke clients. These really give me the opportunity to let my creativity go wild. I am currently working on what has to be one of my favourite briefs so far! Without giving too much away, the couple are young and fun and whilst wanting to convey this they also have an eye for stylish and contemporary simplicity. Alongside design a full suite of matching bespoke stationery for them I am also providing my styling service for their special day. It's very exciting as I am getting to really immerse myself in such a wonderful project.
Can you give me and idea on your pricing structure?
I now have five lovely collections of wedding stationery new for 2014/2015. Designs are printed on a beautiful white pearlescent card with pretty, quirky and uniquely illustrated designs. Invitations start from £3.70, with a full matching suite of stationery available for each collection.
For couples who are looking for something truly unique I offer a bespoke service. I charge a flat fee of £145 to create a new design concept and then stationery is priced individually.
When it comes to styling services I like to create a personalised quote that is tailored to the customer's needs, as everyone is looking for something different. Services include styling inspiration, mood boards and styling proposals, specific supplier recommendations, resource lists for props and other styling items, management of supplier bookings and payments and on-the-day venue dressing and styling. Prices start from £250.00.
New product range for 2014/2015:
My new stationery collections cater for fun and stylish couples with pretty and colourful ranges including romantic Parisian designs, quirky fox illustrations, carnival brights and rustic pastel hues. Each design contains coloured elements that can be altered to suit your colour scheme.
Ranges include everything from save the dates and invitations to menus, table plans and place cards. If there is a specific item that you want specially made to match your chosen design, please do let me know!
Something I particularly love to design are bespoke hand drawn maps for couple's wedding days. They are especially useful to guests if the wedding is split between two or more venues, or if you want to include useful information and directions to nearby hotels, or just some significant nearby landmarks.
It looks great when you combine it with a matching information card.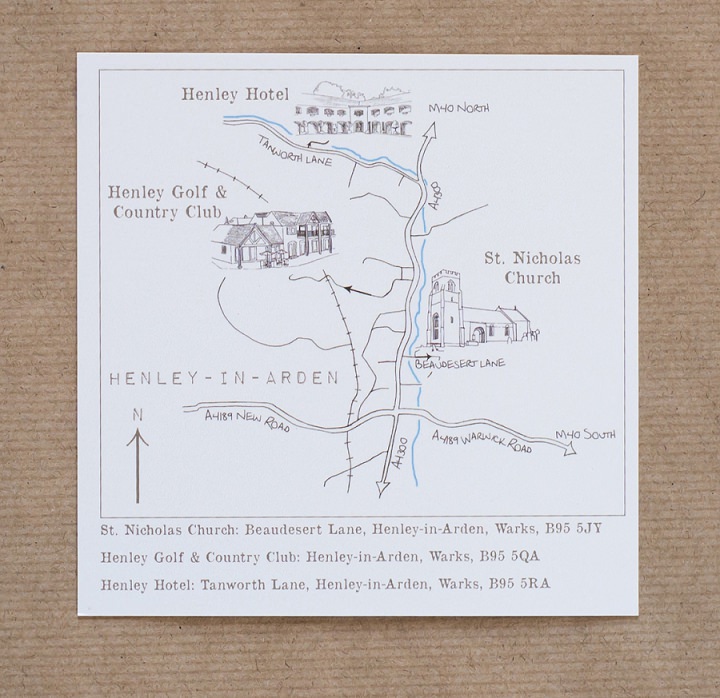 Carnival
A colourful and fun design with illustrations reminiscent of traditional carnival rides. A combination of geometric shapes and pretty colours make this an exciting addition to your wedding styling.

Village Fete
A pretty design influenced by country fete nostalgia. Colours can be changed across the entire design to suit any colour scheme, the perfect stationery suite for a fun loving country wedding.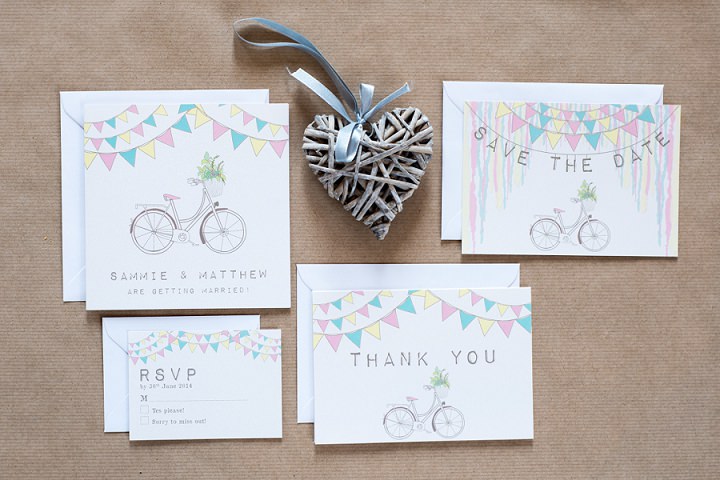 Paris in Lights
A whimsical and romantic design with unique illustrations of the Eiffel Tower, pretty pink fairy lights and soaring swallows. The fairy lights can be altered to suit any colour scheme.
Fantastic Foxes
Quirky fox illustrations, fun motifs and retro fonts make this the perfect design for a super fun couple to have at their wedding celebrations.
Peonies in Bloom
Pretty watercolour peonies and floral motifs make this the perfect design for a beautiful Spring or Summer wedding. A great design to mix and match your colours with!
For more information on Melanie's work go to:
www.melanies.org.uk
[email protected]
FACEBOOK
@melaniesdesign
07949 523005