Today I am taking you to Kansas for the wedding of Brandi and Craig who were married on 18th May on a friends farm in Norton. The couple kept to a strict budget by stripping back the decoration, keeping everything simple, and getting married on their friends farm. This laid back wedding is oozing with love, smiles and strong friendships. I just adore Brandi's gorgeous Wilderley Bride gown, it is simply stunning and perfect for this rustic farm wedding. Big thanks to Native Roaming for the lovely photos.
Intimate and Simple Farm Wedding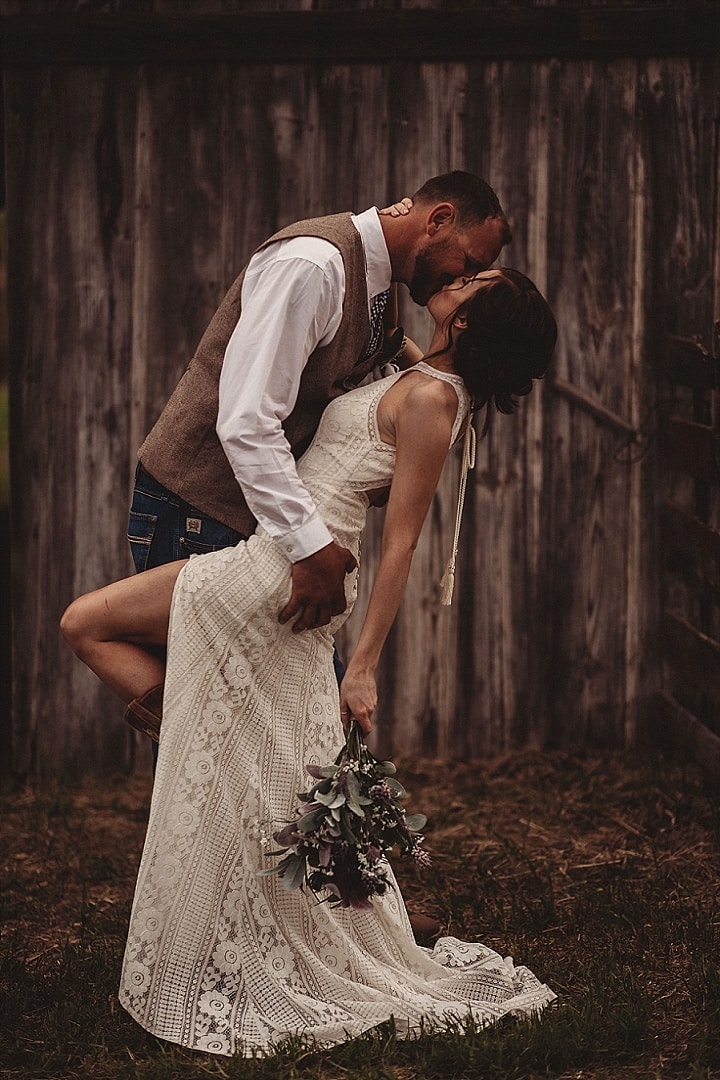 Craig and Brandi celebrated their wedding day with an intimate, simple, and rustic ceremony. They got married on a friend's land and held the ceremony next to an old barn set in what is known as the "hidden valley" in northwest Kansas. They planned their big day together and decided to keep it simple and really focus on their budget, knowing the important thing was that at the end of the day, they would be married. Brandi's favourite part of the day was the way Craig looked at her when he first saw her in her dress and all through the ceremony. And Craig's favourite part of their day was getting to finally see Brandi in her dress. Craig had his brother-in-law (love) as his Best Man, because they're best friends. Brandi had her sister-in-law as her Maid of Honor for the same reason.
The morning of, Craig was actually pretty sick! But it turned out to be just nerves and he was right as rain in time for their first look. Speaking of rain, the clouds showed off for their couples portraits and there was beautiful weather for their ceremony. The rain held off until right after they made their grand entrance. And you know what they say about rain on the wedding day being good luck! The sky broke up and these two got a whole lot of luck on their biggest day!
Supplier Shout Outs
For more information on Native Roaming Photography go to