Happy Monday everyone. I'm not going to start the week as I normally do, wishing you all a good weekend, as things are very strange and confused at the moment. We all have a great deal of uncertainty around us and if you are anything like me are more than a little worried. However, the wedding world still carries on and I am here to bring you a little escape from the worry of the world and shed some much needed love and wedding pretty upon you. I will be here as always to deliver you a daily dose of Boho weddings from all across the world so be sure to tune in every day. We are starting the week with this beautiful wedding from New York. Jess and Dustin were married on 5th October 2019 at Frankies 457 in Brooklyn. They chose an autumn day and filled their wedding with muted tones, beautiful details and the most impressive ceremony arbour. Nicole Nero Studio was there to capture the day perfectly for us.
Brunch wedding with creative details in Brooklyn Ny
Nicole the photographer tells us more about the wedding
I'm so so excited to share this Brooklyn wedding with you! It was one of the ones I was most excited for this year because of how it came to be! I met Dustin's sister, Ashley a few years back at a client meeting and she softly mentioned that she made cakes. The mention was SO soft, that I thought she maybe made 1 or 2 cakes each year and didn't give it much attention, but thankfully I asked if she had an Instagram for her business and HOLY SMOKES, was I incorrect! Ha! She makes CAKES. Amazing ones. Beautiful ones and SO many! Fast forward a year to my wedding and of course, we asked Ashley to make a vegan cake for us. Fast forward again and she tells me that her brother is getting married and I had to be there. I emailed with Jess, Dustin's fiancee at the time and I was instantly smitten and so excited to meet them and see all of the details that I'd only heard about, come to life. Well, let me tell you, they did not disappoint! First off, they planned a brunch Brooklyn wedding, with fall colours, a super unique dress, stunning flowers and an arbor to be reckoned with! Every detail was so 'them'. It was perfect! As a huge bonus, after the brunch and before their after-party, we had 90 minutes to explore the streets, subways and canals of Brooklyn which made for some amazing photos and of course allowed them to quietly chat as we walked and spend some newly-married moments together. Cheers to Jess and Dustin and to many happy years together!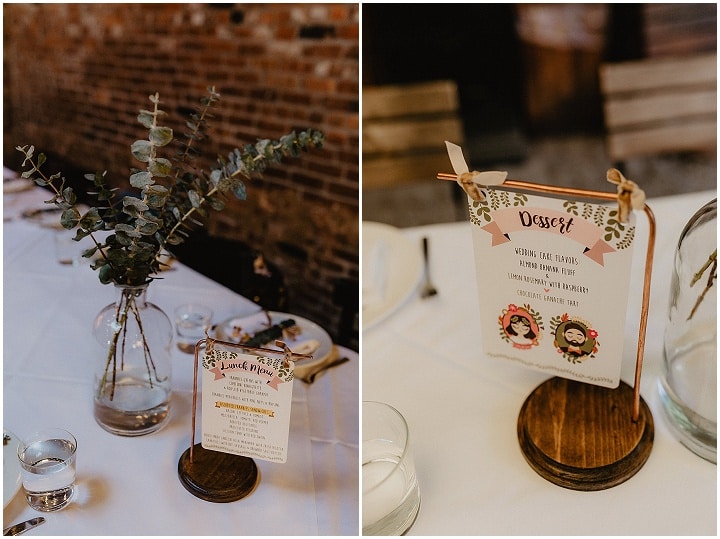 Supplier Shout Outs
For more information on Nicole Nero Studio go to