I have THE most gorgeous wedding to share with you today. Marija and Ali describe their wedding as 'Boho luxe' which is just perfect for the blog. It really is one dream of a wedding. I just love everything about this wedding. Both Marija and Ali look drop dead gorgeous. Marija looks totally stunning in her beautiful Grace Loves Lace gown, she really does embrace the Boho look from head to toe. I just love the way they have mixed their free-spirited nature and Boho vibe with modern lines and geometric patterns. Mixing the wild flowers, pampas grass and protea with the metallic edging, candlesticks and soft elegant stationery. The Persian wedding ceremony is beautiful, with every detail carried out perfectly. In fact the whole wedding is pure perfection. Karin Lundin has done a magical job of capturing this stunning couple in all their Boho glory.
Our theme can be summed up with: Boho-Luxe. We wanted the day to reflect our different personalities where I'm wilder and Ali more grounded. The free spiritual feeling would be combined with a clear structure of form and design.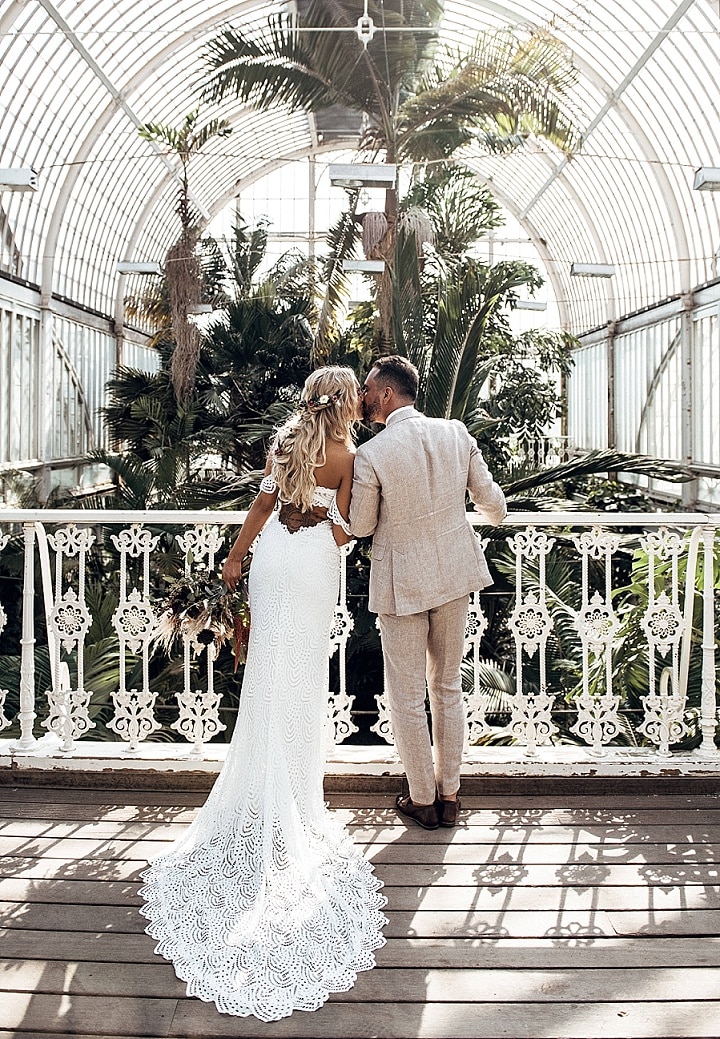 Marija and Ali were married on 31st August 2019 in Villa Vänhem, Nääs Slott, Floda in Sweden. 'We were looking for a barn like venue with a lot of light. Villa Vänhem on the Swedish west coast had everything we were looking for! We could have both our party and wedding in the room as it is divided into different parts. The glass veranda is the part of the room where both the wedding ceremony and the party took place. And the dining room is a dream with high arched windows and high ceilings. We had a total of 90 guests. We started planning the wedding directly after our engagement, so in full it took us 1.5 year.
How they met 
We were close friends for many years and sought love in different places. We supported each other through relationships that did not last and through happy moments in life. One day everything changed, and it was like seeing each other for the first time. The happiness, the love and the depth that we both were looking for were right in front of our eyes. There he stood, clearer than ever. And he had been there for so many years without me really seeing him. It was a friendship that exploded into true eternal love and happiness. I knew from that second that it would be us forever. After 6 years as a couple, on a winter trip in Sydney, he asked if I wanted to be his wife.
Tell me about the proposal
It happened on our way to a restaurant when we walked past a park. With the Opera House and Sydney Harbor Bridge next to us, the letters "Marry Me" lit up in front of me. In the park there was a picnic blanket with lit candles, pictures of our years together and the song XO by John Mayer was played in the background. He got down on his knees and tears ran while I said yes a thousand times.
How did you allocate your budget?
We started saving immediately and knew that we had to cut short on some unnecessary costs. We didn't travel for 1.5 year and stopped shopping. Its was only the necessity needed.
Where did you splurge and where did you save?
We spent most of our budget on the venue, photographer, videographer and florist/concept designer. We saved on some small details but overall, we had a generous budget for the wedding that allowed us to design it just the way we wanted.
How did you choose your photographer?
I was scrolling through Instagram and searching for a photographer, but it was harder then I thought to find someone that suited our vision perfectly. I accidentally found Karin Lundin Instagram page and all my visions were illustrated in her feed. Karin Lundin was an obvious choice for us as her work is pure magic. She captures the depth and emotion in the pictures. She made us feel comfortable and relaxed. Looking back at our pictures where our feelings for each other are visualized and the happiness is reflected in our eyes, is priceless. We also chose to hire a videographer. This was one of the best decisions we have done and what we highly recommend doing that. David Cartier from Josue Films documented our day and we are so incredibly grateful to have this to go back to and re-live.
The dress 
My dress was from Grace Loves Lace, Model: Paloma. I did have some simple gold earrings and my golden rings, but other than that I wanted the focus to be on the hair and the dress. The shoes were from Steve Madden.
The suit and bridesmaids
Ali chose a beige linen suit from Oscar Jacobson which he chose to match with a crocheted dark green tie and a white cotton handkerchief. I ordered the bridesmaid dresses from the Swedish brand Nelly
Theme or colour scheme
Out theme was grey, dusty rose, green and gold with some darker details.
Flowers 
We wanted to keep it wild and bohemian. I explained my vision to our Florist Emelie Ahlnér  and explained that I wanted the wild style with lots of flowers, pampas grass and greenery. We wanted a wedding arch and a flower wall with geometric elements. The flowers followed the theme of gray, dusty rose, gold and green with dark elements.
Decoration 
Our decorations was mixed with geometric patterns and wild flowers. Grey cloths with golden straight chandeliers, Glass boxes with different textures of paper and everything followed the colour theme perfectly. We wanted to pay tribute to the Persian tradition and chose to have a Persian wedding ceremony; Sofreh Aghd. There are several symbolic objects that make up a Sofreh Aghd. Tableware and all items represent a part of the couple's new life and marriage together. The word "Sofreh" means cloth and "Aghd" means marriage. With the help of our florist, we were able to make our Sofreh Aghd unique so that it could reflect our personalities while celebrating my husband's Persian descent.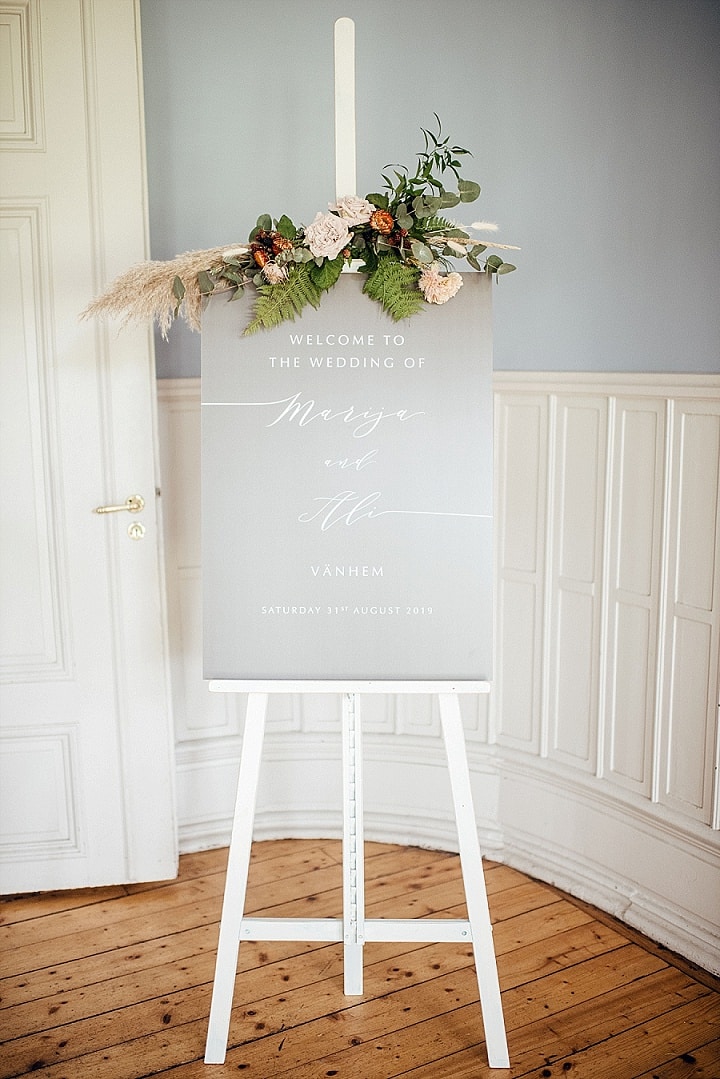 Food 
Starter: Mousse on smoked char with caper & dijon mustard. Served with rye bread and parsnip chips.
Main course: Low-temperature fillet of beef with primeur of the season, red wine sauce and pommes Anna.
Wedding cake
We decided on a simple naked cake with flower decorations. American naked cake with taste of raspberry & lemon butter cream.
Entertainment
We had an acoustic band during the ceremony and dinner, A Serbian brass band that got the party started after the first dance and a DJ during the party
Who supplied the stationery?
Our florist Emelie Ahlnér supplied everything from the invitation, save the date, menus, name tags, vows. Yeah everything. And designed most of it with help from our inputs and ideas.
Personal touches
We designed everything ourselves, the whole theme and details of the wedding was our own ideas. But we had help to bring all our ideas to life.
Special moments
The day is so euphoric and eventful, you float on clouds all day and have a hard time catching every moment. It was incredibly wonderful to take a few moments to stop, look at each other and bring in all our loved ones gathered to celebrate our love for each other. Remembering those moments where we looked each other in the eyes, being present to each other, feeling how time stood still around us while we were embraced by so much love. It's a time capsule we can look back on.
Advice for other couples
Enjoy each other! Take a break from time to time, hold each other's hands, look each other in the eyes, kiss each other for a long time and let yourself be filled with the love of each other and your families and friends. Dare to spend a little more money on the photographer and videographer so that you can relive the day over and over again. Let your own personal style be added to your wedding and dare to let go. There is no must. We took some help from a wedding coordinator so that everything was flowing during the day. Frida Dahlberg from Gränslösa Bröllop helped us with the time table and made sure everything was to plan during our whole day. This helped us to take the stress away from the day and we could just enjoy and let all of it go and have fun on our special day!
Biggest surprise 
The warmth from our families and friends, you can't imagine being so fulfilled with love during a whole day. I was afraid that we would get tired since its such a long day, but we were totally ecstatic during it.
Supplier Shout Outs
For more information on Karin Lundin go to
www.karinlundin.com / [email protected] / FACEBOOK / INSTAGRAM