They say that a dog is a mans best friend…..well these days it seems that letting your pet dog, cat, llama, donkey, horse or even rabbit attend your wedding is acceptable. I am seeing SO many weddings sent into me where the couple have either invited their pets to the wedding or involved an animal of some kind. It seems that pets are quite the cool addition, and why not? If you spend your life with your pet, why shouldn't they be part of your wedding as well. When I got married I really wanted my pet cat to be there, but as we got married abroad this wasn't possible. So if you are thinking of inviting your favourite wet nosed friend to your special day you need to read this fabulous and very informative article from Cathy at Suit Direct. She covers lots of different areas as well as offering some fantastic ideas and advice. I would love to know if you are inviting your 4 legged friend to your wedding day, do feel free to leave a comment below. 
How to Involve Your Pet at Your Wedding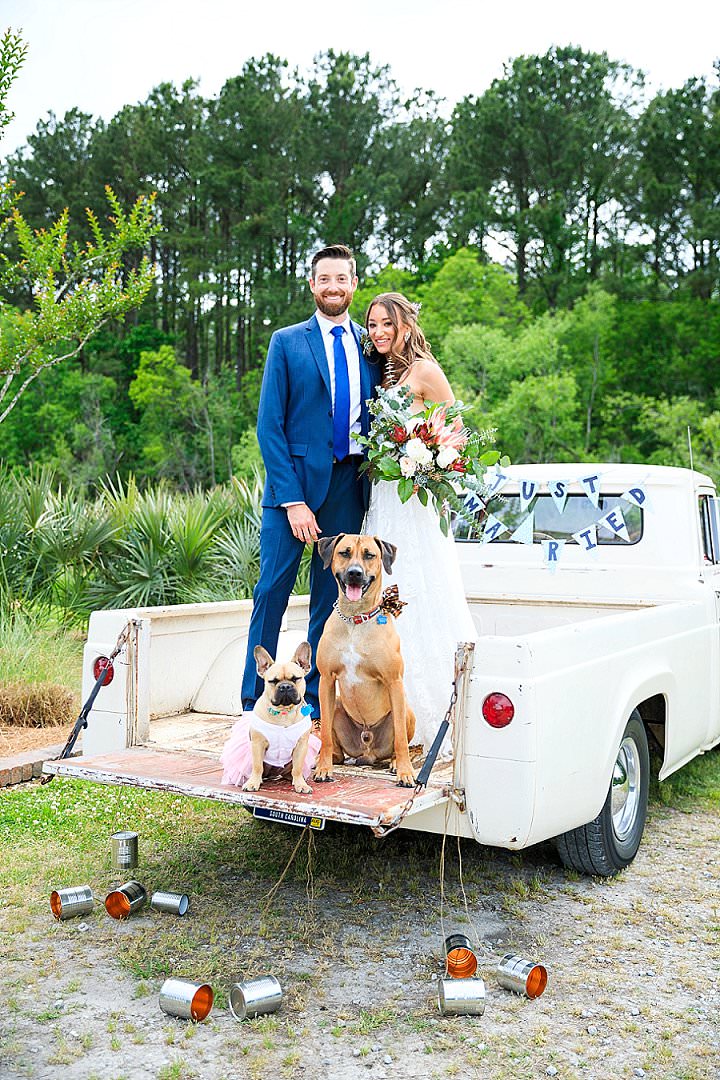 Your pets are much-loved members of your family, so it's only natural to want them at your wedding to make your special day extra-special. Unfortunately, this isn't always practical but – fear not – although it's challenging, there are ways to have your furry, feathery or fluffy friends with you, and challenges are always fun, right?
Things to consider first
First of all though, before you rush out to buy your cat and dog matching pageboy outfits, you need to consider the following:
Does the ceremony/reception venue allow animals on the premises? If they only allow assistance dogs in, it's probably not worth pretending to be blind just to sneak your dog in.
Does your pet have the temperament/personality to cope with large groups of people/a strange environment? Planning a wedding is stressful enough without worrying about stressed pets peeing on the floor.
Is someone on hand to look after your pet while you're otherwise engaged (no pun intended!)? A pet sitter is better than a friend or family member, as then the guest will be free to enjoy the day while leaving the professional pet sitter to do their job and look after your pet.
Are you adequately prepared to prevent any potential unforeseen incidents? Even the best-behaved pets can have accidents, so it's important to make sure you're prepared in case of any mishaps. Have dog diapers on hand – these are waterproof trousers specifically designed for dogs – and provide dog beds or crates so your pet can take a break whenever they feel like it. Providing chew toys will also help keep your dog entertained and prevent them from chewing any furniture or decorations.

Will there be guests there with fur allergies or phobias? You do not want to kill or scare to death your guests.
Be realistic. You may have dreams of doves swooping down and gently placing the rings in your palm but, let's face it, that's not going to happen. Likewise, having your cat or dog at the top table probably isn't going to be a good idea – your dog will eat everything in sight and your cat will spend the day knocking over the champagne flutes!

If, after considering the above, you're happy you can continue then – hooray! – let's look at some ways in which you can have your best friend at your side, or at least nearby, on your wedding day. However, if you decide it's probably not a good idea to have your pets at your wedding then, don't worry, we'll also look at the ways in which your pets can still be included even though they're not physically there.

Accompanying the bride down the aisle 

This is probably the most desired way of having your pets take part in the proceedings. Have someone walk your dog, cat or even your pet pig on a lead down the aisle behind the bride with the bridesmaids. We don't suggest you dress your pet up too much or in a full suit.  Suits look better on the groom and the guests but there's nothing to stop you putting a doggie bow tie or cuffs on your furry friends – they could even be in matching material to the bridesmaids' dresses. For a less formal look, flowery or green garlands for their collars or leads are always cute.

Include them in the photos 

What pets you have and where you're holding your ceremony will be a factor here so, if you're having a small wedding in an urban setting, there's no reason why you can't include your pooch in your photos outside the venue (if they're not allowed in) but you may be out of luck persuading the marriage officiant to let you tie your horse up outside. But, if you're having a lavish affair in acres of farmland or countryside then the sky's your limit and you can have your horses, llamas, pigs or whatever large or small animals you like by your side!

Dance with them at the disco 

If your dog is friendly, let them run free at the reception where they can enjoy themselves being petted by the guests. Be aware though that small children and dogs aren't always the best combination, so always keep an eye on your four-legged friend (and two-legged small people).

If they can't be there on the day

If you dearly want your pet to take part in the day without them actually being there, then your options here are endless. Here are just a few:

The vows and speeches 

If you've written your own vows, give your pets a mention ("I promise to love you almost as much as I love my goldfish") and/or incorporate them into the speeches ("I remember that time you tripped over the cat on the stairs and broke your neck and was in hospital for three weeks"). Your guests will love this inclusion as much as your pets would if they were there to hear it. 

The wedding cake 

There are so many ways to include your pets on your wedding cake. These range from cake toppers made to look like your pet pals, having their images iced on the cake or having the whole cake made to look like your pet. If you go for this last one though, you need to decide whether you'll be able to face cutting into it!

The wedding stationery and other printed items 

Your pets may not be at your actual wedding but they can appear on all printed items – the invites, menus, place settings, napkins and coasters – if it's made of paper, it can feature your fur baby.

The décor 

Decorate the walls with pet-themed bunting and place photos all around the venue. Personalise cushions and other soft furnishings with your pet's photo – this could be your chance to sit on your cat's face instead of the other way round!

So, above are just a few ideas of how to party with your pooch, celebrate with your cat, or tango with your tortoise on your big day. We're sure you have plenty of ideas of your own and we'd love to hear them!

 

in collaboration with Suit Direct