It's been a few weeks since I featured a styled shoot on the blog, so today I have a really gorgeous one to make up for it. The shoot took place on 2nd October 2018 in Peekskill, New York and it brings together some beautiful rich tones, amazing velvet fabric and stunning rustic decor. The shoot  embraces the gorgeous fall tones, or autumn tones as we like to call them here in the UK, and brings together a wonderful collection of suppliers, creating the most amazing images for you.
Kristina Staal Photography tells us more about the inspiration behind the shoot 
This styled shoot was a labor of love to make it into something that is unique, diverse, and stands out from the crowd. Karen of Beauty by Luna originally approached me to ask if I would collaborate with her on a styled shoot that would embrace and celebrate diversity, multiculturalism, and uniqueness. She shared her vision board with me, and right away I knew this was something I wanted to do! In the world of weddings, I find that many times the perfect "look" is searched for, and many styled shoots are lacking a unique and diverse perspective. We felt that by coming together to celebrate the diversity of a wedding party would be absolutely beautiful and an inspiration to not only brides and grooms, but others who are in the wedding industry. What made this even more special, was that the vendors involved in this shoot came from various diverse backgrounds themselves, and we all had a shared passion for capturing the human spirit and diversity while showing how weddings can still be celebrated and just as beautiful without fitting the perfect "cookie-cutter" mold.
Since this was a fall shoot, we decided to focus on fall tones and velvet dresses that would make a statement, yet not overpower the bride. For florals, we wanted the bride to stand out, so we paired her with an oversized organic bouquet that had a lot of autumn elements. And, for the grooms, we brought in a traditional element by dressing them in classic black suits. For the location, we decided to photograph along the Hudson River outside of New York City in a small town called Peekskill. The backdrop was beautiful, and we hiked down to a location that had lots of privacy and nature. It's truly a hidden gem outside of Manhattan.
We hope that this shoot gives inspiration to brides and grooms and shows them that they don't need to have a "cookie-cutter" wedding. They can think outside of the box, and make what is special and unique to them work for their wedding day. And, most of all, I hope that this shoot demonstrates that no matter what background you are, every person is beautiful and unique in their own way, and multiculturalism and diversity should be celebrated because it's one of the most beautiful things we have in life!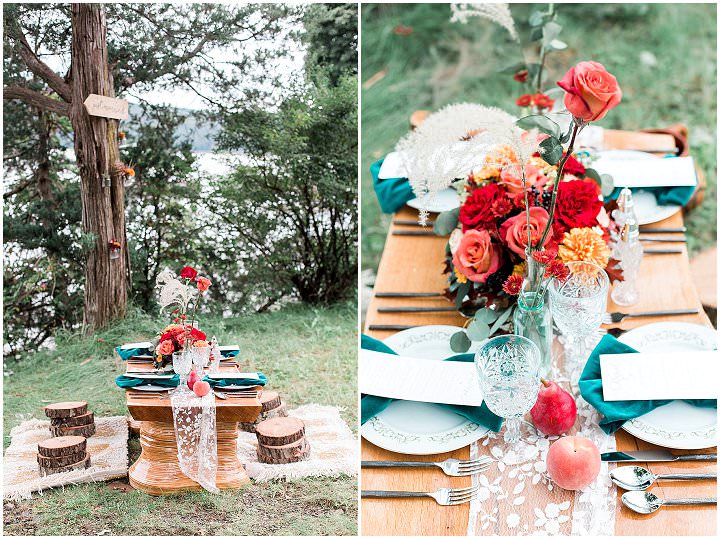 The Suppliers who made the shoot happen