I have the most gorgeous wedding to share with you today from a very sunny Texas. Taylor and Stefan always wanted to get married by the water and after a long search they found their perfect wedding venue in Camp Comfort. The whole venue was perfect for their chilled vibe, filled with earthy tones and lots of personal touches, helped along by their friends and family. They chose sunflowers as their main flower which really went with the whole earth tone perfectly. The decoration is perfect, lots of greenery, succulents and rustic detailing, which really added to the laid back vibe. Taylor and Stefan are such a lovely couple, they have warm souls and great taste in weddings. Big thanks to Amber Dawn Photography for the lovely photos.
It was a beautiful blur. I wish it lasted longer.
Taylor and Stefan were married on 14th April 2018 at Camp Comfort in Texas. 'I had always pictured our ceremony by the water. Always. I knew, in a lot of ways, that would be tricky. Especially because of the weather concerns, and how April showers bring may flowers, haha. BUT it was special to us, so we went for it. I searched around the hill country area for venues by the water. Quiet ones. Small ones. After hours of looking and being disappointed, I came across Camp Comfort. I called my mom immediately and started crying. It was even better in person. An old bowling alley converted into a boutique bed & breakfast, with a rustic-modern feel, an outdoor entertaining area and the PERFECT spot to get married along cypress creek… In the small town of Comfort, Texas. We decided on a brunch ceremony and only had our closest family and friends attend. About 30 people total. That night we had our bigger reception with about 100 people. We got engaged April 13 2017, we got married April 14 2018. We both have spring birthdays, mine being April 16th, so a spring wedding sounded best. A year of planning felt like forever, I  don't think that much time is necessary, but it worked out fine for us because we had a goal.'
How they met 
We were high school sweethearts. Since then, we were always in the same group of friends and would come in and out of each others lives up until 2011, when it STUCK, for good. I was 24 and he was 25. We just celebrated our first year of marriage and have been together 8 years.
The proposal
We planned a trip to Big Bend, Texas—which is one of our favorite spots ever—for my 30th birthday. The first few nights were going to camp in the back-country, just us two. We were all set up and ready to enjoy our first night when an insane storm blew in. Hail, crazy winds, lots of rain, in a tent, in the DESERT. We were discouraged and had to pack up and drive hours to find a hotel. Turns out, his plan was to propose out there. We ended up finding a really cute rental in Alpine & then Stefan planned a trip to Gage Gardens in Marathon, close by. He proposed by a little pond there, surrounded by beautiful nature. It wasn't what he had dreamed up, but it turned out even better in my opinion. We told a few family members, but then surprised our friends who met us in Marfa, Tx a few days later….to celebrate my birthday and our *surprise engagement. It was great !
How did you allocate your budget?
This is a tricky question, because my parents covered our wedding cost. My sister was married first, so we kind of had a budget to stick to that they had saved for us. Which is absolutely amazzzziiinnnnggg. Our day would have looked a lot different if it was all on us. But I am still a thrifty person, so I did my best to think smart along the way.
Where did you splurge and where did you save?
Because of my dream of getting married by the water, the venue was a splurge. But it also came with lodging, that friends and family were able to pay us back for. So those two things kind of worked together. Also, because we got married outside during a possible rainy season, some sort of cover was necessary for all our guest. After looking around at a variety of tents, and not being impressed with how they look, or the price tag, we found a TEEPEE tent. It wasn't much more, and it was 100 percent our vibe, so we went for it ! One of my favorite design decisions for sure. Lastly, our florist also offered a service to be the "event coordinator" the day of the wedding. It is very nice to have someone in charge of all the vendors, and timing, scheduling etc. Definitely took a lot of pressure off me.. So happy we did that.
For savings, It was helpful that the venue was already designed so well. We weren't extravagant with my dress or his suit, or hair or makeup. We picked a color pallet for our friends to stick to, which was budget friendly and still allowed for pretty looking pictures. We stuck to beer and wine, and didn't go overboard with a ginormous cake.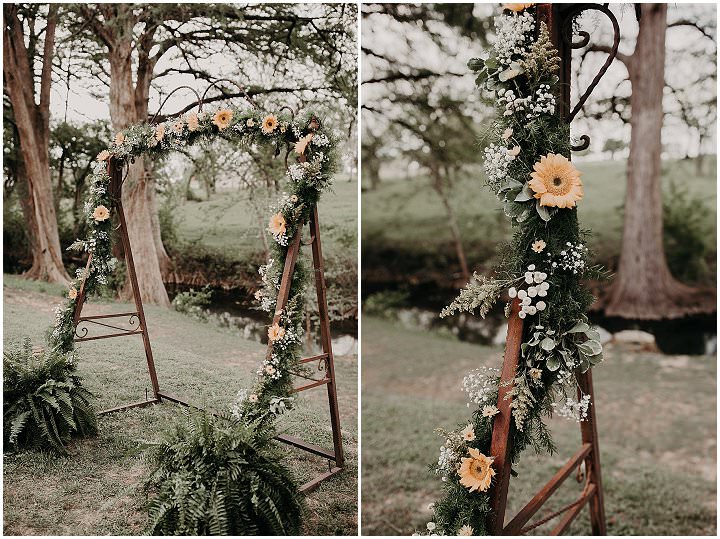 How did you choose your photographer?
It was easy ! We've been friends for over 10 years. I have watched her business grow, and even though she lives out of the country I knew I wanted her to shoot our engagement photos. And after that I was double hooked ! I love her style and I love how she captured our love. The photos are memories we will cherish for a LIFETIME !
The dress 
My dress is a (bridesmaid) dress by Jenny Too – watercolor floral print.  It was exactly what i had imagined, which i though would be hard to find, and 1/10 of the price of the other dresses out there! My turquoise cuff and ring were handmade by me, BohemiaSue.  Other accessories were passed dow pieces from grandmothers.  My shoes were very affordable and comfy, the perfect nude.  Brand – International Concepts
The suit and bridesmaids
Stefan had a custom suit made by men's warehouse.  Has our wedding date and initials stitched inside, love the details! Bridesmaids picked their own dresses from places like Tobi & Lulus online – affordable and cute.  All the bridesmaids turquoise necklaces were handmade by me, BohemiaSue.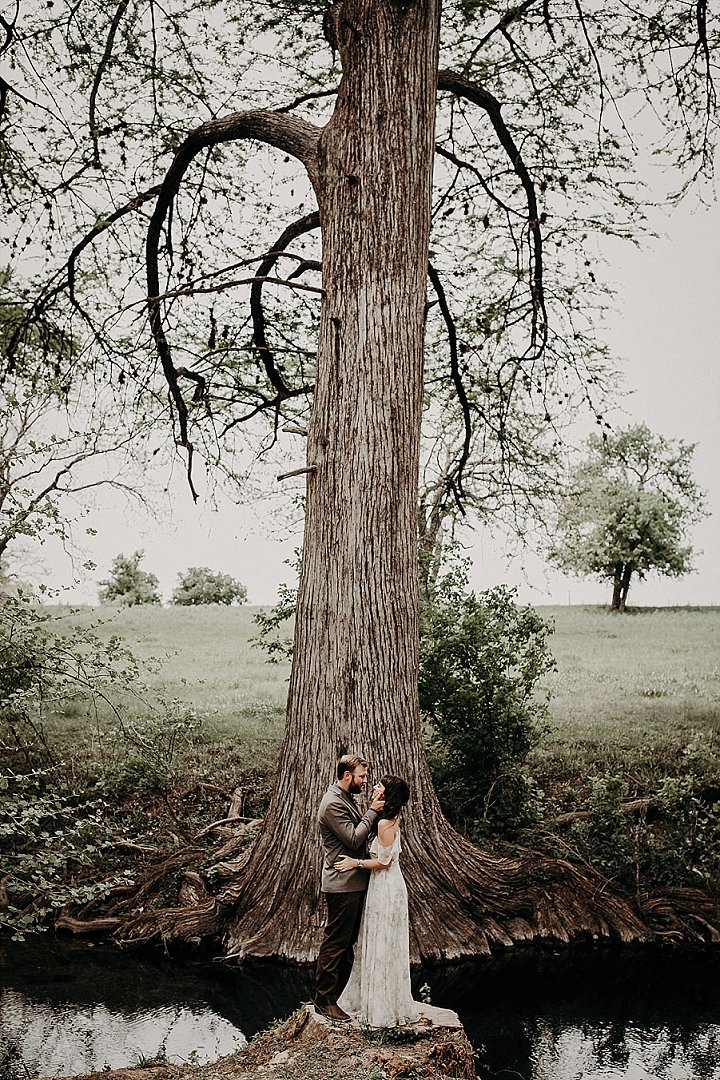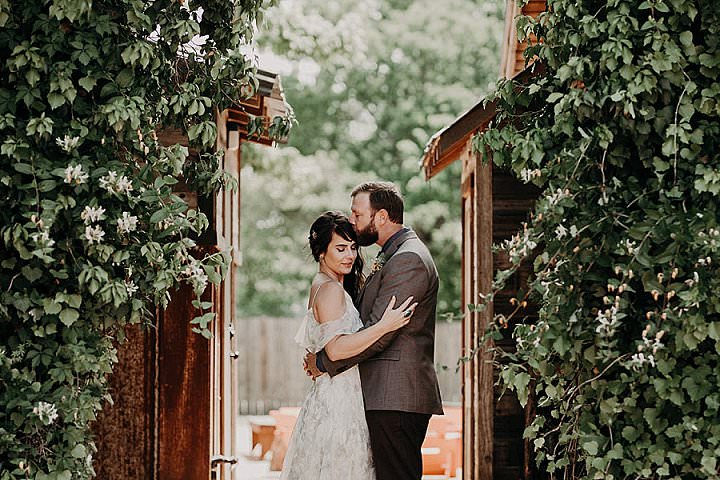 Theme or colour scheme
I'm kind of picky about those things, haha. I love design and style, so I had been planning the color scheme for a while. For clothing, like I mentioned above, we picked certain colors. I envisioned a floral dress for me, which ended up being very easy to find… It was a bridesmaid dress for under 300$ and I still love it so much. From there I knew I wanted everything else to have an earth tone feel, and pull colors from my dress. My ladies had a variety of dusty rose, sage green, taupe, tan, mauve, cream. The guys wore similar greys and blue colors to work with Stefan's look. All hues that flowed together nicely & fit into our river-like surroundings.
Flowers
SUNFLOWERS
Decoration
Besides photos of us, I let the existing architecture and plants be our décor, plus the florals we brought in. We did a lot of ferns and eucalyptus type greenery. Cactus and sunflowers, too. The yellow was our true pop of color. My grandmother loved sunflowers, and I do too, so that was a huge part of my decorating and floral dream.
Food
I only want to say Mac and Cheese. Haha. That's all our friends still talk about. It was our late night snack and it was a HIT.
For the main course we offered a pecan crusted chicken & pork medallions with watermelon salsa, cheesy scallop potatoes, bacon green beans and a salad. True comfort food !
I dreamed of having my Mamas homemade pies as dessert, so that happened !
Wedding cake
We did a beautiful succulent covered cheese cake as our "wedding cake" & offered other shot type desserts on the side.
Entertainment
My bestie sang us down the isle, sang our first dance and Dad/Daughter – Mom/Son dance. That is a wonderful memory.
For the reception we had a DJ who played a lot of fun dance music with a good mix of Texas country. Ending the night with our favorite cover by Lissie, "Pursuit of Happiness." SO MUCH FUN.
There was also a photobooth, which has always been one of my favorite things !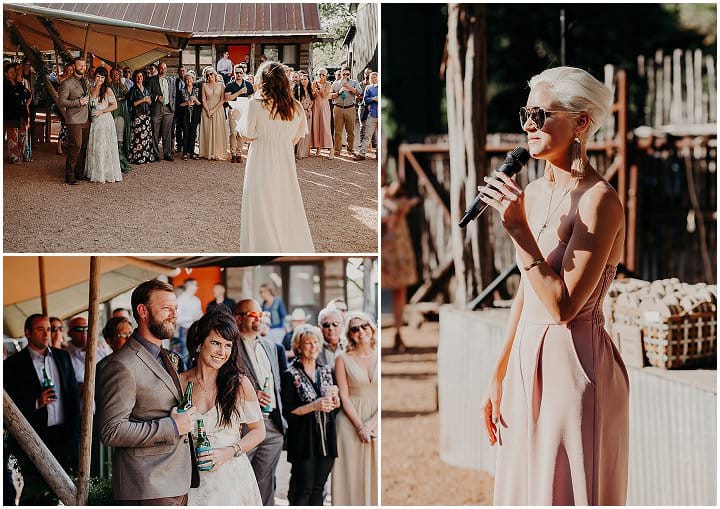 Who supplied the stationery?
I created all our invites online with Minted.
Personal touches
Yes ! I think those types of things are the best. I brought some photos from home, picked up some succulents down the road, had a few of our favorite quotes printed out on canvas by my mother in law and aunt. My mom put together a "dancing shoes" basket, which was just a lot of cute flip flops… but a great idea because our dance floor was gravel. My dad is into woodworking and created a beautiful display piece for us. It was a lot of team work with the personal touches.
And of course, some sentimental items from loved ones that couldn't be there.
Special moments 
My husbands vows. TEARS. Everyone being so happy for us. Feeling the LOVE. Looking out and seeing our favorite people at our ceremony, including my 3 month old niece. No rain !!!!!!
Advice for other couples
Another tricky one. But I think, try your best to slow down & and take it all in. Make it all about you and your partner, this is the only day that will ever be JUST FOR YOU. That is special and should be enjoyed to the best of your ability. Breathe…..
Also, we broke our day up and had our ceremony around noon and reception around six. That allowed us time to relax and enjoy everything more. I would totally recommend it !
Biggest surprise 
That after all the stress of planning, and all the anxiety I had for that big day…. It was WONDERFUL and stress free. (except the first dance when everyone stares, that was weird for us both lol)
Supplier Shout Outs
For more information on Amber's photography go to
www.amberdawn-photography.com / [email protected] / (868) 490-8034 / FACEBOOK / INSTAGRAM / PINTEREST