Happy Monday, I hope you all had a great weekend? My weekends during the school holidays start on a Friday, so I am very much enjoying a lovely 3 day weekend. I had a lovely time this weekend spent with my gorgeous boy, I'm already looking forward to the next one. Today I am kicking off the week with this exquisite wedding from Nicola Thompson photography. Liv and Matt's attention to detail is second to none, the amount of work they put into this wedding is amazing, especially when you consider that the majority of it was homemade. A years worth of work has gone into every minute detail and the results are well worth it as it all looks amazing! They have transformed this village hall into a craftsman masterpiece, from the crochet wooden hoops, the home grown succulents, the bunting, hanging golden stars and homemade favours. It is all totally stunning.
It was a beautiful sunny day in the stunning North Yorkshire countryside and we were surrounded by all our favorite people. It was relaxed and personal, everyone pulled together to make it perfect for us.
Liv and Matt were married on 30th June 2018 at Hackness Village Hall, Scarborough, North Yorkshire. 'I grew up in a village on the other side of the forest which surrounds Hackness and as a child I enjoyed playing in the forest and bike rides to Hackness Village. We wanted to get married outside surrounded by trees and the views from the village hall are stunning. Also the fact that we were able to hire the hall and grounds for the whole weekend and have complete control over all aspects of our day was something we both really loved the idea of. We had 86 guests to the day as we could only fit 88 people seated in the hall, A further 30 came to the evening do. It took 14 Months to plan, we got engaged April 2017'
How they met 
We met in March 2009 at a music night I helped to organise and we moved in together 3 months later, took us a further 9 years to seal the deal though.
The proposal
It was on my birthday at home after a week spent in Scotland with the engagement ring in Matt's pocket the whole time.
How did you allocate your budget?
We wrote a list of everything we wanted and then put a figure of what we would be comfortable with spending next to each item. We then had to shave the list down until it fit into our budget.
Where did you splurge and where did you save?
Food, drink, stretch tent & photography were the splurges and we wouldn't change that. We saved a massive amount on the venue hire at only £350 for the weekend it was a bargain. All of the decorations were handmade or collected over the year leading up to the wedding and most of the flowers/foliage was completely free as they were foraged or from friends and families gardens.
How did you choose your photographer?
It was one of the easiest choices, I always knew who I would want to do our photography. I have known Nicola since university and watched over the years as she built up an incredible body of work. Her style and creativity is second to none and the best bit is her ability to put whoever she photographs at ease. She was as much a part of our day as our bridesmaids and groomsmen. The photos are gorgeous and capture the whole day just as we remember it.
The dress 
My dress was Dramia by Pronovia. My shoes were Scarpe & Scarpe and a friend altered a hair vine I ordered from eBay to make my hairpiece. We also made matching hair grips for the bridesmaids.
The suit and bridesmaids
Because we wanted to create a more informal look we chose to ask the groomsmen to choose some brown trousers and a white shirt and then we got them ties to match the waist coat that Matt chose to wear. I really wanted a forest green colour for the bridesmaids dresses and again something not too formal, it wasn't easy to find the right colour that wasn't either made of lace or floor length. In the end I found the dresses on amazon and was able to get 2 styles in the same material. All the girls looked lovely and the style of their dresses fit with the boys more informal look.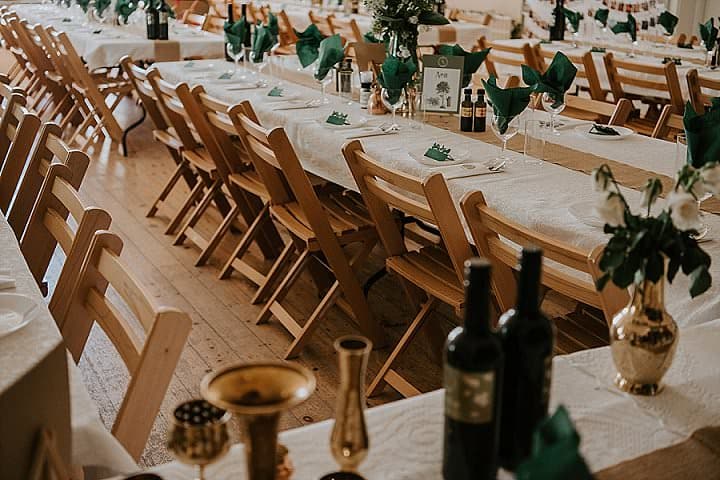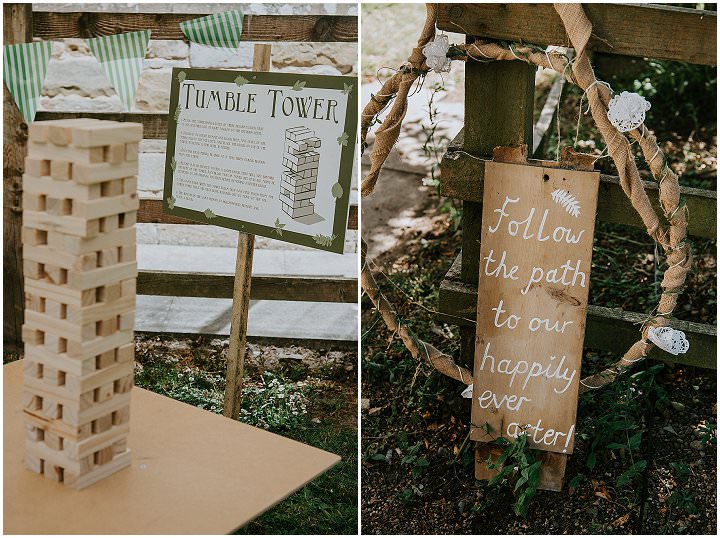 Theme or colour scheme
We love trees and nature and wanted the setting to speak for itself. We were getting married in 'cow parsley season' which covers the countryside in June and so we decided very early on that we would have green and white as the theme with highlights of brass, gold and copper to add a bit of sparkle.
Flowers 
Succulents! Where ever I could get away with them, some in my bouquet, on the wedding cake and the favours. My Mum, my bridesman and myself grew them over the year leading up to the wedding along with lots of white flowers and greenery. Claire at forget me not florist created the beautiful bouquets and buttonholes. We also foraged lots of ivy and cow parsley from the forest and fields surrounding the village hall. We bought a few bunches of different types of white flowers to use in our flower arrangements.
Decoration
Mostly handmade by myself, my Mum and a handful of other wonderful people. We bought 30 cardboard stars which we painstakingly sprayed different shades of gold and copper. We made 100 meters of bunting, crochet wooden hoops, signage and I was able to use work resources to create lots of extras like laser cut name cards. I decided to use old brass and copper vessels and candle holders to decorate the venue so to make a saving we spent a year finding them at car boots and in charity shops.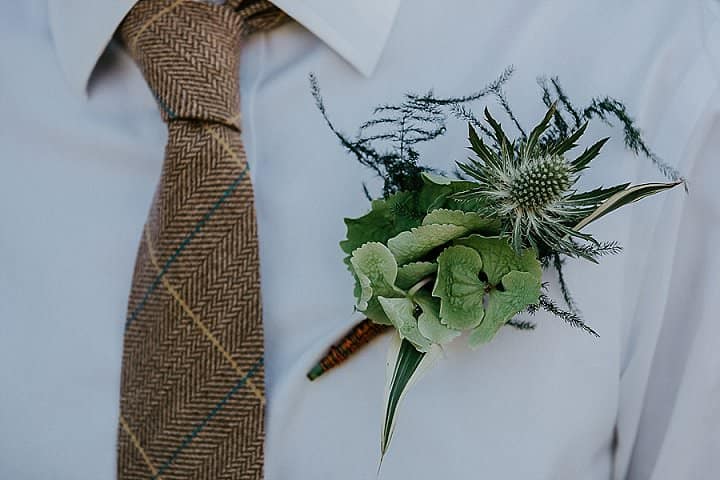 Food
Italian! Yes we know, we got married in Yorkshire, where were the Yorkshire puddings? Well we love Italy, even our honeymoon was in Italy. In practical terms our final choice of menu worked very well with our venue. The village hall has a very small, ill equipped kitchen. We had some great ideas for creating an Italian feast which would not only be super tasty, straightforward to prep in a limited kitchen and satisfy such a diverse range of dietary requirements. We had incredible arancini, bruschetta and crostini for nibbles with drinks after the ceremony. We then seated everyone for an antipasti sharing starter and the main event was pasta! We settled on having a choice of 3 pasta dishes served from large paella type pans at the end of the hall, it proved a great hit, the guests loved the interaction.  Pudding was a delicious choice of limoncello cheesecake or espresso pannacotta all served in individual glass jars.
There was only one choice for the evening food… it had to be pizza! Fresh stone baked pizzas and salads served from the pizza oven sitting around the fire pits with toasted marshmallows.
Wedding cake
My very talented Mum made the wedding cake. I chose succulents to decorate the cake and my poor mum spent weeks perfecting the perfect fondant succulents. I wanted it to be a bit different from a traditional stacked cake so we decided on 3 cakes in different sizes and used plant pots to create stands for them.
Entertainment
We have some very talented friends who provided different musical entertainment throughout the day and in the evening a couple of our friends did a couple of DJ sets playing soul, funk and Motown, they had everyone on their feet.
Who supplied the stationery?
We made them with a little help from some friends and family. As I work in the design and print industry I had everything at my fingertips to make them totally unique. I ended up finding it very hard to choose which design to actually settle on. The design of the invitations set the whole theme for the wedding so I wanted to make sure they were just right which ended up taking a lot more time than I had allotted but definitely worth it in the end.
Personal touches
We actually had too many personal touches to mention really. From the making of the decorations to the favours I had a hand in making it all. Our guests loved that all the small details had been thought about. We wanted the day to be fun and enjoyable for everyone and one of the elements that went down the best with the guests were the garden games. Our friends and family played a huge part in the day, playing music, singing, providing the food & drink. I think because we had so many of our loved ones helping us out it made the day even more special.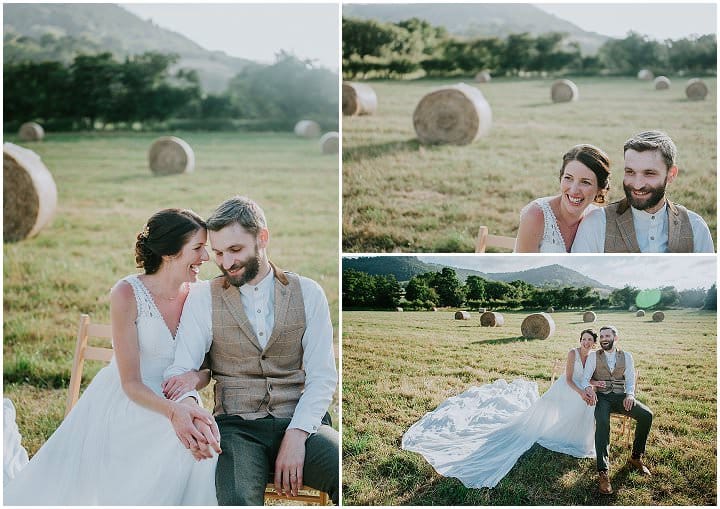 Special moments 
The ceremony, being outside in the sunshine with the incredible view was unbeatable, I remember arriving and seeing all our hard work had come off and feeling excited about finally getting to enjoy it all. Our lovely friends, Father & Daughter Duo Rich and Maddy Adams performed John Martyn – May You Never, during the ceremony which brought tears to the guests and me it was such a beautiful rendition. I can remember vividly our 'last dance'. Matt was not keen on the idea of a first dance and actually neither was I so we decided that to mark the end to the night we would have a last dance instead. It was epic, everyone had plenty to drink and had already been dancing for hours so when Stevie Wonder  – Sir Duke came on they were all primed to give us an excellent send off.
Advice for other couples
It is your chance to have a day totally devoted to the two of you. Choose the food, music, entertainment that makes you smile.
Biggest surprise 
Just how kind people are, we were surrounded by love. We couldn't believe how many people lent a hand to make our day perfect.
Supplier Shout Outs
FOR MORE INFORMATION ON NICOLA'S WORK GO TO:
nicolathompsonphotography.co.uk / FACEBOOK / INSTAGRAM / PINTEREST / TWITTER
Nicola Thompson is an award winning wedding photographer based in Manchester and working throughout the UK and Europe. She's a creative, fun loving people person who prides herself on developing great relationships with her clients, working with them to produce a creative, beautiful, fun set of unique wedding photos.