This afternoon we are talking wedding dresses with Son De Flor. Choosing your dress doesn't have to be about choosing the biggest or the most high fashion gown. For some brides, choosing a dress that can be worn again, that can be passed down from generation to generation, is much more important. Son de Flor specialise in timeless linen dresses that don't chase the trends. Rather, they let time stand still around them, creating a world for their designs. The dresses are comfortable, classic and filled with love and modest understanding. Son de Flor are based in Lithuania, and the dresses go up to €300. All the dresses can be purchased on the Son de Flor website.
Son de Flor Story was started by two sisters. Sisters who were tired of chasing seasons in a fast fashion industry. They wanted to find a way of slowing this world down a little by creating permanent beauty, without the urge of constant consumption. One timeless linen dress was in the sisters minds. That dress is so much more than meets the eye. It's calm and safety. It's home. It's laughter round the dining table. It's comfort and assurance. It's modest and yet standing out. No chase of trends, nor seasons. Timeless. Feminine. Charming. Subtle.' Words that our designer Vaida always says.
Can you tell me a bit more about the new collection
Son de Flor is about timeless and versatile style made from linen, which is a very durable and time resistant material. This garments can become an antique that is passed from one generation to another. Today linen keeps inside a feeling of intimate connection with your roots. You can sense that it tells a story even if it's a newly made piece of clothes never worn before. Some might even say that linen resembles like it has a shard of a soul or verse of poetry in its thread. Imagine wearing a dress that is already a part of your identity and personality. It carries sense of freedom, as the dress feels like a second skin not only because it has strong charge, but also brings irreplaceable level of comfort. And as much as it is powerful, it creates an intimate and fragile impression as well, which is nothing else but definition of femininity. And we believe that our Linen Wedding Dresses embodies the best qualities with the twist of magic that every bride deserve to have.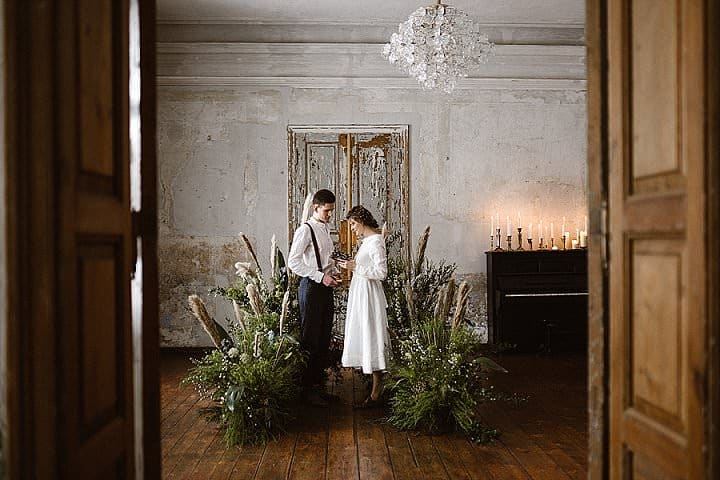 What were the main influences when designing it
Linen dress is a true gem among all other dresses, as it is convertible and changes drastically even if a small detail was put on it. Son de Flor Dresses can not only be worn for the big day but also can be styled to be worn for many more occasions. It is well known truth that genius hides in simplicity, so the basic form and color brings out the true natural beauty – only delicate touches of flowers is everything you are going to need. Let's try putting on a matching belt on the waist and suddenly dress enhances elegancy of the woman. As it only depends on creativity, any kind of smocking or embroidery shapes the dress' look and mood as much as needed for your personal taste. If you prefer to keep it simple, small and plain detailed cuffs and collar will improve the style. But if you want a stunning and impressive dress that is as much spectacular as any other typical wedding outfit, your solution is to match masterfully crafted pieces that adds opulent and luxurious effect. Son de Flor vows for a pure white tone of the dress as a tribute for a traditional wedding dress, while everything else is open for your creativity.
For more information on Son De Flor go to
www.sondeflor.com / FACEBOOK / INSTAGRAM / PINTEREST
this is a sponsored post