Hello Monday! And how are you all today? Did you have a good weekend? I do hope so. Mine was wonderful. We spent it celebrating Dexter's 5th birthday. Dexter had a fab time at his party on Saturday. Batman made a surprise appearance for him, which really made his day! Then on Sunday we went out for the day just the 3 of us, which was lovely. It's been a hectic month, what with two trips abroad, our wedding anniversary, Nik's birthday and Dexter's birthday, so this week will hopefully be a breeze in comparison. Talking about this week, I have the most gorgeous wedding to start the week off with. Katie and Ryan chose a destination wedding as they love to travel, and decided on San Diego as it's a special place for them. They mixed their love of modern, clean designs with their love of the ocean and created a stunning looking wedding, filled with soft blues, geometric patterns and lots of tropical greenery. I just love this wedding, it oozes style and is a delight to look at. Big thanks to Nicole George Event Planning & Design for the submission and Studio Castillero for the beautiful images.
Katie and Ryan were married on 19th October 2018 at The Wood Shed Venue by Booze Brothers. They had 25 guests and it took 7-8 months to plan. 'Ryan and I had always wanted a destination wedding as traveling is our favorite thing to do together! San Diego already held a special place in my heart as I had visited there many times with my Dad as a child. He passed away unexpectedly in 2015. I took Ryan to San Diego for the first time shortly after and we fell in love with the ocean, deserts, mountains, food, and craft beer scene of this beautiful city. It made perfect sense to choose San Diego for our destination wedding, a sentimental place in both of our hearts.'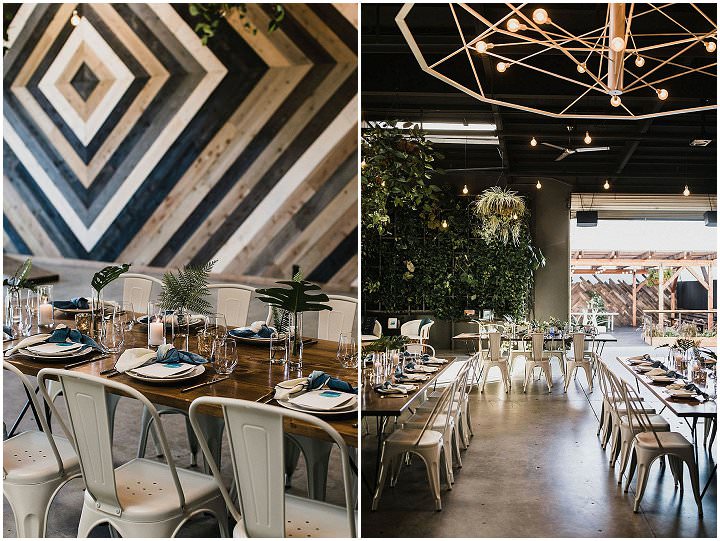 Katie and Ryan tell us more about their day
Being a destination wedding, we wanted our guests to be able to experience the excitement of discovering and exploring a new city, just like we love to do. We'd both been to weddings where we barely spoke to the bride and groom, so it was important to us to keep our wedding intimate with just our closest friends and family. One of my favorite parts was actually getting to spend quality time with our guests, making it that much more relaxed and fun! We chose the Wood Shed venue, apart of Booze Brothers Brewing Company in San Diego, as our venue because it was modern, unique, and essentially houses the minimalistic and modern feel that inspired our wedding design. The beautiful multicolored wood walls, ware-house style atmosphere, and living plant walls were all unique elements that really made the space feel homey to us. The fact that the venue was associated with a craft brewery was really what sold it for us! When it came to our wedding inspiration we really wanted to create an intimate experience filled with a minimalistic and modern vibe. Our vision paired well with the venue and we incorporated a beautiful variety of ocean blues and tropical greens from Ryan and my past island travels in the Caribbean. We wanted gold metallic elements (like my engagement ring) and some pops of white to keep it fresh and clean. Another important aspects was our cuisine. The menu included some of our foodie favorites that we love to eat when we travel, such as lobster rolls, street-style tacos, churros, and a coffee bar! We chose family-style dining to encourage guest interaction and continue the intimate feel throughout dinner. We chose an acoustic musician to really nail the intimate experience but loved that all of our 25 guests turned the space into a dance party by the end of the night!"
How they met 
Met 10 years ago through a mutual friend.
The proposal
Christmas Eve 2016, Together for 7 years! Not surprised, had been discussing for a long time. Have lived together for the majority of the relationship. Didn't feel rushed to get married. Katie picked out her own ring. In his parent's living room.
The dress 
Bridal Gown: Casablanca Bridal in style "Ainsley" Bridal Accessories: BHLDN, Bridal Shoes: Aquazzura/ 
The suit and bridesmaids
Groom's Suit: Calvin Klein, Groomsmen Suits: Generation Tux,
Theme or colour scheme?
We wanted an ode to our Caribbean travels by incorporating a beautiful variety of ocean blues and tropical greens with pops of white and metallics to keep it fresh, clean, modern, and minimalistic.
Flowers
Lots of tropical greenery with pops of white florals.
Decoration
We wanted to keep it minimalistic and modern by doing lots of bud vases and candles on our table. We also loved the speciality ombre napkins and our speciality lounge set!
Food
The menu included some of our foodie favorites that we love to eat when we travel, such as lobster rolls, street-style tacos, churros, and a coffee bar!
Wedding cake
Chocolate!
Entertainment
DJ and guitarist through Still Listening Productions
Who supplied the stationery?
Minted!
Supplier Shout Outs