Yay for Friday! I hope you are as excited as I am for the weekend! It's my birthday weekend, which is why I have been counting down the days all week. It's not my birthday till next Thursday but Nik and I and a group of friends are off to Leeds for the night tomorrow to see Trevor Nelson. We are 'Out Out' and I can't wait! I have a whole outfit of sequins to wear, I am going for the human disco ball look! (LOL) I do love a night out dancing!
Before that though I am whisking you off for our last adventure of the week as we head across to Calistoga, in California's Napa Valley for the gorgeous wedding of Tessa and Max. First of all can we just talk about Tessa's outfit? Oh my, how amazing does she look! And that bouquet, all made from one rose, stitched together to make one HUGE single rose! As for the bridesmaids outfits, the table plan, the food! This is one wedding I really wish I had been a guest at. Super stylish and so much fun! The perfect way to end the week. Big thanks to OneLove Photography for the awesome photos.
An epic celebration of love, family & friends. With focus on food, drink & music we enjoyed the most amazing and happiest day of our lives.
Tessa and Max were married on 19th October 2018 at Triple S Ranch, Calistoga, in California's Napa Valley. 'We were set on a location where all of our friends and family could stay onsite for a full weekend of fun. We did rehearsal dinner Thursday – which happened to be my 30th birthday at Triple S in the Barn, Friday was our wedding day with ceremony under the Oak, reception under the walnut trees at family style tables, and band/dancing in the barn. We finished the weekend off with a pool party & food truck on Saturday which was beyond epic! Years ago an acquaintance told me about Triple S and I (prematurely ) jotted it down in the "notes" section of my phone. We are both from Santa Barbara and it seemed natural to get married there. After the natural disasters in 2017 it just wasn't an option, sadly. I begged our families and Max to just consider Triple S Ranch as an option. We went to visit and literally signed on the dotted line that day. There were 2 dates left in 2018 and one of them was 365 days after Max proposed, so we snagged it! We had 150 guests and it took 11 months to plan.'
How they met 
We met in high school on the bleachers at orientation when we were 13 years old. We were great friends for a long time, and wound up working at the same company. The LinkedIn coffee machine rekindled us 5 years ago and we have been together ever since.
The proposal
We are obsessed with our french bulldog Sophie, but she is very active. Before we go out at night she needs to be thoroughly exercised to not destroy our apartment while we are gone. Max planned a birthday party for me at this cute little flower shop in the Mission in San Francisco that moonlights as a small event venue in the evenings. I knew that we needed to walk Sophie before heading to my party so that she'd be a good girl, Max knows me so well. He took my cues and we headed out for a walk to the Gold Gate Bridge & back. Once we arrived at the bridge he took out his tripod (yes, he has a mini one that he takes around because he's very into photography, this seems like it would have tipped me off but it totally didn't!) and proceeded to set it up for a picture of us 3. When I turned around from admiring the bridge he was on one knee!
How did you allocate your budget?
40% venue, 30% booze & food, 10% band, 10% flowers, decor, misc.
Where did you splurge and where did you save?
Triple S is a stunning venue that speaks for itself, we didn't feel the need to invest heavily in decor/signage/flowers. Plus my Dad and Brother own an ornamental iron factory so they ended up making my arch & table seating assignment (I'd say we saved here). I also didn't sent out paper invitations, we sent everything electronically and relied heavily on our website. My family is from South Africa where postage is a bit iffy, so we opted for saving money in the invite dept and allocating that to a fun food truck.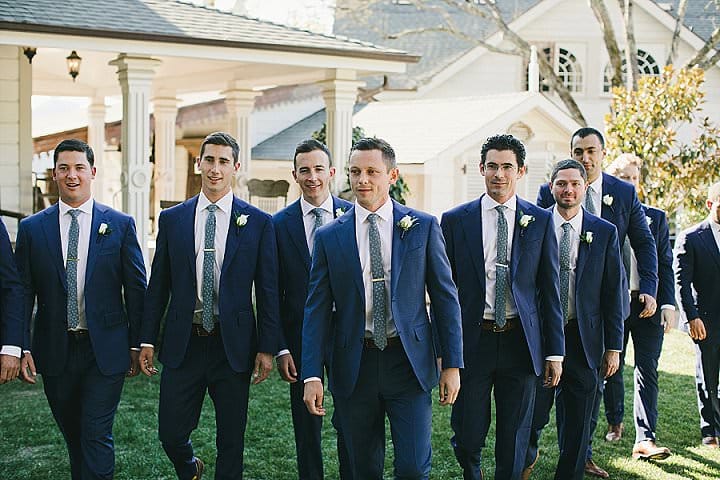 How did you choose your photographer?
I did a lot of research in this department and OneLove won me over with their "action" photography element. Most photographers from OneLove (correct me if I am wrong) have a background in sports/action photography and they pride themselves in capturing the "real" moments. I didn't want a bunch of forced, posed pictures. I wanted real, raw, images of people laughing, crying, dancing and having a great time. I absolutely loved our photographer Lindsey. she was so authentic, real and provided so much structure to the day, I would recommend her to everyone!
The dress
Dress is Rime Arodaky, shoes were Valentino. Accessories (pearl/diamond drop earrings & 3 gold arm bands) were my late Grandmother Allison's. Her and I were extremely close and I carried her with me our whole wedding day.
The suit and bridesmaids
Suit was Suit Supply in Lazio Blue. Bridesmaids wore BHLDN Ivory Crepe Maxi's or Jumpsuits, their decision

Theme or colour scheme
Ivory with green/forest/olive accents and gold metals.
Flowers
Flowers were white and seasonal with green leaves/accents. Silver dollar eucalyptus garland lined the family-style tables and the arch. Lot's of hydrangea and white roses. My bouquet was absolutely epic, it was one single "rose" composite bouquet, I was obsessed with it after finding it on Pinterest. Michael Daigian Designs did a fabulous job!
Decoration
Triple S is such an architecturally stunning venue, set in such a lovely setting, in one of the most beautiful places in the world, decor wasn't a huge focus of ours. We added elements of decor through the use of flowers, the arch (we repurposed this after the ceremony to be our "photobooth") and our seating chart. I tried to let the venue speak for itself and simply highlight the beauty with small, tasteful additions.
Food
We had amazing chef Agustin Mallmann who cooks with fire cater our wedding and it was magnificent. He purchased all of the food locally and served Prime Rib, salmon & seasonal vegetables. He started everyone off with empanadas and scallops. His outdoor fires were burning all day long and made for such a majestic vibe.
Wedding cake
Bella Bakery in Calistoga created the most decadent dessert bar comprised of cupcakes, brownies, lemon bars you name it! We had a French Bulldog marshmallow life-size Sophie replica cake, and a conservative 2 tier carrot cake (no nuts!) which was completely demolished by our guests so we really wish we got a bigger one!
Entertainment
Lucky Devils Band were awesome!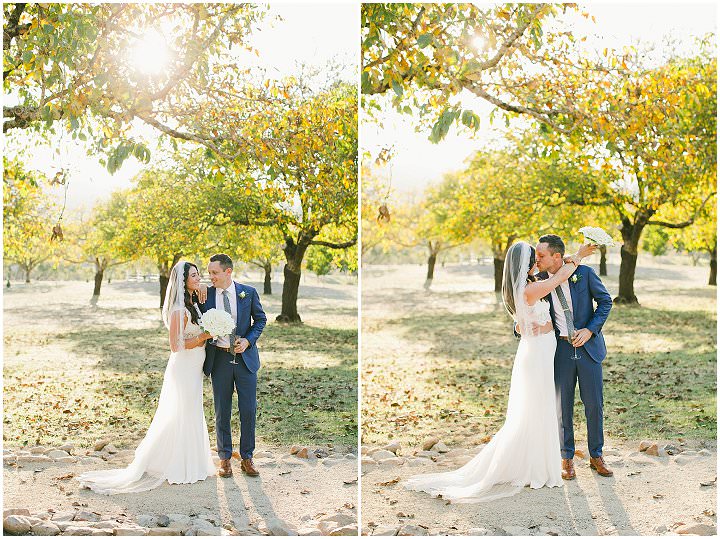 Who supplied the stationery?
Etsy + Riley & Grey
Personal touches
Or things that you did yourself? Max & I collect matchboxes so we personally designed matchboxes and had those up for grabs for people to take home. I also personally created the seating chart which was a massive circle with leaves aligned to which table guests were sitting at, I was laboring over this the morning of the wedding while I should have been getting pampered so I wouldn't recommend it!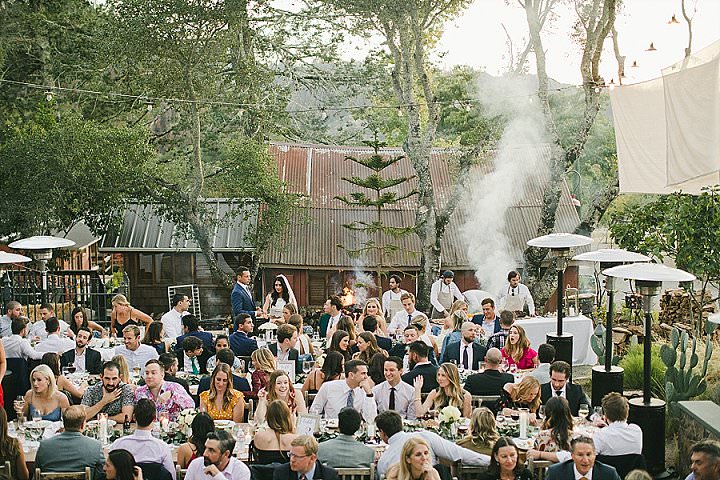 Special moments
Max and I surprised our guests with a fun dance to Apache – Jump On It which was just epic! Seeing everyone's faces just brought us so much joy. We also surprised our guests with late night snacks from McDonalds, it was SUCH a hit!
Advice for other couples
Enjoy every minute but don't take it too seriously! At the end of the day it's an epic party with your family & best friends. Take it all in!
Biggest surprise
The outpour of love and amazing speeches. Everyone was so present, engaged and loving, it was truly a celebration and dream come true. What more could you ask for?
Supplier Shout Outs
FOR MORE INFORMATION ON ONE LOVE PHOTOGRAPHY GO TO
www.onelove-photo.com / www.onelove-photo.com/blog / [email protected] / 925-360-9755 / FACEBOOK / INSTAGRAM / PINTEREST
I'm an artist to my core. My grandmother was an also artist – she created beautiful paintings that filled her home with color and memory. She interpreted her world through a paintbrush; I interpret mine through a lens. Every artist's work is a reflection of their own heart, as they interpret their world. I've spent over 10 years researching, developing and refining my approach to Neo-Impressionism as a photographer. As a natural style of editorial photography, the onelove aesthetic is an delicate play on light and color. Our artistic model is focused on scenic composition in order to carefully narrate a story in an atmosphere filled authentic emotion.