Hello everyone and welcome to the week. I hope you all had a wonderful weekend? What did you get up to? Anything wedding related? Mine was lovely, Saturday was spent with Nik and Dexter doing various things, including a 5 year olds birthday party and on Sunday I took Dexter to the theatre to see jJack and the Beanstalk. We both love going to the theatre, so it was great to spend the afternoon with my little dude.
This week is another packed week on the blog, starting off with Helen and Paul who got married in West Yorkshire, across Wakefield and Huddersfield. They used a number of different modes of transport including a boat, tractor and vintage bus. They filled their day with lots of homemade details and decoration and they were blessed with glorious sunshine all day long. Big thanks to Stevie Jay for the photos.
In the glorious sunshine, we embarked on a journey, in a big yellow hummer, classic tractor, vintage bus, and little blue barge across West Yorkshire picking up passengers from our previous lives to travel to the new destination of Richmond – Mosley.  It was amazing, beautiful, fun and filled with laughter. 
Helen and Paul were married on 7th July 2018 at Horbury Methodist Church, in Wakefield with the reception at Standedge Tunnel Visitor Tunnel, Marsden, Huddersfield. 'I grew up going to Horbury Methodist Church and my family are still involved there so it is a special place.  Paul was very relaxed but supportive about the decision. We had 74 guests and it took on and off 8 months to plan, but 3 months of intensive planning. There was a lot of false starts because the venue double booked us – twice!'
How they met 
We met at school aged 11 but got to know each other when Paul's family moved into Overton village and we caught  tried to catch the bus to school together for 4 years.  Paul came over to my house most evening to play chess with my dad and we hung out in the local pub, the Reindeer, where Paul spent hours teaching me to play pool. After we left school we remained friends but didn't get together until we were 32.  Paul helped me renovate my home and after many weekends of sanding, rewiring and painting he finally asked me out!
The proposal
Paul and I love skiing and snowboarding.  That year we had gone on a ski holiday to Montgenèvre in France.  On the final day of the holiday we went to the top of our favourite red run, Les Sources, Paul got down and one knee and pulled out a ring box and asked me to marry him.  Inside was the keyring hop from our chalet key, he slid it on my finger and then pulled out 2 miniature bottles of fizz from his pocket!
How did you allocate your budget?
There was no real budget allocation…we just knew what the big hitters were, the venue and the caters.  I had a strict budget on what I was prepared to spend on my outfit.
Where did you splurge and where did you save?
We splurged on transporting our guests by vintage bus and then by barge!  We had loads of music, 3 solo musicians and a brass band.  The brass band was a real slurge but we knew they would be great.
To save we only considered venues that didn't charge corkage.
We knew there would be lots of drinking so before the wedding we had a blind red wine and fizz tasting evening. Out of 10 bottles of fizz nearly all choose the cheap Aldi fizz (I chose the Bolly's) and Aldi's organic red wine!
We also saved by not having an expensive wedding suite because we knew that we would be having a late night, so we stayed in a nice Airbnb instead.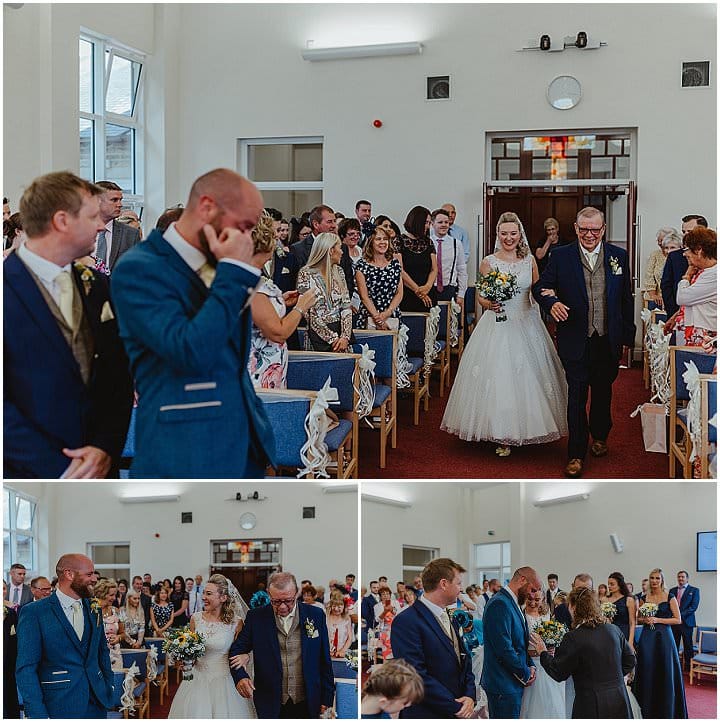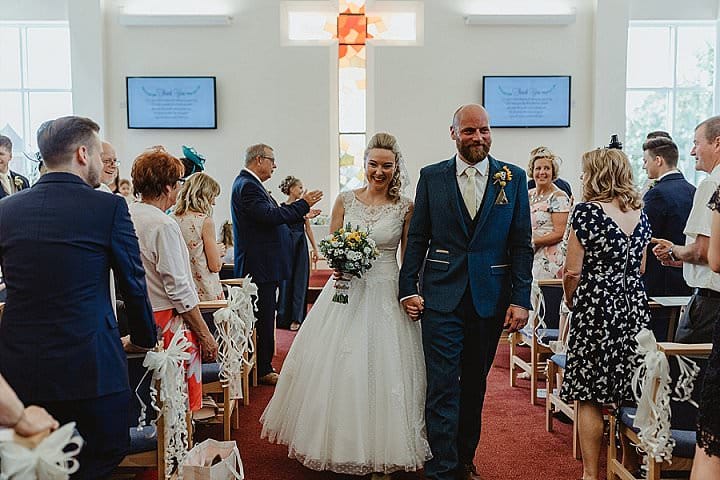 The dress
Loulou Bridal and the dress was called Grace.  It's a ballerina length vintage inspired dotty dress with wide neckline, lowered waist and lace applique.  I always thought I would choose a short lacey dress and almost did until I tried on that one!  I hadn't even wanted to try it on, but the Dresser insisted and boom I loved it!  I also really like that it came from a local shop.  I had rems of blue netting sewn into the underskirt to give it more oomph.
I had 3 shoe changes I started with a sky-high pair of yellow heels with a bow on the front, a pair of navy Ted Baker Skalett Stiletto peep toes, and finally a pair or custom designed Converse trainers with the date of the wedding printed on and yellow laces so I could dance.
My mister surprised me on the morning of the wedding by sending me a pair of blue sapphire earrings, which match my engagement ring.  My Dad leant me Grandma Richmond's watch to wear which also matched as it has a royal blue face.  And my mum bought me a blue garter!
The suit and bridesmaids
Grooms party had heavy tweed checked suits with light brown waist coats and the groom wore navy blue with a touch of brown.  He fell in love with the suit when he saw the mini versions of it, which the page boys wore.
The bridesmaids wore long blue satin dresses each with individual designs for the top and the flower girls work yellow tulle dresses.  The dresses were all designed and made by a friend in Suzhou China (where I use to live) who specialises in making gowns.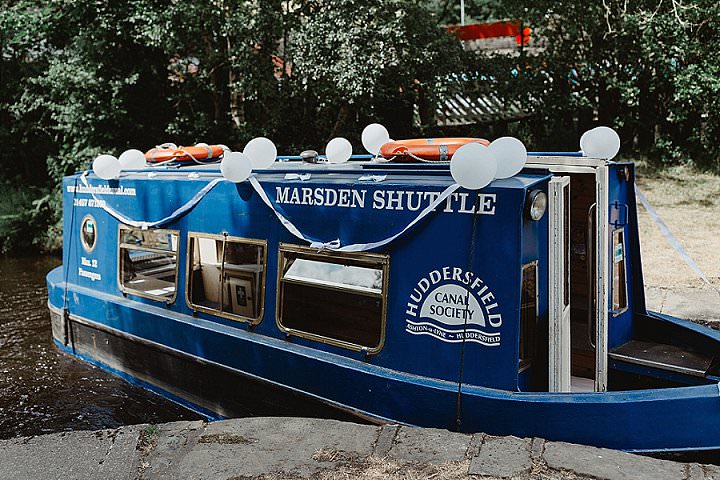 How did you choose your photographer?
Stevie Jay was recommended to us by the venue.  We thought it would be beneficial to have someone who knew the venue and location. When I met with Stevie I liked her natural looking photographs and they way she captured "moments".
Theme or colour scheme
The colour theme was yellow, blue and ivory.
Flowers 
Mini sunflowers,  craspedias (yellow sun balls), ranunculus, daisies, gypsophila, ornamental cabbage and herbs mainly rosemary.
Decoration 
We had a lot of bunting, straw bales and signs.
Food
We had an afternoon tea that included mini Yorkshire puddings, vegan finger sandwiches and avocado soup which was washed down with gin cocktails served in China teacups.
For the main meal we had Pauls favourite – turkey pie with stuffing and cranberries and we had a vegan pie option.  The starters were Mackerel Pate or Vegetable Tarin and the deserts were a lemon posset or vegan chocolate tiffin.
Our caters were really amazing.  They took time to get to know us and what we liked and made lots of suggestions for good.  We try to eat organic and they made a huge effort by buy organic produce even travelling to Manchester to use our favour organic supermarket!
Wedding cake
We had a 3 tier cake, Victoria sponge, chocolate and lemon drizzle all bound together with butter cream! The traditional wedding figures on the top were made to look like us in our wedding togs waiting a bus stop for our school bus. I was gutted as I never got to have any of the Victoria sponge.
Entertainment
It was a 40-minute bus ride from the Church to wedding reception so our family did a personalised quiz.  At the venue we had lawn games including a giant jenga, bag toss and tin can alley and we had a lot of music.
Who supplied the stationery?
My niece and nephew painted the pictures for them I designed all the lay outs.  I had them printed at an eco-friendly printers.  We tied the invitations up with yellow twine and sealed all the envelopes with a red Chinese luck stamp.
Personal touches
We did nearly everything ourselves!  I made all the decorations and bunting and family and friends all helped dress the venue the day before.
Paul's Dad made all the white wine for the wedding and his mum made personalised labels for the bottles.  Pauls Dad also made all the table name holders.
My mum and her friend bought 80 individual china tea cups and sauces and 15 china teapots!
Paul and I made all the games and I painted a pallet with the timings for the day. I designed the favours.  I made all the bunting and painted all the signs.
Paul made large wood truck coasters for the table settings and my mum grew the herbs for the table decorations.
Special moments 
The Church service was unexpectantly fun.  Travelling by all the different modes of transport, Humber, bus and barge.  Especially the barge because we got time together.  We learnt a lindi-hop routine for our first dance and it was such fun, we hadn't told anyone so it was a surprise!
Advice for other couples
If you are doing it yourself I would have at least meeting with a wedding planner before the wedding and also have them there to co-ordinate the day.  The venue were excellent but I still felt like I was the go-to point for all the suppliers on the day and was fielding questions and making decisions when really I just wanted to enjoy myself and let go! Take lots of photographs and then more there are some we don't have of some people and its upsetting.  Don't go on your honeymoon the day after the wedding (like we did) have a day to relax and enjoy reminiscing!
Pick up the suits in good time, despite having a fitting the suits were all the wrong size!
Biggest surprise 
When I walked out the church Paul had arranged for his friends Massey Ferguson tractor to be there.
The Church service was really fun and we laughed and smiled all the way through it.
Paul said he was surprised by my wedding dress as he didn't expect it to be traditional.
Supplier Shout Outs
For more information on Stevie's work go to
www.steviejayphotography.co.uk / FACEBOOK / INSTAGRAM / PINTEREST