Hello, you lovely lot, and welcome to another wonderful week. I hope you all had a fabulous weekend. I had a great weekend, I was out for my friend's 40th birthday, a very rare girls' night out for us all. There was much food, prosecco and dancing. I had a fantastic time but spent a lot of yesterday recovering! So onto this week's weddings. I am starting off with this fabulous DIY wedding extravaganza from Cumbria. Rachelle and Kevin found Knipe Hall in Cumbria as they wanted their wedding to take place over the whole weekend. They also wanted to create a lot of the wedding themselves and hire in the exact suppliers they wanted. Knipe Hall let them do just that. With an abundance of personal touches this gorgeous, green and copper DIY wedding theme was put together by the bride and groom with a lot of care and attention. This DIY wedding in Cumbria is visually stunning as well as totally personal and full of love. Big thanks to Maddie Farris for the gorgeous images.
Our wedding was very relaxed with lots of time for guests to enjoy the food and drink that we had provided. It was full of love and unique touches that we felt represented us as a couple.
Rachelle and Kevin were married on 29th August 2018 at Knipe Hall in Cumbria. 'We loved our venue from the very first visit. It is secluded, homely, rural and unique – everything we could have wanted. Although it isn't in a significant place for us, it is in the countryside and had a barn which is what we really wanted for a rustic, laid back feel. It also allowed us to do the wedding our way, making it more personal. The fact we get the venue for nearly five days was a huge attraction so we could have a proper celebration with family & friends. We had 60 guests and it took 18 months to plan.'
How they met 
We both happened to have the same landlord who arranged a Christmas party for his tenants, so we both attended the same party which was being hosted at The Midnight Bell in Leeds. It happened that we both needed to go back home to drop off\pick up things so we shared a taxi back as we lived in streets next to each other in Armley. We then headed back into Leeds where we ended up chatting and having drinks at Belgrave Music Hall.
The proposal
Kevin proposed to me on Formby Beach near Liverpool. We are both 'outdoorsy' people and like to go for walks on a Sunday, it just so happens that we had not long had our new puppy Ralph who was allowed to go for his first outdoor walk so we wanted to go somewhere special. Kevin chose Formby, and as we were struggling up a huge sand dune Kevin decided to get on his knees, fish something out of his bag, and present an engagement ring! There was no-one else around but a bewildered Ralph as I burst out crying and said 'yes!'.
How did you allocate your budget?
We worked towards an amount as we didn't value spending ridiculous amounts of money for one day. We made a list of all expected costs such as: venue, dress, and food then put a value on what we wanted to spend on each of those costs considering what we thought was reasonable. All in all, we hit our budget which came in at under half the 2017 UK average which we were really pleased about.
Where did you splurge and where did you save?
We decided to spend most of our money on what we felt guests would remember such as the free bar and the afternoon\evening entertainment.  We made cuts such as only having one bridesmaid, by not having a three-course meal and co-ordinating all our suppliers ourselves. The biggest cut we made was making our wedding fully DIY and choosing a venue that gave us full freedom to have whatever we wanted for our day. As a result we didn't have to pay over the odds for service charges or staff time and we were able to source independently our suppliers for the best price and to fit our vision for the day.
How did you choose your photographer?
We wanted natural, real photographs that didn't appear to be too set-up or photo-shopped. I stumbled upon Maddie's photos in a wedding blog and knew I had to get in contact with her straight away. We booked her when we met up way in advance as we just knew she was going to the right photographer for us, she wasn't pushy and didn't create too much of a sales pitch. She was just down-to-earth and honest which we felt reflected us perfectly. We have no regrets! Our photos will be cherished forever.
The dress 
The dress was 'Meadow' by Romantica with alterations done by Legend Bridal Designs. I struggled to find a dress that I felt was 'me'. I had always envisaged a dress with bell sleeves but just couldn't source a dress within my price range (or size!) for this but as soon as I tried Meadow on, I knew that I could have it adjusted to make a dress I would love. Kate at Kate's Bridal Room in Clitheroe was fabulous and really did try to understand what I wanted, she gave good advice and gentle encouragement as it wasn't my favourite part of the wedding process but on the day it was worth it! I teamed by dress with some rose-gold sandals, and a leather jacket customised by Sammy Lea's Retro Emporium.
The suit and bridesmaids
All the suits were bought from Next. We gifted the suits to the groomsmen and were chosen so they could wear them again if they wanted to.  My only bridesmaid (my sister) wore a dress by Scarlett & Jo accompanied with a Jenny Packham Cape.
Theme or colour scheme
Our wedding was just a mixture of everything we love, a bit of vintage, rustic and boho styling with a few deckchairs, cacti and feathers thrown in! A few references to our favourite disney film 'Up' were made on the day too, including a bit of a theme of 'adventure'. I wanted nature to be a big part of the wedding therefore the colour green was chosen for the main colour to be used.
Flowers 
My flowers were provided by the lovely Gemma at Bluebells & Daisies. I only met up with Gemma the once to explain what type of wedding I was having and she really did deliver for us! I didn't really have any suggestions or clear instructions on what type of flowers or bouquet I wanted but her vision and creativity is fabulous and she went above and beyond to make sure I had the bouquet of my dreams! The only request I did have was for the buttonholes to be made of the Flame Lily which is the national flower of Zimbabwe; where Kevin was born and grew up. We also had Pampass Grass, Gypsophila, White Roses and lots of greenery such as eucalyptus surrounding the venue, keeping it simple yet effective.
Decoration 
The decoration was very boho\vintage inspired. When reading wedding blogs as research when planning our wedding, I was always drawn to the quirky, individual weddings rather than the classic white\crystal traditional decoration that many people still adhere to. I spent a huge amount of my time sourcing props and decoration from car boot sales, charity shops and Ebay. I also carefully researched suppliers who would help bring the 'mish-mash' vision that I had in mind!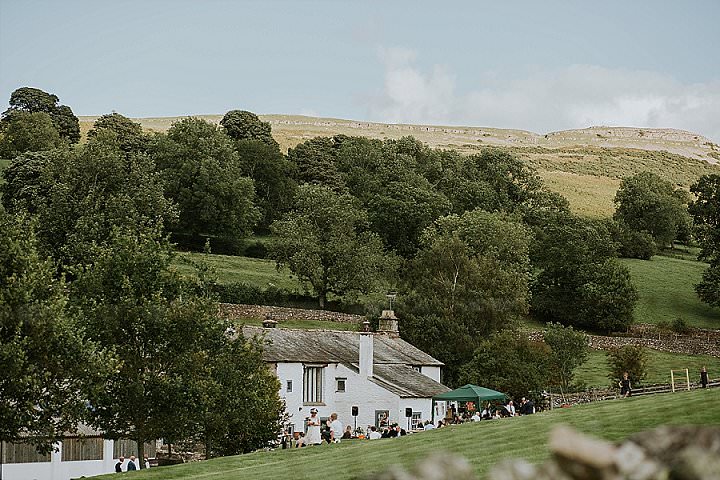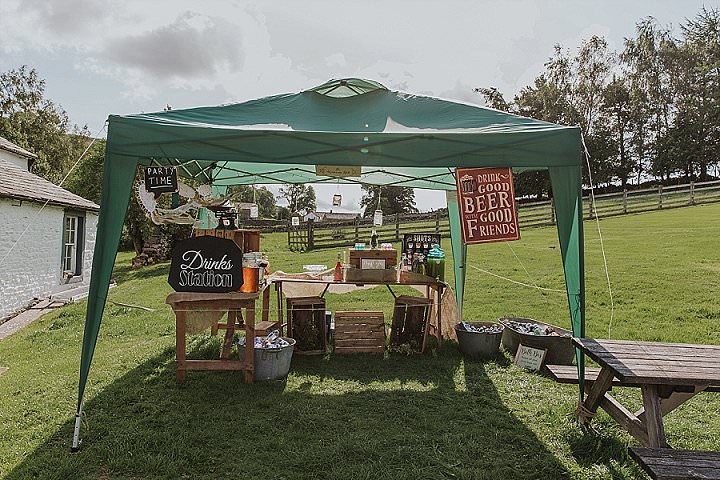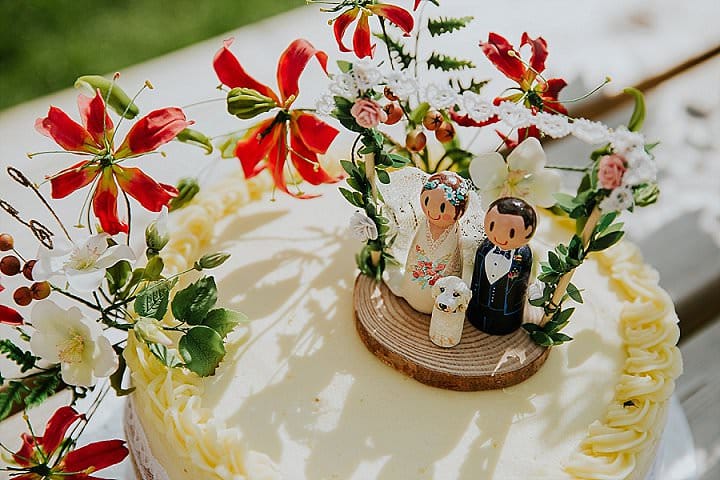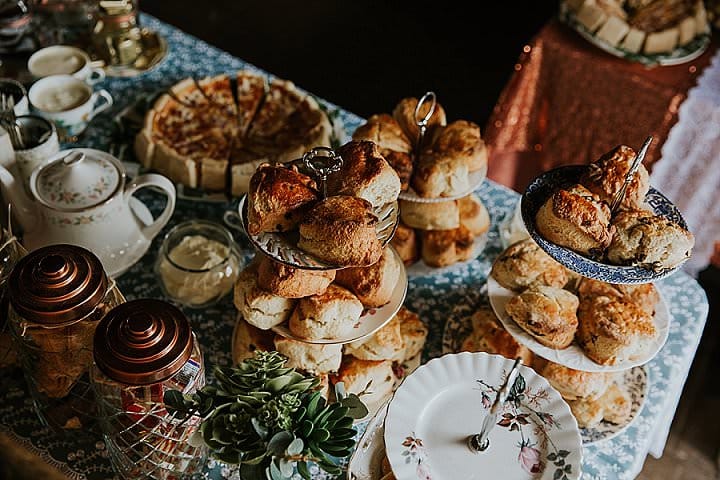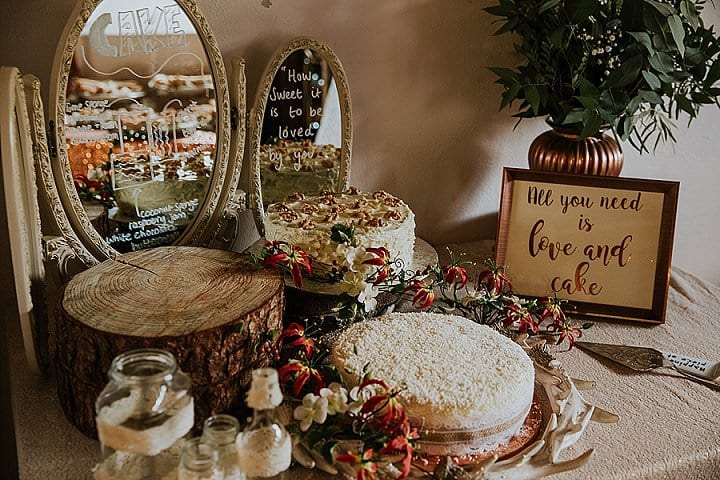 Food 
We both wanted food which was filling and homely, so we asked my Mum & Dad to do an afternoon tea inspired selection of food for after the ceremony. In our experience of attending weddings we were always hungry between the vows being said and the wedding breakfast, so we wanted to make sure our guests had plenty of food to tuck into! We had finger food such as sandwiches, quiche and pork pie. For the evening we had pies provided by PieEyed who served a selection of pies from a horse box with mushy peas, mash & gravy. This seemed to go down a storm with guests! We had Milk Maids provide our desert who produce their artisan ice-cream on their farm which is local to where me and Kevin live.
Wedding cake
Made by my mum! We didn't want a traditional fruit cake with white icing and felt the naked baked cake was starting to become increasingly popular so we just wanted some really gorgeous flavours and soft sponge for everyone to enjoy. My mum has always been a great baker and we felt it was a great way for her to feel she had something to contribute. Kevin's Aunt created the Flame Lillies to go on top of the cake – a real family effort!
Entertainment
We had an acoustic singer for the afternoon playing outside whilst guests enjoyed the food, alcohol and games that we had provided. Lucy was perfect and played a variety of songs that kept everyone entertained. For the evening, we had The Stereo Soldiers who blasted out some popular 90's and 00's anthems which reminded me and Kevin of our university days.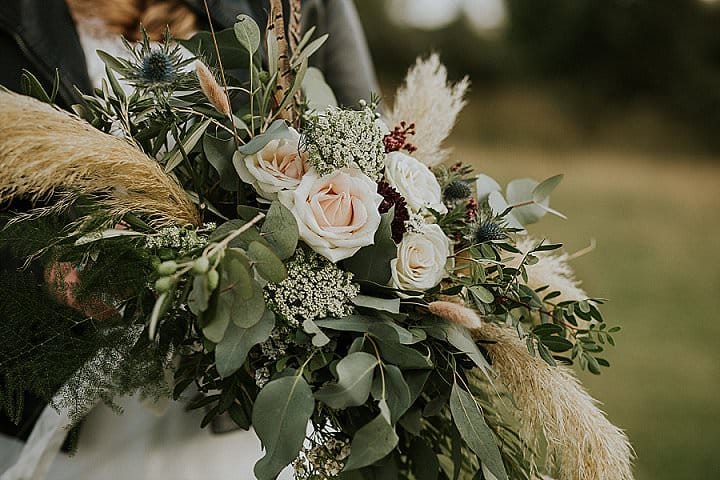 Who supplied the stationery?
All the stationery was made by me which included table place names, the ceremony booklet and the menus which we placed on the tables for the wedding breakfast.
Personal touches
Kevin (Groom) made all the outside lawn games which were enjoyed by many of the guests especially as the sun did shine on our day. Most of the décor was bought and arranged by me as I had a clear vision on what I wanted our day to be like. We also included photos of our parents' and grandparents' wedding photos by the alter for our ceremony as a token to the tradition of marriage in both our families but also as a reminder to us about the sanction of marriage and the importance of committing to each other through the words of our vows.
Special moments 
There were so many! We went for a walk together on the morning of the wedding to have time for ourselves and start the day like any other. It was a really private moment for us as we talked about the day we were going to have. Another was receiving a present from Kevin when I was getting ready which was a book full of photographs and memories that we had created together, accompanied by a personal letter which had me in floods of tears.
The ceremony was a highlight as we were both so overcome with emotion and love for one another. It was also special as we had prepared our own vows.
Advice for other couples
Make a list at the beginning of planning of all things that are important to you! For us, the traditions didn't matter too much and we just wanted a relaxed day where guests didn't get bored, hungry or thirsty!
Biggest surprise 
How well all our planning, time and effort paid off resulting in a day where I married my best friend and was perfect for both of us! We didn't have a stressful day, it was relaxed, loving and shared with only people that mattered.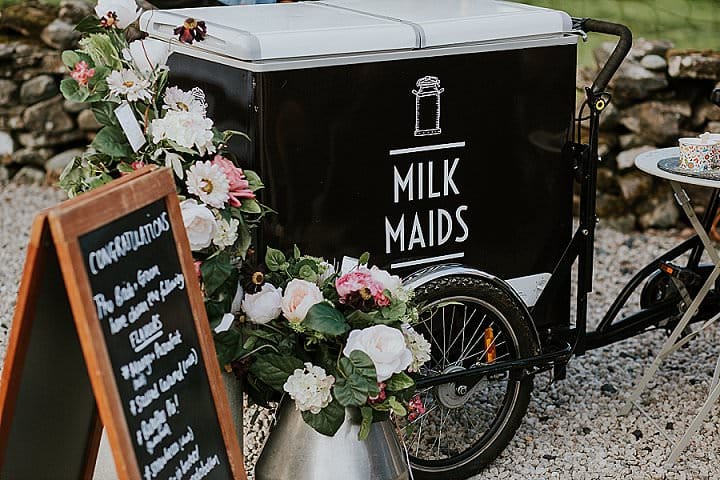 Supplier Shout Outs
For more information on Maddie's work go to
 maddiefarrisphotography.co.uk / [email protected] / 07967118002 / FACEBOOK / INSTAGRAM
I'm a wedding photographer based in the North West & beyond! I love working with laid-back & creative couples.  My approach is natural, honest yet unobtrusive.