Well hello everyone and Happy Friday to you all! Hopefully it's the last day of work for a lot of you, so later on this evening the festivities can well and truly start! How excited are you for Christmas? I am SO excited. I have absolutely LOVED the run up to Christmas, the last few weeks have been amazing! And now my work is nearly all done for the year, so it's time to put my feet up and spend some well-earned time with my gorgeous family! I have saved today's wedding for you for the past few months, as it is super special and oh so wintery! Katja and Alistair chose to get married outdoors on the ski slops at Toni Alm, Kitzbuhel, Austria as they both adore the outdoor ski life. They made their wedding all about their favourite passion and had an absolute ball. The snowy backdrop is a feast for the eyes, the outfits, the reception area is outstanding, the whole wedding is first class! Big thanks to Wild Connections Photography for the amazing images.
A true Alpine adventure with tobagggans, skidoos, awesome friends and a lot of Jaegar. Weddings at altitude rock!
Katja and Alistair were married on 3rd March at Toni Alm, Kitzbuhel, Austria. 'We both have spent a lot of time on the slopes. Al used to live in Geneva and would go to Chamonix most weekends in the winter, and I used to ski race across Europe until I was 18. Although nowadays we aren't quite as fit as we used to be and spend more time in the après ski bars….I definitely feel most at home in a beanie and thermals! We had 65 guests, we were engaged for two and a half years, we weren't getting any younger so decided to jump straight to having a little one. Once I'd emerged from the first 6 months of looking after our son Kit, we realised we needed to focus so we didn't miss the next ski season. From that moment it was about 8 months before the wedding.  A friend of mine gave me some advice saying make sure you plan things before the baby comes as you'll never have any time – as all first time parents think..I'll be off work of course I'll have time! Looking back I realised how naïve I was….we got there in the end but lets just say working full time with a baby and planning a wedding didn't leave me many hours to sleep!'
How they met
We met at a work party in a bar with a less than salubrious reputation in deepest darkest Mayfair.  We kept bumping into each other at various xmas drinks and Al then badgered a mutual friend to give him my number.  A few months later and quite a few texts, we had a first date in borough market that ended at 4am in a Korean bar. This was all 4-odd years ago…
The proposal
Winter is a theme with us.  We met in December, had our baby in December and married in the ski season.  Same went for the proposal.  We went skating at the Tower of London,  mooched through the Christmas markets on the South Bank and then Al pointed us in the direction of the Shard.  He'd booked a night in the hotel in the Shard and proposed back in our room after a fab dinner and drinks overlooking London. However the romance was brought to a firm stop when Al let me after breakfast to head to the darts at Ally Pally!
How did you allocate your budget?
Although I have many a spreadsheet on the go at work surprisingly the spreadsheets only came out in the last week. I went old school and had loads of notebooks mostly with my random ideas/drawings of things. I didn't necessarily allocate budget to things but I had an idea how much we were willing to spend on things and negotiated hard.  The big ticket items were venue, food, booze and the band!
Where did you splurge and where did you save?
I'd say we splurged on my outfit, the band and the flowers. Looking back on it, it was definitely the right decision. Sometimes I think you can pay a little bit more and get exactly what you want versus paying a little less and it coming up short. There were quite a few extra touches which was the fun bit of the wedding, these can easily stack up so I spent a long time sourcing the cheapest I could find and/or making it ourselves. I'm very lucky as I have a very creative mother who must have made at least 100 pompoms for the big day!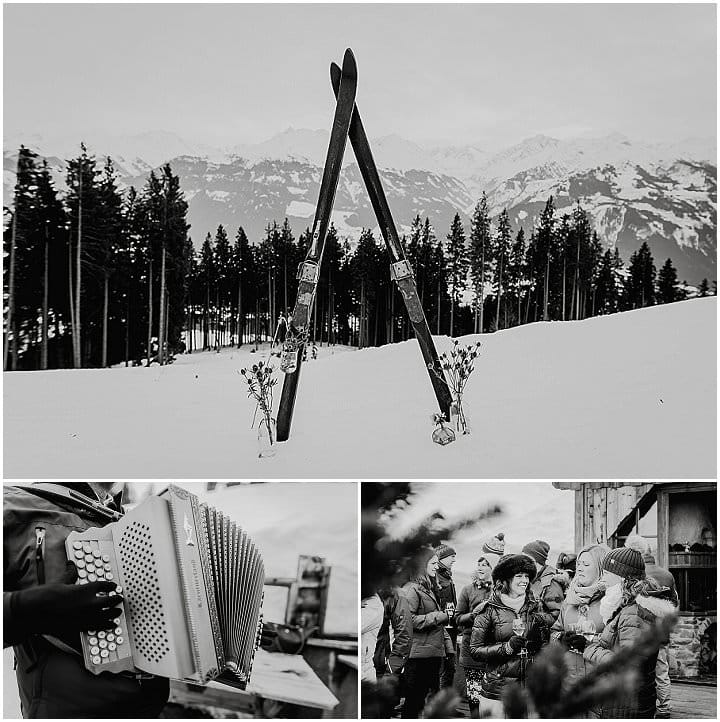 How did you choose your photographer?
At first my wedding planner gave me a list of local photographers but although a few of them seemed great they were very expensive. I was at a party in the UK and a photographer told me if they ever got married they would use Kevin Mullins. So I got in touch and arranged to fly him out. However, we happened to get married the week of the 'beast from the east! And Kevin was snowed in and couldn't get to the airport! Fortunately, I received this news after quite a few jaegers in a bar in Kitzbühel and my friends assured me we would just document on our phones! Fortunately we saw sense and our wedding planner got on the phone the day before the wedding to find someone. We were super lucky as Cat from wild connections photography was free, week after the wedding I realised I had shortlisted her from the local list but for some reason hadn't called her. It was clearly meant to be as the photos came out brilliantly – really capturing the day in a relaxed and fun way.
The dress
I wore the Isobel corset and Swan skirt from Halfpenny. I wanted to have separates and space to be able to move in case I decided to ski down the hill! In the end, I decided it was too steep and icy and went for the skidoo instead! I wore the Lucia star headband from Tilly Thomas Lux and wedges shearling boots from Micheal Kors. The shoes were probably the hardest, I wanted mountain boots that I could walk in the snow, dance in but that complemented my outfit.
The suit and bridesmaids
I'd originally talked about wearing a ski suit for the big day, so my super relaxed fiancé wasn't that thrilled when I told him he'd have to be reasonably smart given I was now going full bridal! Amazingly we managed to find a great suit in Oscar & Milo in Spitalfields to go under his Acne overcoat and finished it off with a grandpa waistcoat.
The bridesmaids were a tricky one as the ceremony was outside on a mountain top, they had to go up in a skidoo but also be ready to party in the eve. After a lot of searching I found a white jumpsuit in Reiss that fitted the bill, that teamed with a uniqlo sheepskin jacket and some sturdy heeled boots and they were ready to go.
Theme or colour scheme
For the ceremony and meal it was all very natural, so woods, glass, white and greens –wanted to keep it in keeping with the mountains. There was a bit of cow hide thrown in for good measure! When I first started planning I kept going on about needing a colour palette which my mum laughed off. I generally like things a bit mix and match but recognise you need something which brings it all together.
Flowers
Kajsa, our wedding planner recommended this amazing local florist. My mum and I had discussed having very natural wild flowers, no bouquets but also wanted to try something  bit different. As my mum put it, she thought it should look like a magical garden…..so we went about describing our vision to the florist Andrea. On the day, it looked even better than I had imagined, when the sun set we had all the lights off bar the lights hanging in between the eucalyptus above the tables.
Decoration
We had lots of little things that added to the overall look. When people arrived they had to be taken up the mountain on skidoo, we had balloons and a basket full of flugl shots to warm them up. The skidoo had lots of white pom poms tied to them as well. The ceremony was outside overlooking the mountain, we had sheepskin rugs on the benches, old suitcases with confetti in and lots of candles along the aisles. Inside the flowers created most of the decoration, offset by all the lovely bits of stationary we had created for the day. We were lucky to be having it in a rustic wooden mountain hut which already had tons of atmosphere.
Food
We had the option of steak tartar or warm mountain cheese salad for starters. Followed by pork medallions wrapped in bacon with green beans and mashed potato finished off by a mountain dessert buffet in a big pan in the middle of each table – traditional pancakes (Kaiserschmarrn) , apple fritters and blueberry cake. We wanted to keep the food in keeping with the location but also make sure people had room to party afterward!
Wedding cake
Made by a local patisserie – we had asked for enough for 40 people and probably got enough for 140 but it looked good!
Entertainment
Gerhardt – an Austrian accordion player to greet the guests and play before dinner. We couldn't get married in Austria without a bit of umpa music and his traditional wedding dance that came out of nowhere was hilarious.
We hired Bloc off the Wall as our wedding band. This was a tricky one as we knew we wanted  a rocky apres ski type band but Austrian rock bands are interesting to say the least…. Al found an english company who supply apres ski bands in the french alps and after trawling through lots of you tube videos we found these guys. The lead singer got to the quarter finals in the voice so there was lots of footage but the band had only formed a year or so ago so it was def a risk. A few hrs later when I was dancing on the bar singing born to be wild….i knew we'd made the right decision!
Who supplied the stationery?
I found Nicki from betty lou designs at a wedding fair….she had set up her business that year  and I liked her bespoke option were she would translate your ideas into something. I'm randomly a lover of notebooks and cards and soon realised stationary was one of my most important items. I don't think I was the best person to work with as we didn't have very much time and my ideas were all over the place juggling work and Kit..but we got there! There were so many things Nicky made for us that really made the day, the order of service, table plans…table names…people always say not to sweat the small stuff as no one ever notices these things at weddings…..but i know I do…so even if it was just me it was worth it!
Personal touches
We had lots of personal touches that added to the overall effect. Then on the day stationary was a big factor but two things that come to mind are the pom poms and party bags. My mum must have made about 200 poms poms…white ones for the skidoos, neon yellow for the shot bottles at the bottom of the hill and neon pink for the party bags. I also made a party bag for each table..i always think you need something to rev people up after a big meal and what better than a bit of stash..we had neon headbands, glasses, neon face paints, stick on retro moustaches and temp tattoos…..
Special moments
When I arrived at the ceremony on a skidoo going down a very steep run with my sister virtually falling off the skidoo…it was v surreal…. .having all our friends there in the open air up the mountain was a great feeling for both of us.
My dads speech was definitely a special moment…..he's not a lover of public speaking and I had been warned it was going to be short, but it was eloquent, funny and heartfelt! Was great to have him there by my side.
Finally, the first dance…..sweet child of mine, guns n roses…..we asked the band to start off acoustic and then let the drums kick on….we hadn't practised, I couldn't call on my rnb moves….was hilarious and immense at the same time!
Advice for other couples
If you are thinking of having a wedding abroad, make sure you are prepared for a lot of admin! The best thing about having a wedding abroad is everyone gets fully involved in the wedding and usually makes a weekend of it, its like being on holiday with all your best mates. However you'll most likely need to organise a few activities leading up to the big day and be fielding a lot of questions about flights, transport and hotels! I'd recommend getting a wedding planner that can be on the ground and help you manoeuvre the legal side of getting married abroad. But be prepared to work a bit harder to find the suppliers you want.
Biggest surprise
Probably the flowers! A few months before we'd been in the florist shop trying to make a plan in German! (fortunately my mum is German) so it was always going to be a big surprise on the day to see what we'd envisaged in person. Just before everyone came inside for dinner my mum told me to have a quick peek….it was so much more than I'd hoped for but exactly what I'd wanted. They'd never had hanging flowers before at the venue so it was a risk that paid off.
Supplier Shout Outs
For more information on Cat's Photography work go to
www.wildconnectionsphotography.com / www.wildconnectionsphotography.com/blog / FACEBOOK / INSTAGRAM /