We are filling the blog with lovely Tipi's today. Starting off with this amazing Tipi wedding, courtesy of Faye Ford Photography. The Tipi's were provided by Elite Tents who were our guest experts last week when they wrote Part 1 of The Pros and Cons of Planning a Tipi Wedding. They will be back this afternoon with Part 2, so make sure you pop by if you are currently looking at planning a Tipi wedding, there will be some expert advice on hand for you. Right now though I have the super laid back wedding of Laura and Emlyn who chose feathers and pinecones to play a big part in their decoration. Their day is relaxed, fun, filled with great food and some fab DIY projects.
"What's with the pine cones?" Everything was super chill
Laura-Jayne and Emlyn Williams were married on 29th July 2017 at Sandon Hall, in Staffordshire, then Tipi in the grounds of Sandon Hall by Elite Tents. 'Lau is Staffordshire born and raised and we knew we wanted somewhere impressive in Staffordshire. After our initial choice let us down, Sandon Hall was suggested by the lovely people over at Elite Tents. Neither of us had ever heard of it but it turned out to be more perfect than we could have ever anticipated. We had around 80 in the daytime and an extra 40 from 5pm onwards. We got engaged in May 2015 and started planning pretty much on the day. It really didn't take long to decide what we wanted and everything seemed to fit into place quickly.'
How they met 
We met in a classroom – Emlyn was a teacher and Lau was a voluntary TA. That was way back in July 2012 so we've been together for what seems like ages now.
The proposal
It was an unexpectedly hot day in May and we were going for a few days away in Wales (Emlyn's homeland). We stopped at Borth-y-gest for a picnic and Lau got really annoyed that Emlyn wouldn't just settle on any spot for it. We finally found somewhere up above the beach and Emlyn popped the question by quoting Luke Danes from Gilmore Girls – "I'm all in". Lau said maybe. Which was a yes. We then spent a couple of days in Portmeirion. It was lovely.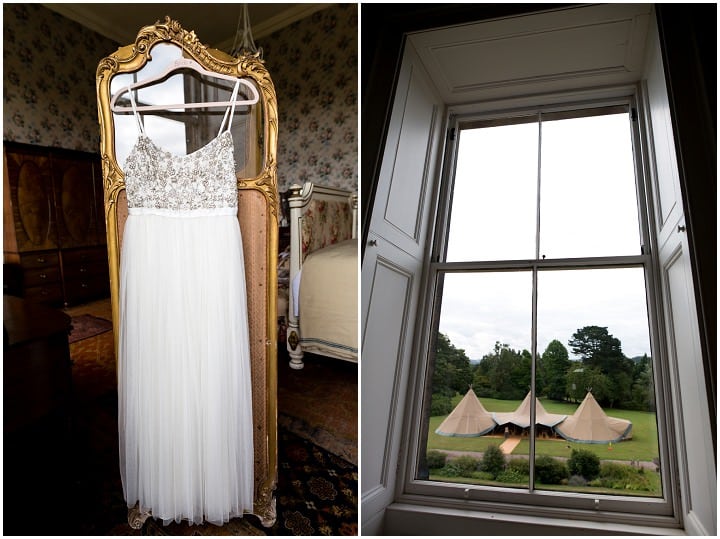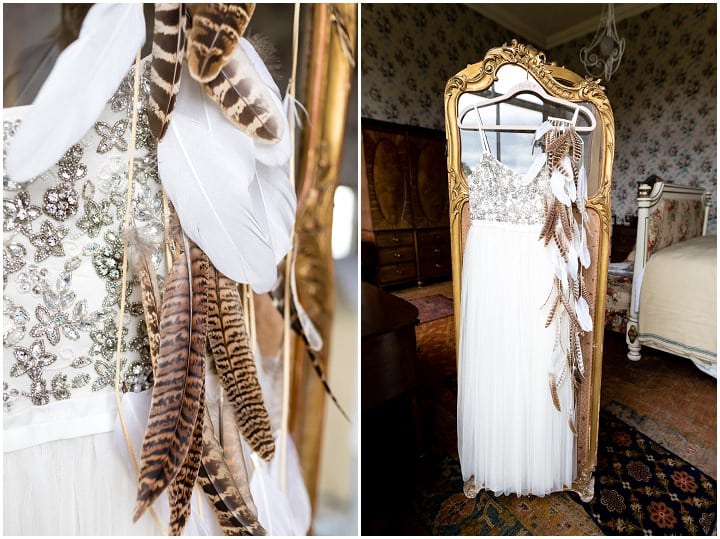 How did you allocate your budget?
We didn't really, we knew that food and venue were the important parts and then we would spend what was necessary on everything else. We didn't have a budget really, Lau felt we would feel worse if we went over a limit if that limit was set and overspending was inevitable… We ended up spending less than we thought overall so it sort of worked!
Where did you splurge and where did you save?
We didn't splurge on much at all, we're not splurgey people. Lau's shoes and Emlyn's maybe. We saved in lots of places; we did most of the decor and stationary ourselves, a friend did the bridal party's hair, Lau made the guestbook-finger print-painting thing, we did the centre pieces. We got creative.
How did you choose your photographer?
Lau found Faye through an acquaintance. She came to ours for a chat and we fell in love with her. The rest is history. We couldn't have asked for anyone better or anyone who would have been better suited to our day. We love her.
The dress 
Needle and Thread, I brought it a year before the wedding and altered it myself. Lau's shoes and jewellery were Ted Baker, the shoes were Lau's favourite. The feather veil and bouquet were from Curious Fair who we found on Etsy.
The suit and bridesmaids
Emlyn and his best men, dad and Lau's uncle all wore chinos and ties from ASOS and waistcoats from Dobell. The boys had shirts from Hollister and Emlyn's shirt was Ted Baker. The grown up bridesmaids had dresses from River Island – except the heavily pregnant Rosie whose dress was from Maya's maternity range. Little ones had little pixie style dresses from Next. We went very high street because we didn't want to spend loads of money on stuff people would only wear once!
Theme or colour scheme
We ended up with a lot of pine cones and feathers but this wasn't always the plan. We just went with things we thought were pretty.
Flowers 
None! The bouquet was feathers and pine cones. The centre pieces were herbs. Flowers were an expense we didn't value.
Decoration 
Mixed. Pine cones.. again. Which we got from Amazon. Lots of fairy lights. Some pastel coloured hanging decorations. Having a tipi meant decor was pretty much covered as tipis are so adorable!
Food
We had Rustic Roast Kitchen supply our food for the day. We had a BBQ at around 3pm that included garlic halloumi skewers, bbq chicken skewers, mini cheeseburgers, sausages, sweet potato fries, wild rice and walnut salad, greek feta salad with watermelon. Then key lime pie for dessert. Later on we had fish, chips and curry sauce in boxes. People still talk about the food. It was amazing. We had a pic n mix bar we stocked from Amazon too and gave everyone little bags to fill. Later on we roasted marshmallows.
Wedding cake
Lois from Miss Friday drove our two-tier cake and tray of brownies down from York. The cake was lemon drizzle and raspberry and vanilla. We had Ultimate chocolate, pecan and caramac blondie, salted caramel and then raspberry and white chocolate brownies.
Entertainment
Our day was soundtracked by Bliss Wedding DJ who were excellent. We bought a load of outdoor games – rounders, badminton, swing ball, croquet. We also had a campfire in the middle of the tipi and our bar (provided by Slater's Ales of Stafford) was amazingly stocked and positioned by sofas and bean bags. Our guests were pure entertainment themselves.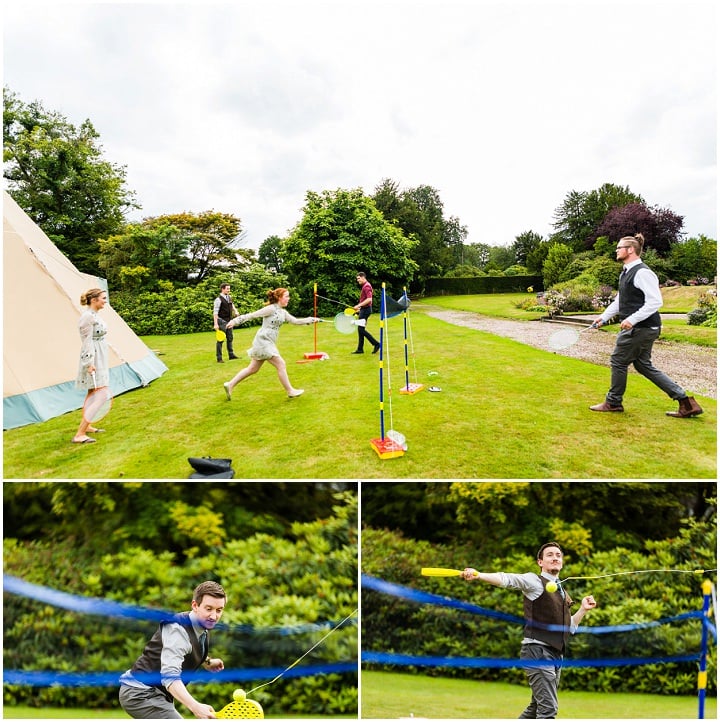 Who supplied the stationery?
Lau did it all. Except the "Welcome to the wedding" sign which was by Mee and Es designs. We spent many hours with a guillotine and glue!
Special moments 
The speeches (we had five) were excellent. Our first dance which we decided wouldn't happen, happened and got caught on film and is one of our favourite things to watch. There was also an hour where Faye took us off to take photos where we got some time just us.
Advice for other couples
Don't take the day too seriously. Lau is usually the biggest panic and was the most chilled on the day. Go with what you want and don't be too concerned about anyone else. Make sure you eat. Put snacks aside for when you get home/to the hotel. Treat yourselves all day.
Biggest surprise 
How relaxed it was. We were expecting lots to go wrong and nothing did. It went too quickly.
Supplier Shout Outs
For more information on Faye Ford Photography go to
www.fayefordphotography.com / www.fayefordphotography.com/blog / [email protected]/ FACEBOOK / INSTAGRAM / PINTEREST / TWITTER 
I am a documentary wedding photographer based in Brownhills , West Midlands . However I shoot weddings all over the UK and Europe . A  wedding day is totally unique to each couple and your wedding photographs should represent just that. Your photographs will tell the story of your wedding day, discreetly and creatively and capture those real moments as your wedding day explodes with emotions. When you look at your photographs, I want them to transport you right back to those emotions that you felt on your wedding day. Their will be no awkward poses and no hours away from your wedding .Simply creative , beautiful story telling.