Today I have the cutest tipi wedding for you from very sunny Wiltshire. It's the wedding of Lizzie and Matt, who chose this super pretty village as their wedding venue as it's here Lizzie grew up. They had a traditional church service followed by a festival style tipi reception just down the road from their parents house. They filled the tipi with lots of extra lighting, pretty pastel flowers, lots of greenery, some fun DIY details and most importantly a free bar! Oh and did I mention the donkey rides!?! The day is filled with fun and laughter and it's clear to see how in love this couple are! Thanks to Jessica Raphael Photography for the fab images.
Sunny, happy and completely full of fun.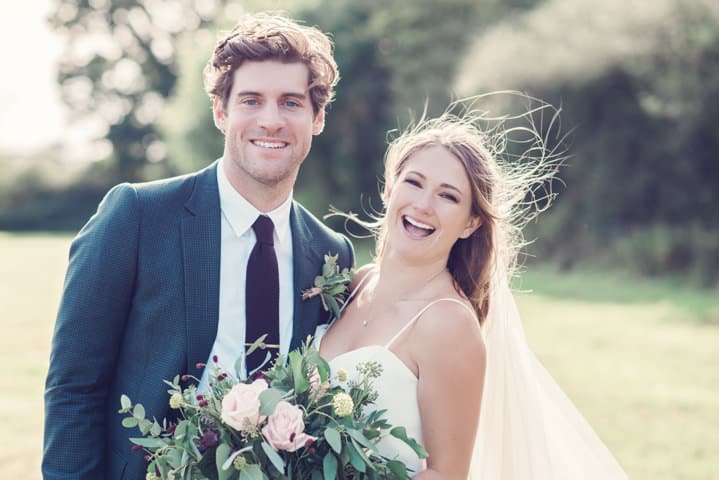 Lizzie and Matt were married on 23rd September 2017 at Christchurch Bulkington, followed by Mill Farm Glamping in Wiltshire for the reception. 'Bulkington is the little village where Lizzie grew up and where her parents live, so we really wanted to hold the ceremony in the church there. It meant that Lizzie and her bridesmaids were able to get ready at her parents house and walk to the ceremony, which was lovely. We liked the idea of having the reception on a local farm or barn, but we didn't actually know about Mill Farm until after we got engaged, even though it's only 5 minutes away from Lizzie's parents house. It was the first place we looked at and we were sold straight away. Mill Farm is the most idyllic, beautiful place and the owners were so accommodating and helpful in every way – even transporting us from the church in their John Deer gator, which they cleaned and decorated especially. We had 113 guests in the day with 45 more in the evening. It was just over a year between getting engaged and getting married.'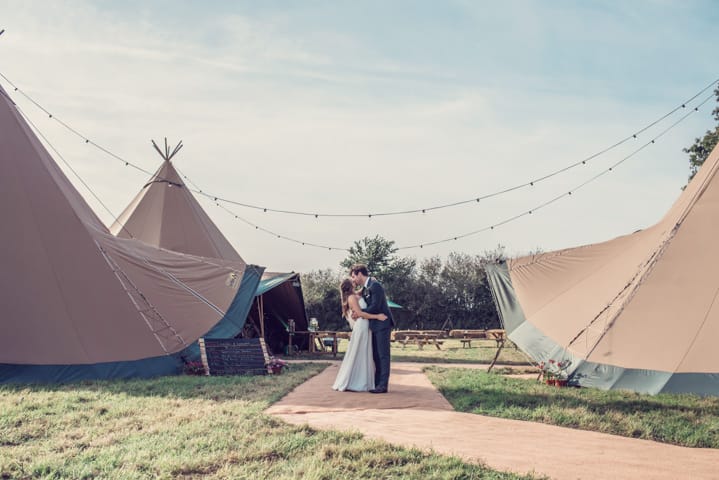 How they met 
We met at drama school (Royal Central School of Speech and Drama, in London) and have been together for 11 years now.
The proposal
Matt proposed at Alexandra Palace in North London, which is between Muswell Hill where we lived at the time, and Wood Green where we live now. It has amazing views of London and is a really beautiful place. It was a boiling hot day in September and we'd been out for a friend's birthday at a bottomless brunch, so Matt was roasting from wearing his smart clothes around all day! He'd sourced the ring from Cornwall and had just got hold of it the day before, so he wanted to do it as soon as possible, as he was off the next day filming a commercial, ironically about proposing to someone!!!
How did you allocate your budget?
We didn't really have many stipulations except we wanted to have a free bar all day and evening, which was one of the many benefits of holding the reception at a place like Mill Farm where they don't sell you packages or charge corkage. The majority of our budget went on the tipis and venue – worth every penny! 
How did you choose your photographer?
Jessica had photographed the weddings of several people I knew from school – I saw their photographs on social media and thought they were beautiful. Jessica was so lovely from start to finish and it was really reassuring to have her around on the day.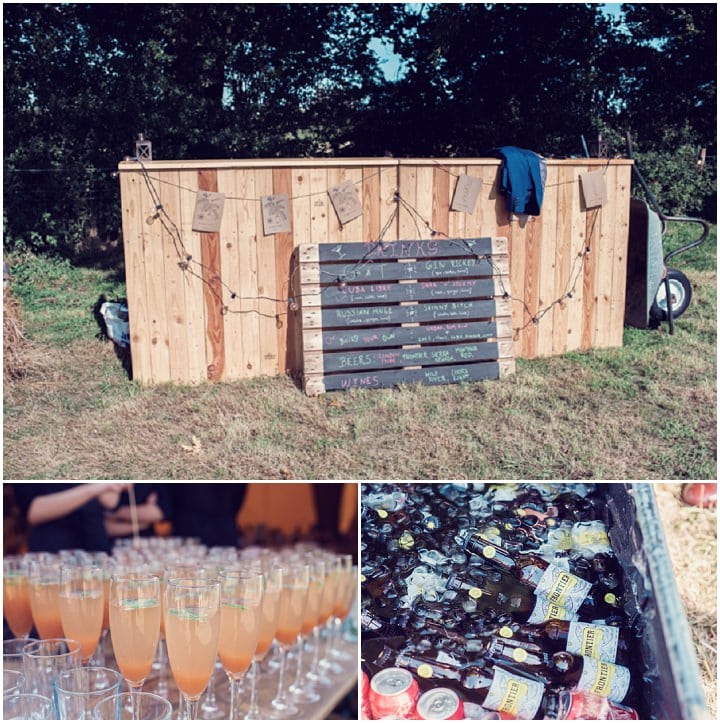 The dress 
I absolutely hated wedding dress shopping, I didn't think anything suited me! Eventually I found my dress (Justin Alexander) in a shop in Islington called Angelica Bridal. I liked it because it was really simple, but still had a structured bodice, which is what I had been looking for. It came with a long train that I had removed and a sparkly belt, which I replaced with a bow custom made from the material from the train! I wore my Mum's veil, some simple stud earrings and a beautiful necklace from my bridesmaids. My shoes were some strappy wedges from Clarks, which I love! It was really important to me that I felt comfortable walking around outside all day and my outfit suited that perfectly.
The suit and bridesmaids
Matt's suit was from Paul Smith and the bridesmaids dresses were from ASOS. I wanted the bridesmaids to feel comfortable in what they were wearing so they all had different dresses that looked great on them and also went nicely with what the others were wearing. The ushers and best men all wore their own suits but with matching ties and pocket squares. We all had matching sunglasses too!
Theme or colour scheme 
We didn't have a theme or colour scheme particularly; we just wanted everything to sit within the same general style and pallet. We went for pastel colours – pinks mainly with some baby blue – for the bridesmaids and ushers ties to complement Matt's dark green suit. We used a lot of foliage to decorate – and our tables were all named after herbs so were simply decorated with pots of herbs, sprigs of ivy and lots of candles and fairy lights.
Flowers 
We used Emma from Stems Flowers in Wiltshire who was absolutely brilliant. In the church she replicated some simple rose and ribbon pew ends that I found on Pinterest, and decorated the arch outside with foliage and a few roses. My bridesmaids' bouquets and mine were mainly leaves and herbs, with a few flowers to add a bit of colour. Since they were all wearing different dresses, we wanted to keep their bouquets simple to tie them together. My mother in law made the bouquets for the flower girls with flowers and herbs from her garden.
Decoration 
Mainly leaves (ivy and eucalyptus), fairy lights and candles. Both the church and the tipis were so pretty that we wanted to let them largely speak for themselves. Our vicar said to us once that the people would provide the decoration, which I thought was a lovely image and very true! We did add a lot of extra lighting to the tipi and the outside area, including an uplighter in the tree behind the bar. This made the reception setting look extra special.
Food
We love Turkish food so Vaughans Kitchen developed a Turkish/middle eastern/north African inspired menu that we loved, and hopefully our guests did too!
Wedding cake
We didn't really mind too much about having a cake and Matt was adamant he didn't want to officially cut one, so we decided to buy a chocolate tiered sponge cake from Waitrose, which the caterer kindly decorated with berries, chocolates and a cake topper I'd bought online! The cake went down very well – everyone said it was absolutely delicious! It was served with locally sourced ice cream from the Rowdey Cow. They came on an ice cream tricycle and served 6 different flavours of our choosing. The guests loved the ice cream and it was a good way of getting everybody up after the sit down part of the meal was done.
Entertainment
Lizzie's Dad and Godfather are in a band together with some other friends, so we asked them to play and they were brilliant! They play covers of classic party songs so they really got everyone up and dancing. After their set we had a DJ from Disco Wed, who was amazing – highly recommended! Mill Farm provided bits of entertainment throughout the day – including donkey rides and 'mini gators' for the "kids" (or rather, mostly the drunk guests) to drive around in.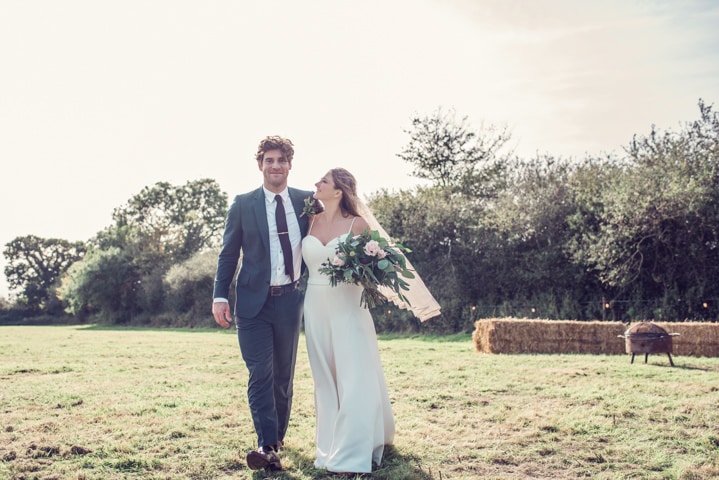 Who supplied the stationery?
Our friend Charlotte is an amazing artist – she designed and printed our invitations and table names that were all different herbs she had hand drawn. She even designed decoration for the outside bar.
Special moments 
The trip in the gator down the country lanes between the two villages.
The outside bar with the tree lit up behind
The cattle troughs filled with ice cold Fullers beers, which were given as a present from a friend that works there.
The Ceremony
Advice for other couples
Lighting makes everything look amazing!, Don't get too precious, Go with the flow, Allow people to help you, Haggle. If you can buy your own drink then get it from somewhere they allow returns. We majorly over ordered and returned loads of drink to Aldi – who had committed before hand to accepting returns. They were really, really helpful and I would definitely recommend buying from them if you can!
Biggest surprise 
Being picked up in the decorated gator with champagne. Chris from Mill Farm and his brother made us a Drone video as a gift, which he edited and sent to us a few weeks later. That was such a wonderful surprise and something we will always treasure.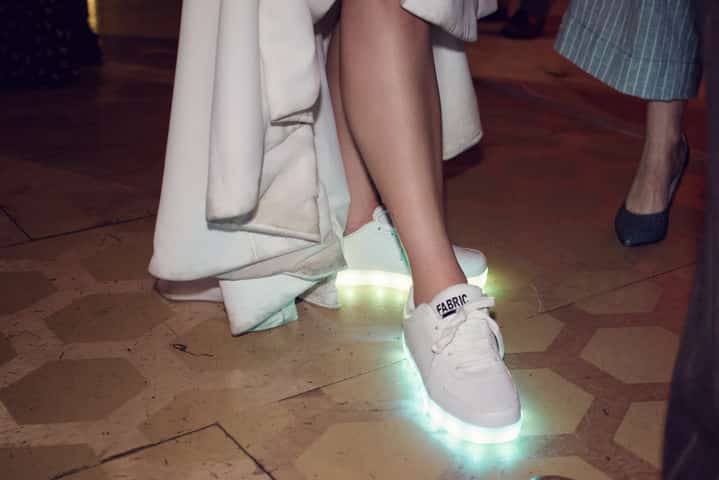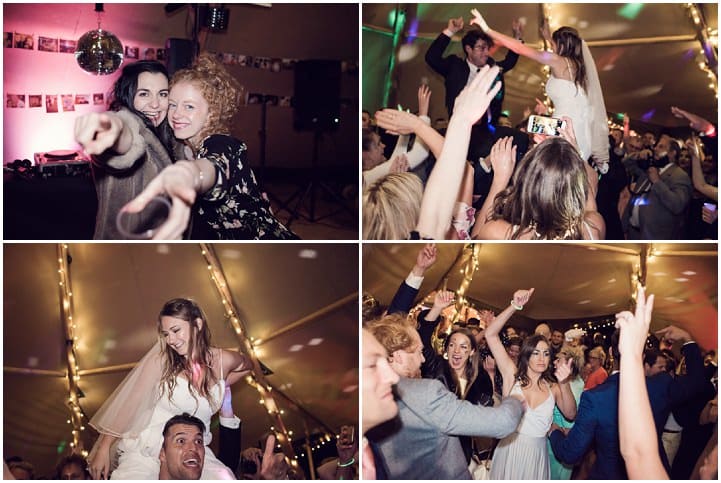 Supplier Shout Outs
For more information on Jessica Raphael Photography go to
www.jessicaraphaelphotography.com / www.jessicaraphaelphotography.com/blog / FACEBOOK / INSTAGRAM / PINTEREST / TWITTER