Today I have the most gorgeous wedding for you that was sent into me by Boho bride, Bianca. Bianca and Anthony created a whole wedding world of nature inspired goodness in their back garden. The couple are big nature lovers, so they wanted this aspect to reflect in every aspect of their wedding day. They set about creating a detail full wedding, with many a handmade project, helped heavily by their friends and family. From the home-grown flowers and herbs that created a feast for the eyes as well as the nose. Homemade edible treats, from nibbles to cocktails. So many personal touches and a never-ending list of gorgeous earthy details. This wedding is a visual feast from beginning to end. Thanks to James Green for the lovely images.
The wedding day began with vows of love in verdant nature followed by delicious Italian food and gypsy revelry at night, surrounded by friends and family.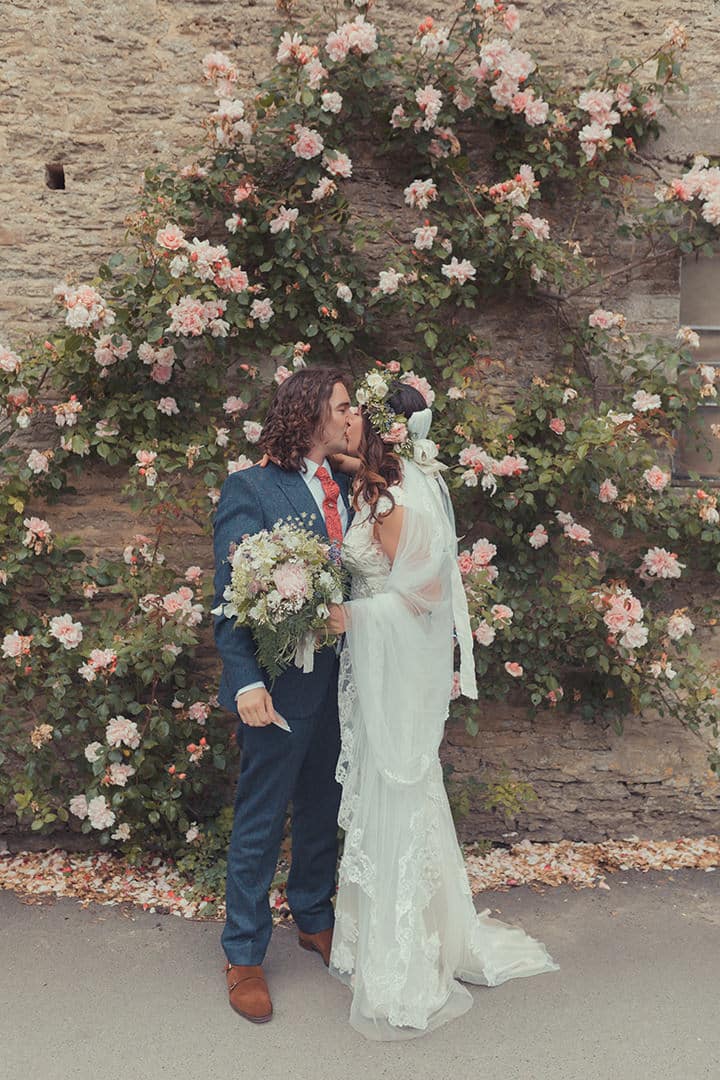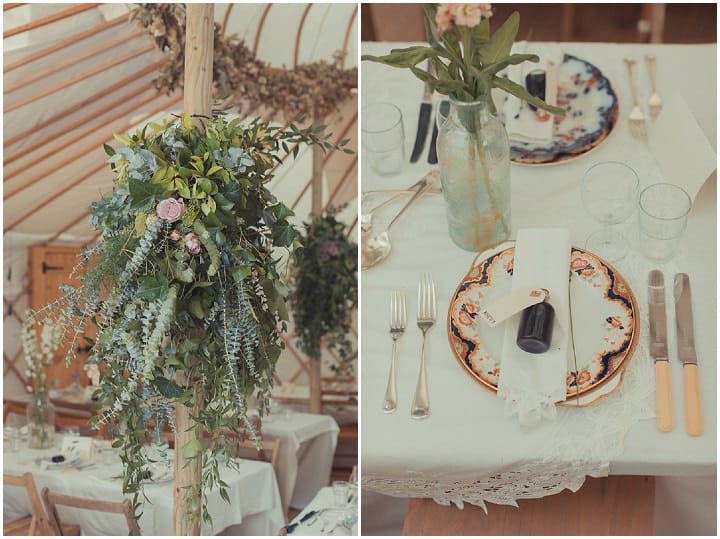 Bianca and Anthony were married on 10th June 2017 at Stowford Manor Farm, Loves Lane gardens for the reception. 'Stowford Manor Farm is about a mile away from our cottage. It's a beautiful place, set on The River Avon. It also offered some of our guests a place to stay if they felt like camping. We both fell in love with it and once Anthony had proposed both of us really wanted to be married there. Another reason for choosing Stowford Manor is that they're really relaxed, it's a creative space you can make your own. Anthony and I aren't Christian, but we wanted to pledge our love in a way that connected with nature and a pagan appreciation.  We also had a hand fastening in addition to our vows. For our reception, we live in little lane called Loves Lane, tucked away in a tiny village and his mother and her partner now live next door to us. We wanted the reception to be here, and so decided to use our garden and Gillian and her partner, John's garden for this purpose. We had 84 guest for the ceremony and another 30 invited to the party.'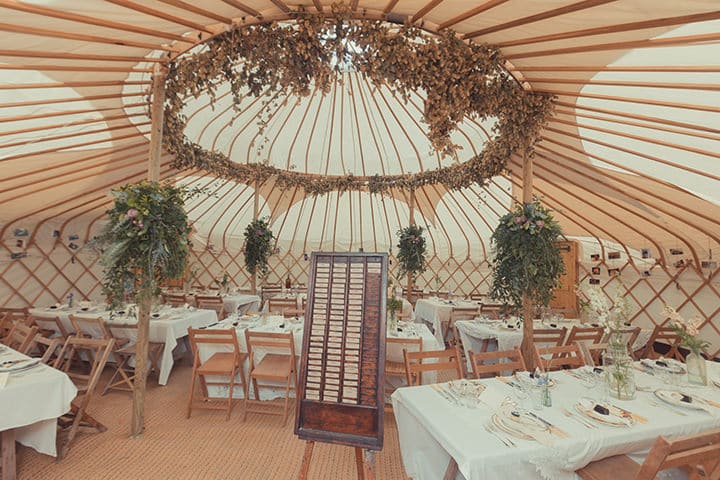 How they met 
We've been together for 5 years. Anthony was having a barbeque at his flat in Dalston and a mutual friend (one of the bridesmaids) invited me.  My friend introduced us; we ended up chatting until late in the night, I remember heading home and thinking "wow".
The proposal
On May 9th,  Anthony woke me early and suggested we go out for a walk to forage for wild garlic, which gave him an excuse for carrying a backpack. Just beyond Stowford Manor Farm there's a field with the River Avon meandering through it, with views looking out onto the ruined castle of Farleigh Hungerford. It was in this field under a little tree that Anthony proposed, much to my utter surprise, with a ring that fit my finger perfectly and with champagne hidden in his backpack.  When I returned home Anthony had arranged for my sister, mother and my mother's partner to come for a surprise visit. The following day he whisked me off to stay at Babington House for spa treatments and cocktails to celebrate.  The whole weekend was perfect.
How did you allocate your budget?
Both of our mothers were extremely generous.  It was because of them we were able to create the wedding of our dreams.  We spaced the large payments over the year and made the expenditures bite size.  We also did a huge amount ourselves with the help of friends and family.  All supplies were locally sourced, so people were happy to reduced their costs a little for us too.
Where did you splurge and where did you save?
Splurge: Photographer, Band, Canvas marquees. We wanted there to be delicious alcohol, so we sourced talented local artisan suppliers such as Iford Cider and Kettlesmith beer and sold it at cost. It meant people got have much nicer alcohol than we could have afforded to give away.
Save: Catering (finding our favourite food stall and contacting them directly), Having the reception in our garden, Creating our own cocktails instead of prosecco after the ceremony, Sourcing our own flowers and only purchasing the more detailed flower pieces. Using local suppliers
How did you choose your photographer?
Initially Anthony wasn't keen on having a photographer because of the expense, but I felt it was really important to have someone there capturing our day.  Once Ants was brought around we knew we wanted someone local so they wouldn't have far to travel, I looked through loads of photographers websites and found James Green. His photographs were artistic and more about capturing a moment rather than staged photos, which is exactly what we wanted.  He took some absolutely beautiful photos, we'd heavily recommend investing in a photographer.
The dress 
I decided to have one dress for my ceremony and one for the party in the evening so I could dance and have fun without worrying about my dress and marks. For the ceremony I wore a David Fielden lace mermaid style dress purchased second hand from preloved. For my evening dress I bought a 1930's bridal dress from Donna May Vintage in Frome.  Both dresses were very special and perfect for the day.
The suit and birdesmaids 
Anthony's suit was by Marc Wallace in Bath. It was a tailor made wool suit. The colours brought out his blue eyes and he chose a beautiful and bold inner lining. Having a suit made for you is a really special thing to have and something that can be worn in the future.
I had 5 beautiful bridesmaids, I asked for them to wear pastel colours, long in length, but the rest was up to them.  I didn't want to force them to wear something they didn't feel comfortable in. I wanted them to feel beautiful too.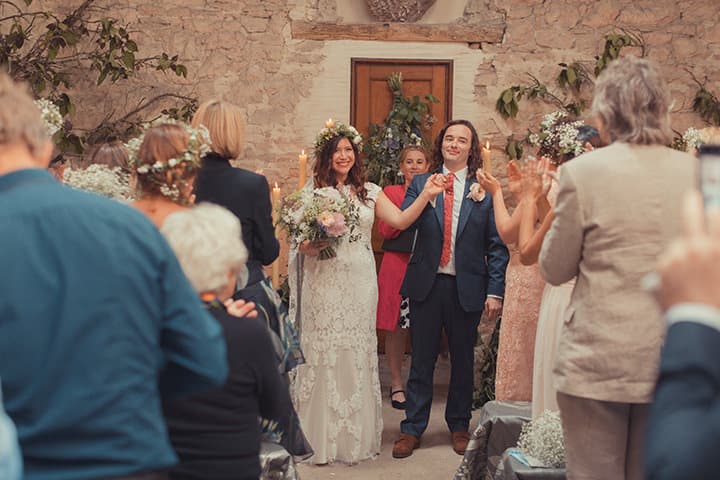 Theme or colour scheme
There wasn't a strict colour theme, mainly the natural colours you'd see in hedgerows and your garden in June.
What sort of flowers did you have?
We blended foraged foliage and flowers with purchased flowers from Bristol flower market to make hanging flower bouquets and table features. We purchased the button holes, my flower crown and my bouquet from Bramble & Wild in Frome. When they delivered our flowers in the morning of our wedding day it was so exciting.
Decoration 
For the barn bridesmaids, best men, friends and family helped to forage foliage and took branches from our apple tree to create an arch made of boughs for us to say our vows under. The walls dripped with ivy and foliage which family and friend's helped to dress the day before.
We all worked tirelessly for the months leading up to the wedding and the garden was an absolute sensation of flowers and gorgeous smells on the day. We put a Yurt in the front garden, for the Wedding breakfast and a vintage canvas marquee in the back garden for the party. We had a horse box for the prosecco bar and space for croquet and other games. For the evening we had a firepit surrounded by hay stacks so that we could toast marshmallows.
One of my bridesmaids runs a company called DREAM & MAKE, she worked for two long days with another bridesmaid to make sure each person had a vintage label with their name and a pressed flower.
We dressed the top of the double cupola yurt with hops, which gave a lovely boozy smell as well as looking fabulous.
The 1950s Dutch school chairs made the space look really special, all the trestle tables and chairs and the tables were covered in antique lace and embroidered tablecloths and napkins, as well as all the antique china and vintage cutlery.
We decorated the pillars with huge swathes of peonies and foliage including eucalyptus, ferns, willow and other greenery foraged from our gardens.
We created a really cool bar area with things like a 1920's Ritz Hotel luggage trolley converted into a cocktail bar, complete with old Cocktail Bar sign and a wonderful vintage wine cage from a French Vinyard, full of our favourite wines.
Food 
At the barn we had Canapes made by the bakemonger who likes to make hand crafted works of art inspired by her textile and design background.
For our wedding breakfast Anthony and I always look forward to the Frome Fair, which happens on the first Sunday of the month.  One of the highlights is getting food from Stefano's stall, he and his wife grow, hunt and butcher their own food and create delicious meals
The meals were brought out in beautiful dishes, which people shared on the tables like one would do when with a family gathering.
Wedding cake
For our cake we were very lucky enough to have Helen, The Bakemonger, create our beautiful wedding cake. She came to meet us in our local, to discuss our wedding and created a cake called the MERRY GREEN HILL, based on our William Blake poem. She really captured our wedding in a cake, Helen is so very talented.
The cake not only looked amazing, but tasted great too.
In addition to Helen's cake we had a literary cake theme.  We asked our aunties and a few of our talented baking friends to create cakes based on some of our favourite childhood books such as Treasure Island, Famous Five, Winnie the Pooh and Matilda.  They made stunning cakes that looked like a beautiful village fete and it was lovely to see all the cakes made with so much love.
Entertainment
Anthony and I love gypsy punk music so we hired USHTI BABA, a band from Bristol. They really got the party going, and have an amazing energy.  After the band we had songs people had chosen when they RSVP'd along with some of our favourite tunes. The sound was supplied by Nomad Audio Solutions. Luke was so professional and helpful, we couldn't recommend him enough.
Who supplied the stationery?
One of Anthony's best friends is an extremely talented graphic designer . He designed our logo which was simple and beautiful, he exactly captured what we wanted.  His design was used on our wedding website, in all the written correspondence, and because it was also on a PDF we could print stickers from Vista.
Personal touches
Pretty much everywhere you looked at our wedding you could see the little touches.
I designed my own wedding perfume at Frau tonis parfum in Berlin.  I'd highly recommend visiting them as they're very reasonably priced and do men's cologne too!
In addition to this, I hunted in antique shops for silver lockets, predominantly from the 1930's, with floral patterns to give as a gift to my bridesmaids.
For the ceremony we made peppermint creams and dark chocolate fudge, which we put into little old fashioned sweet bags and fastened them with an A&B sticker.
Instead of having champagne after the ceremony we made our own bottled cocktails and wrote stories of what the cocktails meant to us.
For our wedding breakfast in our double cupola yurt, each place setting had a little favour, a bottle of home made crème de mure and a sprig of lavender collected from the Loves Lane gardens that morning. For the children I made Dorset beeswax scented lip balms.
We named the tables after local wild flower or herbs, which we collected during the seasons.  My crafty bridesmaids painted them with glue onto luggage labels and attached them to my favour bottles.
For our table plan we used an old 19th century clocking-in board from a factory. Guests would pick out the label with their name then find the matching table.
Along the wall we created a photo bunting.
Special moments 
There were so many special moments, The moment I'd started walking down the aisle with my mother by my side and saw Anthony and when we were saying our vows, holding each others hands was a really special moment. Also, after the ceremony  the car took the long way back, we sipped champagne and settled with each other. Having that moment of it just being us was really special and a highlight for us both. Also, when we arrived back on the lane everyone was waiting for us to throw the confetti, the whole lane was drenched in petals.  It was magical.
Advice for other couples 
Looking through pintereset is so inspirational, but If you plan to have a DIY wedding there will be a lot to do.  Think about what you want, how long it'll take to achieve it and when it can be accomplished. Some things can be done well in advance, other things closer to the time.
We broke things down month by month of tasks we needed to achieve and payments too.  Spreadsheets will help and make things more obtainable.
Because so much of our wedding was DIY we booked the week before the wedding off. We worked flat out as did our lovely friends and family, literally from the crack of dawn till very late in the evening.
We'd also recommend looking for local suppliers, you're not only supporting your community, but local suppliers tend to give a deal if you're nearby as it's less travel time for them.
Once it is your big day, take a breath and concentrate on just enjoying yourself and celebrating your love together, you both will have certainly earnt it.
Biggest surprise 
I surprised Anthony with a Vintage car to pick him and his mother up and take them to the ceremony. I was so excited to surprise him.  As a wedding gift to Anthony his mother Gillian surprised him with an antique pearl diamond tie pin, which looked beautiful and connected with my pearl and diamond necklace. For me it was my mother's and mother in laws speeches, they were both wonderful and so very touching, I became very overwhelmed.
Supplier Shout Outs
For more information on James Green Photography go to
www.jamesgreenphotographer.co.uk / FACEBOOK / INSTAGRAM / PINTEREST