If you are in the beginning stages of your wedding planning, you may be thinking about the design and style of your day. This can be quite a daunting place to start as there are so many options. You may have a load of ideas going around your head. To help you put all of your design ideas together I have invited Charlotte Nichols back to the blog after her fabulous advice on Colour Predictions for 2018's Hottest Weddings. Charlotte is an expert wedding planner and stylist so she is here to tell you all you need to know about putting your wedding mood board together. So without further ado over to Charlotte…
Hello gorgeous brides, grooms and wedding enthusiasts! My name is Charlotte of Charlotte Nichols Weddings and today I am going to be talking to you about one of the most important aspects in executing your wedding design.
What is a wedding mood board?
If you currently have a blank face and are wondering what on earth I am talking about, a wedding mood (or inspiration) board is a visual representation of the spirit and vision of your wedding design. I always say that style is not just about the way that something looks, but also about the way that it makes you feel. And your wedding mood board should do just that. Not only should it communicate specific visual concepts, details and ideas but it should also encapsulate the mood and the atmosphere that you want to create through taste, smells and touch.
Why do I need a mood board?
Your mood board is the first and most important stage in the design process as it is all about communicating your vision in an effort to bring that concept to life. Your mood board will serve two key purposes for your wedding day:
It will help you to stay on track. Once you have established a cohesive visual direction it will be much easier to say 'no' to new ideas and inspiration that will continue to crop up and attempt to seduce you throughout the planning process. Ask yourself, does it fit with the mood, the colour palette, the experience you are trying to create? And if the answer is 'no', then let it go!
It will allow you to communicate your vision in the most efficient way. Your wedding will undoubtedly involve a whole array of suppliers from florists to stationers, and from photographers to cake makers. Having one conceptual wedding mood board that is shared with all suppliers will not only help them to understand your vision for the day and assist them in bringing it to life, but it will also ensure that there is a cohesive look and feel throughout. It will help you to achieve consistency and an effortless flow from one aspect of the day to the next.
To help you get started honing in on your vision and priorities, and to help you dig deep into what will make your day so unique, check out my post "Tips for Styling Wedding that is Undeniable You."
In my role as a wedding planner and designer, this is one of the first and most important aspects of the planning process. I take a fresh and visionary approach with each of my couples and work with them to delve deep into their stories and memories, and reveal their own distinctive style. This helps me to define a design that is truly authentic and unique. For me there is no such thing as 'choosing a theme', rather being on top of the vision from the very start and carrying it through until the very end will ensure cohesion and an effortless flow of energy throughout the day. Having someone who is entirely responsible for keeping on top of this in the lead up and of course on the day itself can be invaluable.
1) How do I create a mood board?
Here are my top tips:
Don't jump straight to the pictures
Yes, a mood board will usually be a collection of visuals, but before you start Pinterest bingeing, start to think with words. This is 'the brief' stage and it is time for you to sit down with your other half, get the creative juices flowing and think outside the box. Ask each other those all important questions. For example, as well as the obvious things like what time of year you want to get married and where the venue will be, think about how you both like to spend your time, what makes you most happy, what it is that you love about each other and how you would like others to remember your day. Although it may sound odd now, all these questions will help you to drill down into who you are as people and how best you can represent that on one day. Eventually your aim should be to decide on a series of words, phrases, emotions and ideas that all help to describe the mood and the look that you want to achieve. Now you need to keep these in mind during each of the steps that follow so that whatever decision you are making, you know that you are always capturing what is most important to you!
2) Looking beyond weddings
Now that you have the words that capture your day, it is time to start looking for the visual inspiration thats fits. Thinking outside the box is also particularly important at this stage in the sense that you need to look far beyond the world of weddings. Sure, you will have seen many gorgeous images of wedding venues, decor and ideas that you may want to try and recreate but the important thing is to recreate it in your own way and not to just copy what has already been done. After all, what is unique about that!?
Whether you choose to create your mood board online using only digital imagery, or if something physical is more your thing, try and take inspiration from everything around you. Perhaps something you find on your travels, your favourite item of clothing, a fabric or colour swatch, an interesting texture, the smell of your favourite candle or perfume. Whatever it is, the more personal and meaningful each element is, the easier it will be to craft a truly personal occasion.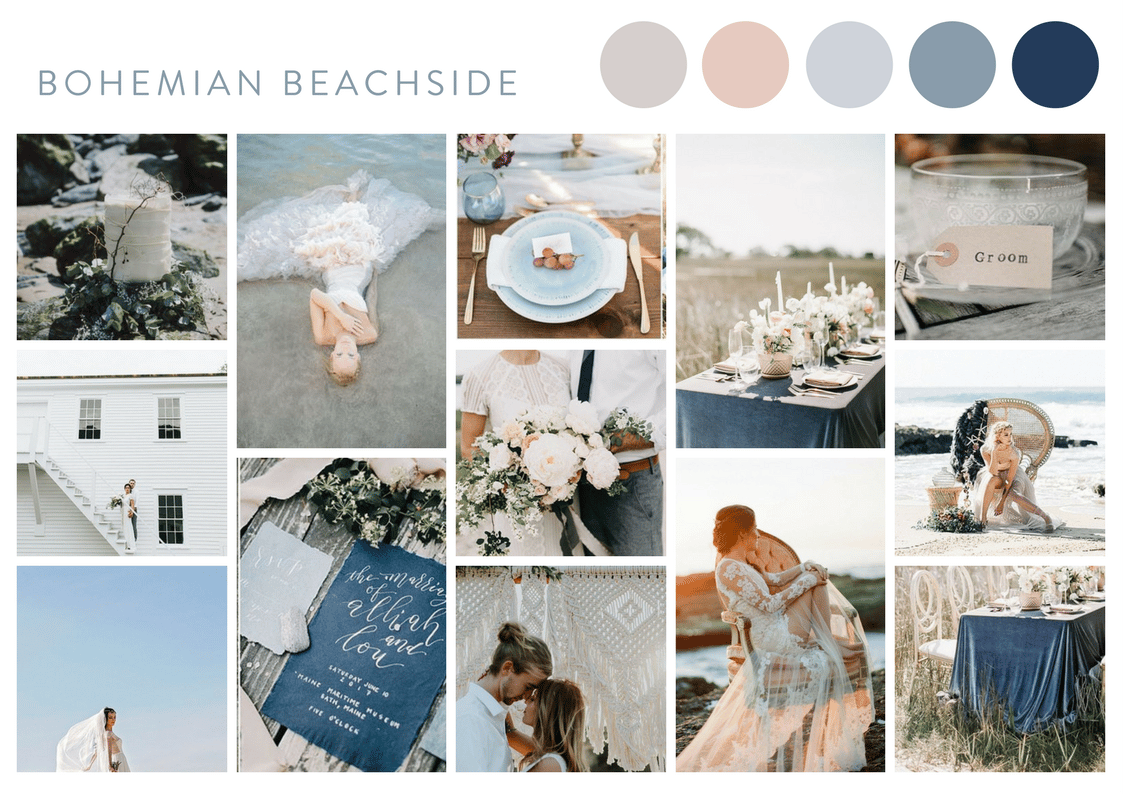 3) Compiling your imagery (Pinterest 101)
For the sake of this guide, we will focus on the process of creating a digital wedding mood board, and Pinterest is a great place to start. Not only as a source of inspiration, but most of all as a location to compile all your imagery in one place.
Some tips while you pin:
Create a board and share it with your other half if they are also taking part in this design inspiration stage.
You may choose to keep it secret for now, if you are wanting to keep your wedding plans under wraps from friends and family.
Take advantage of the new board 'sections.' This enables you to have just one 'Wedding Inspiration' board (or whatever you decide to call it) but to create different sections within that board for each different element of your day. This will definitely come in handy, perhaps once you have your overall vision nailed and want to start drilling down into each of the individual elements.
Make a note in the description (of each pin) what it is exactly that you like about the image. This will come in very useful after you've pinned 50+ images and have no idea why you pinned them in the first place!
As well as your own research, take advantage of Pinterest's search functions. Use the search bar at the top of the page and Pinterest will give you other related terms to tighten your search. Also, when you find and click on an image that you like, scroll down and Pinterest will give you 'More like this' with related imagery.
Although the intention is for your wedding mood board to be more of a conceptual representation at this stage, it is totally fine to include a few important details that you hope to include in your day. For example, are you set on having a floral arch for your ceremony, transparent stationery details, lots of soft flowing linens or metallic tableware? Put them in there but try to keep an open mind.
4)  Review & Refine
So, you've done the brainstorming and should have compiled a reasonable number of images for your mood board. Now it is time to take a step back and to look at them as a whole. Is there consistency? Do they feel like they accurately represent the wedding that you envision? Do they fit together or are there some rogue ones that are breaking away from your look? Think about the mood, style and colours. If some of your images are using neon colour tones and others are mostly dusty, desaturated shades, then you are not going to end up with a very consistent looking wedding mood board.
For some colour inspiration, check out my recent Boho post on Colour Predictions for 2018's Hottest Weddings
Remember, for your actual mood board you will only want to include a small selection of images and hopefully you are now able to highlight the ones that blend, and your concept is starting to feel visually aligned.
Below is a final mood board that I created for one of my 2018 Autumn couples.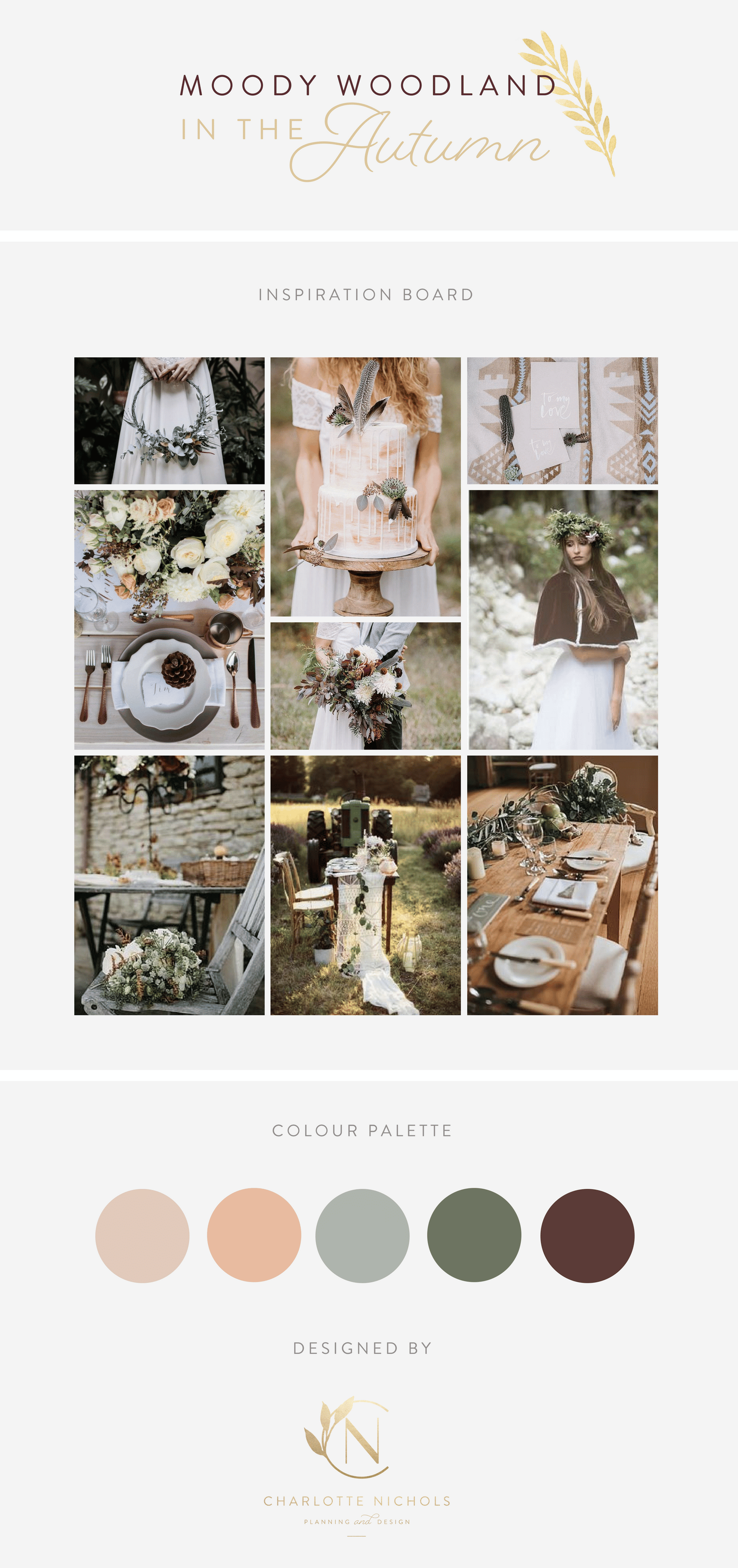 5) Less is more
When it comes to actually putting your mood board together, there is the tendency to want to include 20 plus images all on one grid, but the truth is you will end up with more of a design mess than a design concept. It is worth reminding yourself at this point that a wedding mood board is not about including every tiny little detail that you want to see at your wedding. That comes much, much later. It is much more about setting the tone and helping to build a bridge between vision and execution.
To translate your image gallery into a mood board there are a number of programs out there. My number one recommendation is Canva (aka free graphic design software for non graphic designers).
It is super easy to use. You simply create a design but by choosing one of their design templates or choosing your own custom dimensions. Once you are in your design you can add a grid. These come in all sorts of shapes and sizes. I would recommend for a wedding mood board of this kind that you stick to one A4 size (portrait or landscape) and choose a grid with no more than 12 images. Bear in mind that one of these sections could simply be a colour or texture, it doesn't need to be a detailed photograph.
Check out my Wedding Mood Boards Pinterest Board for several examples of mood boards that I have created, all using Canva.
FOR MORE INFORMATION ON CHARLOTTES PLANNING AND DESIGN SERVICE GO TO: 
www.charlottenichols.co.uk / www.charlottenichols.co.uk/blog / FACEBOOK / PINTEREST / INSTAGRAM
All mood boards designed by Charlotte Nichols Weddings
I will bring a thoughtful and design-led approach to planning your wedding. By asking you the right questions, and together digging deep into who you are as a couple, your likes and dislikes, and how you would visualise your perfect day, I am able to create a meaningful and impactful design concept that is the perfect reflection of you. As part of The Works (full wedding planning, design and styling) and The Creative (design and styling) wedding packages, you will receive a custom colour palette, digital mood board and wedding lookbook. If you would like some assistance with your wedding design or are keen to find out how we might be able to help, please get in touch or contact me directly via email on [email protected]. I would love to help you bring your vision to life