Happy Friday everyone and how are you all? My oh my am I happy it's Friday, it's been one of those weeks at Boho HQ so I am well and truly looking forward to the weekend now! Today I am taking Dexter to see Peter Rabbit at the cinema, I don't know who is more excited him or me! What about you? I am finishing off our week of world-wide travel with this gorgeous wedding that has been sent into my by planners Wedding in Val d'Orcia and photographed by Giacomo Brizzi .Sabrina and Fabio chose Tuscany as it has a special place in their heart and when you see these images you will realise why. The outdoor reception set up is spectacular, the backdrop, the food, I could just hop on a plane now and go and pay this beautiful location a visit!
Fabio: The happiest day of my life, when I not only married the woman that I love and consider my soulmate but when I was able to see all the people I care about once again.

Sabrina:  An emotion that is beyond words and that was shared with long-time friends, my dog, and the love of my life!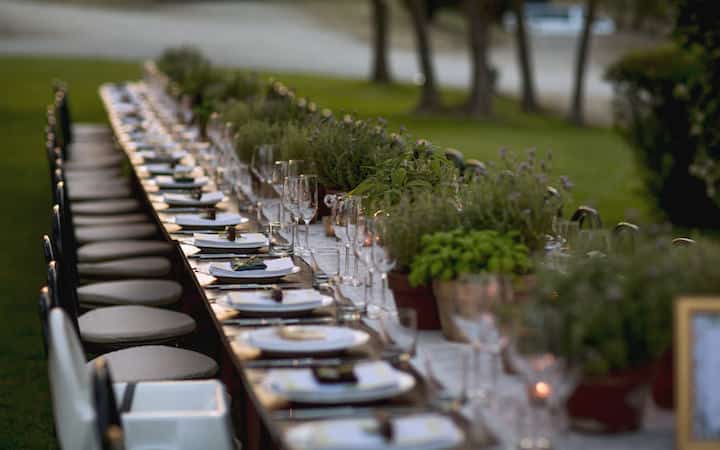 Sabrina and Fabio were married on 1st June 2017 at City Hall, S. Quirico d'Orcia (Siena) in Tuscany with the reception at Agriturismo Terre di Nano, Monticchiello. 'We really love Tuscany, especially Val d'Orcia: lovely places, good food and wine and a lot of small historical villages. We had 92 guests and it took more or less one year to plan but it would have taken much more if we hadn't met our wedding planner Eleonora at Wedding in Val d'Orcia!'
How they met
We went to the same middle school for one year then Sabrina went to live in Spain when she was 11 years old until she was 27. Then she came back to Italy to look for a job as an architect, and one evening she met Fabio at a pub. He didn't recognize her (but she did!). After talking to each other a bit, Fabio remembered her and they started going out.
The proposal
The evening of the proposal, our dog Malva wasn't well.  Seizing on the moment when she knelt down near the dog to see how she was, Sabrina called Fabio to come and see how Malva was doing. When he came in, she asked him to marry her. Fabio was deeply moved and said yes after having her listen to his own declaration of love for her, which he had written that same day.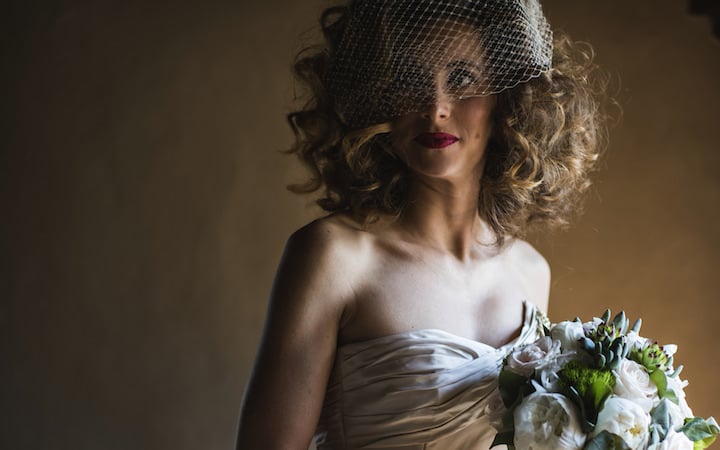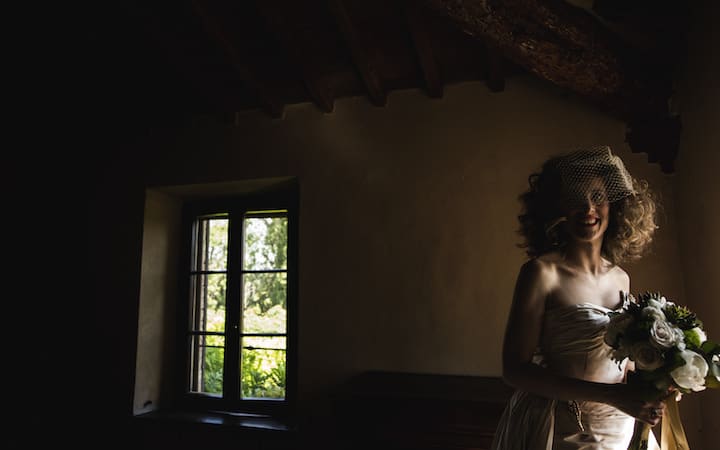 How did you allocate your budget?
We trusted Eleonora's planning and recommendations. First we chose the location, which we fell in love with at first sight for the marvelous surrounding countryside and the olive grove where the reception would be held. From there, we established the rest of the budget making the pictures, wine, and food priorities.
Where did you splurge and where did you save?
We saved on the party favours as we made them with simple custom pouches, which the guests filled on their own with different artisanal confetti candies. Sabrina made the gifts herself for the guests (key chains for the men and little purses for the women). Also Sabrina made the invitations and the letters that we wrote for each guest, explaining to them why we were happy to have them at our wedding. We splurged more than we had planned on the wine (our guests didn't hold back when it came to making toasts!).
How did you choose your photographer?
We met Maria Zavaglia and Giacomo Brizzi at our friends' wedding and, seeing the beautiful pictures which they had taken for them, we decided to call them for ours.
The Dress and suit
Sabrina designed her wedding dress and had it made by a custom dressmaker in Bologna: it is a 1950s pattern in ivory taffeta, long in the back and short in the front, complete with a vintage veil. Even her long gloves and shoes, in gold, were made to measure by the same dressmaker. She also wore a 1950s pin which she bought in an antique shop. Fabio's suit was tailor made by Lanieri and his shoes are Barrett.
Theme or colour scheme
The theme was rustic chic with some vintage elements. The colour scheme was green and ivory with touches of gold.
Flowers 
Sabrina's bouquet included peonies, buttercups, and roses in ivory tones with touches of succulents tied together with a golden ribbon. For the table we went for aromatic herbs – rosemary, thyme, basil, lavender, and mint – and succulent plants in small terracotta vases.
Decoration 
An antique gold mirror was used for the seating plan and the guests' names were written right on the glass. For the tables, we chose a lace runner with many candles on glass and gold candle holders. A vintage crochet tablecloth decorated the cake table, while the candy table featured silver stands, crystal vases, and vintage lace doilies. Candle lanterns decorated the entire dinner area.
Food
We chose a typical Tuscan dinner to give the guests a chance to taste the ingredients and recipes of the Val d'Orcia territory. Before dinner there was a rich buffet of canapés, bruschetta, Tuscan salami, pecorino cheese boards with honey and jams. For the first dish there was risotto with pecorino cheese and balsamic vinegar as well as Tuscan tagliatelle pasta with wild boar sauce. The second dish was pork roast with organic vegetables from the garden.
Wedding cake
The cake was a crostata filled with cream and topped with seasonal fruit.
Entertainment
During the drinks before dinner, we had live music with an excellent singer and guitarist who mostly played rock from the 70s and 80s. After dinner a DJ played dance music from the 80s and 90s.
Who supplied the stationery?
Sabrina designed and printed the invitations and menus all on her own.
Personal touches
Sabrina made the invitations, the letters for the guests, little purses for the women and the key chains for the men on her own.
Special moments 
Sabrina: When we got to City Hall for the ceremony where we were welcomed by a warm applause by all our friends and relatives.
Fabio: When I said yes to Sabrina, I was really very moved, just like when I listened to the letter that my mom wrote for us (in Italian and Spanish).
Advice for other couples
Since your wedding day is one of those unforgettable days in your life, choose the things that you like without letting others influence you.
Biggest surprise 
Fabio: As a surprise for me, Sabrina rented a vintage car, a 1956 red MG A, that I had to drive from the City Hall to the reception after the ceremony: it wasn't easy!
Sabrina: Seeing all my Spanish friends after so many years.
Supplier Shout Outs
For more information on Wedding in Val d'Orcia's planning work go to
www.weddinginvaldorcia.com / [email protected] / FACEBOOK / INSTAGRAM
Wedding in Val d'Orcia is a boutique agency specializing in wedding and event planning. The company was created by Eleonora Ciolfi and is located in the Val d'Orcia, a symbolic location for Tuscany and a UNESCO "World Heritage" site since 2004. The landscape of Val d'Orcia is one of the most famous and photographed in the world, and offers a unique and exclusive location for events.