As we reach the midpoint of the week, I have a gorgeous rustic barn wedding for you, courtesy of Kirsty from This and That Photography. Kirsty is a regular to the blog so I always love featuring her work and this wedding is a real cracker. Joanna and Lucas worked to a budget but with so much of their wedding as massive DIY projects it is full to the brim with amazing details, decorations and so many cute offerings. Joanna's mum not only made the bridesmaids dresses but the cake and the bunting! Joanna designed the stationery, their friend DJ'd, and they created a whole load of amazing decoration between them. A truly personal handmade wedding that I know you are going to love.
The most wonderful beautiful happy day, full of everything and everybody we love.
Joanna and Lucas were married on 16th September 2017 at St Margaret Mary R.C. Church with the reception at The Gilbert White Barn in Selborne. 'The church is my (Joanna) local church up the road from where we live and as a catholic I have always wanted to have a catholic wedding, Lucas kindly agreed as he knew this was really important to me. The barn we found when we were looking at wedding venues in the area, as it was not too far away we thought would make the perfect setting for our reception. we had 125 guests and we spent 9 months planning our wedding.'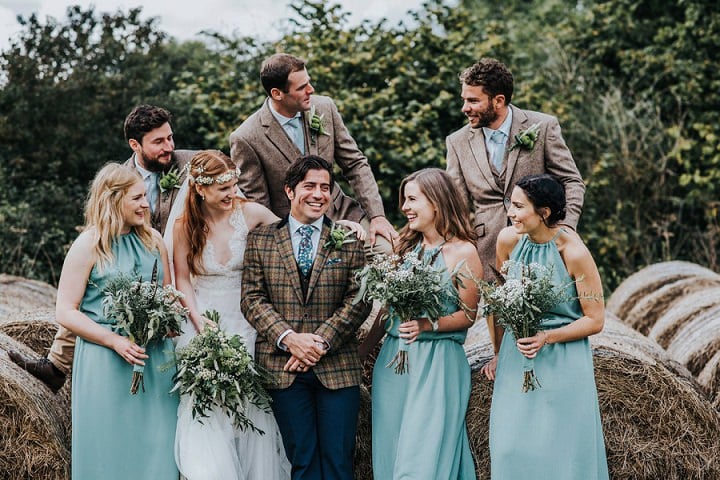 How they met
We met at university in the sailing club in 2010 and became official in January 2012, so we have been 6 years together.
The proposal
Lucas proposed to me in my family home in Nottingham in front of all my family when we were celebrating our family Christmas. We have a tradition in my family of putting all the gifts under the tree and my mum hands them out to us one at a time. Lucas had placed the box containing my ring under the tree with the rest of the gifts. When my mum came to it Lucas explained that it was for me… It took me by surprise I had no idea it would be 'the ring'. It took me a while to realise that this was his proposal and when I saw it was a ring I still had to ask if he really was asking me to marry him!! He said to read inside the lid of the bigger box the ring was concealed in and I saw that he had written "Mimi me?" (which is our silly little language) and I knew he REALLY was asking me! A very happy day indeed…
How did you allocate your budget?
Decided on the things we wanted the most and were the most important to both of us and spent the most of the money on that. We also tried to do a lot ourselves to keep cost down.
Where did you splurge and where did you save?
Our hops we used to decorate the barn were a bit of a splurge and of course my dress! – Even though it wasn't the most expensive dress out there that felt like a massive amount of money to spend on a single thing! We decided to make our own bridesmaids bouquets as it seem like such an awful lot of money otherwise… pretty much all the decoration we either made ourselves or collected over time.
How did you choose your photographer?
Kirsty was suggested to us by another photographer who did my friend's wedding. I loved the documentary style photographs. When I saw Kirsty's work I knew straight away she would be perfect for us!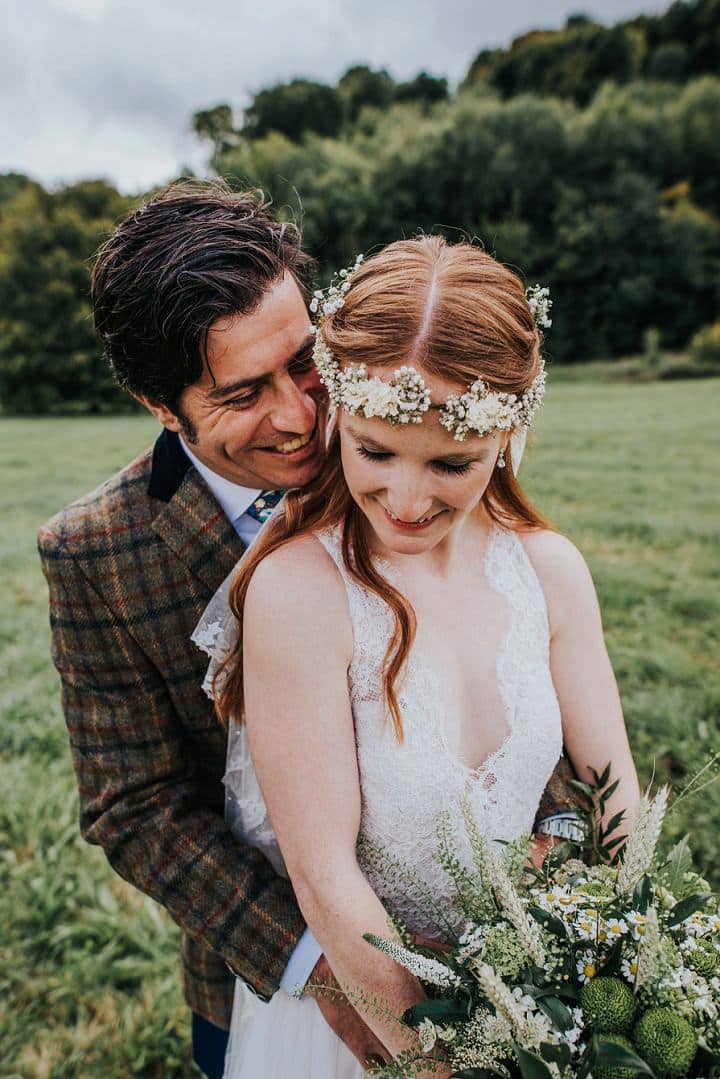 The dress 
My dress was from Ava Louise bridal wear in Southampton, a dress shop that I walked past every day on my way to uni, and wished that one day I would be able to wear one of those beautiful wedding dresses. It was a Willowy by Watters design. I got my shoes personalised and handmade from a shop Etsy. My veil was very special as is 100 years old, handmade by my great grandmother for her own wedding and also worn by my grandmother, my mother and now by me!
The suit and bridesmaids
Lucas' suit was a Herbie frog suit purchased in a small tailors in Havant. He wanted something a bit different so we were looking for tweed. What he found was perfect as suited both his love of colour but was traditional enough to satisfy me. His tie and pocket square were both Liberty of London printed silk.
The bridesmaid dresses were all handmade by my mother, Ruth Marlow. I showed her a picture on Pinterest of the kind of dresses I liked and she found a pattern in our local fabric shop which she adjusted to be two layers of fabric with a sheer fabric on the top. She then spent the next 6 months making them all and adjusting them so they fit the girls all perfectly on the day. She is a real life hero with such incredible talent!
Theme or colour scheme 
I wanted the colour scheme to be very natural, mostly green and white to go with the meadow and the brown wooden barn but we added a touch of copper in places to compliment my ginger hair and a bit of blue in Lucas's outfit to make him stand out! As it was a September I wanted it to have a kind of early autumnal/harvest theme.
Flowers
I wanted a really wild and bohemian flower selection; lots of leafy foliage and small flowers in green and white with a touch of yellow on the daisy's and wheat.
Decoration 
We wanted to enhance the barn, not disguise it in any way… I wanted it to feel warm, welcoming and full of love and life… We chose fresh hop bines to decorate the beams and has festoon lights strung round the barn and marquee we had just outside. On the trestle tables we had simple white table cloths and then lots of beer bottles and jam jars in clear, brown and green glass filled with the pretty daisies, gypsophila and green bells from the florist. As we are both sailors (from sailing families) my mum also made us some bunting which spelled out 'Joanna and Lucas' in nautical flags. – This was hung up at the top end of the barn.
Food
In the day, we had delicious canapés as the guests arrived. Then we had a huge hog roast with rolls, stuffing and apple sauce lots of lovely salads on the tables. For pudding we had lots of homemade cakes made by a local baker.
Wedding cake
My mum once again used another of her amazing talents here! – I sent her pictures of cakes I had seen on Pinterest and she did the rest! A delicious tower of three rich fruit cakes covered in marzipan and white icing with sage and gypsophila around each layer… And of course of little foxy Jo and Lucas sitting on the top! (I also bought these on etsy).
Entertainment
We had an amazing folk band, 'Reavers Rant' in the early evening which we had seen one time when we stumbled into a pub in Wickham. I just adore folk music and think it is the absolute best thing to dance to and you can't help but feel happy when you hear it played live. For later in the evening we had our wonderfully talented friend Alex Yates. Alex is one of the Sound as Funk collective, known for his awesome skills on the turntables and diversity in music selection. He takes influence from old school hip hop, funk, soul and disco and will play generally anything that gets people moving.
Who supplied the stationery
I did! I am a graphic designer and artist so this was my little joy to do myself.
Personal touches
Together with our family's we did everything ourselves! This really was a DIY wedding but that's what made it all the more special… honestly I couldn't have wished for something more personal and perfect for the two of us.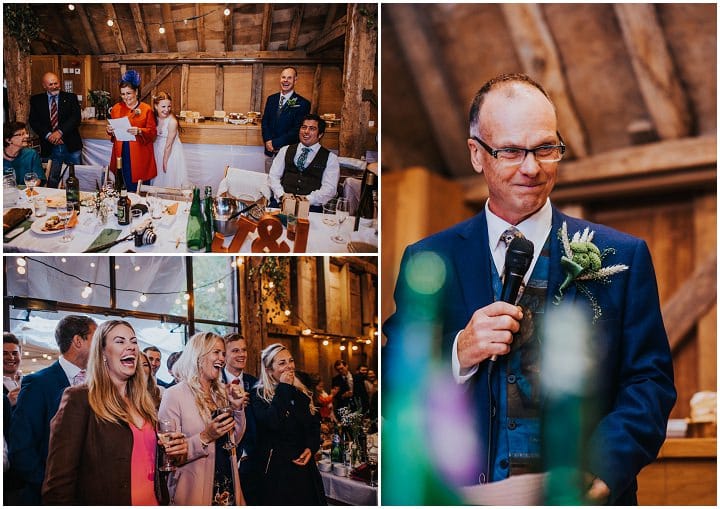 Special moments 
The church was very special for me… and I loved that my brother drove me and Lucas in his VW campervan to the reception whilst we sipped on prosecco (for me) and beer (for Lucas). Also the hog roast was perfect and dancing to the folk band I think I was the happiest I have ever been! I think Lucas particularly enjoyed all the speeches from his wonderful and passionate Brazilian family!
Advice for other couples 
Don't stress, go with the flow and you will have the most wonderful day whatever!
Biggest surprise 
One of my best friends Tallulah had said she was unable to make it to the wedding as she works abroad and was unable to get the time off… however in the weeks before the wedding she had manage to arrange to come and secretly told Lucas she could come and then took me by complete surprise when she came up to me outside the church!! Tears of joy all round!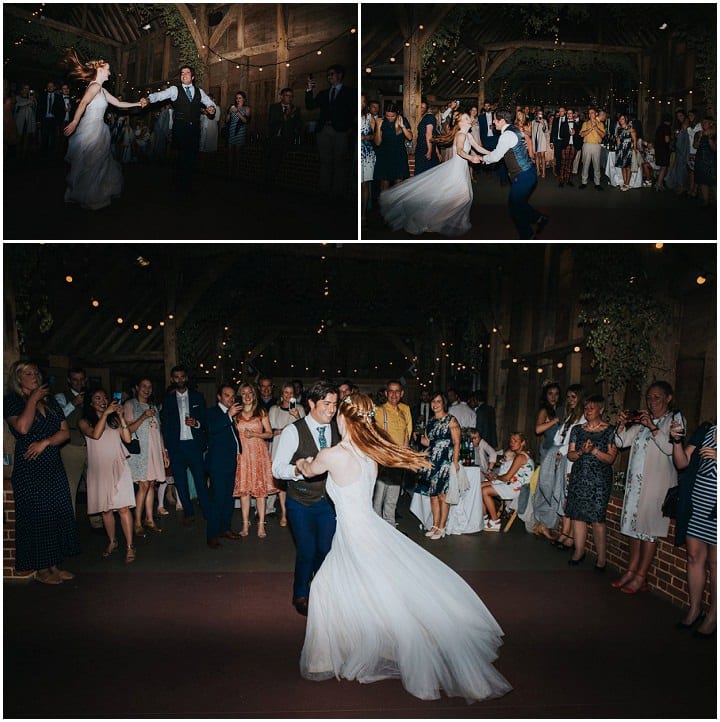 Supplier Shout Outs
FOR MORE INFORMATION ON KIRSTY'S WORK GO TO:
www.thisandthatphotography.co.uk / ki[email protected] / 07971630765 / FACEBOOK / T: @ttp_photography / I: @thisandthatphotography / PINTEREST