Well hello everyone and how are you all this fine Tuesday? I have a gorgeous wedding for you today, one filled with so many gorgeous colours and so many pretty details. It is brought to you by one of my favourite photographers and all round lovely lady, Binky from Binky Nixon Photography. Binky really is one of the nicest ladies you will meet in the wedding industry, she is super talented and just an all round lovely person. I got to work with her on a wedding a year or so ago and it was such a fun day! This rustic barn wedding is just wonderful! A beautiful colour scheme of Mint and Coral mixed with soft greys and hints of metallic, makes it a visual feast, with so many amazing decoration ideas and details, and those gorgeous colourful flowers really top it all off! Such a beautiful day, I know you are going to love it as much as I do!
'Its truly cringeworthy and cliche but it really was the happiest day of our lives. It was a day filled with love, personal touches and everything and more that we wanted it to be
Kelly and Dean were married on 18th April 2015 at Dodford Manor in Northamptonshire. 'We really wanted a rustic, barn style venue and the moment we viewed Dodford Manor we knew it was exactly what we wanted. It had a beautiful setting amongst fields and the old dairy and barn buildings have been renovated to an exceptional standard. We loved the outside area for our guests to enjoy reception drinks in too! We had 97 guests in total. It took 16 months to plan the wedding.'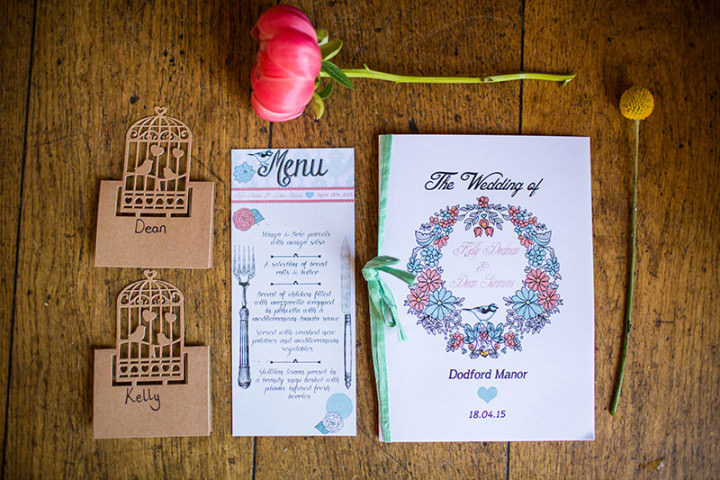 How they met
We met online through www.mysinglefriend.com. Both of our friends put us on the website and after weeks of chatting we met in a bar in London for our first date! We have since been together 4 years.
The Proposal
I had a sneaky suspicion that something was happening that weekend (I'm the worst person to keep secrets from!) as Dean had suggested whisking me off to London for the evening for a surprise meal. However he managed to catch me out early on the saturday morning with a proposal at home, then we went off to London for a lovely meal at Galvin at windows newly engaged!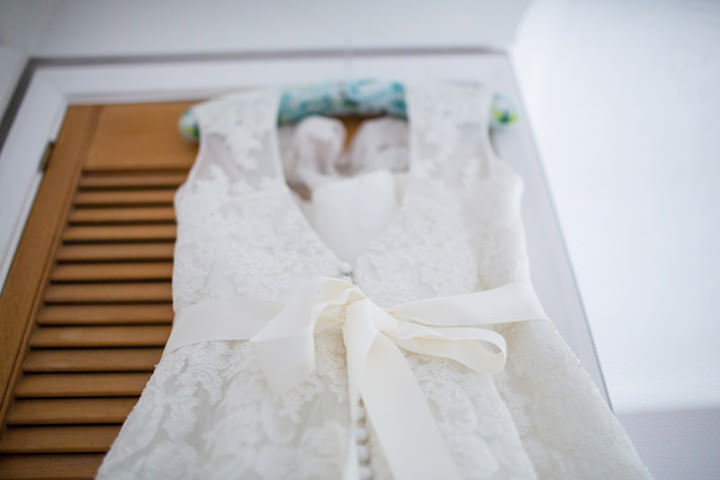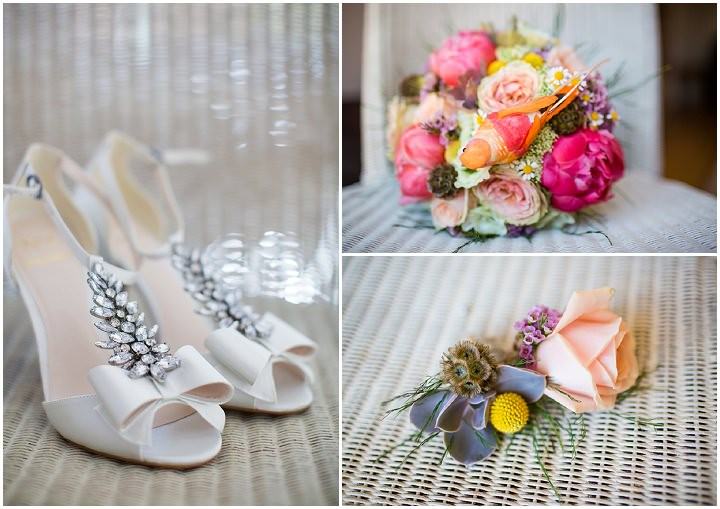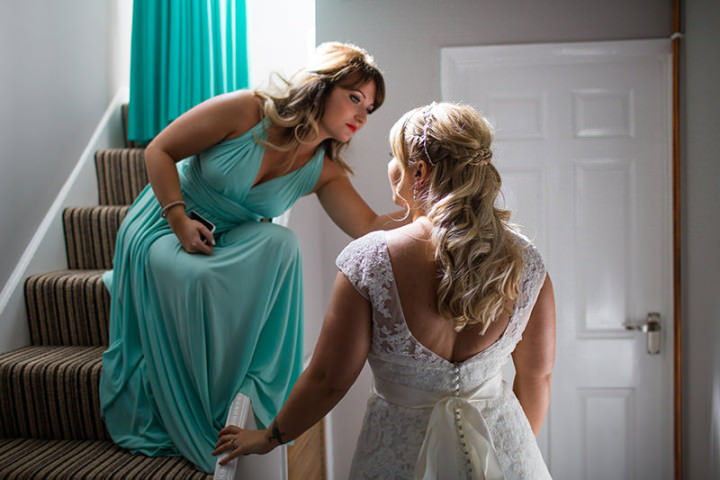 How did you allocate your budget
We decided early on that we wouldn't get married until we could afford to have everybody there that meant something to us as we felt this was hugely important. Our venue ticked every box but also came within budget to allow us to do this. We then spent the larger portions of the budget on things we felt most passionate about such as florist, photographer and videographer. Everybody advised to invest wisely in photographer in particular as photos would be the only lasting reminder of the wedding day other than memories and we definitely made the bet decision to do that with Binky Nixon. We then sourced and chose wisely to get good deals on other details such as Dj and cake.
How did you choose your photographer
We knew we wanted a relaxed, natural feel to our photos and didn't want lots of staged, posed shots. Neither myself or Dean are particularly comfortable in front of the camera so we knew we needed to find someone that made us feel at ease. Binky was actually the first photographer I stumbled across and nobody else then compared to her work. Once we met her we knew instantly that she was exactly what we wanted and that we were on the same wavelength!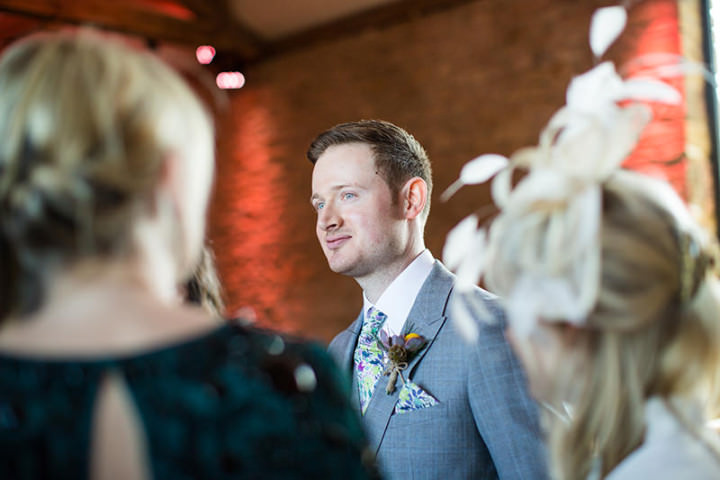 The Dress
My dress was by San Patrick from the Provonias range, bought from the incredibly lovely Sabrina at Xquisite bridal in Leighton Buzzard, Bedfordshire. My hair vine and earrings were also bought from her and were by blossom bridal. My bracelet was my wedding present from my husband and was handmade by a company called lavender by Jurgita. My shoes were Jenny Packham.
The Suit and Bridesmaids
The suit was bought from Reiss, Dean knew what he wanted and eventually stumbled across exactly what he was after. We paired this with a liberty print tie and pocket square which took much tracking down after not buying when we initially saw it!
Bridesmaids dresses were kindly made for me, I work in fashion for a London design studio and our factory in China kindly made them for me once I picked the fabric and colour. They were styled on the multi-way wrap and twist dresses as all my bridesmaids were quite different and these are a great way of everyone wearing them in a way they were comfortable with. My flowergirl had a gorgeous mint tutu dress from BHS.
Theme or Colour Scheme
Yes, Mint and Coral were the main colours, we then had soft grey and hints of metallic as highlights.
Flowers
We really wanted a soft natural look with an abundance of mixed flowers and not a typical wedding flower look. I came across our florists Shrinking Violet at a wedding fair and instantly fell in love with them. Their flowers were beautiful and they used lots of rustic styling such as logs and wood which is exactly what we were going for. They also incorporated succulents a lot which I loved and having always had a love of anything bird related I was delighted to discover they also use birds in their arrangements and bouquets
Decoration
My vision was a rustic, vintage relaxed style with lots of ecelectic, personal details. We had bunting, vintage crockery, handmade candles in jars and collected vintage bottles including vintage 1950's milk bottles from my hometown! I also spent time making fabric flower arrangements, decorating jars, rustic twine heart pew ends and wreath for ceremony room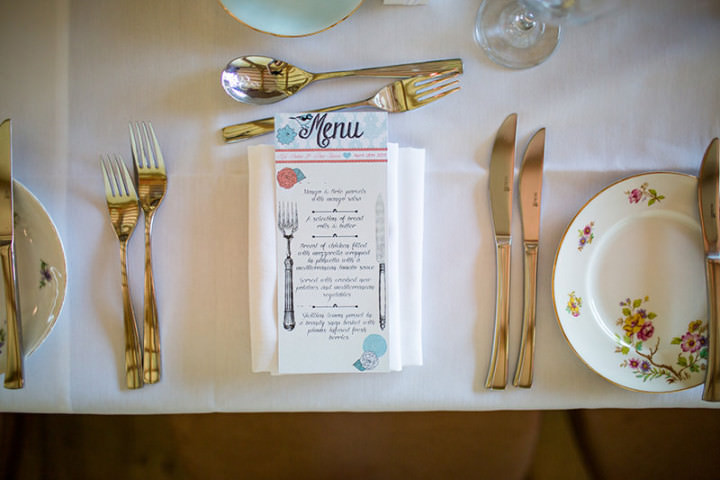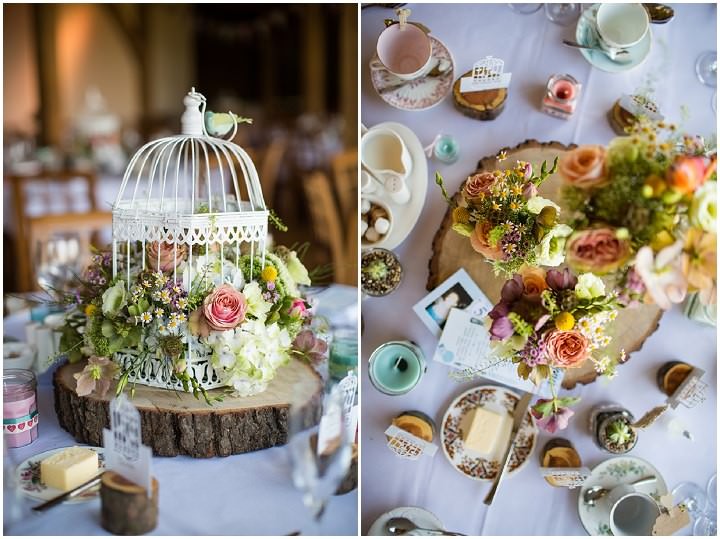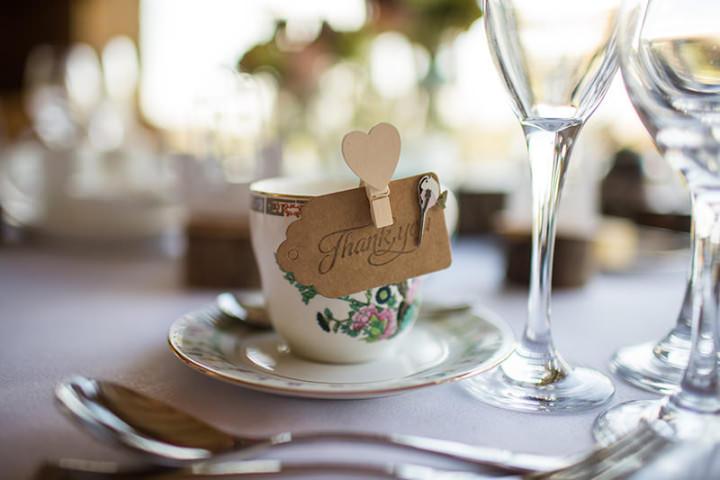 Food
We had a lovely brie and mango parcel to start, chicken wrapped in prosciutto with mediteranean sauce and vegetables with crushed new potatoes, then a lemon posset served in a brandy snap basket with pimms infused berries!
Wedding Cake
The wedding cake as a 4 tiered mix of chocolate, lemon and vanilla. Decorated with ruffles, metallic, cake lace and beautiful handcrafted flowers on top. We wanted a tiered, beautiful cake but didn't think our budget would allow until I discovered Laura of Bakerman who did us a spectacular deal!
Entertainment
We had an ipod of our curated music playing throughout the day and a dj in the evening.
Buy or DIY your Stationery
I designed and made all my own stationary, with the help of friends and family to put everything together!
Personal or Handmade Touches
Yes almost everything was done by ourselves with the help of family and friends to put them into practise! We wanted wood, rustic centre pieces and Deans father sourced the wood and kindly sanded, varnished and finished to perfection, this sparked off the ideas of smaller logs to create place card holders and we even received a larger piece of log that we decided to get our guests to sign as our guestbook.
I made our favours using luggage tags and a thank you stamp on which I attached a bird pin badge which were from the RSPB.
Myself and my mum spent months making candles in old jam jars and decorating them for the tables and other areas, along with fabric flowers to stand in jars and vases.
I also made a fabric flower bouquet for my flower girl as being 21months old she would have ruined anything real!
I designed and put together the table plan, order of services, menus, table numbers and any signage.
We had some fabulous wooden, rustic signage that I intended to make myself and completely ran out of time so my friend kindly offered to do it for us and was wonderfully put together with old fence posts that his horses had been chewing on! I also created a chalkboard sign for the entrance.
We had a handmade wooden tree for the photo booth area which was decorated with birds and hearts and all the polaroid pictures were hung upon it throughout the night!
I also printed photos of our grandparents and parents on their wedding days which we displayed in vintage frames.
I also decoupage many a thing, including old coffee jars for the scoops and tongs for the sweet table and old frames for the many signs that were dotted about!
I also hand stamped individual labels for all the sweet jars.
For my bridesmaids I handmade tote bags with their embellished initial on.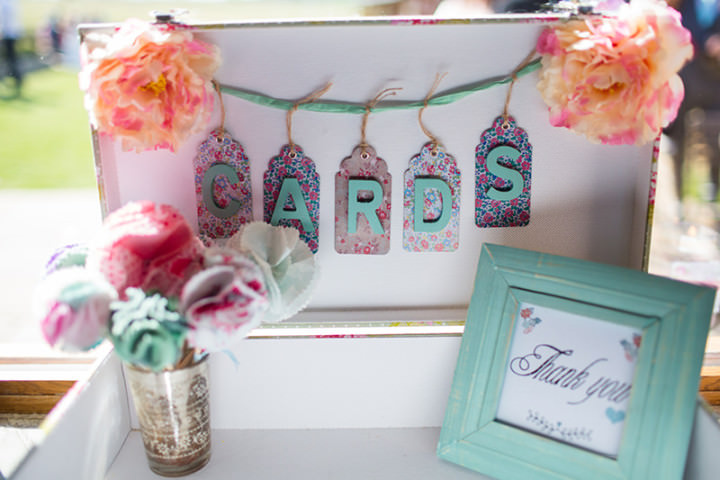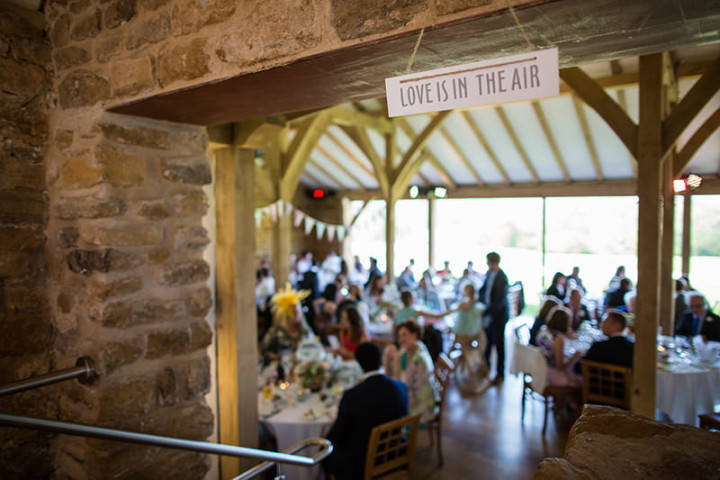 Special Moments
The ceremony was the best feeling, walking down the aisle to meet Dean at the front was an amazing experience! At dinner I remember looking out and seeing all of our friends and family from all walks of life chatting and laughing together which was such a special feeling to have everyone in one room that meant so much to us.
Advice to other couples
Not to stress about the little things that you hadn't had chance to do, on the day those things will seem insignificant! If you can and want to also ensure that everyone that has meant something to you is there to celebrate, to have those people there makes such a difference and makes the day what it is!
Also learn to delegate and use people for their skills, towards the end I started to feel slightly over-whelmed by doing everything myself and couldn't have done it without support from everyone that chipped in to help. Also choose suppliers you feel entirely comfortable with and are on the same wavelength as, it really helps step back and trust them to do their jobs that you have chosen them for-choose wisely and follow your gut instinct!
Biggest surprise 
To see people who have never met having such a lovely time with each other, that and being able to visit the toilet in my dress without too much drama!!!
Supplier Shout Outs
For more information on Binky's work go to:
www.binkynixon.com
blog.binkynixon.com
[email protected]
FACEBOOK 
@binkynixon

[jprel]