After taking the day off yesterday to celebrate my birthday, I am back and ready to go with another fabulous real wedding. Rene and Hunter were married on 16th September 2017 at The Tar Roof Virginia Beach and the whole day is a wonderful mixture of Boho Chic, meets rustic relaxation. Rene's family played a big part in puling the day together. Her mother did all the decoration, including the flowers and I have to say she did a wonderful job. With a gorgeous first look and their baby daughter stealing the show as she is pulled down the aisle in a cart, there are just so many super sweet moments to this magical day. Big thanks to Jessica Ryan Photography for the wonderful photos.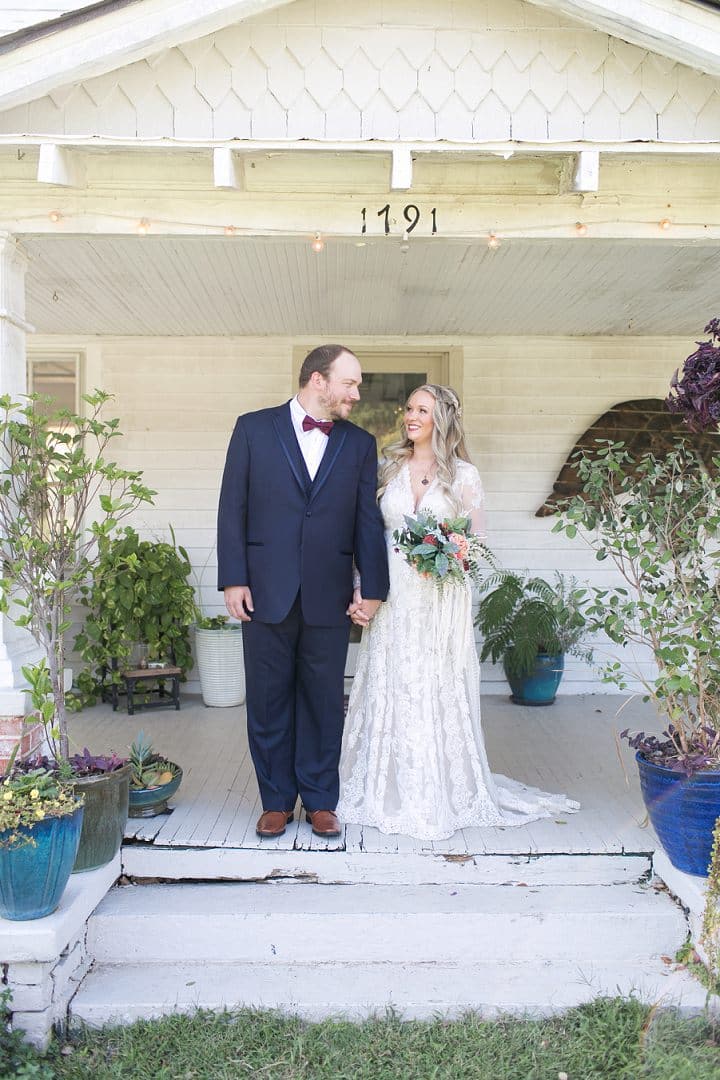 Jessica the photographer tells us more about the wedding
This boho wedding came together and fits Rene's style perfectly! Her Mom did all of the decorating, the flowers and still managed to look amazing and be present during the entire ceremony and reception! That is talent! Rene got ready at The Tar Roof surrounded by her bridesmaids and her gorgeous boho wedding details. From her stunning wedding dress, to her Grandmother's jewelry, no detail was left out. Aislynn, their daughter and flower girl, also had a blush boho style dress that was laying against Rene's wedding dress all afternoon.
Rene took my breath away as I photographed her and her bridesmaids helping her into her boho wedding dress. As Hunter patiently, yet nervously, waited to see Rene several smiles spread across his face every time he thought he heard the front door open. When he finally turned around to seee his bride, she nervously laughed and he instantly grabbed ahold of her. Hunter could not take his eyes off of Rene.
Rene and Hunter love that they both have the same sense of humor. They love each others' humbleness and each others' heart. By witnessing their wedding day and their love you can tell that those three qualities that they both love are sown through every aspect of their life together. With those qualities and spending almost every day together, one day Rene and Hunter both realized that they could not be without each other. So, on another day shortly after that, Hunter got their two pugs together and put signs on them asking Rene to marry him when she got home.
They were surrounded by friends and family on their warm and sunny wedding day. Hunter's sister and her husband doubled as bridesmaid and groomsmen as well as venue coordinators and decided to also gift them with videography for their wedding day. I am always blown away by family and friends coming together to make something so special happen. With Rene's Mom doing so much of the decorations and Hunter's sister and her husband no detail or gift was left unnoticed. These two are so very lucky with their loving friends and family. I could not have been happier to be there photographing it all unfold. Congratulations Rene and Hunter!
Supplier Shout Outs
For more information on Jessica Ryan Photography go to
www.jessicaryanphoto.com / [email protected] / www.jessicaryanphoto.com/blog/ / FACEBOOK / INSTAGRAM / PINTEREST