Happy Friday everyone! I hope the week has been kind to you and that you are getting ready for a fun-filled weekend ahead of us! This weekend, Nik and I have been together for 12 years, so we are off out on Saturday to celebrate, can't wait! Before that though we have this gorgeous Italian Villa Wedding to share with you of Natasha and Chadd, courtesy of Rebecca Silenzi. Natasha and Chadd are both from Perth but Natasha's family are originally from Italy, so they felt it was fitting to get married in this beautiful country. They found this stunning villa and created their gorgeous rustic Italian charm wedding from there.
Our wedding was simple yet set against an Italian background it felt dramatically beautiful. The day was a perfect mixture of chaos, love and gorgeous people.
Natasha and Chadd were married on the 7th of July 2016 in a ceremony at Parriocchia di San Giovanni Battista Church in Appignano Del Tronto, Italy. The reception was in Villa Cicchi in Ascoli Piceno. 'I (Natasha) love Italy with all my heart. My family was originally from Italy and every time I visit I feel like I'm returning home. However, it was actually Chadd's idea to get married abroad. We always knew we wanted to get married somewhere other than home (Perth) so that we could capture the 'holiday vibe' for ourselves and our guests. Yet, I always thought somewhere close to home like Margaret River, but one day Chadd mentioned Italy and it just felt right. We had 90 guests. We were engaged for nearly 2 years so people could save up to travel for the wedding however I flew over to Italy with my mum to organise everything the year before. Once we booked a church, reception, flowers and photographer there really wasn't much else I could do, seeing as we live on the other side of the world, so it was quite easy in the end because it was ultimately out of my hands.'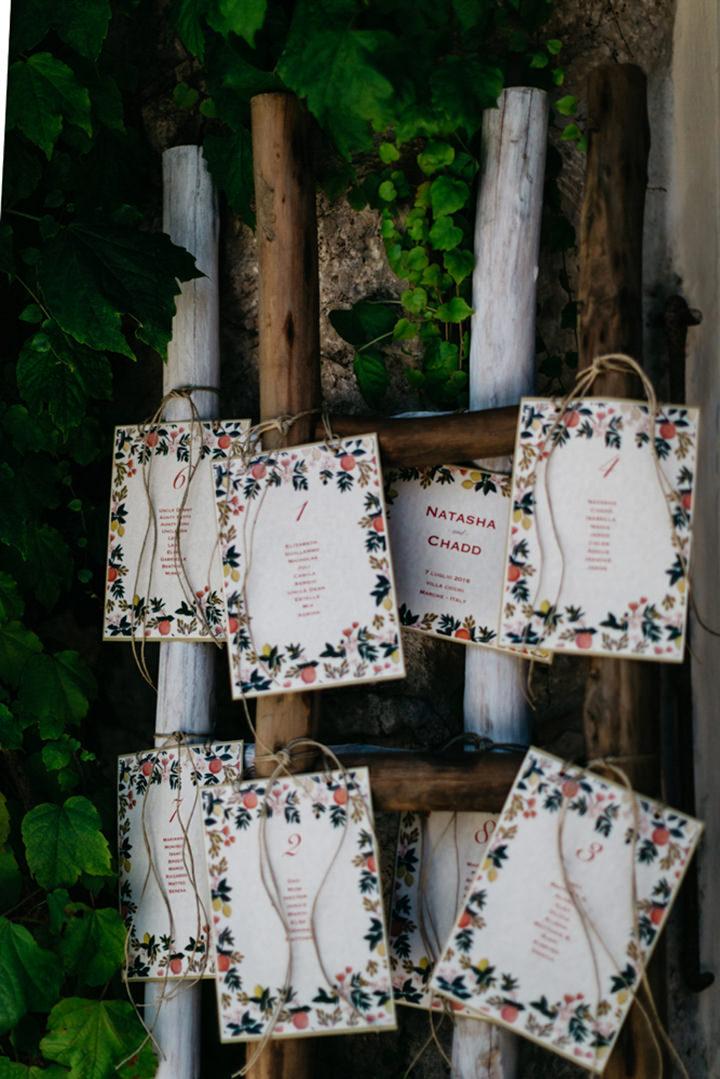 How they met
We went to the same high school but Chadd was two years above me. I was in love with him since I was 14 but he didn't even know I existed. It wasn't until a few years out of high school that we started hanging out through mutual friends. We have been together for nearly 9 years and from day one our relationship has felt completely natural and easy.
The Proposal
Chadd decided he really wanted to go for a bushwalk. Even though it was starting to rain I decided to go because he seemed so keen. Whilst we were walking I could tell something was unusual because he seemed so nervous. I thought he might propose but then we had walked all the way back to the car. By this stage we were both saturated and covered in mud. While I was about to get in the car Chadd leaned down to 'tie his shoelaces' and to my surprise came back up with a ring in his hand. Even though we were dirty and wet it was a perfect way to propose because we were doing something that we loved; being outdoors and with each other.
How did you allocate your budget?
We didn't have a set budget but we knew we didn't want to spend a lot of money. Getting married in Italy turned out to be a lot cheaper than if we were to get married at home. The food and drinks in particular were very reasonable compared to Perth prices.
Why did you choose your photographer?
We chose Rebecca Silenzi because her photos were real. They were not as posed as other Italian photographers. She also had a whimsical element to her photos that really captivated the emotions of her clients.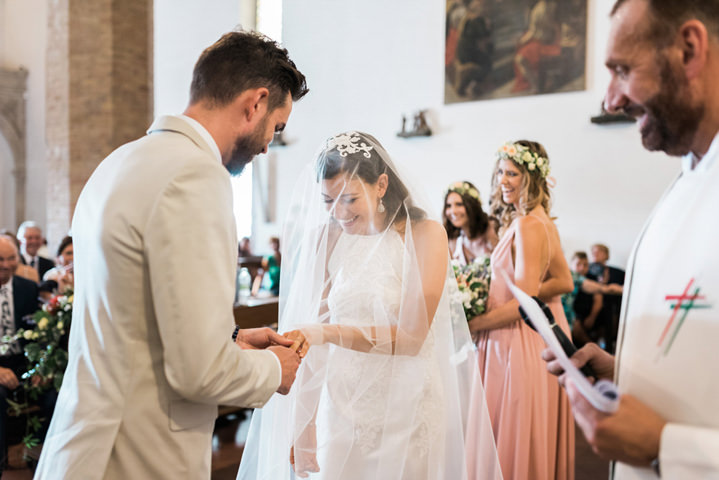 The Dress
My dress was made and designed by a very close family friend; Adele Staveley. She worked tirelessly for over 6 months to make the perfect dress for me. My shoes were Midas and my jewellery were gifts from my mum purchased from Esola in Cottesloe.
The Suit and Bridesmaids
Chadd's suit was entirely from Calibre and his shoes were Aquila. The bridesmaids' dresses were purchased from Fame and Partners. I chose the colour and they each chose their own style.
Theme or Colour Scheme
Our reception was set in the hills, in a Villa from the early 1800's, giving our wedding a very rustic and natural setting filled with Italian charm. Therefore we tried to match our place cards and menus to this theme.
Flowers
We had a mixture of Italian wildflowers.
Decoration
We had lots of flowers in jars with small wooden stumps scattered throughout the reception area. There were also small lanterns filled with candles, hanging from the trees. We didn't have to do too much as the venue was already stunning so it was an easy canvas to work with.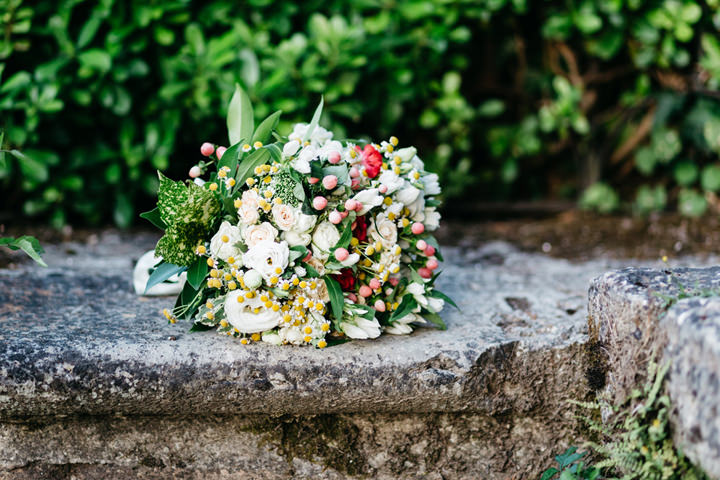 Food
We had a lot of food! On arrival there were Torte rustiche di verdure e formaggi (cheese and vegetable tarts), salumi della fattoria con le focacce (salami and focaccia), fantasia di fritti ascolani (traditional deep-fried antipasti) and carpaccio di manzo (beef carpaccio). For mains each guest had agnolotti ai fiori di zucca, zafferano e prosciutto crudo (lamb and pumpkin flowers with saffron and prosciutto), risotto agli asparagi con guanciale croccante (asparagus and crispy bacon risotto), followed by roast lamb with roasted vegetables. To end there was a dessert buffet with panna cotta, biscottini alla mandorle (almond biscotti), tiramisu, crostata di crema, sorbetti di frutta (fruit sorbet) and desert liqueurs.
Wedding Cake
Our cake was a delicious semifreddo cake layered with fresh sponge cake, custard and chocolate.
Entertainment
We had speakers hooked up to a mobile playing a list of music we had chosen and arranged ourselves.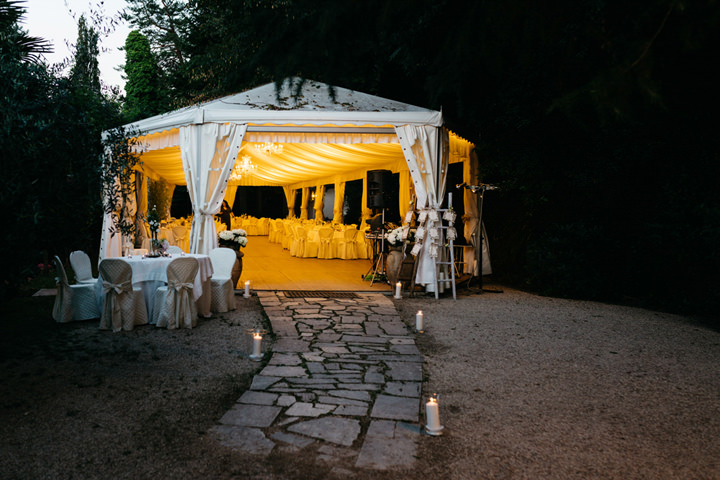 Stationery
We designed our invitations using Paperless Post and the venue stationery was supplied by our decor manager/villa owner.
Special Moments or Highlights
We loved the speeches! Our bridesmaids, groomsmen and parents each gave beautiful speeches that were the perfect combination of emotion and humour. Another highlight was arriving at the church. It is tradition in our 'village' for the bride to walk from the family home to the church surrounded by the men in her life. They are there to 'protect' her and deliver her to her new family members who are waiting with the groom at the church entrance. It was a surreal feeling for me to be walking through the same streets as my grandparents would have. To also have my groom waiting for me at the other end was just perfect.
Advice for Other Couples
Make a list of people you want photos with so you don't miss anybody. More importantly, make sure you have time to yourselves on the day to soak up all the love and savour every moment.
Biggest Surprise
Having to wait for my in-laws to arrive at the church because their car broke down!
Supplier Shout Outs
For more information about Rebecca's work go to:
www.rebeccasilenzi.com / www.rebeccasilenzi.com/en/blog/ / [email protected] / 3312768872 / FACEBOOK / IG: @rebeccasilenzi / T: @rebeccasilenzi / PINTEREST

I'm Rebecca Silenzi, I am an italian wedding photographer based in Le Marche region (Italy), available to travel within Italy and abroad. My style is a mix of reportage style for the most and editorial style. I'm a dreamer, intimate and free person, details lover and a traveler.

[jprel]