Happy Monday everyone, I hope you all had a wonderful weekend? Did you get up to anything fun? Or was it a relaxing one? We are back today with THE most awesome of weddings. Jaimie and Robert described their wedding as 'Minimalist Neon Jungle' and you can see why. Set in one of the most awesome up and coming Toronto wedding venues, it has a totally white, blank canvas, perfect for their wedding designer and co-ordinator Love By Lynzie to work her magic! The results are neon lights, plenty of greenery, white walls, the most amazing ceremony area and super stylish reception, all captured perfectly by the amazing Leo Patrone.
Uniquely us. Others described it as the best wedding food, music and décor they've ever seen.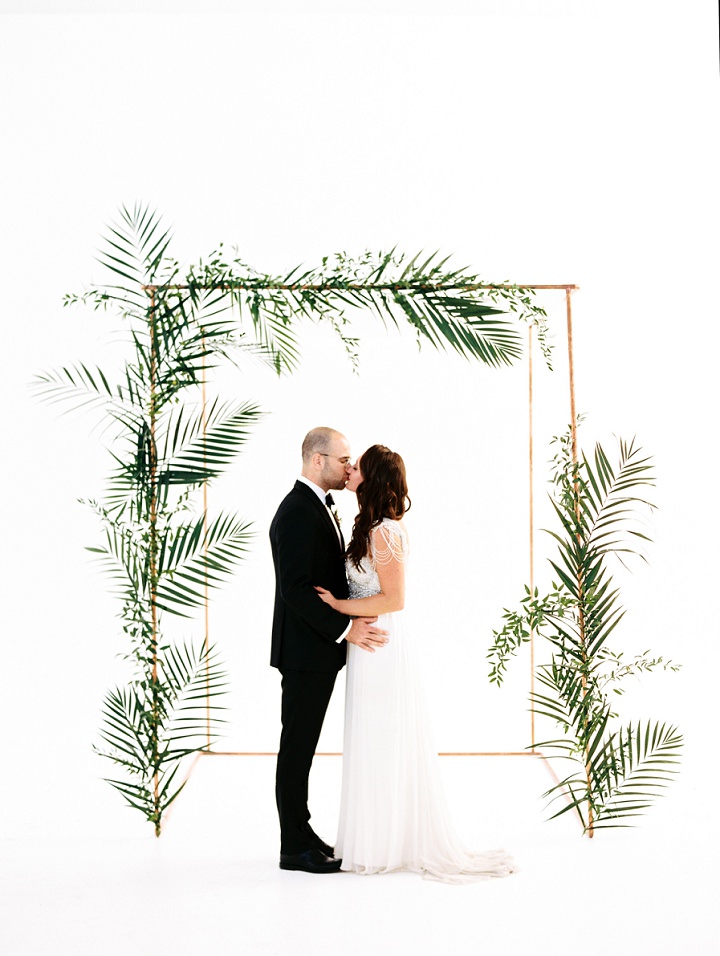 Jaimie and Robert were married on the 24th September 2016 at District 28 – Toronto. The ceremony was in Studio 3 – an awesome stark white wall used for film shoots, and the reception was in the larger Studio 1. 'This is a new venue on the Toronto wedding scene, blank canvas, Rob works in the film industry so it was very fitting. We had 200 guests and the wedding took a year to plan.'
How they met
Rob and I went to middle school together – although I was two grades younger and knew him as the guy with the big red mohawk. He didn't know of me until a few years later through mutual friends. We started officially dating after university and have been together for almost 6 years.
The Proposal
Rob proposed at my favourite place on earth – my cottage. We went for a sunset canoe ride to a secret lake where casual conversation lead to him passing me the ring box.
How did you allocate your budget?
The largest budget allocations went to food and décor.
Where did you splurge and where/how did you save?
We splurged on our photographer. We brought in Leo Patrone from the States and he shot everything on film. We saved by not hiring a videographer, as Rob and his friends passed around an old 1920s film camera all night to capture a different type of wedding perspective.
Why did you choose your photographer?
Rob, being in the film industry, was only particular about one aspect of the wedding – the photographer. We scoured the internet and reccomendations from friends and came across Leo's work on a blog. His ability to capture weddings in a non-stereotypical and natural way drew us to him.
The Dress
Anna Campbell. It was the first dress I pinned and I knew right away. My shoes were white Valentino knock offs! Necklace and earrings were a gift from my mom.
The Suit and Bridesmaids
Rob's tux was bespoke from Garrison in Toronto. He's obsessed. The groomsmen got black suits from Indochino. My bridesmaids were told to choose any black dress – the more variation in the group, the better. I wasn't picky.
Theme or Colour Scheme
Our theme was loosely "minimalist neon jungle". Lots of white, foliage, and neon signs.
Flowers
My friend and extremely talented Tellie Hunt of Hunt & Gather did my florals. I put together pinterest board and gave her free rein. She killed it.
Decoration
The décor was simple with perfect details. Mismatching white chairs, wood harvest tables, hanging edison bulbs.
Stationery
The lovely Kendal from Beet & Path nailed it with our marble print tour poster invites. The thank you post cards have also been a huge hit.
Food
We used Food Dudes and our guests were raving about dinner for weeks.
Wedding Cake
Cake was one thing we cut from the budget and just went with Food Dudes desserts instead: churros were the fan favourite.
Entertainment
Similar to our desire to shoot photos on film, we wanted a DJ that played vinyl. Luckily we met Greg Lanzilotta (Enjoi DJ Outfit) and he totally got us. We played a lot of old school hiphop.
Special Moments or Highlights
Seeing the space come together was huge. After talking about detail after detail for over a year, I was still blown away by the rooms. Seeing my guests reactions was equally satisfying. Because we technically eloped the weekend before, the wedding day felt really laid back and was focused on celebrating with family and friends. Some highlights: getting ready with the girls, listening to speeches, seeing everyone have a great time together.
Advice for Other Couples
Figure out what you both actually want. Don't make choices based on making everyone happy. Having a smaller ceremony really helped take the pressure off the big day and made the marriage totally about us rather than a performance. For two introverts like us, it was the best choice we could have made.
Biggest Surprise
Finding out the main course was delayed because of a grease fire!
Supplier Shout Outs
For more information on Lynzie's coordination go to:
For more information on Leo's Photography go to:
leopatronephotography.com / [email protected] /  I: @leopatrone

[jprel]