Good afternoon everyone, I hope you are having a good week so far? Today we have a very different style of shoot to share with you, set at the North Star Club York, and the brainchild of Betty Timbo of Bespoke Vintage Castle and Jane Beadnell Photography. With some incredible accessories, hair and makeup, this is a modern take on bohemian vintage, incorporating delicate sugarcraft and festival vibes! It sounds like a crazy combination but the outcome is beautiful, delicate and oh so on trend! I love it!
Cornucopia of Mermaid Bohemia Shoot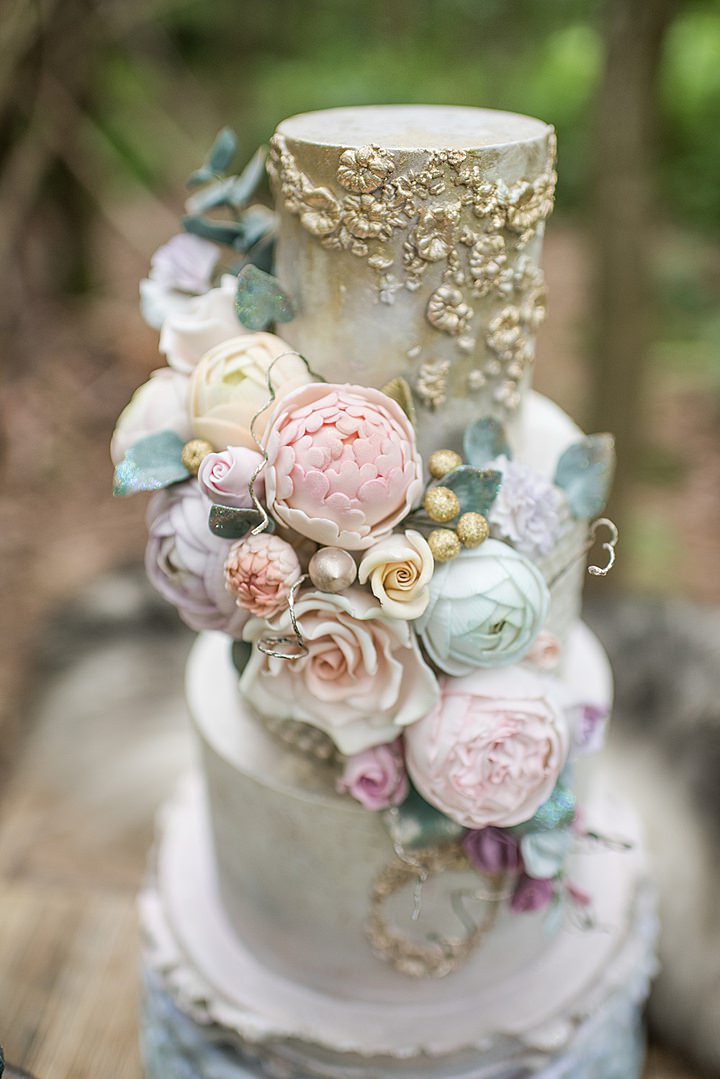 More about the shoot:
I wanted to do a shoot that appealed to the new surge of millennial brides. Bohemian and 1970s vibes are here to stay along with the current 2017 trends of festivals, mermaids and unicorns we wanted to convey a feel of whimsy and fantasy deep in the woods as our bridal shoot. We wanted to show the Bride and groom of the future with a more relaxed approach to weddings and a love of nature.
We have noted a trend in weddings for the modern Brides that break away from tradition. We chose the North star club in York as it is in an exclusive location with rustic log cabins and lots of space for yurts/ marquee weddings. This is perfect for Brides who love the Hippy, Boho feel and relaxed on their big day but still want those elements of glamour and style.
What was your inspiration behind it?
Embracing the themes of Coachella, Tomorow-land and the trend of Unicorns this year. We used this in the colours of the styling The banquet table styling which was brilliantly done by Ambience Venue styling York. with carefully selected tableware, candles and glassware. Each element chosen to compliment the rich colour palette whilst creating a sense of occasion.
We also showed colour though the makeup artistically done by Amy George Makeup Artist. She created a magical look for Fairytale Bride who had Glittery eyes and deep vampy lips.
Hairstylist masterfully created by Belle & Bride conveyed a cute  hippy- style fishtail Braid with loose curls for our Bride to suit our Groom sporting his trendy beard.
The stunning Accessories provided by  Bespoke Vintage Castle were perfect for the ethereal theme, veils of stars, vintage jewelry and glittering starry tiaras were perfect pieces that complimented the look and attributed to the elements of fantasy and themes of drama.
The beautiful Accessories matched the Gown perfectly; provided by The Bridal Emporium, who offered the perfectly detailed dress for the shoot;  covered in iridescent sequins that caught the light and added a 70s retro feel to the look.
The highly acclaimed cakes by: Zoes fancy cakes were custom made and were covered in stunning sugar flowers and pearlescent macarons. Enriched in hand painted colours that were moody, ethereal and magical they went perfectly with the flowers provided by Artisan Florist Leafy Couture; showcasing bursting Hydrangeas in rich lavish shades and added a sense of glamour and regality showing that young brides can have full and vivacious flowers on a smaller budget. Also adorning the table; Jane created the pretty Origami flower stationery, beautifully detailed and coordinated the place settings had the personal touch that ensures every one of the guest feels special.
What did you want to get out for the shoot and do you feel you accomplished this?
We wanted to tell a story with our shoot Jane's easy natural approach to photography is calming, something everyone appreciates on their wedding day. Her unobtrusive style captures real life and those moments of magic, creating a treasured collection of memories.
We accomplished a look for the modern Bride that hosted a fantasy, modern and edgy feel in a magical woodland setting. finishing with unique special touches that would make any Bohemian Bride feel their day was utterly unique and special.
Are you planning any more shoots?
Oh yes Absolutely we want to do something this Christmas with Snow and Reindeer our Bride in a fur coat with a Hint or Narnia about it!
The Team Who Made the Shoot Possible
For more information on Bespoke Vintage Castle go to:
bespoke-vintagecastle.com / bespoke-vintagecastle.com/bitsandblogs / T: @BespokeVCastle / I : @/bespokevintagecastle / PINTEREST