As we reach the mid-point of the week, I am already looking forward to the weekend, how about you? Today we are heading across to Essex for this beautiful Gaynes Park Wedding, courtesy of Ilaria Petrucci. Emily and Thomas chose a pretty pastel theme for their day, mixed in with a few bohemian accents and the results are this gorgeous, laid back day filled with amazing flowers and pretty details. I just love Emily's hair at the end of the day, her flowing blond locks look amazing against the low sunlight.
The best day of our lives. Everything we'd ever dreamed of!
Emily and Thomas were married on the 26th March 2017 at Gaynes Park in Essex. 'We loved the fact it was all in one place but in different locations. The wedding in the orangery, the reception in the mill Barn and then the evening food in the gather barn. We also both loved the accommodation and the beautiful long walk and walled gardens. It was everything all rolled into one. We had 78 guests and the wedding took 16 months to plan.'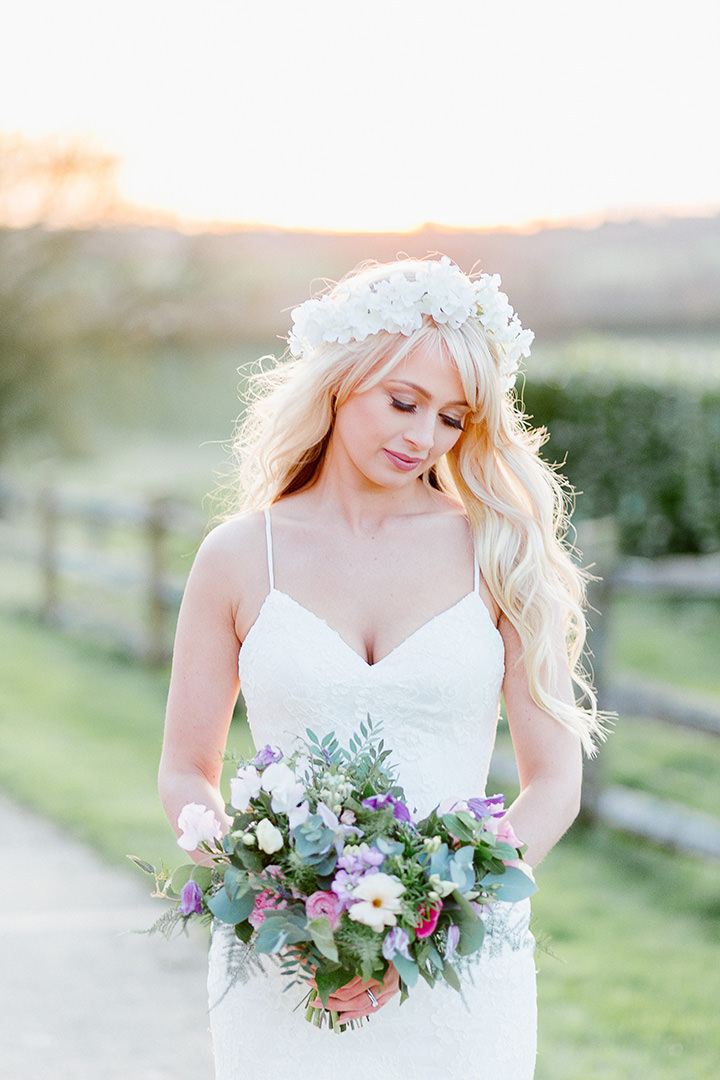 How they met
We met long before we actually started speaking because we had mutual friends that dated however we weren't on each other's radar then. Some years later we met again in a bar and that's where it all began. That was nearly 7 years ago now
The Proposal
The proposal was beautiful even though Tom was so scared. We'd just been to Borneo to see the Orangutans (something we've both always wanted to do) then we went onto Malaysia to visit the beautiful Perhentian islands. Whilst walking along the beach one night tom got down on one knee and asked me to marry him. It was amazing because no-one as around, just us!
How did you allocate your budget?
Budgeting wasn't our strong point I have to admit however we knew what we could afford and worked round it. We ensured we had all the main people we wanted such as the photographer, florist, videographer etc and then cut back on other things to ensure we could have those particular people.
Where did you splurge and where did you save?
Our biggest splurge was Gaynes Park itself costing more than we intended to spend on a venue. Once we'd visited though we couldn't not get married there. We knew it was the venue for us immediately. Our biggest savings were probably our decorations as I love everything like that so just bought bits and pieces along the way.
Why did you choose your photographer?
We saw Ilaria's name on the Gaynes Park website along with other photographers they recommended but after doing our research into her website and Instagram pages we knew we would like her to photograph our big day. All her photos are so beautifully natural and she has a real way with catching everyone's best angles in beautiful lighting. We loved how she was so passionate about her work and couples she had previously worked with.
The Dress
My dress was from Stella York, shoes from ASOS and accessories from Not on the High Street.
The Suit and Bridesmaids
The suit was from The Grooms Room, and Bridesmaid dress from Missguided
Theme or Colour Scheme
Our main theme was just bright, wild and floral.  I also love the boho natural style, I didn't want anything too…..perfect
Flowers
We had: Daffodils, Miranda Rose, Sweet Peas, Juliet Rose, Clematis, Lavender, Fern, Eucalyptus, Jasmine, Lisianthus, Ilios Rose
Decoration
Very low key and simple. Lots of milk bottles with daffodils, lanterns, hanging vases, sign posts and fairy lights.
Food
We had Duck Salad to start, fillet steak with potatoes for main and then the dreamiest vanilla cheesecake for desert. Galloping Gourmet were AMAZING.
Wedding Cake
3 tier naked sponge cake decorated with lots of summer fruits and roses
Entertainment
Just a DJ. We wanted a band but the budget wouldn't allow it in the end.
Who supplied the stationery?
Not on the High Street
Personal Touches
We had individual personalised jam jars with their preferred drinks waiting at the table for people who did not drink wine due to pregnancy. What people really seemed to love were our individual notes to each person at their table place just individually thanking them or sharing a private joke. We also wrote cards for our close family to open the morning of our wedding. Our family mean a lot to both of us and it was just a really nice opportunity to let them know.
Special Moments or Highlights
Oh that's a tough question, there were so many. The walking down the aisle, saying our vows, having our pictures taken at sunset and our first dance. But if I had to choose it would be listening to the speeches and hearing about how people felt about us as a couple.
Advice for Other Couples
My biggest piece of advice would be to have exactly the photographer you want who's style suits you. Everyone's so different and it's important to have someone who fits. Looking back at our photographs is one of my favourite things to do.
My other pieces of advice include
1- Get your wedding videoed. I know it's an expense you could do without but I promise, it's so worth it, listening to those speeches again and hearing people you care about laugh, hearing the crackle in your partners voice as he says his vows, watching your mums eyes well as she sees you for the first time in your dress…… it's just so emotional and puts you right back there. It's priceless.
2- Make it personal. People don't care about how much you've spent, or how glitzy it is. They care about how much you want them there to share the biggest day of your life.
3- Take a few days off after the wedding even if you aren't going on honeymoon straight away. I don't know if it's the emotions or the day itself but both me and Tom were completely exhausted for a good 3 days after the wedding. Plus, its just nice to sit together and reminisce over the day for a while with each other and your family and friends.
Biggest Surprise
Just how many people came to celebrate with us in the evening and how generous people were with their cards and gifts…… Completely overwhelming.
Supplier Shout Outs
For more information on Ilaria's work go to:
www.ilariapetrucci.co.uk / [email protected] / 07715894198 / I: @ilaria_petrucciphoto / T: @ilariaphoto_
I love to create. That's all I ever wanted, it's what makes me feel alive. There is nothing quite like capturing love and nothing more rewarding than being part of your special day, capturing moments and memories for you to treasure for years. I am about real connection. I am about spontaneous love. The moments you cannot pose, the moments that you feel. Because these are moments you will look back at in years to come and smile for, over and over. Of course, you will have all the details and the family shots. But I want to give you so much more. I want to give you the experience, the memories. I want you to fall in love with each other even more because of it.