A few weeks ago, Nik and I had the pleasure of being invited to stay at the lovely Forest Pines. Forest Pines is a Hotel Spa and Golf Resort, however it also does weddings. We were thoroughly looked after during our stay, which included use of the golf and spa facilities, a rather delicious dinner at the Eighteen 57 restaurant, over night stay in one of their beautiful suites and a full to bursting breakfast…..it's fair to say we were very spoilt. We also had a good look around their wedding facilities which are pretty extensive and offer a variety of options for different sized bridal parties. As ever Nik came with me so I'm going to hand the blog over to him to tell you more about it.
I'll pass you over to Nik………..
Hi there Boho readers! As you will probably guess, given that it is me that is writing this post, we here at Boho HQ have recently enjoyed a stay away at a wonderful spa! One of the benefits of being the long-suffering husband of the world's hardest working blogger is that occasionally an opportunity presents itself to review a wedding venue or restaurant or hotel.
On this occasion, it was a golfer's paradise at Forest Pines.
The last time I played golf here, things ran on a little and I was late back for a dinner with Kelly, her mum, Dexter and both my parents. Despite having a great day of golf in glorious June sunshine, I was brought back down to earth with glares on my return home!
This time however, I did not have to leave Forest Pines as we were staying for the purpose of this review.
Now, what some of you may know, is that I travel away for work quite a bit and spend my life in hotels and the Q Hotel chain is one at which I like to stay when budget allows. Why? Simple, their facilities speak for themselves and the staff and rooms are always first class. This time, we were lucky enough to be ensconced in the Westminster Suite (such luxury is never in my budget!). An open plan lounge with sofas, leading to a large en-suite bedroom and reserved for the Bride and Groom should they wish when getting married at Forest Pines – and why wouldn't you?
As with other hotels in the estate, Forest Pines benefits from a spa and golf course, in this case 27 holes over 190 acres of pristine woodland – perfect for some great wedding photographs, especially when summer is in bloom! This gives brides and grooms the option of relaxing in the spa or taking advantage of the championship golf course – what a great way to unwind in preparation for or to relax after your very special day.
To the Wedding Venue itself. Forest Pines have invested heavily in the venue given over to weddings and have 3 suites to choose from – Tennyson (Upto 360 for Civil Ceremony), Newton (Upto 280 for Civil Ceremony) and Forest (Upto 220 for Civil Ceremony). The rooms can be divided up to create the perfect sized rooms for your wedding. Whether that is a large room that you leave during changeover or split for the whole day, the choice is yours.
As Forest Pines is also licensed for weddings, you never have to leave and everything is taken care of by the in-house wedding co-ordination team.
There is an extensive menu to choose from for your guests to enjoy throughout your wedding day with a Gold and Platinum package to choose from as well as buffet and BBQ options too! If the food in the restaurant we ate at is anything to go by, you will be very impressed with the wedding breakfast!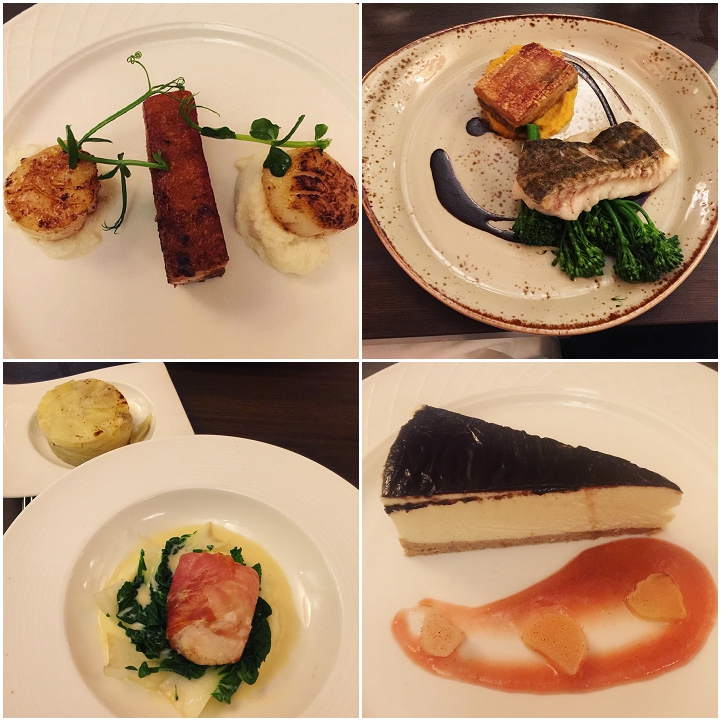 To make it even easier for you to choose Forest Pines, they offer an impressive All-Inclusive package for 40 day and 80 evening guests (at time of writing) so please contact the wedding co-ordination team if that appeals to you and take the stress out of organising your special day.
FOR MORE INFORMATION ON FOREST PINES  GO TO
www.qhotels.co.uk/Forest-Pines / FACEBOOK / @QHotels