Hurray for Friday and Hurray for bank Holidays! I am VERY excited about this weekend, I hope you are aswell? We are off to Chester tomorrow to visit my good friend Becky and her family, we are going to Chester zoo, along with a few other fun activities that I'm sure Dexter will love! Tonight I am out with the girls, so I'm looking froward to putting on my heels and having a few glasses of prosecco! What about you? What have you got planned this bank holiday? We are finishing off this week with this lovely wedding of Francesca and Robert and their Yorkshire Meets Puerto Rican Wedding. They chose an urban style venue in Brixton that gave them the relaxed atmosphere that they were looking for and somewhere they knew their many guests from around the word would enjoy! Thanks to Captured by Katrina for the fab images.
 It was a fantastic meeting of cultures as a Yorkshire and Puerto Rican family came together! It was a great example of how love, joy and celebration crosses borders, nationalities, language and religion.
Francesca and Robert were married on the 4th November 2016 in a ceremony at St John the Divine Chruch, Kennington, followed by a reception at Brixton East. 'We had been living in Brixton for a few years and wanted a London wedding. The Church they were incredibly warm and open (and the church itself was stunning!) Brixton East was in the neighbourhood and was the only venue we viewed, we loved the laid back vibe and it had amazing character. Andy was so lovely and accommodating, we knew it would be a great place to celebrate our marriage! (The no corkage fee helped too!). We had 120 guests and the wedding took just under 2 years to plan'. 
How they met
We met interning in Parliament for an MP in 2010. We've now been together for 7 years! Rob was doing a politics course in Hull that involved a year in Parliament, Francesca was doing an exchange programme through Boston University in London that involved a few months interning in Parliament. What were the odds that we would both be placed with the same MP at the same time?!
The Proposal
Rob was working in Lebanon on the Syrian refugee crisis, which meant they were doing long-distance for a few months. Francesca would go visit him and during one of the visits, he took her to choose a ring – hinting he would propose soon. Little did she know that very evening, while they were having drinks on the balcony in Beirut after months apart that he would propose to her! They kept it secret until he returned to the UK a few weeks later when they shared the exciting news with everyone!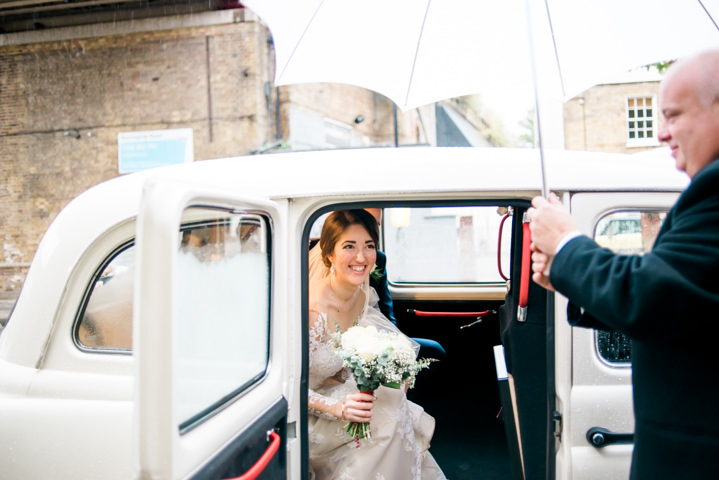 How did you allocate your budget?
Because we had the luxury of a long engagement, it meant that we could spread out the budget and costs. We didn't want the wedding to feel too frilly or over the top and instead focused the budget on things that mattered to us (photographer) and that guests would enjoy (booze, transport and music!)
Where did you splurge and where did you save?
Francesca did a lot of the decorations herself, which in reflection saved money but perhaps cost a lot of time and effort! Still I was really proud of them! We also splurged on things we thought would make the experience more fun for our guests, such as booking buses to take them from the church to the reception, providing an open bar and a really great DJ!
How did you choose your photographer?
Francesca was looking at wedding photography blogs set at Brixton Eastand was really impressed by the photos that Katrina took there. The couple shots weren't cringe and she captured the genuine happiness of the day! We had an intro chat and really hit it off! She was laid back and creative, which is exactly what we wanted in a photographer.
The Dress
Pronovias Tibet dress! I bought it in Puerto Rico and flew it back with me to London.
The Suit and Bridesmaids
Rob had a navy suit from Moss Bros and the bridesmaids wore deep red multiway dresses from Debenhams.
Theme or Colour Scheme
We did have elements of red to tie in with the autumn theme but otherwise, the decorations included lots of candles and fairy lights for dinner and lots of bunting, gold balloons and glitter in the reception. So I suppose cozy/romantic meets celebratory!
Flowers
We had white roses as Rob is from Yorkshire, and they went well with the bridesmaids' red dresses.
Decoration
For the dinner, we had a canopy of fairy lights above the tables, and loads of jam jars wrapped in lace filled with tea lights or white roses. We also used wine bottles as table numbers and put candles in those. For the reception upstairs we had UK and Puerto Rico flag bunting, big gold balloons and glitter jars filled with white roses around the room.
Food
There was the option of chicken, Guinness beef or vegetarian lasagna. We also had Jamaican patties as an evening snack.
And the wedding cake?
Rob's mum made a fruit cake for us and his brother, who is an animator, made caricatures of us for the top of the cake.
Entertainment
We had a DJ – Mark Van dear Berg from Mighty Fine Entertainment who was fantastic! We had a lot of music tastes to cater to and he made sure the dance floor was packed all night. My feet have never felt so sore from dancing!
Stationery
We did our invitations at Pureinvitation and we designed the order of service ourselves.
Personal Touches
We did the table decorations ourselves, as well as all the glitter decorations upstairs!
Special Moments or Highlights
Seeing Rob's face when I walked down the aisle will be one of my all time favourite memories! Also, seeing so many people from around the world dancing, drinking and celebrating together couldn't have been more amazing. Francesca's family brought over tons of Puerto Rican rum, which the Brits loved. (Perhaps a bit too much!) There were a lot of sore heads and feet the next day!
Advice for Other Couples
At the end of the day, focus your energy on the things you care about and that guests will actually notice. No one will care how you decorate the seats or how some of the flowers were arranged – but they will enjoy good music and drinks and celebrating with you. Focus on the fundamentals to make it a memorable and fun day! Also, don't feel the need to plan for every eventuality – things will go wrong (like the Uber driver with your bridesmaids and photographer getting lost on the way to the church) – it won't go to plan, but it's those little hiccups that tend to make the day more memorable and funny. Also, wedding coordinators are worth their weigh in gold. Natalie Lovett was a godsend and genuinely helped the day go so smoothly and it meant we both could focus on hosting our guests and enjoying each other.
Biggest Surprise
After two weeks of sunshine, our wedding day was overcast and it rained for most of the day! Which meant that after hours of my mom, Rob and I stuffing confetti bags, we didn't have the chance to let guests throw them after the ceremony (it was really raining!). Little did we know that our friends found the confetti at the church, took it to the reception and surprised us with an indoor confetti throw before we went into the dinner. It was so touching and thoughtful – it made stuffing all those bags worthwhile!
Supplier Shout Outs
FOR MORE INFORMATION ON KATRINA'S WORK GO TO:
www.capturedbykatrina.co.uk / FACEBOOK I: @katrinabartlam / T: @KatrinaBartlam / PINTEREST

[jprel]