Happy Friday everyone, and how are you all? Has the week treated you well? I can't believe it is Friday already, I know January is meant to be the longest month of the year, but I have to say it really is flying by! Today we have a beautiful wedding from very sunny Tuscany, which was sent into me by the couple's wedding planner's The Tuscan Wedding. Oriana and Gillaume decided on Tuscany as they just loved the scenery and wanted to treat their guest to a really memorable wedding. They chose a gorgeous colour scheme of yellow and blue that really works well with the green backdrop of the Tuscan hills. Big thanks to Patrizia Galliano for the images.
A special and fun day, a fantastic celebration and everything I had ever dreamed of as a girl and more! It's a day me and Guillaume will treasure forever and I felt so lucky to have met my soulmate and best friend.
Oriana and Gillaume were married on the 21st May 2016 in a beautiful little church, Chiesa di San Lorenzo in a Galluzzo, near Florence in Tuscany. 'It really is a special church, so ornate inside and simply stunning. We wanted a church wedding and the churches in Italy are out of this world. The reception took place at Villa Corsini, a beautiful villa in Tuscany with a very rural and romantic feel to it. I wanted to get married on a warm sunny day, surrounded by the beautiful countryside as I am a country girl at heart. In the end I decided on Tuscany because I think it has some of the most fantastic scenery in the world, I love Italian food and culture and thought it would be a memorable experience for everyone involved to get married there. Because it was in Italy we did have to scale back the guest list a bit. In the end we had sixty guests which I thought was a nice manageable number and our closest family and friends were all there which made it feel more special. It took about a year and a half to plan. As soon as we chose Tuscany and found our wedding planner the year leading up to our wedding flew by!'
How they met
We met whilst working together in Brussels eight years ago. I had been transferred to the office for several months and although I had spoken to Guillaume before on the phone I had never seen him. We became friends and often went out after work together, I just loved his sense of humour and we would always be laughing. It wasn't until a couple of weeks before I was due to return to the France that we had our first kiss. We spent every day together before I left and he told me he had loved me from the first moment we met. We kept in touch on the phone and a couple of months later he just walked into the office in Paris. He said he just had to see me. In the end I moved permanently to Brussels.
The Proposal
We were on holiday together in a country cottage in the Lake District in England, we had gone to visit friends and have a break. The second night the fire was roaring and we were sitting next to it.  He was being very quiet which is strange for him, He then said 'Since you came into my life Oriana everything has been right'. Then he got down on one knee and told me he wanted to spend the rest of his life with me, and he would always look after me and do his best to make me happy if I would marry him. It was a shock Of course I said yes! Then we called our friends and went down the pub to celebrate!
How did you allocate your budget?
Most of our budget was spent on the flights and accommodation for our guests, we paid for all of their flights and our family's accommodation. The catering took up a lot of our budget as we wanted everyone to enjoy the food and drink and be merry! Funnily enough Guillaume's suit cost more than my dress, something I remind him of every now and again! I was lucky enough to find my dream dress in a beautiful boutique in Paris and it wasn't as expensive as I'd anticipated so I made up for it by splurging on some Jimmy Choo shoes!
Where did you splurge and where did you save?
The bridesmaid dresses were made by my friend who is an amazing seamstress so I saved on them! We spent  lot on wine as we felt it was part of the experience of getting married in Italy and wanted our guests to enjoy themselves.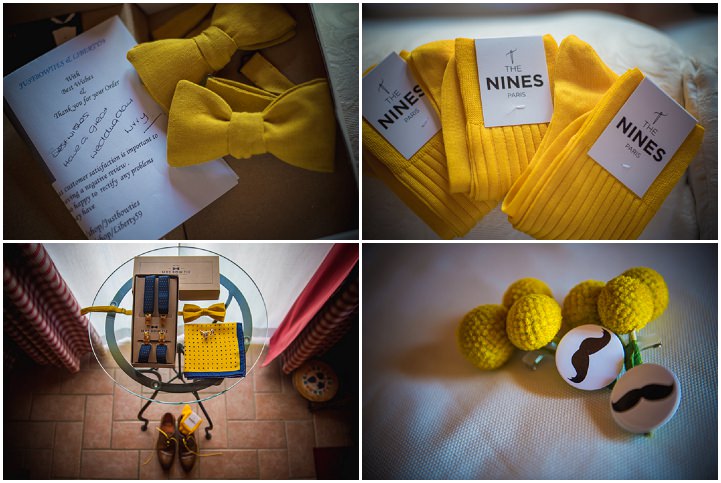 Why did you choose your photographer?
Our wedding planner Daniela recommended several and we went for Patrizia Galliano as I instantly loved her style when looking at her photos online. Her wedding photography was romantic and striking and stood out for me straight away.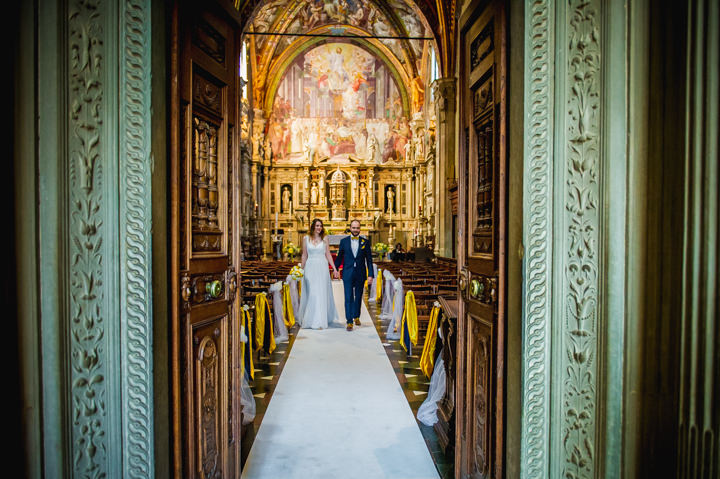 Theme or Colour Scheme
We decided to go for a yellow and blue colour scheme as they are our favourite colours. For me yellow is the colour of happiness and Guillaume loves blue so we decided to just go for the colours we love and that reflect our personalities. Combined they look quirky, I think it's a good colour combination! All our guests also wore yellow and blue.
Flowers
Cream roses and yellow tulips, hand tied in to cute bouquets. We chose the tulips because I am a big fan of the flowers which remind me of my mother.
Decoration
A lot of yellow and blue! White roses and yellow tulips, yellow rose petals and at the party yellow and blue confetti!
Food
The main dish was a Tuscan pork called quinta sienza which was delicious. We had a variety of desserts including cannoli and different cakes and pastries.
Entertainment
Our families made special videos for us with funny memories and we played games together and everyone wore masks with mine and Guillaume's faces on them. The of course lots of dancing!
Stationery
Another very talented friend who is also an artist did them for me!
Personal Touches
I arranged the gift bags for the guests which included blue and yellow sunglasses, sweets amongst other things!
Special Moments or Highlights
For me the highlight of the day was walking out of the beautiful church as husband and wife and the joy I felt knowing we were married!
Biggest Surprise
The hilarious video my family had made of me as a little girl. Quite embarrassing and very funny but it also made me feel quite emotional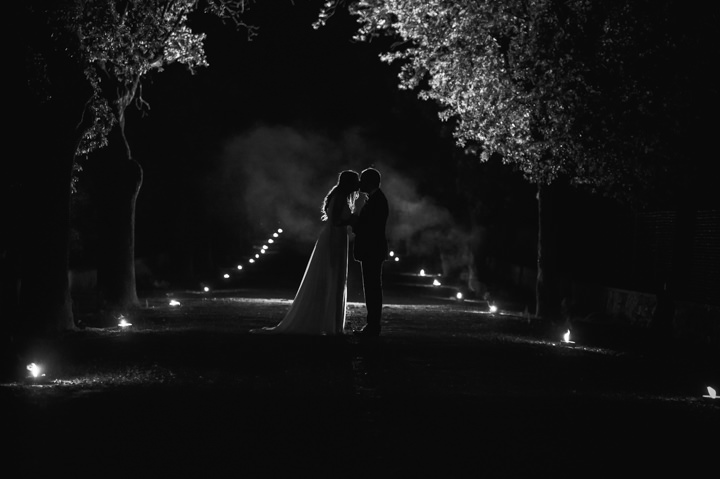 Supplier Shout Outs
 For more information on Patrizia's work go to
www.patriziagalliano.com / [email protected] / FACEBOOK / I: @patriziagalliano
Due to an email issue if you have emailed me between the 2nd & 9th of December, please resend it.
X