Happy Monday, I hope you all had a wonderful weekend and managed to enjoy some festive activities. We only have two more Mondays till Christmas day, how exciting is that! I really can't wait! Today I am taking you back to the summer when the sun shone and the air was warm with this beautiful elopement from Debs Ivelja Photography that took place at the stunning Boho Cornwall not far from St.Ives. It's a beautiful laid back day, filled with amazing sunshine, Rebecca and Walter make the perfect couple and their day is filled with the most amazing Cornish scenery, what a backdrop for their wedding photos! Enjoy.
Our wedding day was just magical. It was such a perfect day in our favourite part of the world surrounded by the most important people
Rebecca and Walter were married on the 9th June in a ceremony held at BoHo Cornwall Boscean Country House St Just, followed by dinner in the evening  at The Beach Restaurant overlooking the harbour in St Ives. 'Cornwall is a very special place to us. I have been on many family holidays to St Ives as a little girl and when our daughter was 6 months we went again and Walter fell in love with the place too. The thought of a big wedding had been stressing us out for a few different reasons a big one being my anxiety. The thought of having all this attention on me and people watching was making me worry. When I found BoHo Cornwall website it was just perfect! In Cornwall not far from St Ives, beautiful house and grounds and specialising in elopements and intimate weddings. We just knew it was for us and we booked it the next day. Another great thing about BoHo Cornwall is that you can create your day exactly as you like, your wedding day is truly unique to you. You also get the choice of two stunning retreats to stay in for a few nights on the grounds too. We booked our wedding about a year and a half before the actual date to allow time to pay for everything. The flowers, transport and cake were all booked within the month after we booked the venue. '
How they met
We have known each other for years as Walter is friends with my brother. We have been together just over 5 and a half years.
The Proposal
When our daughter was nearly 6 months old we went on a family holiday to St Ives. It was Walter's first time there and he just loved the place as much as we all did. A few days before we had to go home after a meal out with my family, Walter, Ava and I went for an evening walk up to the old chapel which overlooks our favourite beach. I parked up Avas pushchair to have a look out at the view and when I turned around, Walter was on one knee with a ring! I can't even remember what he said now but I said yes and cried, it was perfect!
How did you allocate your budget?
We paid for the most important things first like the venue and registrar then everything else came after
Where did you splurge and where did you save?
The biggest expense was my dress and photographer. We didn't have to sacrifice anything as we had chosen to have an intimate wedding we could afford to have all the things we wanted to make our day even more special to us
Why did you choose your photographer?
I saw some pictures posted on Facebook by BoHo Cornwall by Debs Ivelja Photography of a styled Cornish elopement shoot, inspired by Wuthering Heights and they were just stunning. I found Debs' website and after looking through various other photos she had taken, I just knew I had to have her as our photographer. Her photos just tell the story of the day beautifully and she is such a warm and friendly person.
The Dress
My dress was called Elodie by English designer Charlotte Balbier. I had been to a few wedding dress shops but just felt all the dresses were so heavy and over embellished and just not me. I was losing heart until I found this dress on the designers website. I found a stockist in a bridal shop in Tring who had the dress, I tried it on and bought it straight away. It just felt effortless to wear, so light and simple. The only accessory I had was my floral crown. I had bought some flat shoes by Jenny Packham but didn't end up wearing them and so was bare foot the whole day!
The Suit and Bridesmaid
Walter's suit and shoes were from Next and his bow tie was from Topman. Ava's dress I had specially designed and made for her at a bridal shop in Ampthill. She loved going in for her fittings and she was so excited to have her very own special princess dress for the day.
Theme or Colour Scheme
I didn't have a theme as such but like the venue name BoHo Cornwall I just wanted the day and style to be relaxed and simply beautiful
Flowers
My bouquet had a mix of white and pink roses, hydrangea, peonies with euculyptus and mixed herbs. I had a matching floral crown and Ava had a gypsophila crown.,
Decoration
We  had the arbour we were married under decorated with matching flowers to my bouquet for a special touch and hired a camper to take us from our ceremony into St Ives for our photos. It wasn't a traditional Volkswgon wedding camper. It was an old Thames Dormobile which had been lovingly restored and the interior had been adorned with old sea charts and antique maps from all over Cornwall. You can actually hire it for camping holidays.
Food
We went out for a relaxed dinner in the evening in St Ives to one of our favourite restaurants called The Beach. It has views which look out over the pretty harbour with a varied menu with something for everyone.
Wedding Cake
Our wedding cake was a two tier naked cake. It was sponge with raspberry jam, vanilla buttercream and white chocolate ganache with a scraped vanilla buttercream finish and it was the most delicious cake we have ever eaten!
Stationery
We didn't have any stationery as it was only a few close family members we just let them know all the details.
Special Moments or Highlights
There are so many its so hard to choose! One of my favourite memories is sitting in our retreat with the windows open watching the wild rabbits running around whilst the florist was getting the arbour flowers ready. It just felt so peaceful and the sun was shining and we were having our breakfast feeling so relaxed and happy. My mum helping me get ready and  the actual ceremony itself . Walking across the garden with my dad and daughter, seeing everybody and Walter waiting was so surreal. There was not a dry eye! It just felt so special and full of love. Saying our vows, which we had written ourselves. Also when we were waiting to sign the register and everyone was talking, I saw my Nan and Pop (Grandad) laughing about something, they looked so happy and I was just so glad they had been able to come with us. I will cherish that moment forever.
Advice for other couples
I would say to have the wedding day you want. Don't have a day that doesn't feel right for you because you will never be able to change it. Follow your heart, I knew I would not be happy having a big wedding even though this might upset the people who couldn't be there but it was the best decision we made. We could have the day exactly as we wanted and it felt so much more personal and special.
Biggest Surprise
My biggest surprise of the day was how emotional everybody was! Everybody couldn't stop crying! The registrar told us it was one of the most emotional and beautiful ceremonies they had conducted. Also how well behaved our daughter was! She was the most perfect princess and we couldn't have been more proud of her.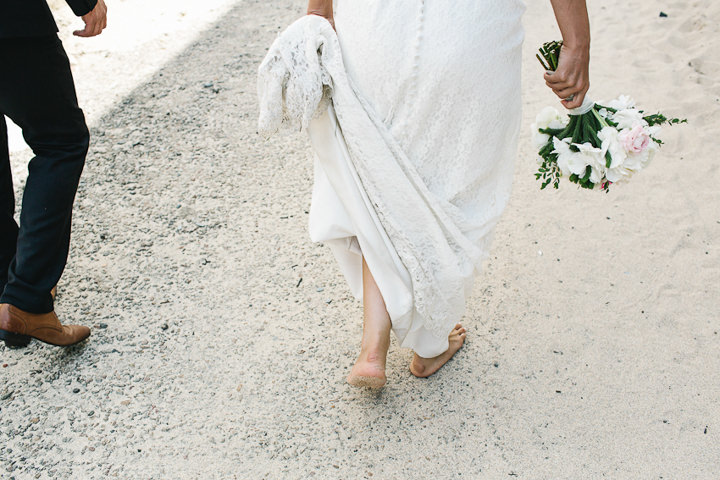 Supplier Shout Outs
FOR MORE INFORMATION ON DEBS' WORK GO TO:
www.debsivelja.com / www.debsivelja.com/blog / FACEBOOK / PINTEREST / I: @debsivelja