As we reach the middle of the week, I'm here to say a big hello from sunny Cornwall! I am in the middle of my holiday now and so far we are having a lovely time, what's it like where you are? We head back to April today for the lovely spring wedding of Alex and Dan, courtesy of long time sponsor to the blog Sasha Weddings. It's a beautiful barn wedding, with a wonderful feel to the whole day. I have to say I don't think I have ever seen such a smiley bride, Alex is just one big smile from beginning to end, it really is a joy to see, what a fun looking couple!
The best day ever!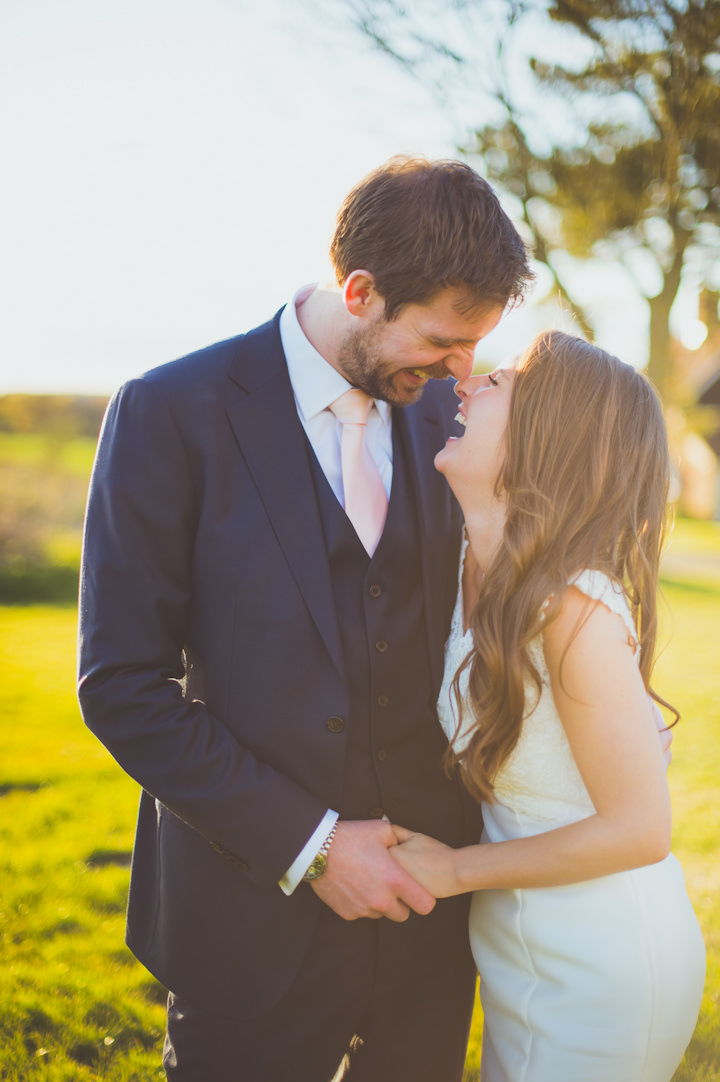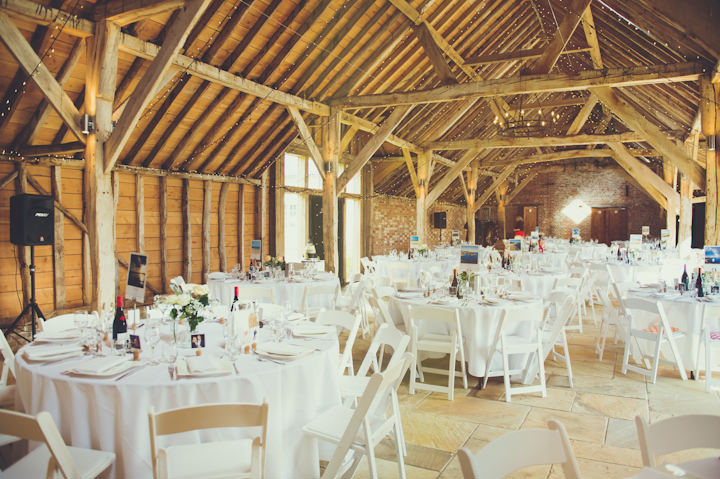 Alex and Dan were married on the 30th April 2016 at All Saints Church, Odiham, followed by a reception at The Long Barn, Hampshire. 'The Church was in the village where Alex grew up, and we both loved how much character it had. The venue was phenomenal. We looked at quite a few barns, as we wanted an impressive venue fit for a wedding – not a barn dance (we saw one horror in particular – a tractor shed disguised as a barn…). The Long Barn had a lot riding on it as it was the last venue we looked at close enough to Odiham to be able to get married in the Church there, however we were immediately blown away by both the building and the stunning views over the North Downs. It was perfect. Kelvin, the contact there, could not have been more welcoming – we booked it there and then. We had 135 guests and we wanted a Spring wedding so took 15 months to plan.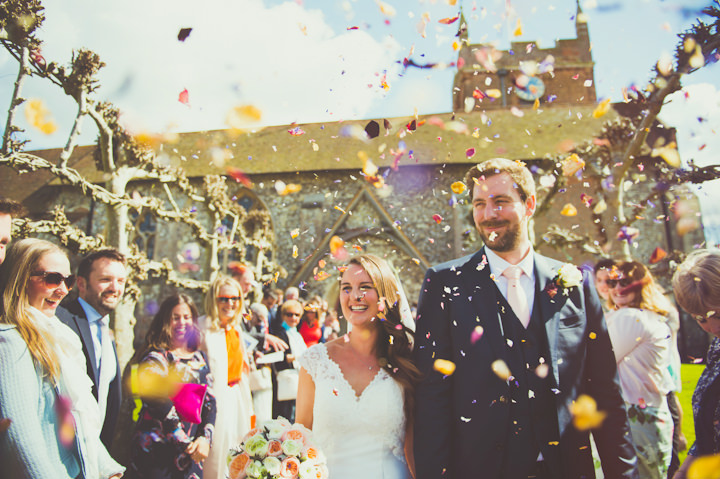 How they met
We met at a friend's fancy dress party. Dressed as a monkey (Dan) and a Christmas bauble (Alex), our first conversation was about whether or not George Mallory made it to the top of Everest. We agreed he did, and that was that; both for George and for us.
The proposal
One of our favourite places to go is Camber Sands – we love being by the sea. Dan is an experienced sailor, but on this one occasion he forgot to check the tide times – so instead of it being a big expanse of beach, it was high tide and crowded with dog walkers. Fortunately we like walking and made it far enough down the beach to have it to ourselves. Dan got down on one knee and asked – I said YES! We then celebrated with a cheeky bottle of champagne that he'd brought in his backpack. We sat there in the sun all afternoon. It was the best day.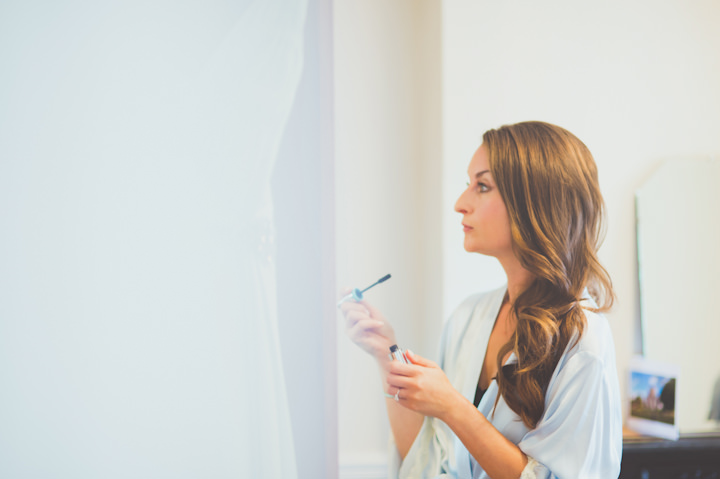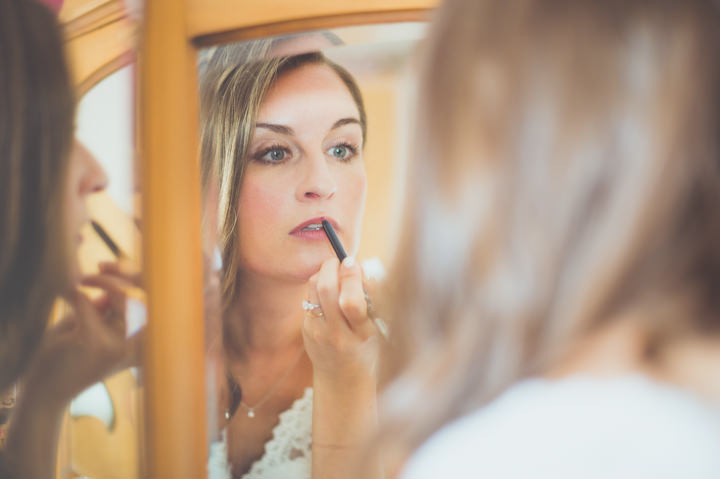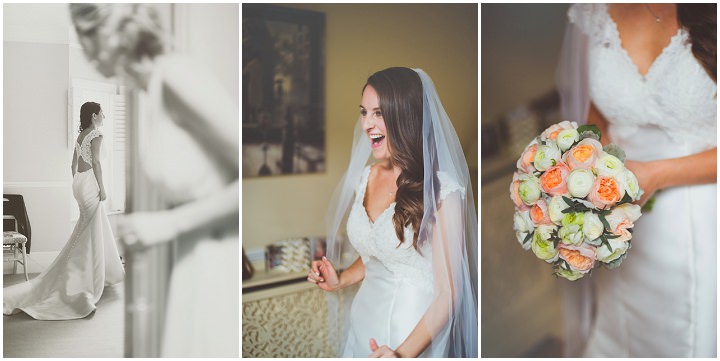 How did you allocate your budget?
We tried to spend as little as possible, as we were also trying to save for a house! Our priority was to make the day as enjoyable as possible for our guests, so we went big on food and drink. Dan's a designer so we were able to save a lot on stationary, and I got the Mums involved to be creative with flowers and table decorations.
Why did you choose your photographer?
She was recommended to us by a friend. We loved Sasha's style – relaxed, photo documentary. She was so lovely and friendly and as we hate having our photos taken, particularly Alex, it was great to book a photographer that we could feel ourselves around.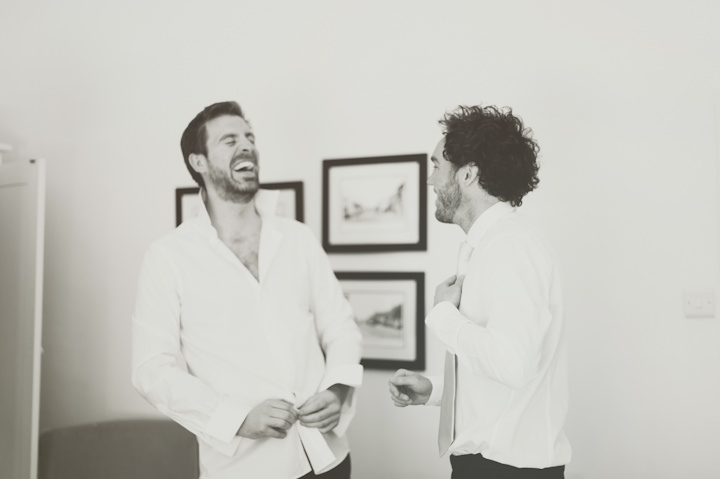 The Dress
Dress was Mori Lee from Glamorous Gowns – I was determined not to spend much on the dress, and fortunately fell for one that was ridiculously reasonable. Shoes, high street, jewellery was a gift from my Mum.
The Suit and Bridesmaids
Dan's suit was from Suit Supply. Bridesmaids were dressed from the collection by Jenny Packham at Debenhams. I thought I had all the time in the world to order the bridesmaids dresses, and ended up being too casual with none of the traditional places being able to provide them in time!!! In a panic one of my bridesmaids accompanied me to Oxford Street, where we were told all wedding stock was off the floor for the Christmas period! Except Debenhams, which came to the rescue with some gorgeous, very affordable dresses. They didn't have the colours we were after, so we changed the colour scheme instead.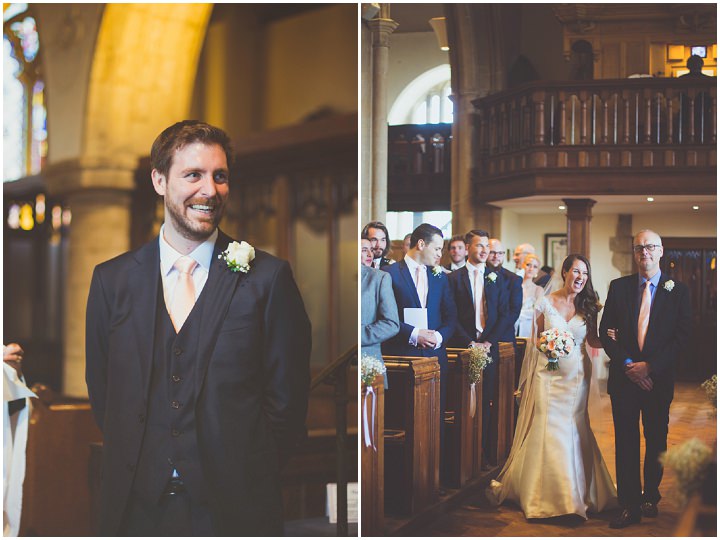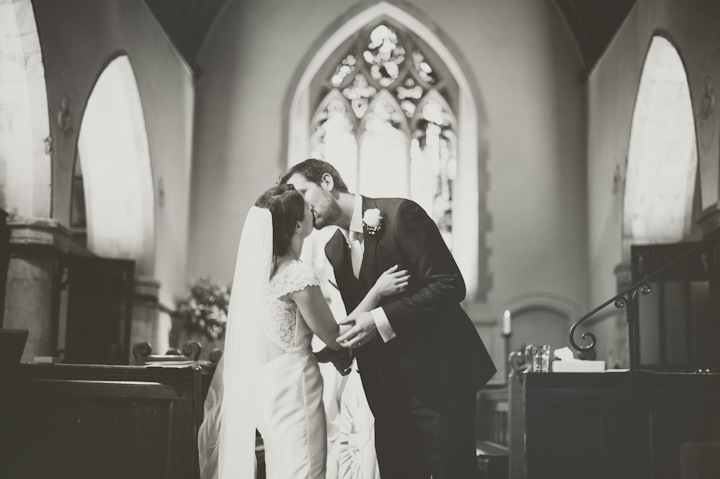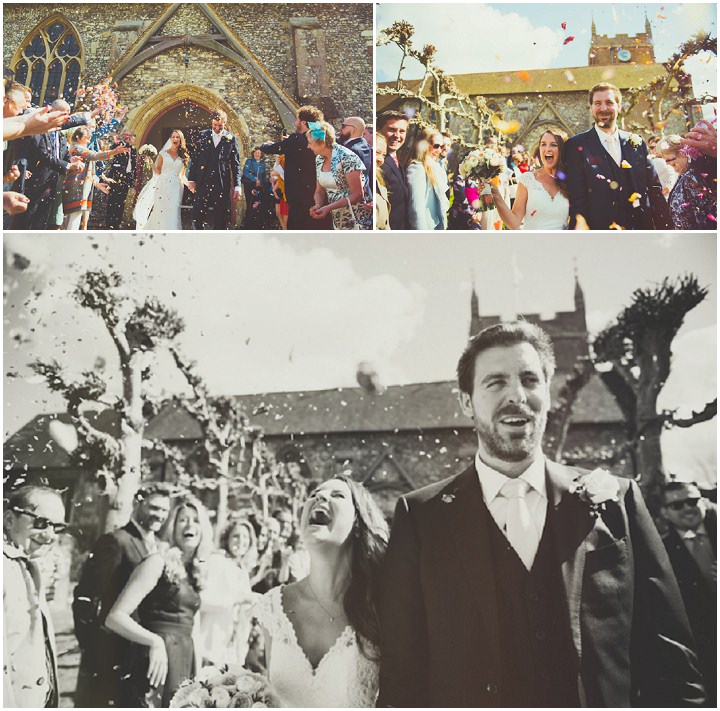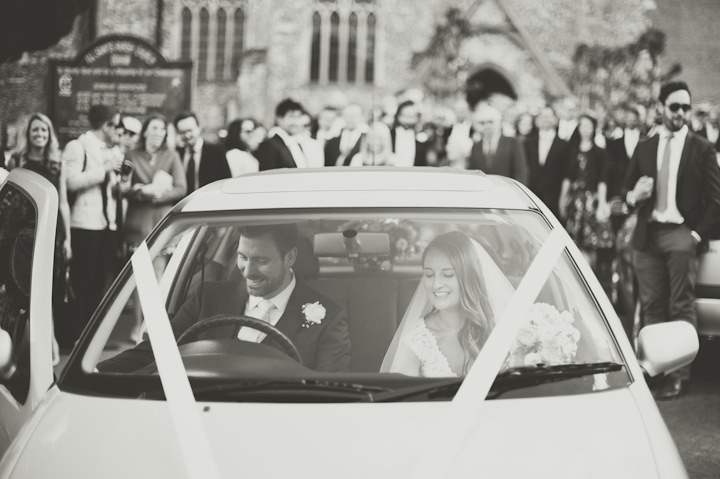 Theme or colour scheme
This changed because of the bridesmaid dresses. But it all worked out perfectly – Spring pastels – peach and green. With navy blue for the guys.
Flowers
Moutan Flowers made us the most gorgeous bouquets and button holes – they recreated ones we had found. We then ordered in loads of individual peach and ivory roses, and bunches of gypsophila and made the Church and venue decorations ourselves.
Decoration
The Long Barn is such a stunning venue it didn't need much, but we did go for it with the fairy lights. We put jars of candles and roses on the tables, and around the venue. Name cards were homemade – polaroid selfies of our guests in champagne corks. Table names were polaroids of our favourite beaches.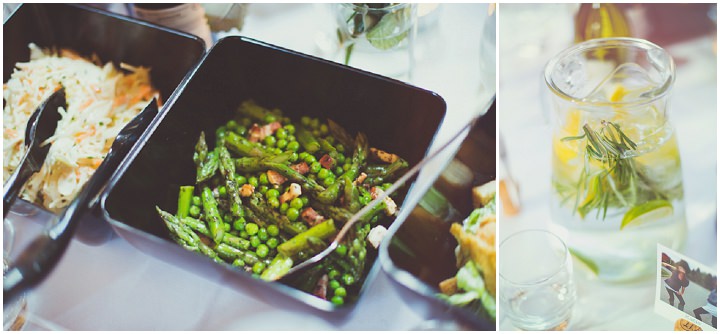 Food
The most incredible food. Thank you Red Anywhere! Canapes to start, then pulled pork, brioche buns, potatoes and salads for main (the asparagus, pea, mint and bacon salad was off the hook). Sticky toffee pudding and salted caramel ice cream for dessert. Reception drinks – Champagne and ale (Alex signed off Dan's request for a barrel from his parent's local brewery haha!) and wine with the meal, Vintage Champagne for toasts courtesy of Alex's dad.
Wedding Cake
CHEESE. A four-tiered cheese cake, of the savoury variety, with crackers and chutneys. It was insane.
Entertainment
Our friends DJ'd during the drinks reception and in the evening.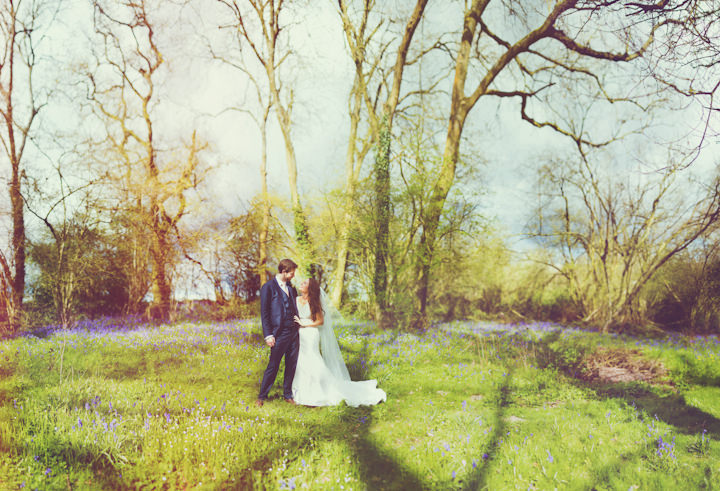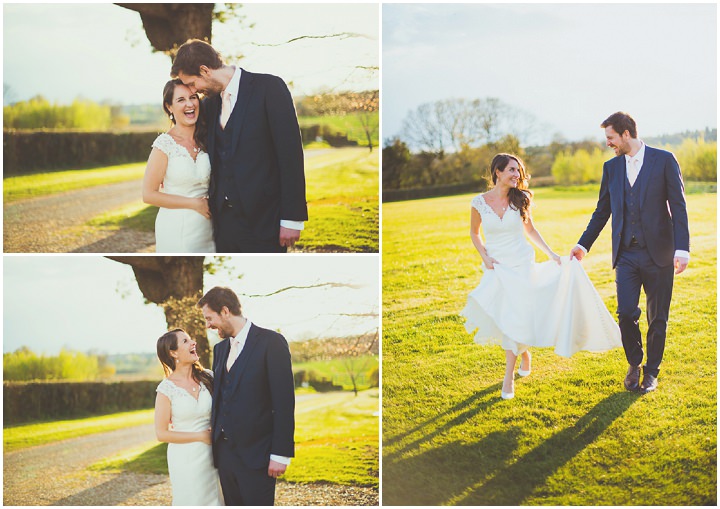 Stationery
Our stationery was designed by Dan Sayle!
Personal Touches
The stationary, all Dan, the camera theme (polaroids) as Dan's a photographer. The beach theme (we've just moved to the south coast to fulfil our dream of living by the sea).
Special Moments or Highlights
Alex: Everything. Saying our vows and then celebrating with everyone we love.
Dan: The moment I saw Alex walking down the aisle. She looked so beautiful, but also so happy and excite, it made me completely relax and that set the tone for the day.
Advice for other couples
Just enjoy it. It goes so quickly, you have to make sure you enjoy every moment. We were also advised to stick together as we went round the reception and tables during dinner – that was so key as it meant we had joint memories of the day.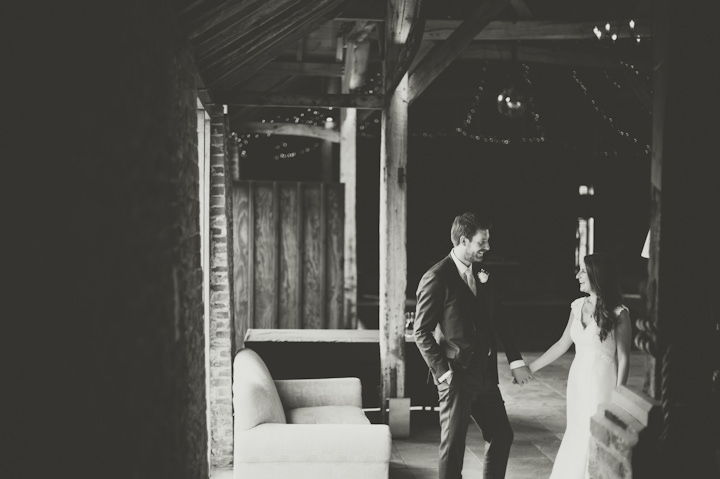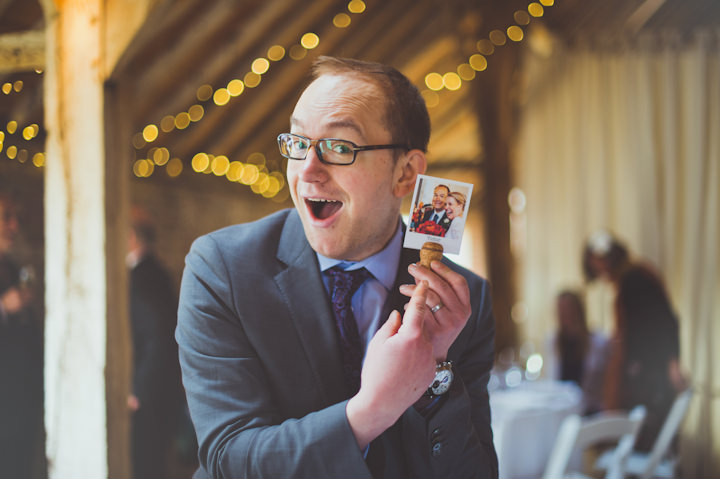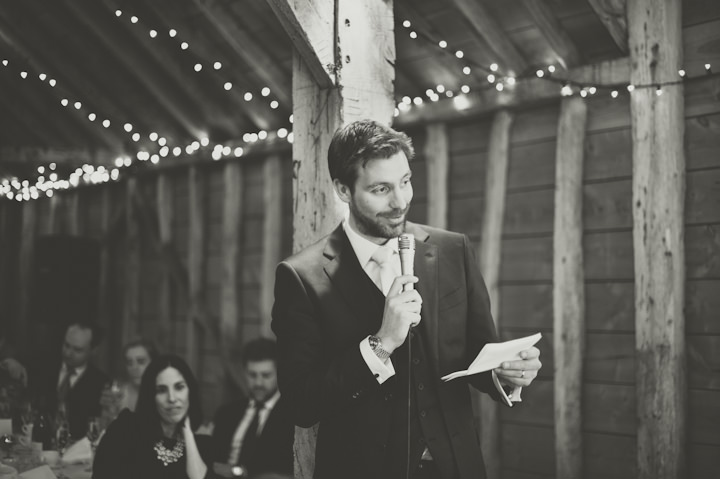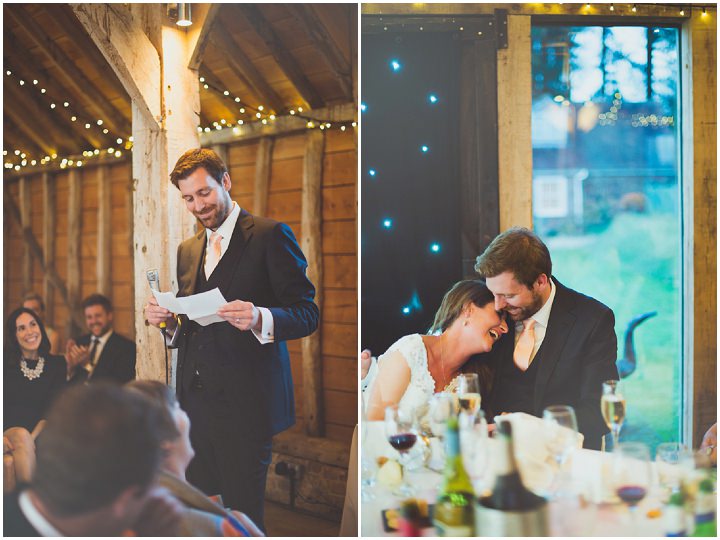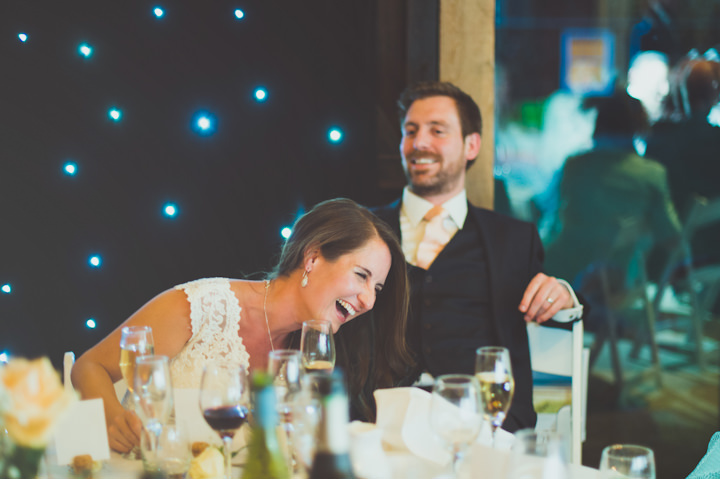 Biggest Surprise
Alex: On the actual day, after the service, Dan drove us to a beautiful spot just outside the village overlooking the Hampshire countryside. He had equipped our wedding car with half a bottle of Champagne so that we could enjoy some downtime before the reception. That was super special – as it gave us a chance to be just the two of us, and take in what had just happened before going on to party with everyone we love. I also loved the speeches! However another big surprise for me was the honeymoon. I was in charge of wedding planning, and Dan the honeymoon. I had no idea where we were going until we got to the lounge at Gatwick and Dan revealed we were off to St. Vincent & the Grenadines and St. Lucia – there was a lot of squealing.
Dan: I knew Alex would look amazing, so it wasn't a surprise when I first saw her looking so beautiful as she walked down the aisle, but it was of course a surprise to see the dress as it had all been kept top secret! It was a great surprise. The other big surprise was Alex's wedding gift to me. I'm big into sailing, and we've just moved down to the coast, so I was keen to get stuck in again after ten years in London. On the morning of the wedding my parents gave me an inflatable dinghy… With a card from Alex saying that her gift to me was not the dinghy but an actual sailing boat. Massive win. Wife and boat!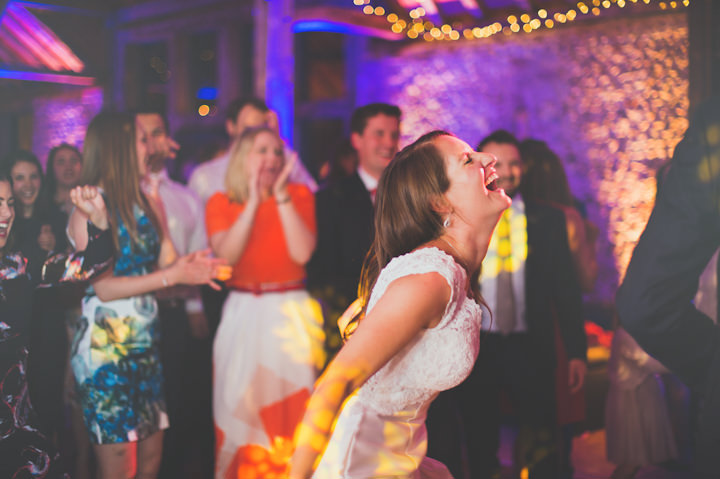 Supplier Shout Outs
For more information on Sasha's work go to:
sashaweddings.co.uk / BLOG /  [email protected] / FACEBOOK / PINTEREST/