We are back today with another stunning wedding that I know you are going to love! As with yesterday's wedding, today's wedding is from Canada and it is set in a forest. Jennifer and Christian are both herbalists, so wanted to incorporate this aspect into their day They did this with great success and a whole host of other amazing botanical details and decorations. With a beautifully styled wedding ceremony, totally jaw dropping table arrangements, mouth-watering food and the cutest looking cakes, this wedding is a real eye-pleaser from beginning to end. Rikvah Photography has done an amazing job at capturing this delightful day, I hope you love it as much as I do.
The wedding day started off a little rough with Christian forgetting his tux at our B&B 20 minutes away and just a whole lot of things that still needed to be done. I was out of commission getting my hair and makeup done, but friends, family, our designer and even the photographer and venue owner pitched in to make it happen—pretty amazing.
Jennifer and Christian were married on 16th July 2016 at Cedar Haven Weddings, East Sooke, Vancouver Island. 'We'd been together for a good ten years, but we'd never made an actual set of promise to each other and we'd never really celebrated our relationship with friends and family. And since we make a big deal out of holidays, birthdays and other rituals, it felt weird that we weren't marking our relationship in the same way. Neither of us are particularly religious. Spiritual, but not religious. A deep appreciation for nature is as close to religion as we get. So, we both knew we wanted to get married in the woods. When a friend of ours sent a link to Cedar Haven Weddings' Facebook page, we just knew it was the right place. Intimate and among huge cedar trees. It was perfect. After much agonizing we got the guest list down to 40—including kids! That was so hard. We didn't invite many of our friends and instead made it all about family. We planned our wedding in 4 months!'
How they met
We met working at the Canadian Broadcasting Corporation. We worked on a TV show together. Christian was the sound designer and I was a writer and editor for the show's website. We worked a lot of late nights together and romance bloomed. After being on again and off again and on again for too long, we decided to really make a go of it in 2008. We moved in together and set to making a life together with my young daughter. Our son was born in 2010.
The Proposal
Christian and I were laying in bed when my friend sent me a cheeky message about this new wedding venue and said something like, "In case Christian proposes…ha ha," or something like that. It was kind of a running joke between us because we've both been with our partners for many years without walking down the aisle. When Christian heard me snicker at the message, he asked me what was so funny. Reluctantly I told him and instead of laughing he said, "Well, would you like to do that?" And so the conversation progressed from there and within an hour we'd decided to tie the knot! Maybe not a traditional proposal, but we both liked the idea of making the decision together. Later Christian gave me his grandmother's stunning Edwardian sapphire and diamond engagement ring that his late mother had worn. It's a beautiful ring and I wear it with great pride and love for the women who wore it before me. I had a local artisan make me a thin rose gold wedding band to curve around the engagement ring's halo setting.
How did you allocate your budget?
We spent around $4500 all in. We were very fortunate to have friends and family to help us out by sharing their wonderful talents and/or labour! Most of the budget went toward food, our wedding finery and the event designer.
Where did you splurge and where did you save?
I share a wild foods company with my sister-in-law with a decent social media following locally and abroad and we were able to leverage our influence to barter with local vendors. So we saved a lot this way. I collected linens from thrift shops and proper silver forks for the reception and my sister-in-law and I gathered all the wedding herbs for the tent garlands.
We had our wedding between 1-5 with a charcuterie reception. Because it was an afternoon wedding we only provided a local prosecco-type sparkling wine and other non-alcoholic drinks. So, because we weren't doing a sit-down dinner or having a bar, we saved a lot of money there. We even had leftover wine and everyone thought it was lovely.
Our best splurge (for us) was to hire a designer. I had every intention of doing it all myself but when our photographer introduced us to Franziska of Charming Decor I changed my mind. Between Franziska, Wild Edge flowers and the hard work of us and our families, our wedding turned out to be incredibly beautiful.
Why did you choose your photographer?
The same friend who told us about the wedding venue recommended Rebecca Carroll of Rivkah Photography. We looked at her photo galleries and we knew she'd be able to capture the dramatic Edwardian look we were after. And we were right!
The Dress
I put a call out to my network for seamstress recommendations. I had my heart set on an Edwardian tea dress. And as my good luck would have it, a dear family friend and relation of Christian's answered the call. Margot McPherson Balanos is a talented visual artist living in France who also happens to have been an accomplished designer and seamstress in another life. She proceeded to comb the markets in France for antique lace and muslin and gathered the most beautiful pieces history that soon became my dress. Within two weeks, Margot has hand sewed me an authentic tea dress. Sadly she wasn't going to be in Canada for the wedding, but the dress made an excellent stand-in. My shoes were from Fidji—a Portuguese company that makes beautiful and comfortable shoes. I chose a pale yellow and white pair that I can wear again with summer dresses. I wore no accessories other than my engagement ring and some botanicals in my hair.
The suit and bridesmaids
Christian's suit was a blue and black tuxedo that we bought from a department store and had tailored. He opted to skip the agony of learning to tie a bowtie and instead went for a black silk tie and he wore his late father's French cufflinks. We didn't have a wedding party other than the children's procession and we asked them to wear white tops and light bottoms.
Theme or colour scheme
The theme of our wedding was herbal/botanical Edwardian. The Edwardian era was an era of contrasts, of opulence, lavish ocean liners and the reign of aristocracy alongside political unrest, civil rights movements, ragtime and technological advances. We wanted to capture the light and dark of the era, the contrast of my white tea gown with my dark and moody bouquet and Edwardian flower arrangements using wild plants and herbs. Both Christian and I are studying herbalism, so we incorporated traditional wedding herbs like rosemary, yarrow, lavender, rowan and ivy. From the infused ceremonial vodka to the tent garlands, my bouquet and the food, meaningful herbs were used to mark the celebration.
Flowers
Wild Edge is a local flower farm specializing in edibles, herbs and flowers. Solara of Wild Edge worked with us to use our wedding herbs in the arrangements and she picked up on our Edwardian theme immediately. For the tent and table garlands, my sister-in-law and I collected herbs and flowers from fields and forests close to home. The children either carried or wore crowns of flowers and herbs associated with the four elements down the aisle to mark the start of ceremony. Flowers and herbs with magical meaning were everywhere!
Decoration
We mixed metals and botanicals. White linens with opulent silver and brass bowls filled with dark fruit, silver and gold candelabras, fresh flowers and herbs, very Edwardian. Garlands of rowan, oak, rosemary, yarrow and ivy were strung in the tent and at the ceremony site and we framed Walter Crane's Edwardian illustrations of "A Flower Wedding Described by Two Wallflowers" and placed them among the table garlands.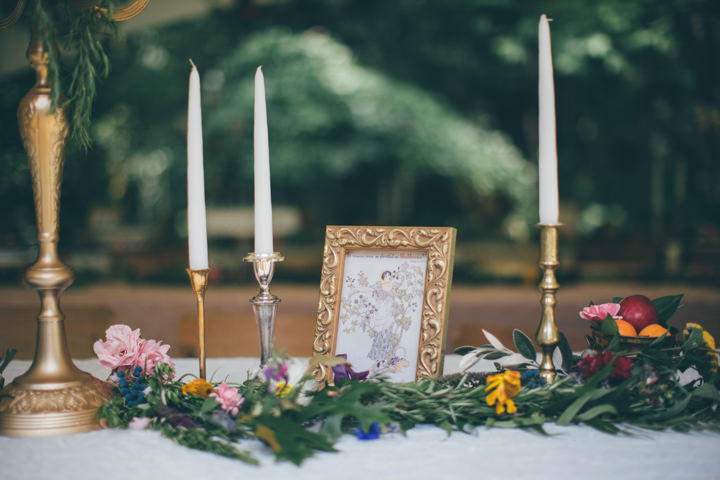 Food
We hired Tom Kral of Nature's Chef to provide his take on a charcuterie reception. Tom's food is an inspired mix of Eastern European and local foraged ingredients. He makes everything from scratch including bread, cured and smoked meats and ferments. We were treated to a heaving banquet of gorgeous local foods. From rosemary focaccia, beet kvass devilled eggs and sea asparagus to pulled pork headcheese, local smoked salmon and venison pemmican. And there was more, so much more. I'm still dreaming about all the foods I was too busy to even try!
Wedding Cake
We ordered two large cakes from our favourite cake makers, Ruth & Dean. One was a lemon vanilla cake and the other a chocolate rosemary. They were beautifully decorated and beyond delicious. We splurged on the cakes, but you've seen them and I promise they tasted even better than they looked!
Entertainment
We had a harpist for the ceremony and the reception. As part of the ceremony, my sister's husband played Pink Floyd's "Wish You Were Here" for all the people we wished were there and my daughter performed a heartbreaking rendition of Bowie's "Heroes". There were no dry eyes once those two were done.
Stationery
We used the same Walter Crane illustrations to create beautiful programs and had them printed on nice matte stock at a local printer.
Personal Touches
Our handfasting ribbons were pretty special, too. A friend and fellow herbalism student dyed silk ribbons using plants and herbs from the wedding. When guests arrived they were invited to braid the ribbons to weave in their good wishes for us. The garlands and all the beautiful botanicals that we collected ourselves just made the space so very magical and complimented the florist's arrangements perfectly. We made a kid's tent with a food table stocked with kid-friendly charcuterie, elderflower juice boxes, local handmade donuts and other treats. We also had baskets of instruments, bubbles and toys. The kids loved having their own space and the adults loved it, too!
Special Moments or Highlights
The children's procession was so lovely. We had my nephews and niece wear crowns and mantles of herbs and flowers that corresponded with the four elements of the earth. They played triangles as they walked down the aisle to announce our entrance. They took my breath away. The performances by my brother-in-law and my daughter were so moving and important. Their songs said everything we wanted to say to our friends and family.
And the vodka toast was so much fun! We wanted to mark the before and after of actually being married and we wanted it to be fun and loud, again a contrast to the reverent ceremony. So, we incorporated a jolly tradition from Christian's family that involved a Russian cheers and shots of ice cold vodka. I infused vodka with our wedding herbs (yarrow, lavender and rosemary) and froze the bottles in ice and herbs. We kept the ice-encased vodka cold on dried ice and when we'd finished our handfasting, everyone was poured a glass of vodka. We then jumped out of the flower circle we were married in (with full shot glasses!) to boisterous shouts of "za zda-ró-vye" and it was bottoms-up all around! We made our way to the reception site under a storm of dried flower petals. It was pretty spectacular.
We popped our own bubbly for the welcome toast and that was so much fun. We had our favourite local prosecco-type sparkling wine and it was such a good way to connect with our guests as we filled their glasses.
We got married on mine and my father's birthday. So we put candles in the wedding cakes and each of us blew out a candle while everyone sang "Happy Birthday". My dad's just recently recovered from cancer and it was such a happy moment.
Advice for other couples
Be realistic and have a plan or hire someone who does. I'm great with ideas, but less great with execution. Thankfully we had a few organized types on board including friends and family who took over and made sure everything came together. But not before we had to weather several meltdowns and minor disasters.
Biggest Surprise
When I was finally able to survey the scene after having my hair and makeup done, I couldn't believe how beautiful everything looked. I'd left the same space the night before in a bit of a shambles. Flowers and herbs were strewn everywhere and the tables were bare. When I saw the shining candelabras and all the flowers and the details I'd given up on out in perfect order, I was amazed and so grateful. I knew how much work that was and the people who did it for us did it with huge hearts.
Supplier Shout Outs
For more information on Rebecca's work go to:
www.Rivkahphotography.ca / www.rivkahphotography.ca/blog / 250-589-3686 / [email protected] / FACEBOOK / PINTEREST / I: @Rivkah_foto /   
My name is Rebecca, I am originally from the Isle of Wight England, raised on Vancouver Island British Columbia Canada. Located just outside of British Columbia's capital Victoria, in Sooke BC. I shoot mix of editorial and fine art photography. I am always evolving my style and I love to capture photos that make people feel something. I started in fashion and boudoir and moved into weddings and fell in love! Making moments into memories is amazing and I am so lucky to have people who love my work and allow me to do what I love for a living. I am very blessed