Happy Tuesday everyone, I do hope you had a good bank holiday weekend. If you were lucky enough to be off yesterday I hope you enjoyed the 3 day weekend and were able to catch some sunshine. If you missed it yesterday we had a fab post from Last Minute Musicians, which is worth a read if you are currently looking for your wedding entertainment. Today we are heading to Canada for this gorgeous forest wedding in Toronto. Lindsay and Kyle were lucky enough to get married at Kyle's family home, which meant they could really go to town with all the homemade decor ideas. Lindsay's mum grew a lot of the flowers and then they all chipped in and helped arrange them, they built, crafted and really pulled together to make the day a really personal affair full of beautiful details and meaningful moments. Big thanks to Megan Ewing for these delightful photos.
It really is the best day of your life. All of the people you love the most in the world together to celebrate you, it doesn't get any better than that.
Lindsay and Kyle were married on July 16, 2016 at Kyle's family home in Toronto, Ontario Canada. 'It wasn't even a discussion. This was where we said we would get married years ago when we were just kids. We also wanted the day to be super relaxed and fun. A lot of venues you have to leave by 1am, our party was just getting started! We had 200 guests and were engaged for a year and a half but didn't start really planning until around a year prior.'
How they met
We met in high school but did not start dating until after we graduated. We have been together for 9.5 years!
The proposal
Kyle proposed to me on my birthday in January 2015. I came home from work and he had made a beautiful dinner and lit our little house full of candles. We had been talking a lot about getting married previously, but it was definitely unexpected. It was just the two of us and our little doggy, emotional and perfect. We spent the evening drinking wine, super excited.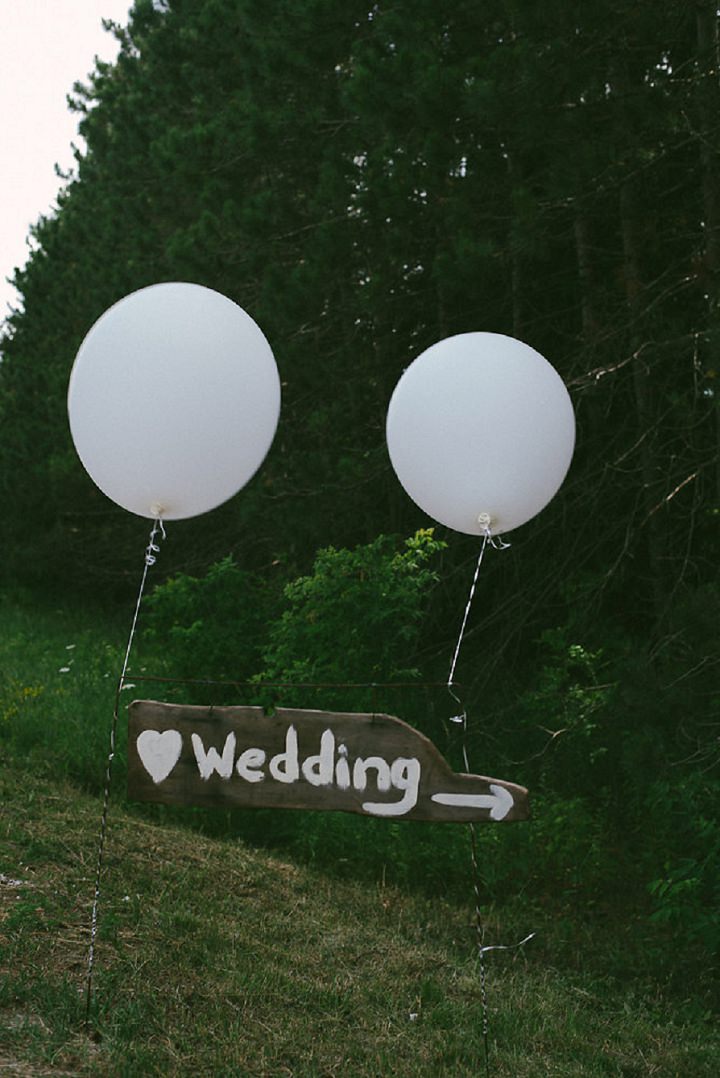 How did you allocate your budget?
We never really had a set number but didn't want to spend a fortune either. All we wanted was a celebration with our family and closest friends so the amount of money we spent wasn't important. We also didn't want to lose the personal touches by doing too much.
Where did you splurge and where did you save?
We splurged on our tent, food, bar and shuttle service. It was important to us that our guests were able to have a fantastic time with a safe return to their destination. We saved by doing all of the set up and decorations ourselves from growing flowers, making the girls bouquets, thrift store hunting, building and crafting. We also saved a lot by having friends and family lend their potted flowers to us for the day. We decided not to have flowers on the tables, this was a huge money saver! We also saved by doing the music ourselves. My sister put together an amazing playlist and we were very lucky to have a musician in the family (my brother) who set up all of his equipment to play it from. Everyone worked so hard to help us have the perfect day.
Why did you choose your photographer?
We had no one else in mind to take our photos other than Megan Ewing (ME Creative). We personally know Megan and she has captured so many incredible photos of friends in the area so it wasn't a question for us. Not to mention, her style of photography was the perfect match to our style of wedding. She is so talented and fun to spend your day with. It was very important to us that we did not have 500 photos of us posing but of us interacting with our guests. Megan captured so many special moments that we are now able to relive over again.
The Dress
My dress was by Essence of Australia. I love this designer! The little details sold me from the tiny satin straps, the amazing train, the lace itself was so feminine and pretty and the tulle overlay on the fitted satin body was gorgeous. I also loved how it had little crystal buttons down the back (I just might wear it around the house in future). It was such an easy and comfortable dress to wear all night. My accessories were collected over the years; I wore earrings my mother had bought me quite some time ago, the bracelet I wore was my mother's (a thin gold, diamond bangle my dad had bought her when they were first married), and a hair piece from bittersweet that my cousin had given to me as a gift.
The Suit and Bridesmaids
Kyle and the groomsmen wore navy blue tuxedos with black details and white dress shirts. He had everything to do with the choice of suits.
I really wanted the bridesmaids to be comfortable and feel their best. They chose their own dresses that reflected their own styles and budgets. I had seven girls standing next to me so it didn't make sense to me to have them all in the same dress when everyone's tastes, preferences and bodies are so different. It was such an exciting part of the wedding day for me because I never saw them altogether until that morning, it worked out perfect (I knew it would). They all looked SO incredible.
Theme or colour scheme
We kept with cool tones in navy and greys but we didn't really have a theme. A lot of glass and candlelight, romantic. I knew I wanted to keep things simple and let the surrounding speak for itself. Our wedding was tucked away in a forest with a river running alongside the tent. The backdrop had so much beauty on its own, we didn't have to do very much!
Flowers
The girls carried bouquets of baby's-breath and lavender while I carried a bouquet of white vandela roses and lavender. My mother had spent months prior to the wedding growing pots of lavender that we used in metal pails up the aisle and then decorated our "alter" with mixtures of white pots that were lent to us by guests who attended.
Decoration
We kept our decorations super simple. The focal point of our wedding was the big willow tree we were married under. We hung wedding photos of our grandparents and parents on the tree and staggered chandeliers at different lengths above us. We had a severe ice storm the winter before we got married that had caused some serious damage to a lot of big old trees on the property. We cut stumps at different lengths to have on either side of us that were decorated with large pots of white flowers and glass lanterns. My uncle had made café lighting that we strung over top of us to light the whole area and my dad built a bar out of old wooden skids we had set up outside of the tent. Inside the tent, we had large, crystal chandeliers and our tables were decorated with candles in clear vases and glass charger plates with silver beading. Everything just sparkled.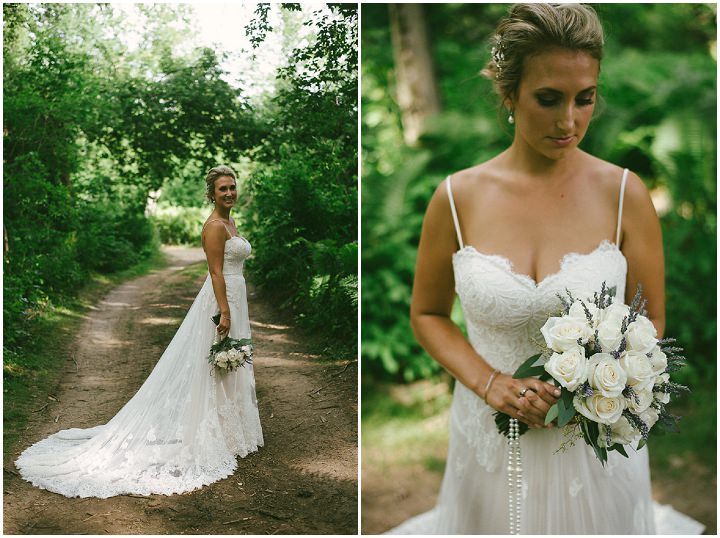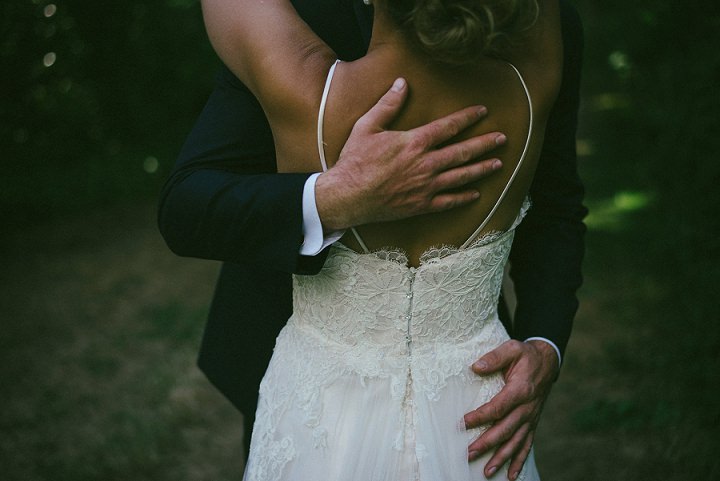 Food
We decided to go with a buffet that would accommodate everyone. Just a variety of different things!
Wedding Cake
I have been making wedding cakes myself for a few years now but was of course very busy beforehand so my mother made it the night before and decorated the morning of. It was a vanilla cake that she skimmed with buttercream frosting and then decorated with gum paste flowers I had made previously.
Entertainment
My brother plays in a cover band so we hired them to be entertainment for part of the night. I wanted him to enjoy himself too but everyone loved them so much they ended up playing the majority of the wedding. It was fantastic and so memorable.

Stationery
I am a graphic designer so I designed and printed all of the stationary myself. I enjoyed this part probably more than the average person but did find myself especially critical.
Personal Touches
We did everything for the wedding besides the food and set up of the tent (although Kyle helped with this part also). We were very fortunate to have so much help from family and friends with the set up. It was an extremely busy week leading up but looking back we wouldn't do it any different. Everything about our wedding was personal from the location to the decorations. It had us written all over it and wouldn't have been the same in a different setting.

Special Moments
Obviously walking down the aisle was the most special moment. We both cried and from what I have heard, caused many others to shed a tear or two. It was just a super emotional moment. How could it not be? Another highlight would have to be listening to speeches, one of the groomsmen who has been a great friend to us both, did a fantastic job and had everyone laughing hysterically. Dancing with my dad was also a moment I will not forget as well as my brother who played the guitar while I walked down the aisle. The whole day was so special.
Advice for other couples
It is so cliché but to just enjoy the entire process because the day comes and goes too quick. Don't sweat the small stuff because no one notices, only you. Everyone is just there to be with you and celebrate you and that is all that matters.
Supplier Shout Outs
Marquee : Totally Covered Event Rentals www.totallycovered.ca
Florist : Karen Schakel Schakel Greenhouses
For More information on Megan's Work go to:
www.mecreative.ca / www.mecreative.ca/blog / FACEBOOK / PINTEREST / T: @mewingcreative / I: @mewingcreative