Today we are heading across to Canada for this beautiful barn wedding that took place in the autumn of last year. Brittany and Drew fell in love with their wedding venue as soon as they saw it. It gave them the blank canvas and the freedom to do exactly what they wanted and with that they turned this already gorgeous barn into the most beautiful wedding area. The rain on the day didnt dampen their spirits, they embraced the situation and moved on to plan B. The results are this amazing laid back, rustic day, with horses, great food and the most stunning bride. Bug thanks to Megan Ewing for the images.
It was the most emotional, fun, and beautiful day of our lives. Not everything went to plan, but it was perfect.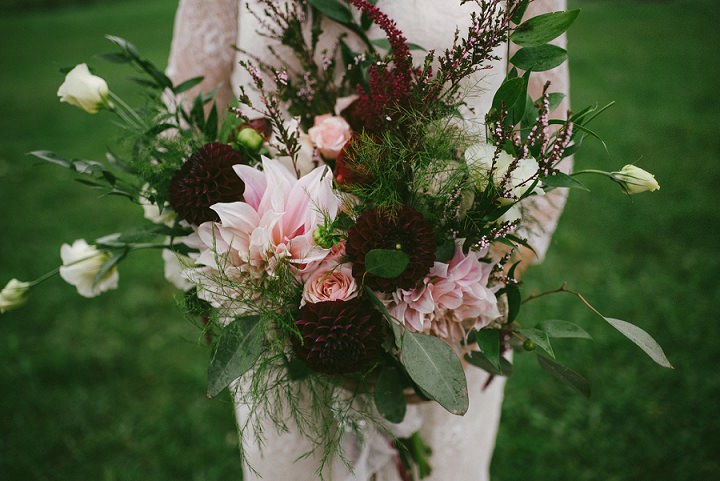 Brittany and Drew were married on the 17th September 2016 at Rainbow Valley Wedding Barn, Caledon, Ontario, Canada. 'The idea of a barn venue appealed to both of us. We started searching online for ones in the area, and we came across Rainbow Valley in it's early stages. We went out to visit and although there was still a lot of work to be done, we knew that it was the location for us. It was risky, but the beautiful, green, rolling hills of the escarpment, the weeping willow tree, the stunning barn with the high ceilings-were too much to handle! The owner, Don and Tabitha, were extremely laidback and friendly as well. We had 150 guests and the planning took about a year. We were lucky enough to have a family friend who is a wedding planner help us manage our to-do list and find the best deals.'
How they met
We met through our participation in an international volunteer organization in University. As we got to know each other in the months that followed, we were surprised by how many friends we had in common and how many times our paths had already crossed. In fact, Drew was unknowingly featured in one of Brittany's roommate's Facebook profile pictures. We have been together for almost 7 years.
The Proposal
While in New York in July 2015, we were exploring Prospect Park in Brooklyn. Brittany had set up plans to see a friend without consulting Drew and was feeling tight for time. Drew was as relaxed as you've ever seen him (which is not normal), finding new paths and bends to wander down until they happened upon a guitarist singing their favourite song. All of a sudden the mood shifted…Drew was on his knee and asking the question. Brittany, of course, said 'yes!', and it turned out that Drew had arranged the whole thing.

How did you allocate your budget?
A lot of our budget went towards the venue itself, as it was still the its earlier stages. Everything from the caterer, to the tables and chairs, to the washrooms had to be arranged ourselves.  It was more than worth it, as the wedding turned out beautifully, and the venue has since developed partnerships with rental companies, so these things are more affordable and less of a hassle. We didn't want or need to spend a lot of our budget on decor, as the barn was so dramatic on it's own. We kept it simple, and anything we did have was borrowed from family or from home. One thing that we initially weren't planning on spending on was a DJ. As we got deeper into the planning and started looking at logistics, we realized that it would be very challenging to do our own music, as that would mean someone would have to be in charge of it the whole night, and we would have a lot of work to do transporting speakers during the various stages of the day. We ended up hiring a DJ, and we are so glad we did!!
Why did you choose your photographer?
We had meetings with about 3-4 photographers. We had come across Megan's work in a local wedding magazine and loved her photos. When we met with Megan, we felt an instant connection. Her warm and friendly personality, her candid photography style, and her excitement and enthusiasm about what we had in mind for our wedding day told us that she was the perfect fit.
The Dress
The dress was a champagne coloured vintage dress by Eddy K. All the accessories, from earrings, to hair clip, to brooches, were found on Etsy, at St. Lawrence Market, and other antique stores in our area. The shoes were simple flats from Spring.
The Suit and Bridesmaids
The suits were from a local shop in Toronto called Andrew's Formals, and the bridesmaid dresses came from David's Bridal. The flower girl's dress was from a company on Etsy called PrettyInPeek.
Theme or Colour Scheme
We wanted a vintage look suitable for fall, so we went with rich colours, like burgundy, navy, and gold. We wanted the accents to be a bit lighter, so there was also lots of cream and pale pink involved.
Flowers
Our bouquets were loose and hand-tied with lace and consisted of mostly pale pink and burgundy dahlias, raununculus, and roses. The same types of flowers, along with lots of greenery, were placed inside the brown bottles on the tables, and on the corners of some vintage frames. We also had some wreaths that were attached to some rustic shutters.
Decoration 
For the ceremony, we just used some rustic shutters from Brittany's parents house, which had some wreaths on them. They were moved to the head table for the reception. For the reception, we used antique brown jugs and bottles (most of them beer) as centrepieces running down the harvest tables. These were fun to collect, because we got to enjoy the process of emptying the bottles as well! There were some other rustic and vintage touches around the head table and gift table, like a cream coloured vintage suitcase from Brittany's grandmother, wooden crates, and vintage and wooden photo frames.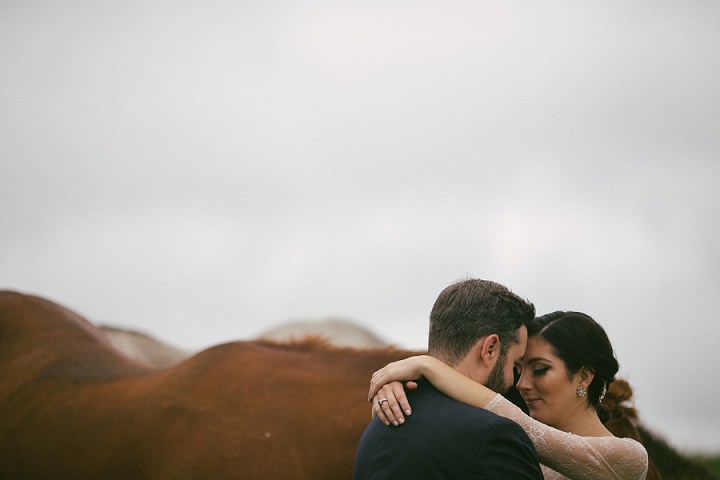 Food
We ate very mouth-watering comfort food which was served in a laidback, buffet style. There were things like beef brisket, a pork roast, macaroni and cheese, and corn bread. The pork was roasted on site. Our guests are still raving about the food!
Wedding Cake
Brittany's Aunt made a beautiful naked cake topped with berries. It was stunning and delicious!
Entertainment
Our DJ did an amazing job at keeping the party going. We had a lot of specific requests, such as traditional Irish and Newfoundland songs, due to family background and some other Canadian classics, like The Tragically Hip, and he nailed it. We would say the dance floor was the most entertaining part of the evening, but it was also great that guests were free to roam the premises and visit with the horses and goats. We also had a "photobooth", which were just some frames and suitcase full of dress up items.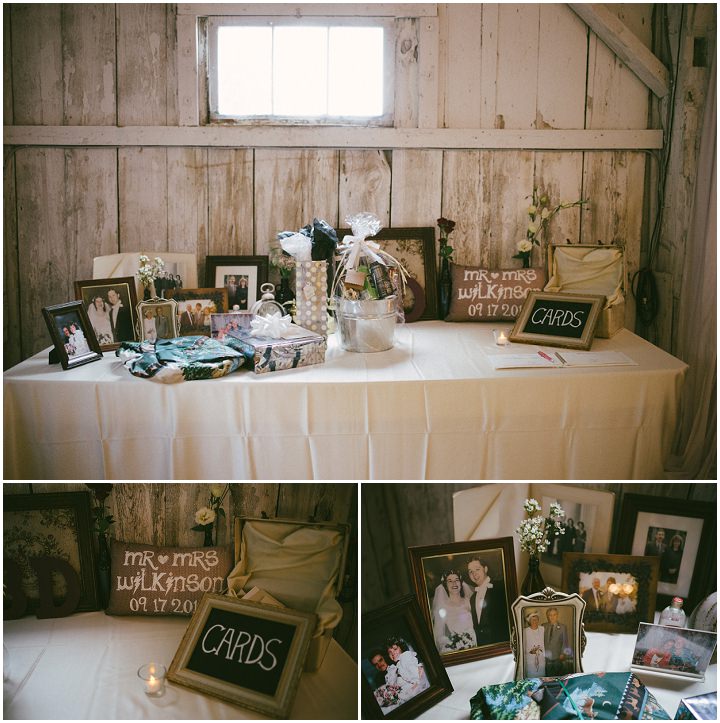 Stationery
We ordered a template off of Etsy from birDIYdesigns. We worked with the wedding planner to print them off ourselves, along with the table numbers and an explanation of our donation in lieu of favours.
Personal Touches
All of the decor was very personal and done ourselves. Most of it came from our parents or grandparents or our own homes (i.e. signing table, shutters, crates, and other small knick knacks). We had wedding photos of our parents and grandparents on the gift table which felt very special as well. Drew had personally picked watches, cufflinks and socks to match his groomsmen's personality and interests, and Brittany picked mismatched, vintage jewelry and brooches for the bridesmaids.
Special Moments or Highlights
It's really difficult to choose just one, as there were so many. It was either walking down the aisle and seeing the expression on each others faces during the ceremony (it's finally happening!), or the moment when the first jig played at the reception, and guests seemed to flock to the dance floor like ants.
Advice for Other Couples
We heard this a lot leading up to the wedding, and we can definitely see why. Try not to stress too much about visiting with all of your guests, and focus on having fun and enjoying the day yourselves. Depending on the vibe of your wedding, a good strategy could be to hang out by the bar…then people have to come to you! Remember why you and your guests are there, and try to focus on that rather than minor details…someone else can deal with it!! Also, it rained, so although we had visions of having the ceremony under the willow tree, it ended up being in the bottom of the barn. We actually ended up liking it more, as it was more original! Always have a plan B!
Biggest Surprise
I think we were most surprised by the overwhelming amounts of love, support, and emotion that seemed to radiate throughout the day. We were most looking forward to having our friends and family all together, but actually experiencing it was not something we were totally prepared for. It's an indescribable feeling to have everyone who is important to you in the same room, feeling the same emotions that you are feeling yourself.
Supplier Shout Outs
FOR MORE INFORMATION ON MEGAN'S WORK GO TO:
www.mecreative.ca / www.mecreative.ca/blog / FACEBOOK / PINTEREST / T: @mewingcreative / I: @mewingcreative