Today I have a very classic and elegent wedding for you brought to you by the very talented Jordan and Ines from Source Images. I have featured this husband and wife team and their work on the blog before so I am never one to say no to a wedding when they send one into me. I just love their work and they are such an amazing couple to go with it!
Full names
Diana and Lars Engstrom
How did you meet?
We met almost 9 years ago in Milan, Italy, during a company conference. We were both working for the same company in different countries, Diana in the UK and Lars in Sweden, and we found each other instantly.
Date of wedding
23rd April 2011
Location
Danesfield House Hotel in Marlow
What made you decide to get married where you did?
Danesfield House Hotel is an absolutely stunning venue. We looked at a few different places in the area but after visiting Danesfield House Hotel and speaking with their representatives we knew directly that it was the right venue for us. The pictures of the venue and the surroundings speak for itself.
Who was your dress by
Caroline Castigliano
And the suite?
The suit was made by Perfectly Groomed in Datchet.
How would you sum up your day?
Absolutely perfect!!! Everything went to plan and we wouldn't change anything.
Did you have a theme/colour scheme?
We didn't have a particular theme apart from that we wanted the wedding to look really classy. The colour scheme was Ivory.
Did you have any personal touches? Or things that you did yourself?
No, we left it to the professionals.
How many guests?
We invited 67 guests and everyone turned up. Approximately 45 guests stayed the night at the hotel which was really nice. All guests were invited for both the ceremony as well as the following reception.
What were your special moments/highlights?
Lars: The absolute highlight for me was when the string quartet we had arranged with started to play the music agreed for Diana's entre. When the doors opened and Diana started to walk down the aisle looking absolutely stunning, in a way that I have never seen her before was a very special and emotional moment for me.
Diana: The ceremony when getting married and having my sons being part of it as witnesses.
Is there anything you would do differently?
Everything went according to plan during the whole day. We have talked about it but there is absolutely nothing we would have done differently if we had the opportunity to do it again.
What advice would you give any other couples?
Plan the day thoroughly, but not necessarily over too long period. We did everything in 4 months. A feeling we have is that if one spend too much time planning one will only go over things many many times without any real progress. Make a decision and stick to it. Normally the first idea is the best one.
Be firm with the organisers from the venue and make sure they make your special day exactly the way you want it. Don't hesitate to come up with and propose original ideas that maybe not align with the tradition.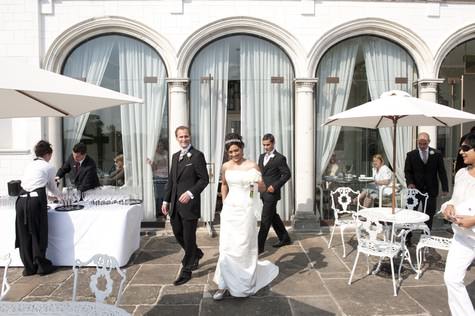 For more information on Source Images photography services go to:
www.source-images.co.uk
www.sourceimagesblog.co.uk
[email protected]
TWITTER
T. 01628 770669 M. 07810 714400